My holiday decor just got easier and less expensive when I realized I could just make a DIY Paper House using my Cricut cutting machine and then add a bit of snow to the top for a holiday look. Simple DIY holiday decor is my favorite.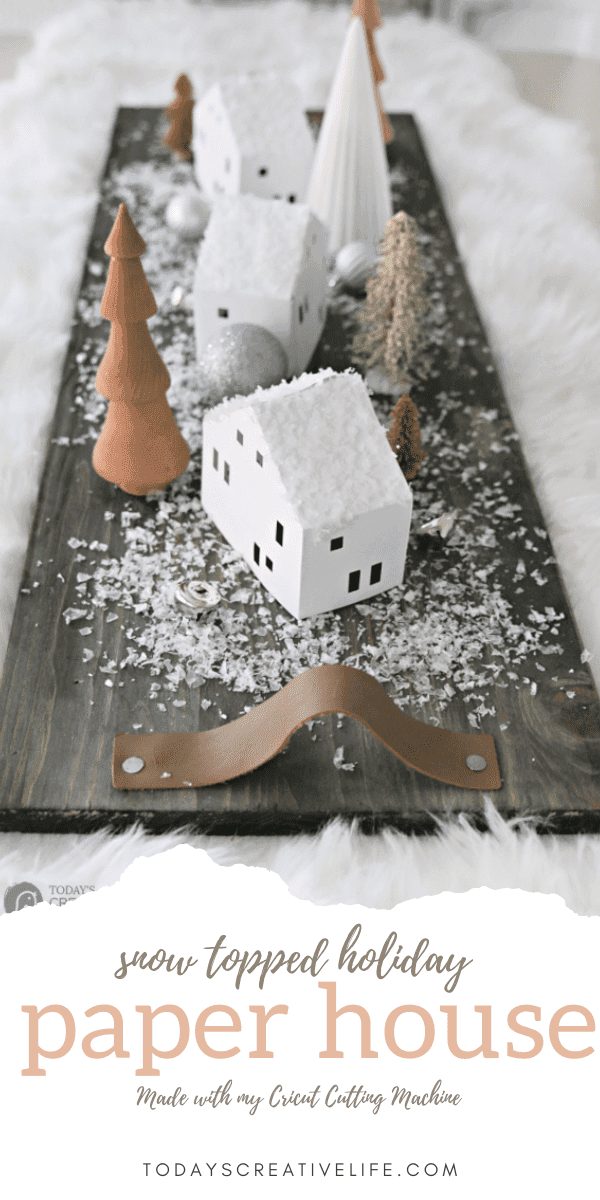 DIY Paper House for Holiday Decor
I've been collecting ceramic white houses for the past couple of years. I usually find them at Target, if I can shop early enough to grab them. This year I was only able to find 4 or 5 and I knew I wanted more for an idea I had. And then the idea hit me that I could just make my own using white paper cardstock and my Cricut cutting machine. I was sure the Cricut Design Space had a house template ready to go!
And they did!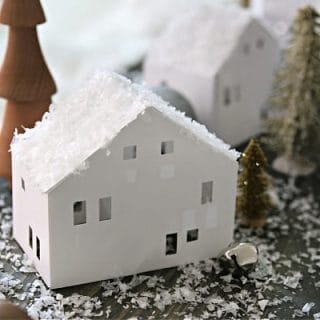 How to Make a DIY Paper House
Yield: 1
Prep Time: 15 minutes
Active Time: 20 minutes
Total Time: 35 minutes
Difficulty: Easy
Estimated Cost: $10
Use your Cricut Cutting Machine to make holiday snow topped paper houses.
Materials
White Cardstock
Glue Stick or Adhesive Tape Runner
Mod Podge
Faux Snow
Tools
Cricut Cutting Machine
Craft Foam Brush
Instructions
This project can be made with any of the Cricut Cutting Machines. I found the house template in their design space. If you don't have a Cricut, but would still like to make this project, there are a lot of folding house templates on-line with a quick google. This one is very cute.
Find the paper house template in the design space. There are a couple to choose from.
Load your mat with white cardstock.
Follow the Cricut prompts for cutting.
Once you have your template, carefully peel it off the mat. It will be scored and cut.
Fold one piece along the scoring lines. The second one will fold in a mirrored manner so the house can come together.
I like to set the house up to see exactly where to place my glue. You want the scored flaps to be hidden on the inside of the house.
Apply glue and adhere. Keep going until all pieces are in place.
Brush the roof with mod podge decoupage and then sprinkle or simply turn the house upside down and press into a pile of faux snow. I used a larger cut plastic snow because it's what I had. I think the smaller more sparkly type would be really pretty too.

And you're finished.
Allow to dry. You can place flameless votives inside to use as luminaries.
Recommended Products
As an Amazon Associate and member of other affiliate programs, I earn from qualifying purchases.
DIY Paper House Luminaire
I had totally meant to do this and then completely forgot while taking photos. These would make beautiful holiday luminaries, placing remoted controlled flameless votives inside each paper house. You could use them for so many different ways to decorate for the holidays.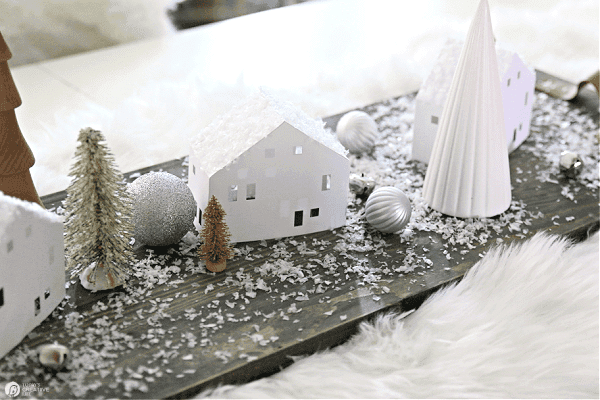 How to Make Paper Houses without a Cricut?
There are lots of great free paper house templates when you search. You could use one of these and print onto cardstock and hand-cut. For scoring, many paper cutters come with a scoring tool. I found these holiday houses from Delia Creates.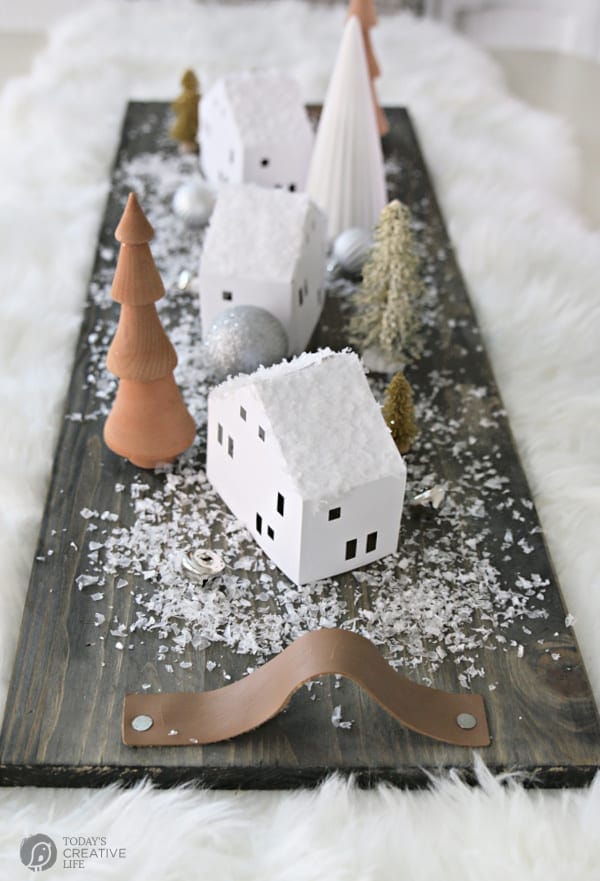 How to Decorate with Paper Houses
There are so many ways you can use these beautiful folding paper houses. Not only are they a fun craft, but crafts that become home decor are my favorite.
Luminaries
As mentioned above, these would be great lit up with a flameless votive. Place them all together or around the house for a holiday theme. They would look great mixed in with my Cranberry & Cedar Luminaries.
Holiday Mantel
How pretty would these be lined up with a cedar garland and bottle brush trees on your fireplace mantel? Simple and perfect!
DIY Paper House Table Centerpiece
I used the DIY Wood Tray I made and created a simple holiday centerpiece complete with faux snow. I added a few trees and other holiday items and I just love it! I think a few greens would make it even better.
Holiday Table Place Settings
Why not write names on each DIY paper house and use as place settings for your holiday table?
Hang on the Tree
Simply add some string through the windows and create homemade Christmas Ornaments.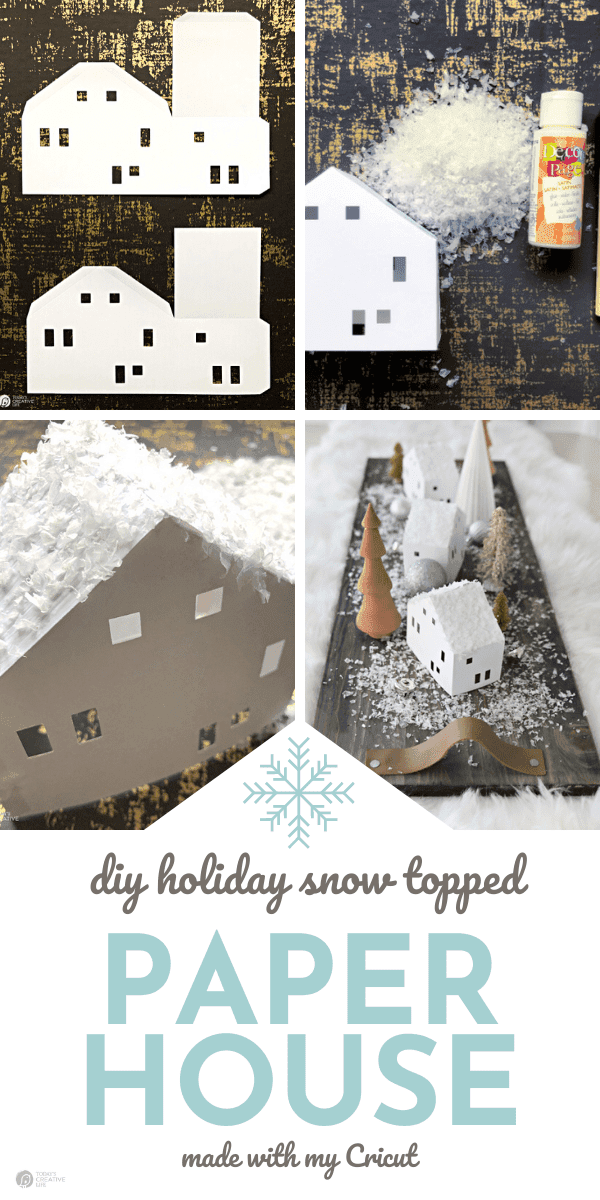 DIY Holiday Ideas
Easy to make holiday crafts, decor and gifts.