Vanessa from Our Thrifty Ideas is sharing these super cute Printable Gum Wrappers that are PERFECT for the kids to whip into adorable end of the school year gifts for their friends! I am so thankful to bloggers like her to step in while I'm away to share their creative side! This free printable would also be great for birthday party goodie bags! Easy printable gifts are always easier for mom!
---
Hey, everyone. I'm Vanessa from Our Thrifty Ideas. I am so excited to be here sharing these fun printable gum wrappers today.
Printable Gum Wrappers
SIGN UP FOR FREE PRINTABLES BELOW
ALREADY have your password? Head straight to the Free Printable Vault.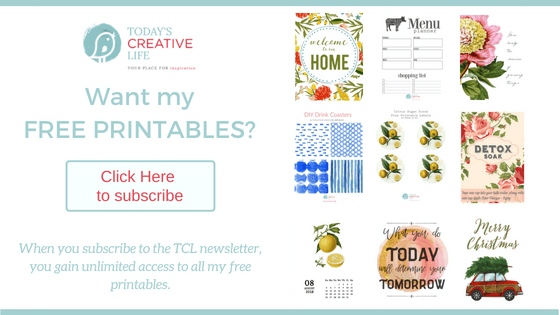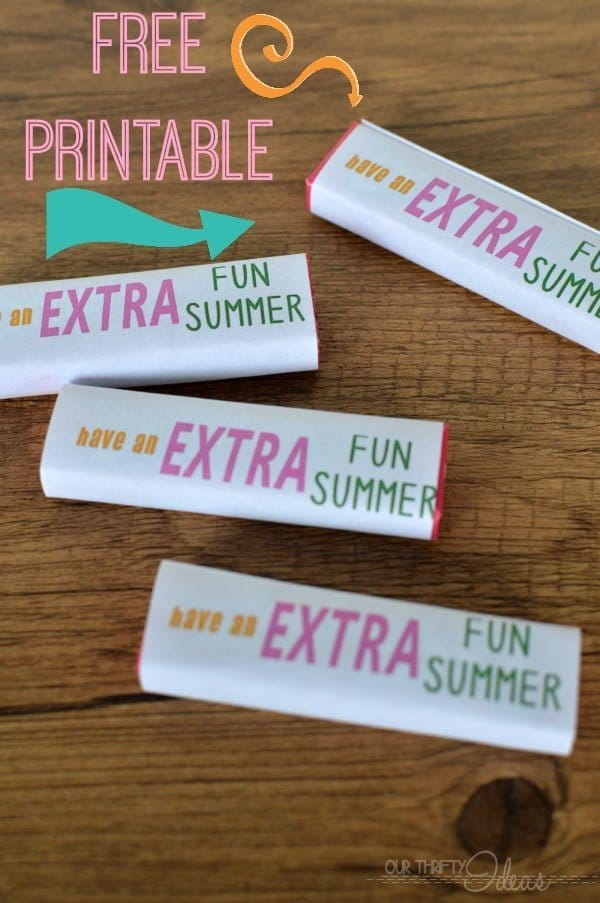 With Summer quickly approaching, and the school year quickly coming to an end, I thought it would be fun to share a super inexpensive and fun end of the school year gift idea for your kids to hand out to their friends on the last day of school.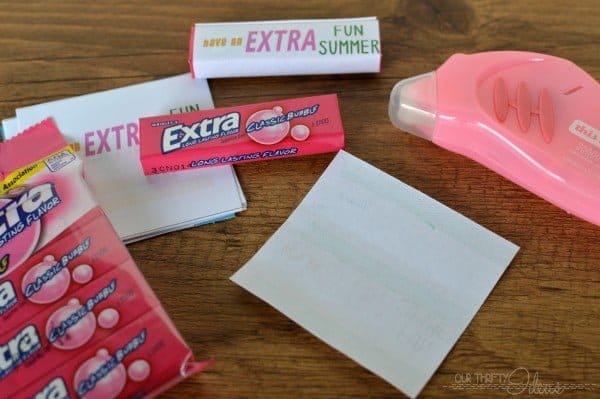 Printable Gum Wrapper Supplies:
$1 four pack of gum (enough for your kids' friends)
Adhesive – Tape runners work great for this.
Inkjet Printer – Great price, good quality. (affiliate link)
High Quality printer paper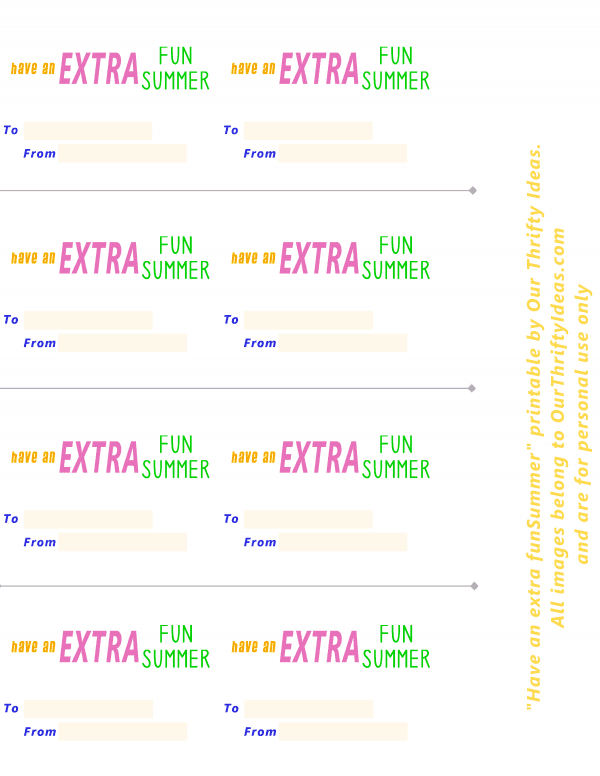 Download the printable HERE or download it with a blue patterned background HERE
How to Make Custom Gum Wrappers
I put in horizontal gray lines in the printable for easy cutting guides. First, cut it from top to bottom 3 inches from the left. Then again 3 more inches in. After you have those 2 strips, you can just cut it on the gray lines for the right sizing!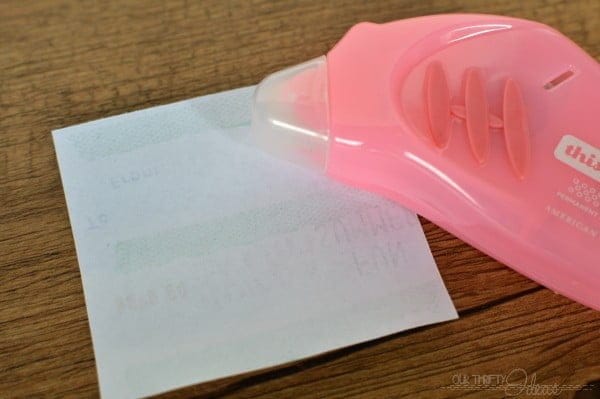 Once you have the pages cut, you will put adhesive on the back of the paper. I did it on both the top and bottom then again in the center. Center the "have an EXTRA Fun Summer" on the front of the gum package, and then fold the bottom around. Then finish it off by folding the top and overlapping the bottom part.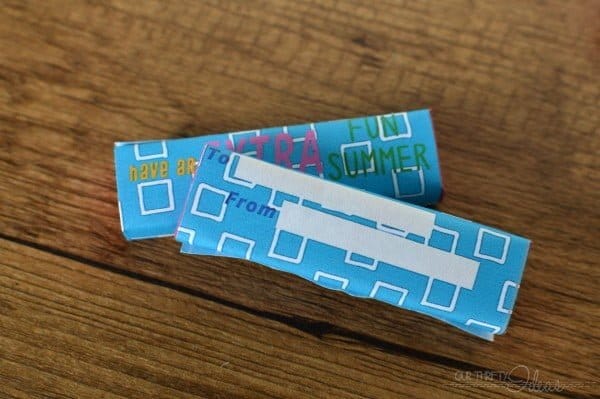 You will have the saying on the front and the To/From on the back of the packaging.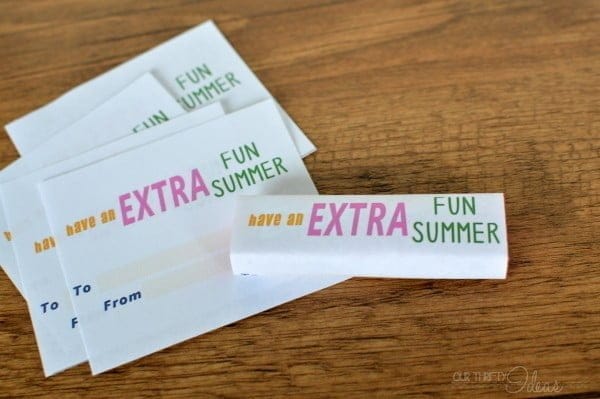 I hope that you love this printable. It's a great way to let your kids give a little something to their friends this Summer or from any summer party.
I did a full week of Summer Break printables on my site. Each gift is $1 or less!! Make sure to check out all the other ideas with free printables included.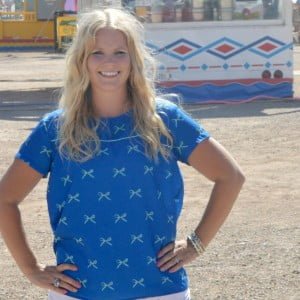 I'd love to have you follow me on social media. I share a bunch about my crazy kids, the crafts we do and the daily fun we have as a family. Find me on Facebook, Pinterest, Instagram, Google + and Twitter
Thank you SO much Vanessa! I know TCB readers will love these!
Printables for Kids
Free printables for younger and older kids.
Print your own and send along in your child's lunch.
Reusable so you can add a personalized message daily.
How to print onto a paper lunch sack.
Printable lunch cards to surprise your kiddos.
Print and use them over and over.
Surprise them with a special Valentine's Lunch.
Halloween theme riddles for the lunch box.
The printable activity sheet is great for road trips.
These printable laundry tips are great for all ages.
Get them excited for the new school year.
Back to School Printables for more fun!
The free printable is a great way to establish boundaries during the summer.
Print these onto self-adhesive sticker paper for some cute and easy labeling.