Decorating for Christmas just got more creative and simple. Download and print this DIY Holiday Banner Free Printable for a fun garland created with tags.
Why not string this Merry Christmas DIY Holiday Banner across my kitchen window, right? I love the simple idea, the farmhouse style, and the inexpensive supplies.
I have been wanting to make this tag banner for a few years and this year, I finally did it. Free printables make it so easy to create holiday decor that's budget-friendly and always so cute!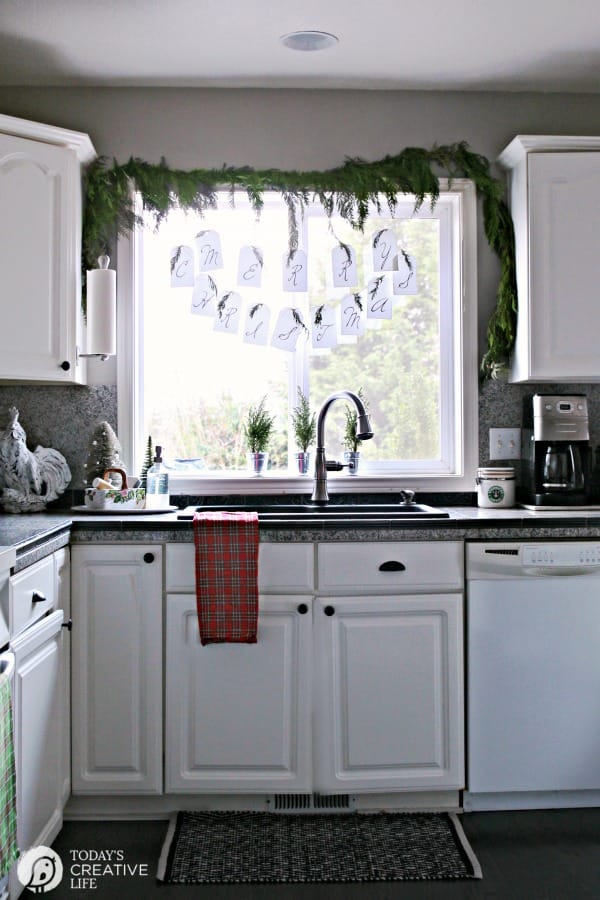 Merry Christmas DIY Holiday Banner
Anyone else look through magazines, tearing out ideas to save for later? I admit, now with Pinterest, I don't do this as much, but I still have folders full of ideas just waiting to happen.
The DIY holiday banner was inspired by this one below. I've saved it for years. I wish I could remember which publication I got it from. Probably Country Living.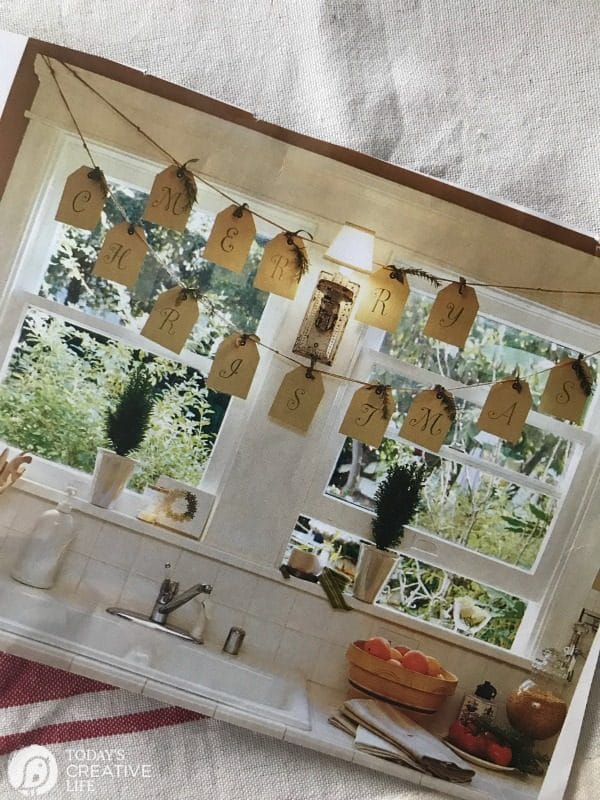 I've wanted to recreate it and finally took the time to do it! I didn't even realize the little holiday trees I picked up from Trader Joe's were almost like the ones in the photo. Lucky! I wasn't trying to duplicate anything other than the tag banner.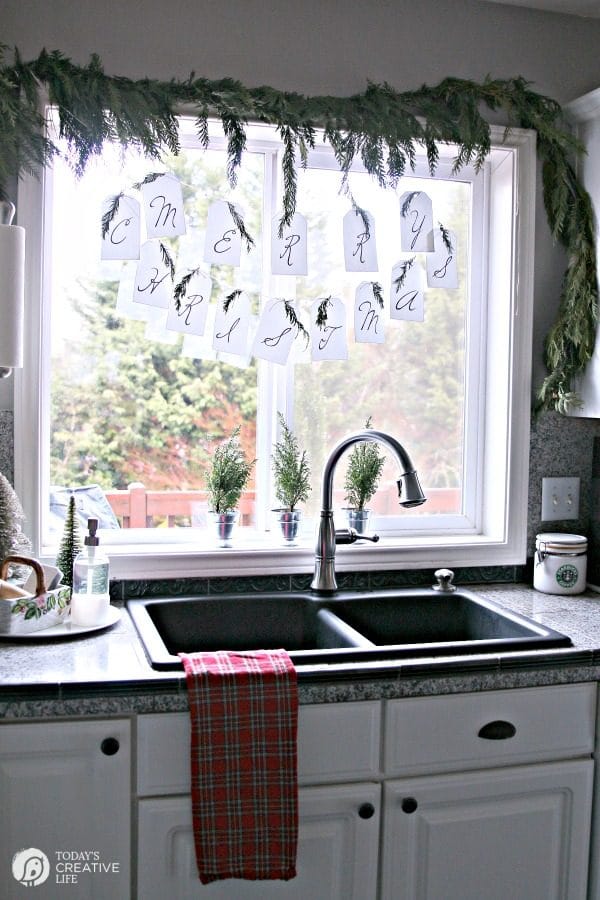 The gift tag banner in the clipping is a bit more rustic and I thought about giving my tags a quick tea stain before stringing up, but I was too impatient. I also thought about lining the edges of each tag with glue and sprinkling with silver glitter too. Again… no patience.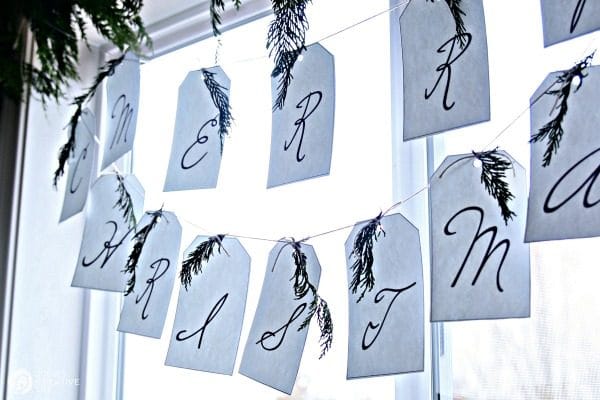 I added the cedar garland to my window for a little extra holiday charm. It's holding up well. You can see how I keep my garland from drying out. It's a little dry but not as dry had I not used this method.
I had planned on sharing this DIY holiday banner a few weeks ago, but I had no idea how difficult it would be to get a decent photo with the window light. I was about to give up but tried one more time.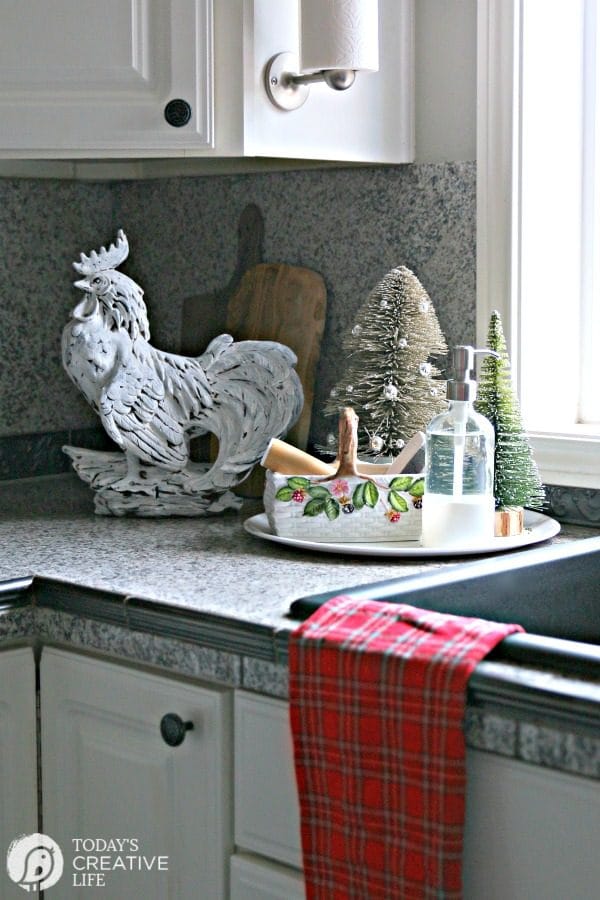 How to Make a Merry Christmas Gift Tag Banner
There are a couple of ways to make this, but just in case you didn't have or couldn't find the supplies, I'm giving you a printable option.
You could purchase large tags, alphabet stickers, and twine from your local craft store or you could just take a sharpie and write in your letters.
Or you could print them.
Supplies Needed:
White or Off-White Cardstock
Inkjet Printer – this one is great quality for only $39
Scissors
Greens – I used cedar, but you could use anything from your yard.
Find your free printable DIY Holiday Banner in the subscriber-only, password protected Printable Vault. If you need to subscribe, click here. Your password will be sent to you. Check your spam folder.
After you've printed, trim each tag and punch a hole in the top.
I didn't thread the twine through the holes. With only one hold, the tags would not have laid straight. I laid the string out in one long line, placed the tags along the string, placed a piece of cedar and used a smaller piece of twine to tie the tag and sprig to the original string.
Hang your banner and slide the tags into the proper spacing.
It's probably one of my most favorite homemade holiday decorations this year.
You could hang it across your mantel, a doorway, across a large mirror. Anywhere you want!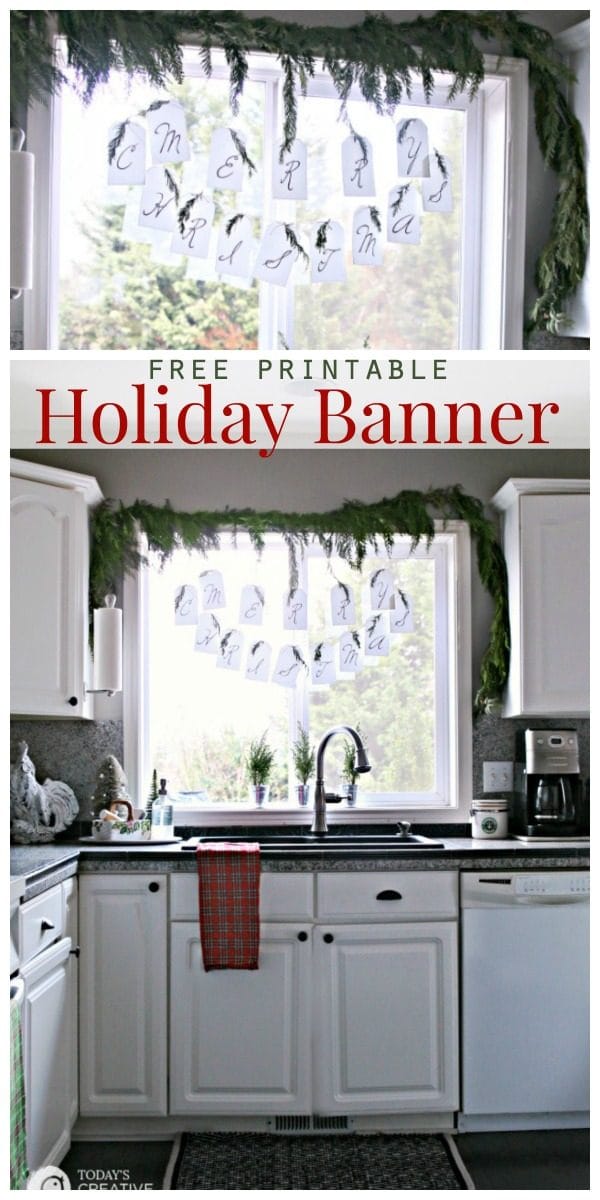 I hope you'll use your DIY Holiday Banner year after year! Tag me on Instagram @TodaysCreativeLife if you make it! I'd love to see how you're using it!
Follow along on Instagram | Pinterest | Facebook
DIY Holiday Decor
Easy DIY ideas for creating your own Christmas decor.
Easy to make Christmas pillows using iron-on vinyl and a pillow cover.
Homemade white clay ornaments are fun and easy to make for holiday decorating.
Drying oranges is a holiday classic. How to make Dried Oranges in the oven for holiday decor, potpourri and gift wrapping.
Easy to make felted wool ball pom-pom winter pillow cover.
Easy to Make Holiday Ornaments using chip board or cardboard
Easy to make Christmas luminaries with cedar and cranberries.
Use your Cricut Cutting Machine to make holiday snow topped paper houses.