This is a potluck and holiday party favorite appetizer! Cream Cheese Cocktail Sauce Shrimp Dip is your "go-to" recipe that's great any time of year! It's also one of the easiest and quickest appetizers you'll ever make. Only 3 ingredients make up this quick dip recipe and I've never met anyone who didn't love it!
You can make a layered shrimp dip or just plop it down and call it good. Either way is delicious and beautiful!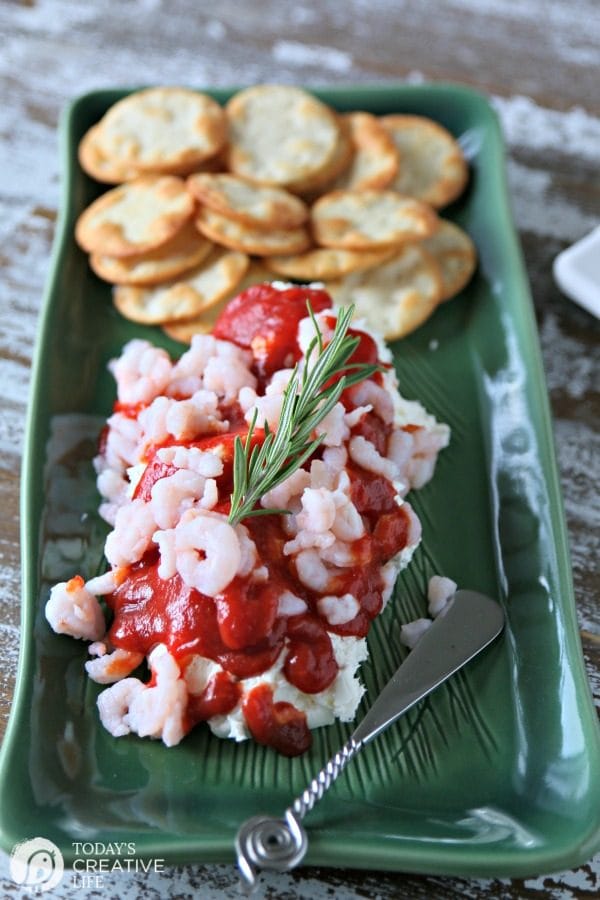 Cream Cheese Cocktail Sauce Shrimp Dip
This is one of those party dips that looks amazing but took you literally about 3 minutes to assemble.
Put it on a pretty platter, add some crackers and you've got yourself the most delicious party appetizer with minimal effort.
How to Make Easy Cream Cheese Shrimp with Cocktail Sauce Dip
You're going to need cream cheese, cocktail sauce, and little cocktail shrimp. And whatever you're going to use as your vehicle for dipping.
I like using whipped cream cheese because it's lighter and fluffier, which makes it easier to scoop up.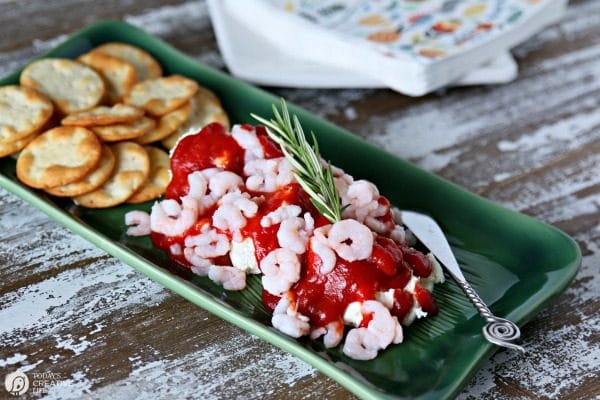 Scoop a few large spoonfuls onto your serving dish or plate and top with a little bit of your shrimp.
Next, pour cocktail sauce over the cream cheese shrimp.
Top with more shrimp. If it's a fancy party or for the holidays, add a garnish of rosemary, or any green herb.
Add crackers to your serving platter and you are finished!
Watch how fast it disappears!
I always have extra ingredients on hand to re-supply my platter.
Can you use Block Cream Cheese?
Yes of course! That's all I used to use until I found the easy of whipped. You'll want to bring the block to room temperature so it's easy to scoop. Sometimes, I may stir it up in a bowl first to give it a less blocky look. But honestly, after you put your toppings on, you can't tell. It all depends on how much time you have.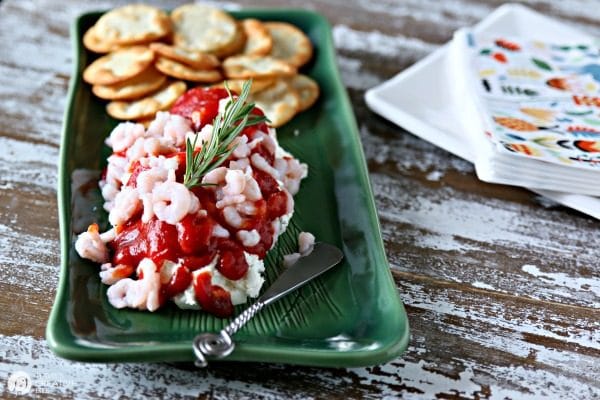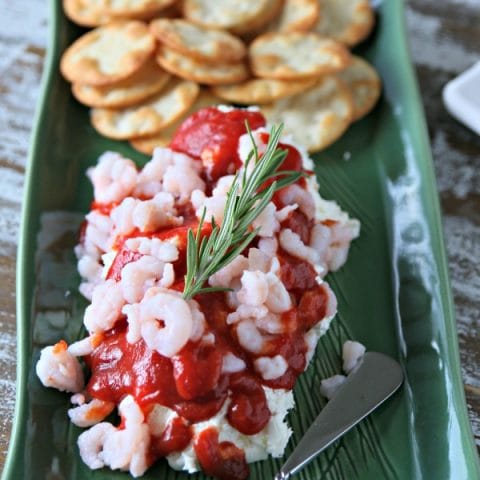 Cream Cheese Cocktail Sauce Shrimp Dip
Yield: 3 cups
Prep Time: 5 minutes
Total Time: 5 minutes
Easy to make 3 ingredient appetizer with cocktail shrimp, cream cheese and cocktail sauce.
Ingredients
8 oz. Whipped Cream Cheese
1 cup Cocktail Sauce
1 cup cocktail shrimp - already cooked
Rosemary for garnish - optional
Instructions
On a serving dish, scoop out the cream cheese into a line.
Add a small amount of shrimp over the top.
Pour cocktail sauce over the shrimp and cream cheese
Top with remaining shrimp.
Add garnish if desired
Notes
You can add any amount of each ingredient for personal taste.
Block cream cheese can also be used. Let it soften to room temp. Leave it as is, or stir it into a smoother consistency.
Nutrition Information
Yield 12
Serving Size 1
Amount Per Serving
Calories 115
Total Fat 7g
Saturated Fat 4g
Trans Fat 0g
Unsaturated Fat 2g
Cholesterol 29mg
Sodium 443mg
Carbohydrates 11g
Fiber 1g
Sugar 5g
Protein 3g
Can you use Crab instead of Shrimp?
Yes, of course! As long as your seafood is already cooked, use whatever you're craving!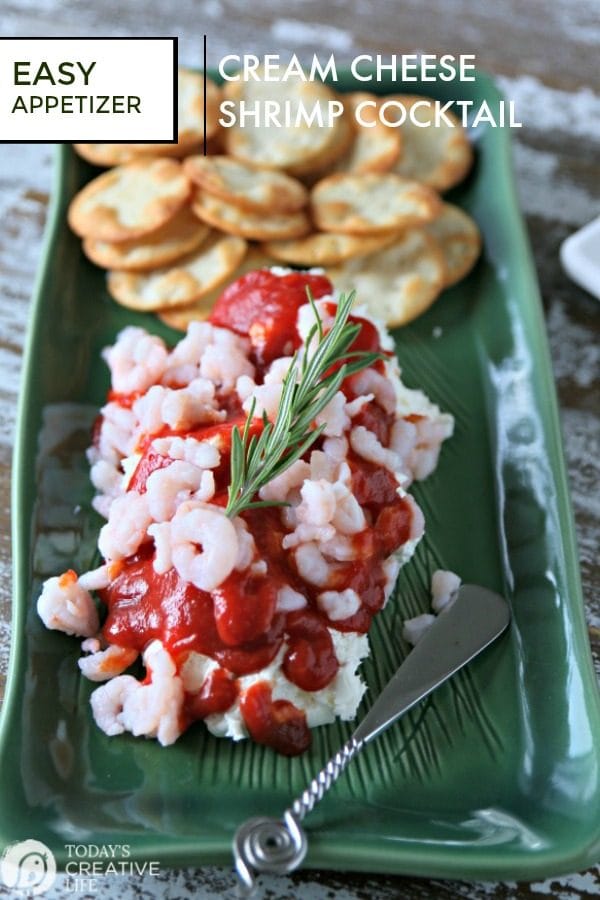 Print off or pin this Cream Cheese Cocktail Sauce Shrimp Dip for the next time you're needing a minimal effort party appetizer. If it's for an office party, just take your ingredients to work in a small lunch bag cooler and assemble there. Easy!
Follow along on Instagram | Pinterest | Facebook
---
Easy Appetizer Recipes
Easy to make, delicious appetizer recipes for holiday parties, potlucks, or BBQs.
The combo of this corn salsa with melted brie is AMAZING! Easy too.
Simple ingredients for an easy appetizer.
Everyone loves a Cheese Ball!
Just the right amount of spice! Perfect for potlucks or game day!
Quick, Easy and DELICIOUS!
This layered hot dip is great served with crackers or sliced baguettes.
Crock Pot Spinach Artichoke dip is an easy recipe for your slow cooker. A hot cheesy dip that's perfect for BBQ's and game day food. An easy appetizer that everyone loves!
There is nothing like homemade clam dip! Fresh, creamy and always a hit.
This hot dip is cheesy and full of bacon bits. Add extras like onions, artichoke hearts etc..