Build layers of cream cheese, chicken, hot wings sauce, ranch dressing and cheese for this easy to make Hot Buffalo Chicken Dip Recipe. It's a party favorite!
I could live on dips alone! Especially this Hot Buffalo Chicken Dip Recipe. This time of year is when the party dips show up. Everyone loves a hot-dip at a potluck, but any type of dip is the perfect football food.
Crockpot dips are always welcome. I haven't tried this recipe in the slow cooker, but I bet it would be delicious!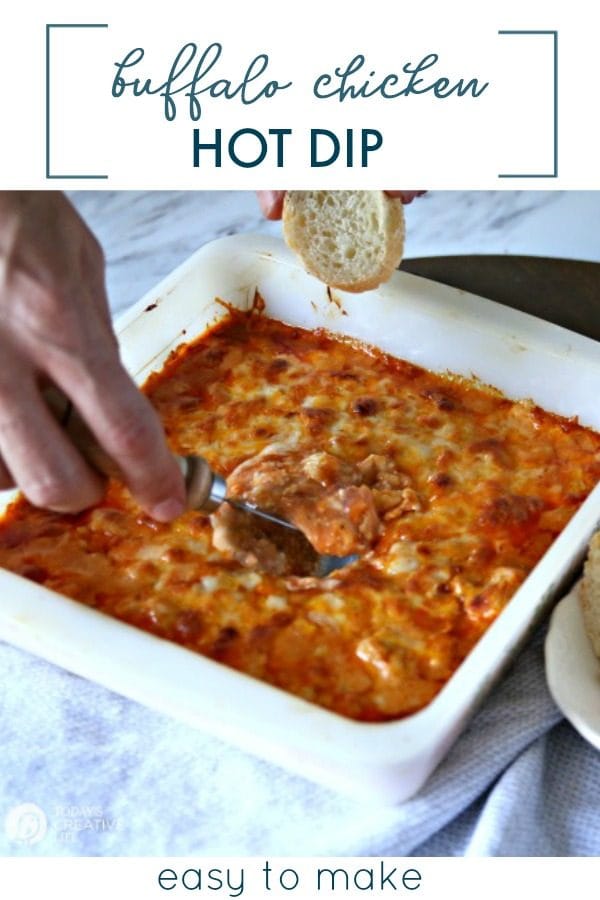 Hot Buffalo Chicken Dip Recipe
This dip recipe is literally SO easy and quick to make. You don't need any kitchen skills to make this happen.
You just layer the ingredients and bake. That's it! It reminds me a bit of my Hot Bacon Cheesy Dip or my Jalapeno Cheese Dip or this Pizza Dip.
Really what it comes down to is cream cheese. You can go wrong when you make a party dip with that stuff!
How to Make Hot Buffalo Chicken Dip
Here's a step by step photo tutorial. I did this mostly so my son could make this at school.
Smear cream cheese in the bottom of your baking dish.
Next, add the chicken. I used canned chicken breast, but rotisserie chicken could also be used.
This is where the kick is added. Slather any hot wings sauce over the chicken. I used Franks Red Hot Wings sauce, but there are other brands.
Squeeze your favorite ranch dressing right over the top of the red sauce.
Top it all off with Colby jack cheese! OH MY GOODNESS!
Throw it in the oven and bake. I broiled just a little to get the cheese good and bubbly brown. Nothing better!
Now the biggest decision is to figure out what to dip into this super easy, super delicious hot buffalo chicken recipe!
Sliced Baguette – This is one of my favorites and definitely feels more hearty if you're looking for something more filling.
Celery – always a great compliment to hot wings sauce.
Crackers – nothing better than a sturdy cracker.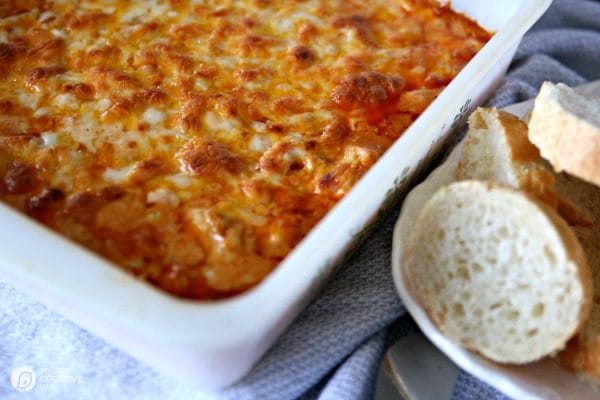 Just like that, all your potluck or football tailgating party dilemmas are solved.
Keep this easy dip recipe on hand for those times you need something quick but tasty.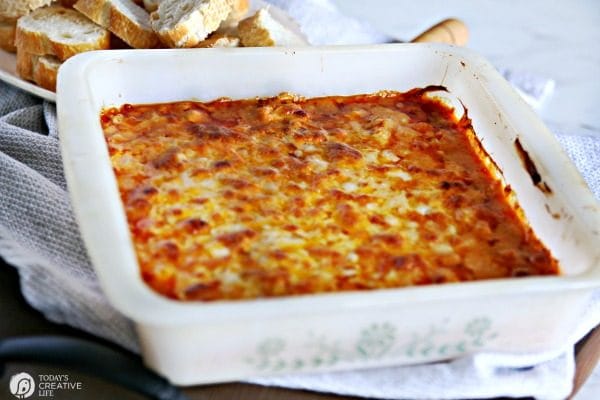 We started with a spreader to scoop up the hot cheesy goodness, but quickly learned a spoon would be so much better!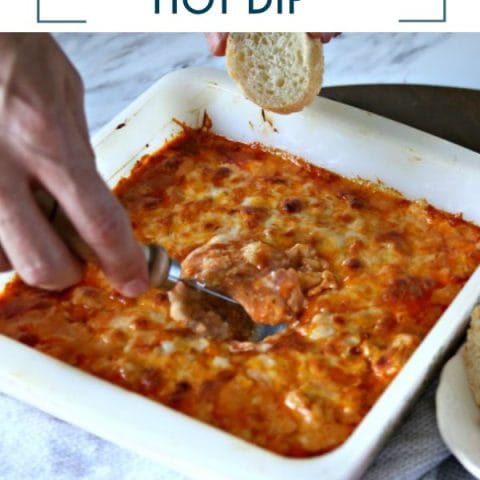 Hot Buffalo Chicken Dip Recipe
Yield: 4 cups
Prep Time: 10 minutes
Cook Time: 30 minutes
Total Time: 40 minutes
Easy to make with simple layers.
Ingredients
1 package (8oz) cream cheese - softened
2 cans (5 oz each) chunk white chicken - or use a rotisserie chicken and separate the pieces.
1/2 cup buffalo wing sauce
1/2 cup ranch dressing
2 cups shredded Colby - Monterey Jack cheese
Instructions
Preheat your oven to 350 degrees.
Using an ungreased 9 x 9 or 1-quart baking dish, spread cream cheese evenly on the bottom.
Layer chicken, wing sauce, ranch dressing.
Sprinkle the top with cheese.
Bake uncovered for 20-25 min. I then broiled for another 5-10 min until the top of brown and bubbling.
Serve with veggies, baguettes, crackers.
Notes
Feel free to add more chicken if desired.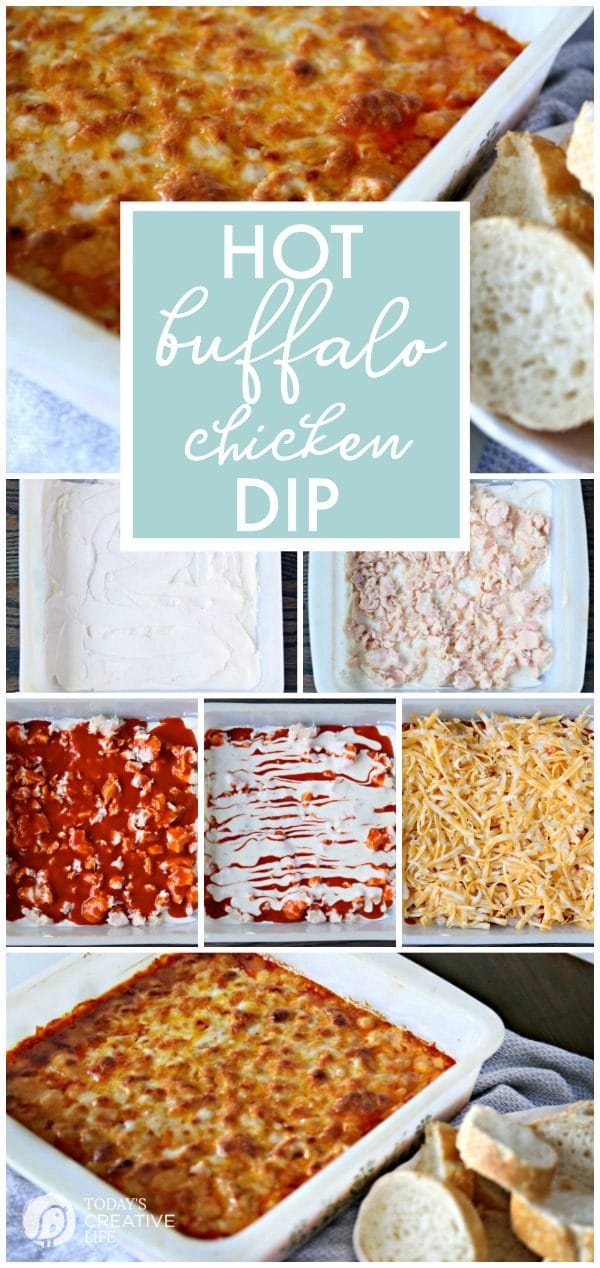 Enjoy!
If you make this dip, share it on Instagram and tag @TodaysCreativeLife
Follow along on
Instagram | Pinterest | Facebook
Appetizer Recipe Ideas
Easy to make delicious appetizer ideas.
Variations:
Add a cup of chopped artichoke hearts and green onions.
This chunky Southwestern salsa is a great party appetizer too!
Quick, Easy and DELICIOUS!
Easy to make 3 ingredient appetizer with cocktail shrimp, cream cheese and cocktail sauce.
Easy to make using puff pastry, garlic, butter and parmesan! Great with salads and soup or take as an appetizer.
This slow cooker dip is easy to make ahead of time!
---