Sweet pepper, cream cheese, and seasonings are all you need for this easy finger food appetizer Cheesy Sweet Pepper Poppers. Party food made easy!
It seems like finding easy appetizer ideas in a pinch are always difficult, or at least make us panic for a moment. Well, these Cheesy Sweet Pepper Poppers are simple and delicious! Stuffed with a cream cheese mixture and topped with cheese make them the perfect party finger food for any potluck or event! They make great football food for any big game and of course the super bowl.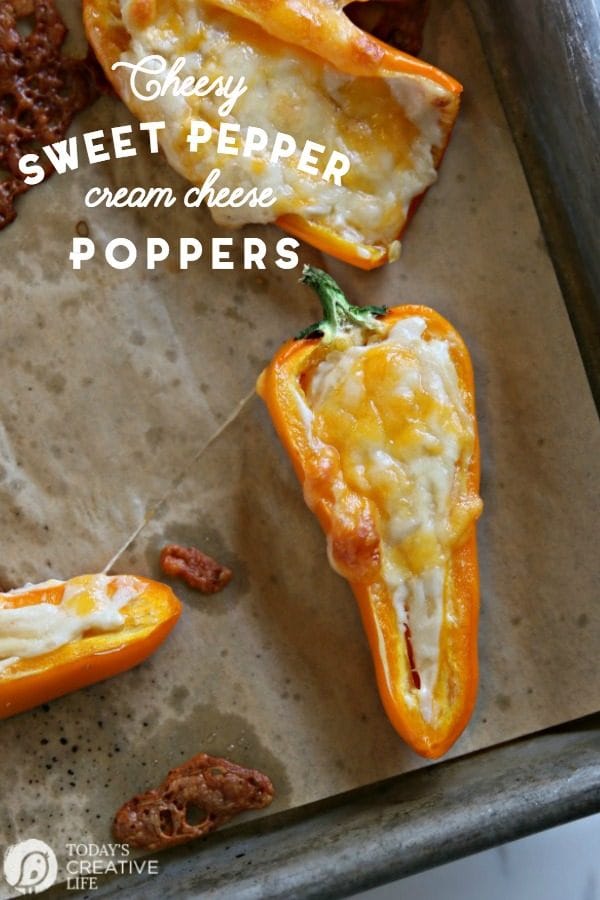 If you're having people over for the big game, you may also enjoy these printable football napkin rings.
Cheesy Sweet Pepper Poppers
Truth be told, I don't even like sweet peppers. I don't like green peppers or onions either. My husband LOVES them. I can, however, tolerate these stuffed sweet peppers like these sweet pepper poppers when they are filled with my delicious cream cheese filling and topped with a colby jack cheese. I may add crumbled bacon next time! If it's deep fried, or stuffed with cheese, chances are, I'll eat it!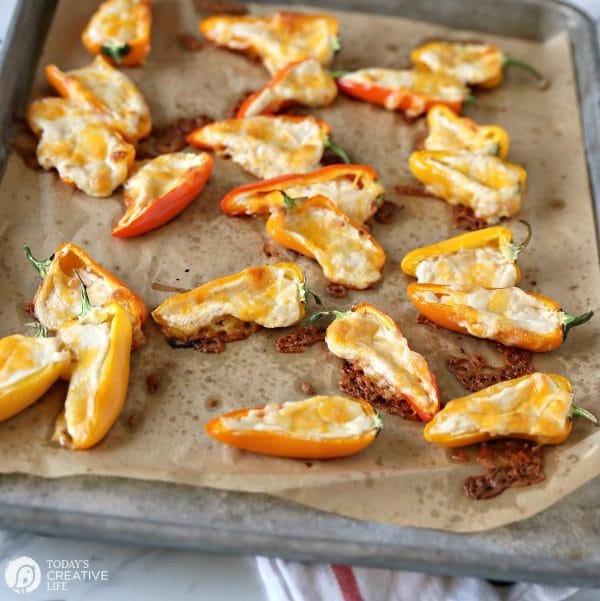 How to Make Cheesy Sweet Pepper Poppers
You'll find these cute mini sweet peppers in your produce section of any grocery store. Ours are always already in a clear bag. There are usually 3 different colors; orange, yellow and red. The yellow are the sweetest and mildest in taste.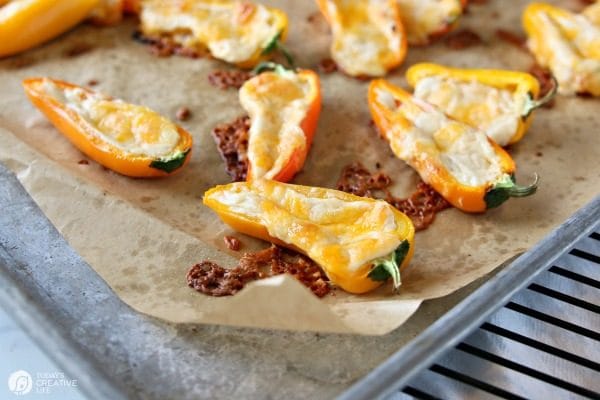 You'll want to slice them in half and scoop out the middles, removing the seeds and all.
Fill them with your filling and just bake. So easy!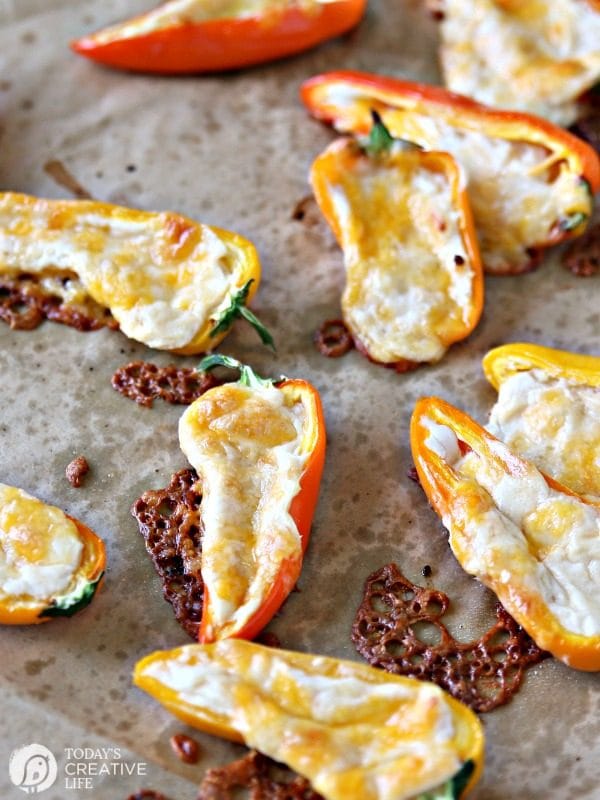 What's the Best Filling for Stuffed Sweet Pepper Poppers?
Whenever I make these for my husband, I always use cream cheese for my base and choose a selection of seasonings and spices to blend in. I usually always add shredded cheese of some sort too. Bacon crumbles are also great to add. Heck, you could wrap with bacon and then bake until it's crispy.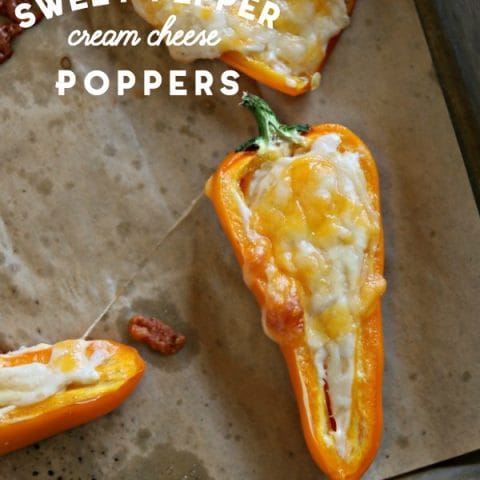 Cheesy Sweet Pepper Poppers
Yield: 12
Prep Time: 10 minutes
Cook Time: 12 minutes
Total Time: 22 minutes
Ingredients
1 bag of mini sweet peppers (about 10 peppers)
1 brick cream cheese (8oz) Room temp.
2 teaspoons Worcestershire Sauce
1/4 teaspoon garlic powder
1/4 cup Parmesan cheese
1/4 cup Shredded Colby-Jack Cheese to sprinkle on top
Instructions
Preheat oven to 400°
Slice each pepper in have, leaving the stems intact.
Clean out the middle by scooping out seeds and membranes.
Arrange on a baking sheet. I use parchment paper to avoid any sticking.
In a medium-size bowl, cream together all ingredients except the colby jack cheese.
Using a spoon or butter knife, fill each pepper with cream cheese mixture.
Sprinkle cheese over the top of each pepper and bake.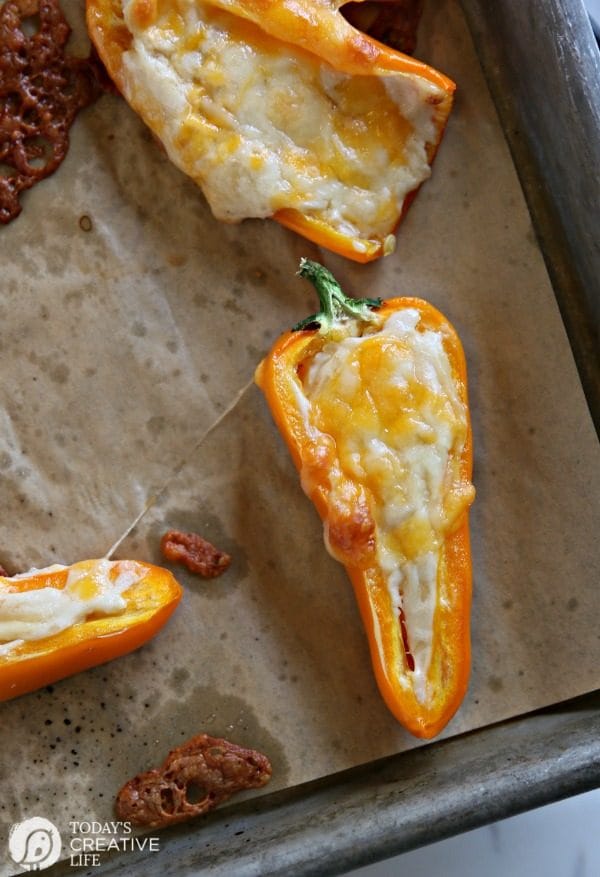 Serve these Cheesy Sweet Pepper Poppers on a platter with the rest of your party food and watch them disappear.
---
More Party Food Ideas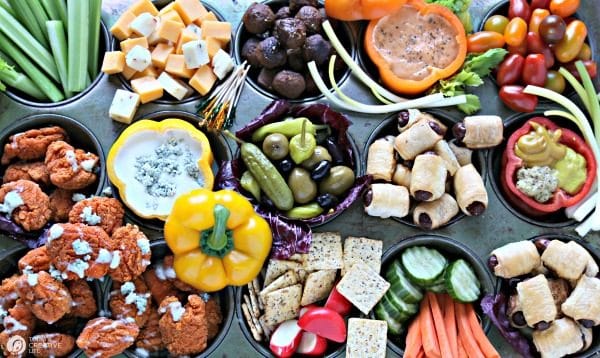 Tailgate Football Food Idea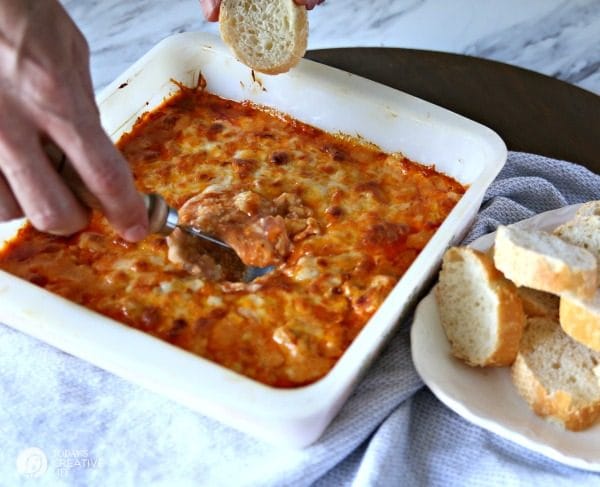 Hot Buffalo Chicken Dip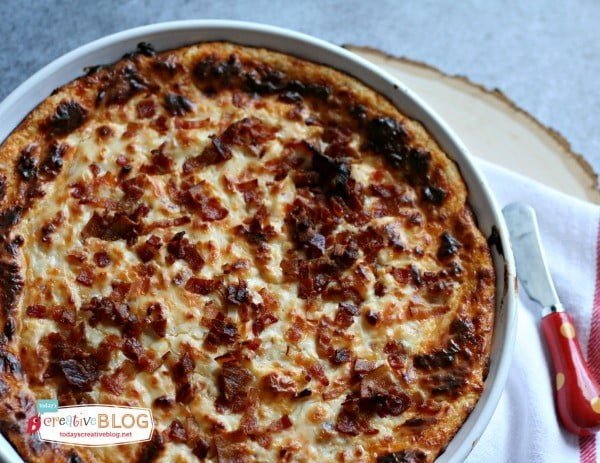 Cheesy Bacon Dip
Follow along on Instagram | Pinterest | Facebook