This easy and simple guacamole recipe with salsa is made with avocados, chunky salsa, garlic, and lime juice. Make it chunky or smooth, it all depends on your taste.
It's guacamole time! Do you know how I know that? Because the Super Bowl is this weekend and we MUST make this simple guacamole recipe with salsa. Or if you want something a little fancier, try my Chipotle Pepper Guacamole.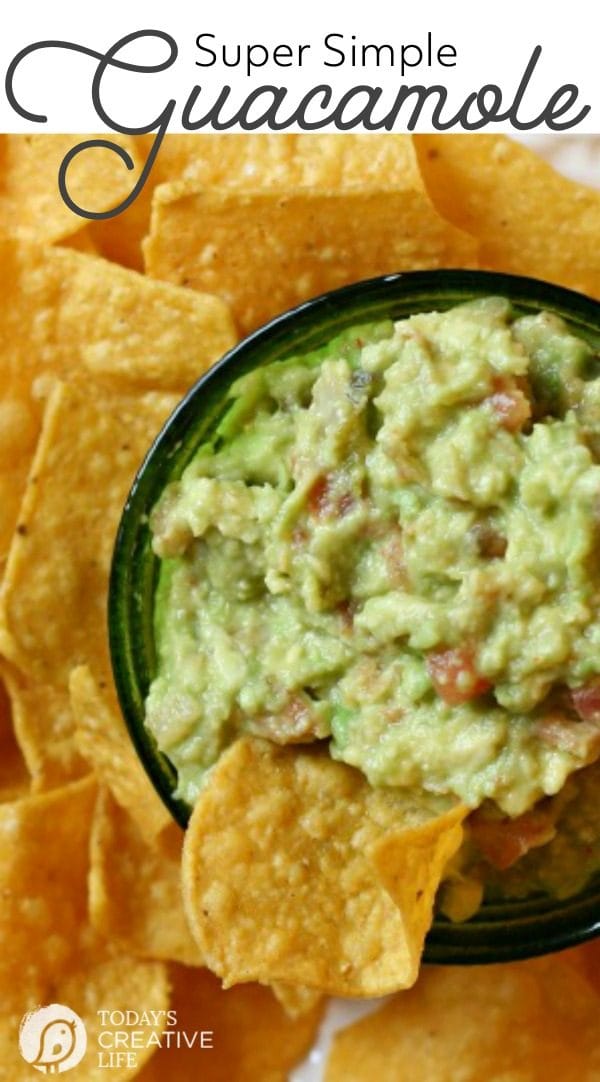 We love guacamole around here and I can't lie……I'm thrilled my son has always loved avocados. Seeing a one-year-old devour an avocado for his snack made me feel like I was the best mom on the planet. So good for you and they're green, so it counts as a green veggie right? Or are they a fruit? Who cares! They are delicious!
Simple Guacamole Recipe with Salsa
Guacamole is the perfect football food, I think it's pretty much a requirement. Otherwise, your team will lose. True.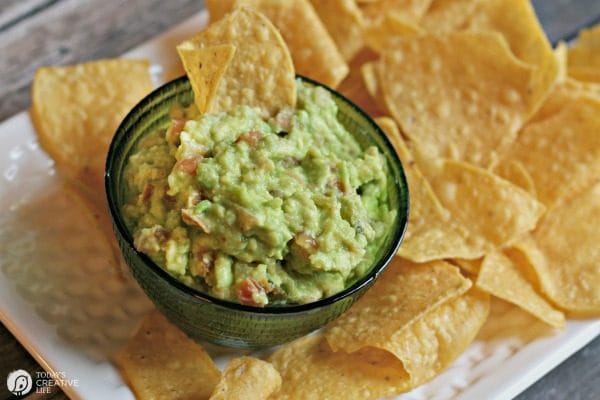 Have you ever made guacamole? Contrary to what you may think, it's NOT hard to make. At least my way is easy.
I don't like complicated food or recipes with a ton of ingredients or steps. I also don't like a lot of onions.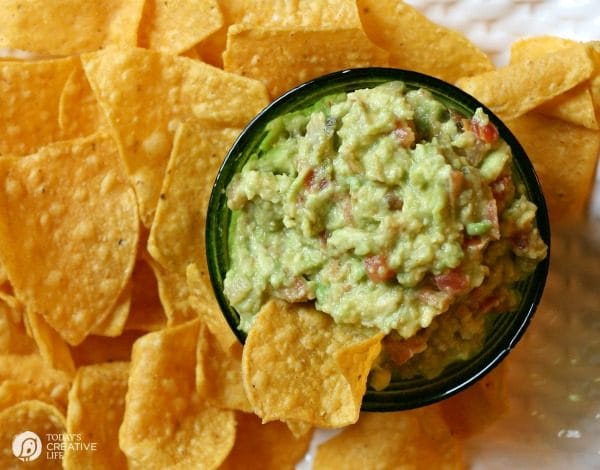 How to Make Simple Guacamole
This recipe is extra simple because I've eliminated all the slicing and dicing. When I'm short on time, or ingredients, I just substitute salsa for fresh tomatoes, onion and cilantro. I use a masher to reach the consistency we love and it's finished in minutes.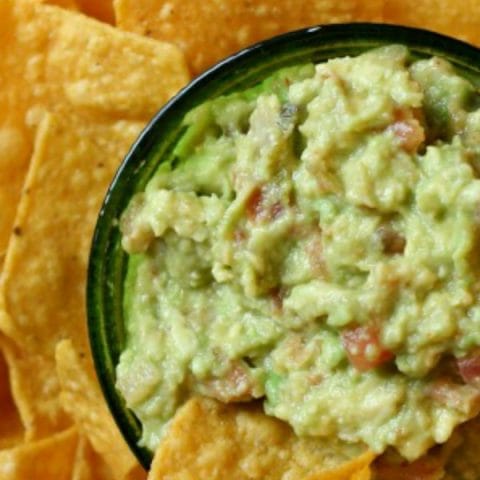 Easy Homemade Guacamole Recipe
Yield: 1
Prep Time: 10 minutes
Total Time: 10 minutes
Easy guacamole recipe with salsa is quick to make and delicious to eat!
Ingredients
4 Medium Avocados
2 garlic cloves crushed
1/4 cup pico de gallo (chunky salsa)
Juice of one lime
Instructions
Slice your avocados, scooping out the "meat" into a bowl. Discard the pits and skin.
Add your Pico de Gallo or salsa.
Slice a lime and squeeze the juice into the bowl.
Stir.
TASTE! This is when you'll be able to tell if you need any additional salt or garlic. Depending on your pico, this is when to add the garlic cloves.
If it tastes too salty, add another avocado.
Recommended Products
As an Amazon Associate and member of other affiliate programs, I earn from qualifying purchases.
Nutrition Information
Yield 4
Serving Size 1
Amount Per Serving
Calories 328
Total Fat 30g
Saturated Fat 4g
Trans Fat 0g
Unsaturated Fat 23g
Cholesterol 0mg
Sodium 46mg
Carbohydrates 19g
Fiber 14g
Sugar 2g
Protein 4g
We do our best to calculate, however, nutrition information may not be accurate.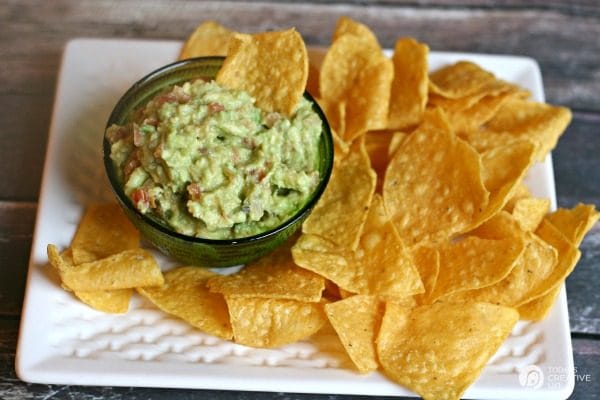 This goes great with nachos or just as a dip. We like to make cheese chips (lazy man's nachos) and just melt cheese over the chips, and then dip away. Again……..so simple, but so delicious. It's a really fast way to make an appetizer for a crowd or just a couple of people.
How Long Does Guacamole Last?
Guacamole is best served fresh, but if you do have leftover guacamole, you can store it in the fridge for 3 to 4 days. Here's the trick though, to keep it from turning brown, pour a small amount of lukewarm water over the top, making sure it covers it completely. I smooth mine out to eliminate any pockets, and then add the water. Cover with plastic wrap and place in the fridge.
Can You Freeze Guacamole?
The good news? Yes, you can freeze guacamole. The bad news, it's best if you freeze it without tomatoes or onions. The Food Network did a great post on this and why it's best without the salsa. To freeze a simple guacamole recipe, use a small ziploc bag and squeeze all the air out before sealing. To thaw, let it thaw in the fridge overnight, open, stir and enjoy!
How to Peel and Cut an Avocado
If you eat a lot of avocados, do yourself a favor and get an Avocado Slicer. It has changed my life. It makes slicing, pitting and scooping quick and easy.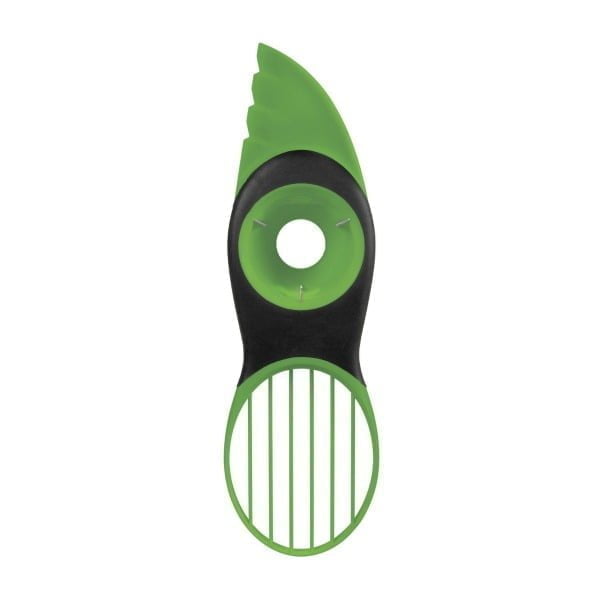 Use the knife edge to slice lengthwise around the avocado.
Twist gently to open.
Use the 3 prongs round portion of the avocado knife to push into the pit. Twist to remove. Now push your finger into the small hole to release the pit into the garbage.
Using the oval section with lines to scoop your avocado into slices.
Using this tool makes making this Simple Guacamole Recipe with Salsa even easier!
Easy Dip and Appetizer Recipes
Simple ingredients & easy to make appetizers and dips.
Easy Dip and Appetizer Recipes
Simple ingredients & easy to make appetizers and dips.