Making your own body scrubs with sugar or salt is easy and economical. This Homemade Coconut Oil Sugar Scrub exfoliates and moisturizes any skin type and only has 2 ingredients. It can be scented with essential oils if desired.
I've been talking a lot lately about dry skin remedies. I am addicted to my homemade whipped body butter and sugar or salt scrubs, especially since that I'm in the water so much swimming or teaching water fitness classes. I'm sure getting older is also causing my skin to feel dryer, but I'm ignoring that….the older part, not the dry skin.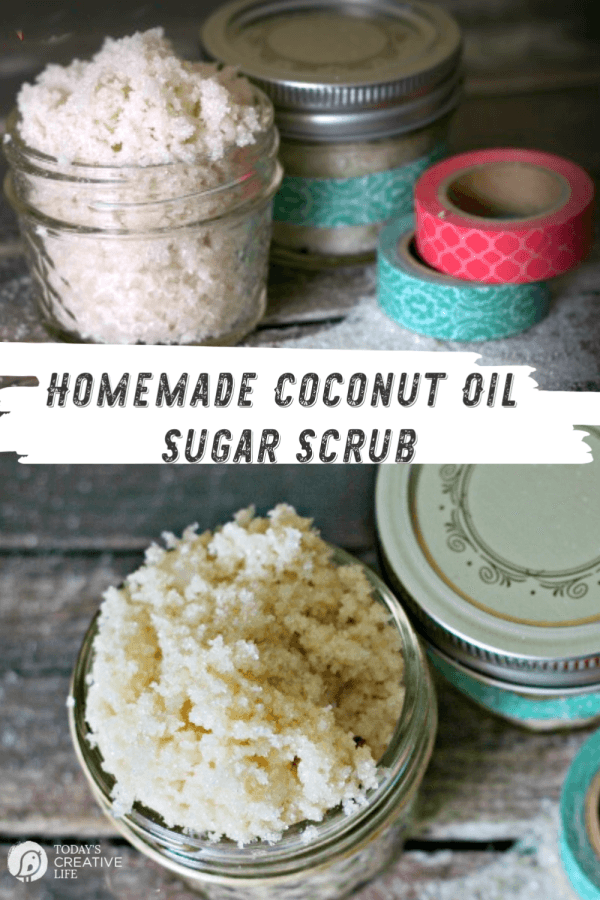 Coconut Oil Sugar Scrub Recipe
It seems like every time I turn around I'm reading the health benefits of coconut oil. I love the no sugar chocolate truffles I make with the stuff, but it's also really good for your skin too.
This coconut oil sugar scrub recipe isn't fancy and doesn't take any skill, but you'll be so happy you made some.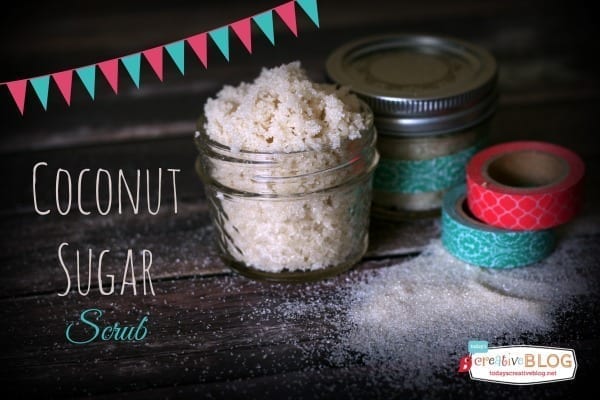 After teaching my water class, I like to hit the steam room, maybe the hot tub, then a nice long shower. My skin always feels a little itchy after being in the chlorinated water if I forget to take my whipped body butter or one of my scrubs with me. No matter how much lotion I apply, I can feel the skin pulling and cracking by that evening when I climb into bed. I will also still smell a bit of chlorine. But if I remember to use a sugar scrub, I can ward off any dryness.
I usually make my sugar scrubs quickly, using almond oil with sugar or salt. This time I thought I'd try coconut oil instead. The consistency is a little different, but the end result is the same. I like the larger grain organic sugar. Feels like it exfoliates better.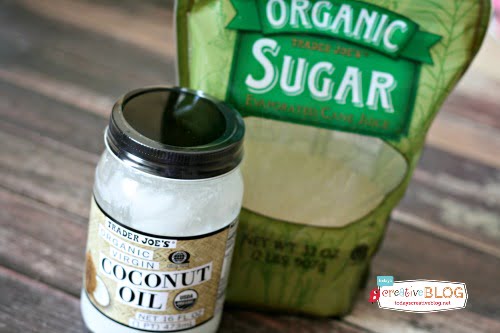 After washing with soap or body wash, I take a small handful of the scrub and scrub away. Rinsing with HOT water helps remove any excess oil. The one annoying thing about scrubs is how slick they can leave your shower floor. I just take a little shampoo, pour it on the floor and swish it around (carefully). This removes most of it, making it less slick, and now my feet are clean too. 🙂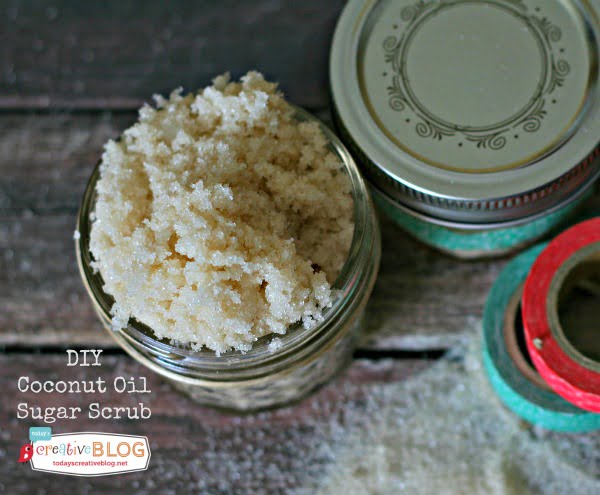 Stepping out of the shower, I just pat dry. If you rub like you normally do, you'll rub the oil off. Don't worry, it will soak in quickly.
No itchy skin, no toxic ingredients……and I smell like coconut. I think I'll grab a pineapple oil scent the next time I'm at New Seasons, then I can walk around smelling like a pina colada.
How to Make a Sugar Body Scrub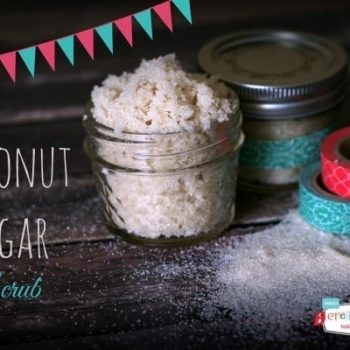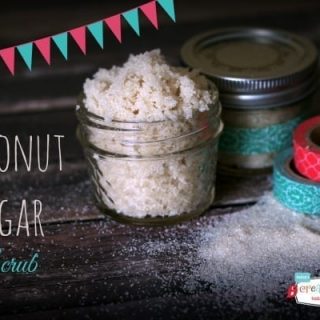 Coconut Sugar Scrub
Ingredients
1/4 cup Coconut Oil
1 cup Sugar or Salt
Instructions
Place the oil and the sugar into a bowl. Mix with a fork until well blended.
Store in an airtight container.
I store mine in a jar or a ziplock bag.
How to Exfoliate with a Sugar Scrub
While in the shower, use a small handful of sugar body scrub and rub in a circular motion on dry patches, such as elbows and knees. You can use on your arms, legs, back, shoulders etc… Avoid your private parts for obvious reasons.
If you want to make a cute DIY gift for someone, pick up some cute jars and simply wrap a little Washi Tape around the jar. Add a label and you've got yourself a nice easy gift.
If you love this Coconut Oil Sugar Scrub, you'll also love this Overnight Coconut Oil Hair Mask.
---
Homemade Body Scrub Recipes
DIY Citrus Sugar Scrub with Printable Label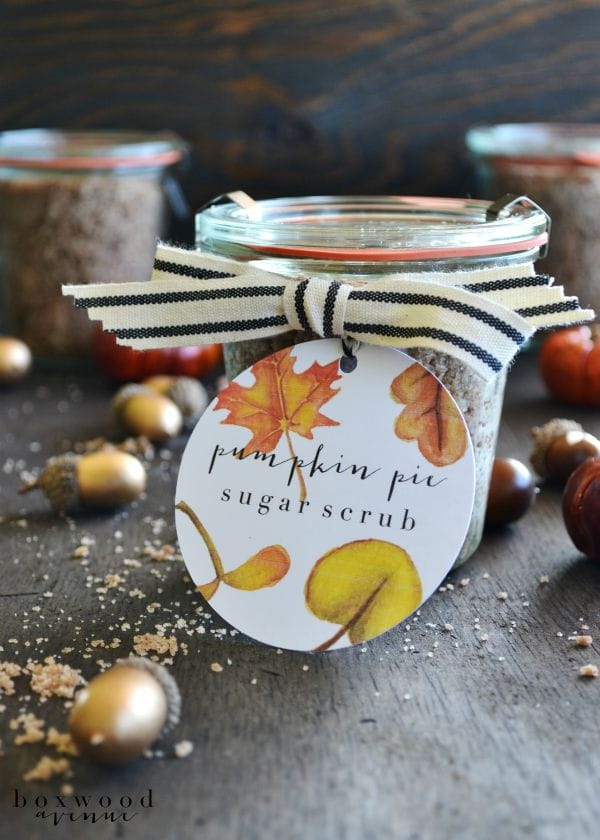 Pumpkin Pie Sugar Scrub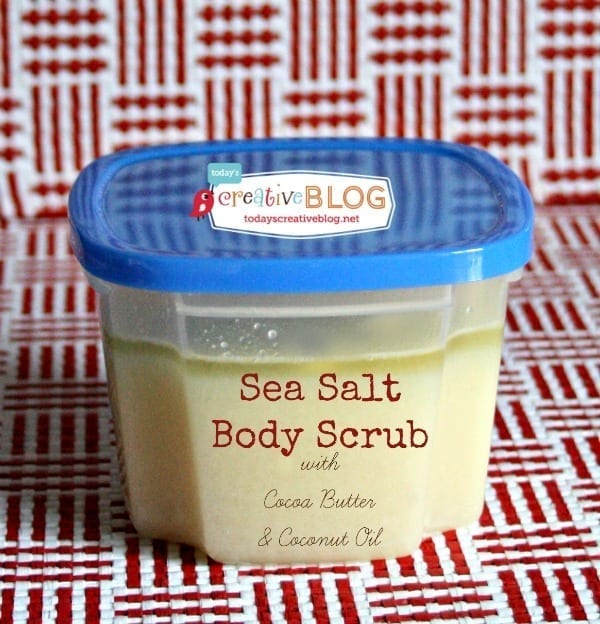 Sea Salt Body Scrub