Making your own body scrubs with sugar or salt is easy and economical. This Homemade Coconut Oil Sugar Scrub exfoliates and moisturizes any skin type and only has 2 ingredients. It can be scented with essential oils if desired.
I've been talking a lot lately about dry skin remedies. I am addicted to my homemade whipped body butter and sugar or salt scrubs, especially since that I'm in the water so much swimming or teaching water fitness classes. I'm sure getting older is also causing my skin to feel dryer, but I'm ignoring that….the older part, not the dry skin.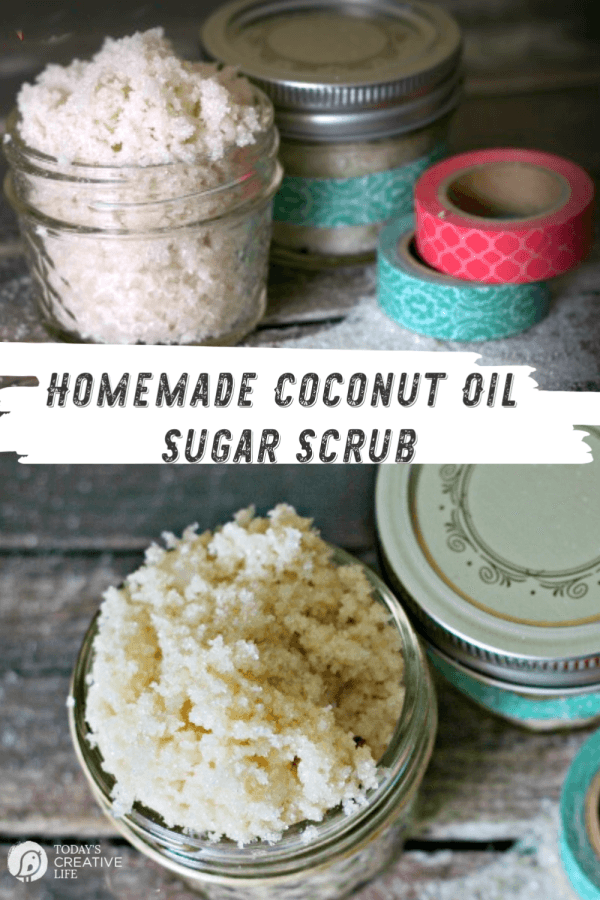 Coconut Oil Sugar Scrub Recipe
It seems like every time I turn around I'm reading the health benefits of coconut oil. I love the no sugar chocolate truffles I make with the stuff, but it's also really good for your skin too.
This coconut oil sugar scrub recipe isn't fancy and doesn't take any skill, but you'll be so happy you made some.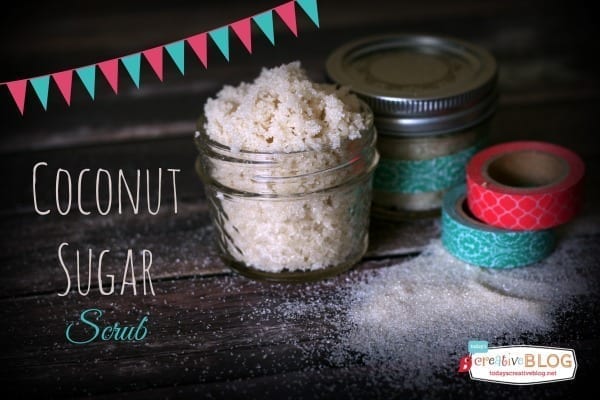 After teaching my water class, I like to hit the steam room, maybe the hot tub, then a nice long shower. My skin always feels a little itchy after being in the chlorinated water if I forget to take my whipped body butter or one of my scrubs with me. No matter how much lotion I apply, I can feel the skin pulling and cracking by that evening when I climb into bed. I will also still smell a bit of chlorine. But if I remember to use a sugar scrub, I can ward off any dryness.
I usually make my sugar scrubs quickly, using almond oil with sugar or salt. This time I thought I'd try coconut oil instead. The consistency is a little different, but the end result is the same. I like the larger grain organic sugar. Feels like it exfoliates better.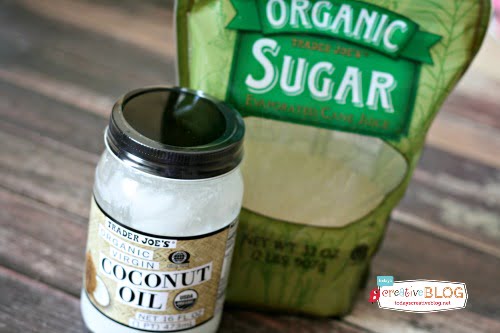 How to Use a Body Scrub
After washing with soap or body wash, I take a small handful of the scrub and scrub away. Rinsing with HOT water helps remove any excess oil. The one annoying thing about scrubs is how slick they can leave your shower floor. I just take a little shampoo, pour it on the floor and swish it around (carefully). This removes most of it, making it less slick, and now my feet are clean too. 🙂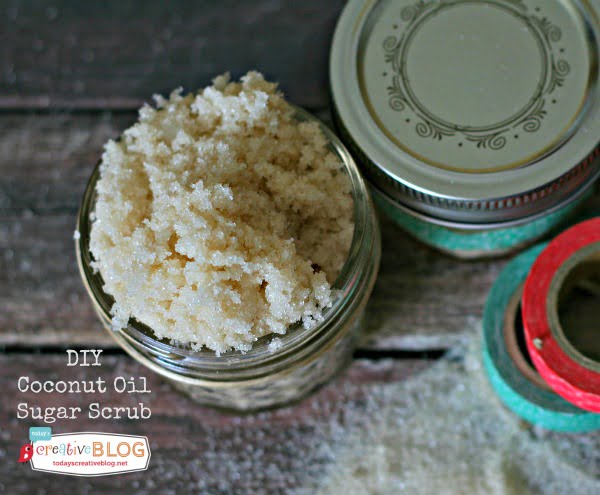 Stepping out of the shower, I just pat dry. If you rub like you normally do, you'll rub the oil off. Don't worry, it will soak in quickly.
No itchy skin, no toxic ingredients……and I smell like coconut. You can add your favorite essential oil if you want to add a different scent.
How to Make a Sugar Body Scrub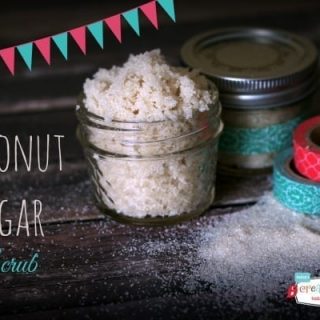 Coconut Sugar Body Scrub
Yield: 1
Prep Time: 10 minutes
Total Time: 10 minutes
Easy to make body scrub using coconut oil, sugar or salt.
Ingredients
1/4 cup Coconut Oil - less if using liquid fractionated coconut oil. I used the scoopable type from a jar.
1 cup Sugar or Salt
10 drops Essential oils - optional
Instructions
Place the oil and the sugar into a bowl. Mix with a fork until well blended. You can melt the coconut oil a bit first if you're not using liquid fractionated coconut oil.
Store in an airtight container.
I store mine in a jar or a ziplock bag.
Notes
Beware that the shower floor can become very slick. I always use a bit of shampoo to swish around on the shower floor to remove any extra oils. I have also used my shower cleaner which is a mixture of dawn dish soap and white vinegar 1:1 ratio.
Recommended Products
As an Amazon Associate and member of other affiliate programs, I earn from qualifying purchases.
Nutrition Information
Yield 1
Serving Size 1
Amount Per Serving
Calories 2740
Total Fat 221g
Saturated Fat 77g
Trans Fat 1g
Unsaturated Fat 131g
Cholesterol 0mg
Sodium 583mg
Carbohydrates 200g
Fiber 0g
Sugar 200g
Protein 0g
We do our best to calculate, however, nutrition information may not be accurate.
How to Exfoliate with a Sugar Scrub
While in the shower, use a small handful of sugar body scrub and rub in a circular motion on dry patches, such as elbows and knees. You can use on your arms, legs, back, shoulders etc… Avoid your private parts for obvious reasons.
If you want to make a cute DIY gift for someone, pick up some cute jars and simply wrap a little Washi Tape around the jar. Add a label and you've got yourself a nice easy gift.
If you love this Coconut Oil Sugar Scrub, you'll also love this Overnight Coconut Oil Hair Mask.
Homemade Beauty Recipes
Make your own beauty recipes for a homemade spa! Simple non-toxic ingredients.
Fresh homemade body scrub with grapeseed oil and oranges.
Remove and clean hands after gardening with this easy-to-make hand scrub.
Homemade body scrubs with cocoa butter and coconut oil are the main ingredients for smooth skin.
Homemade body wash is simple to make and healthy for your skin.
This soaking recipe is great for homemade gifts too.
Easy to make body sugar scrub with vanilla. The scent will be your favorite.
Get ready for fall with this homemade sugar scrub recipe. Makes a great gift too!
Essential oils give this body scrub that invigorating scent!