Get dry skin relief when you make your own whipped body butter recipe with 3 simple ingredients. Coconut oil, cocoa butter, and almond oil which are excellent for moisturizing and hydrating the skin. These ingredients help to replenish moisture in the skin and prevent dryness and flakiness.
Your skin is going to thank me! This homemade Body Butter Recipe is easy to make and helps moisturize winter skin. It feels good, smells good and makes a great DIY gift idea.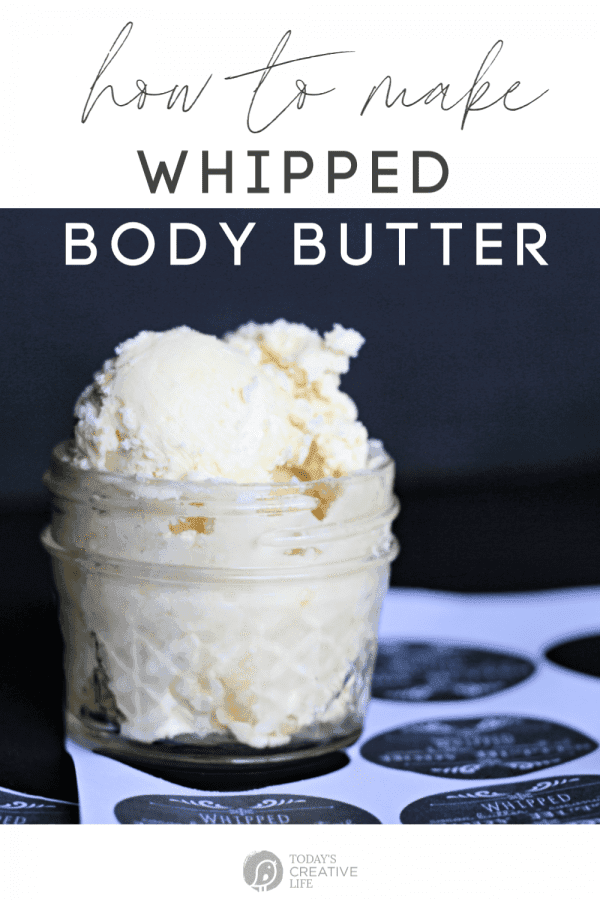 Whipped Body Butter Recipe
Even the Pacific Northwest got a bit of that cold snap a week or so ago and although our air is usually pretty moist, it was DRY and COLD. My skin was itchy and dry, even though I was using my homemade sugar scrub in the shower. It certainly helped, but I think spending time in the pool was a double whammy with the weather. I'm much too delicate for such conditions.
What is Body Butter?
Body Butter is usually made with a combination of cocoa butter, shea butter, coconut oil or almond oil. It's thicker than your typical body lotion meant to restore dry skin, especially problem dry areas, such as knees, elbows, and heels.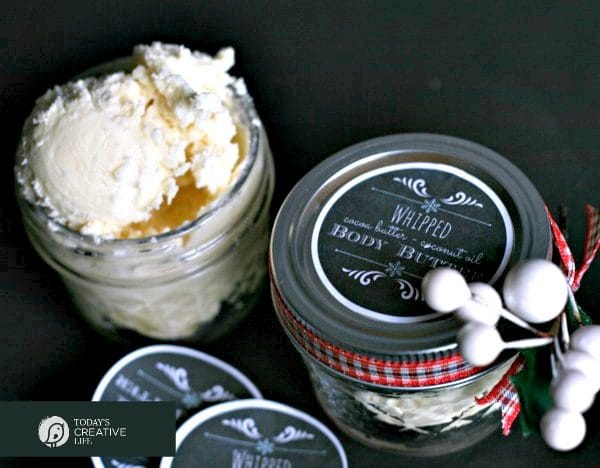 How to Make Whipped Body Butter
While at New Season's I saw this cocoa butter, which instantly reminded me of hot summer days in Central Oregon when I was a teen. Yes, we used to slather it on for tanning oil. It came in a small bar and was made by Hershey.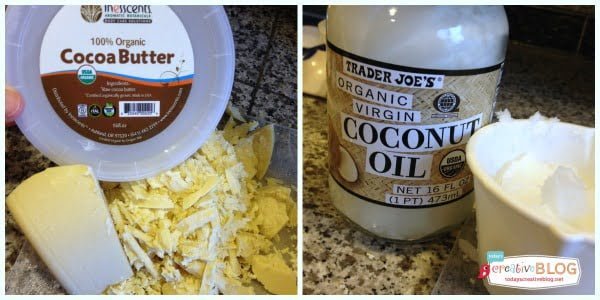 I also remember it being very moisturizing. Why not combine it with coconut oil and almond oil? I'm such a genius……that when I came home to google it……several people have already made body butter…. with these exact ingredients. It just goes to show there are NO original ideas. But it's original to me and I'm loving it.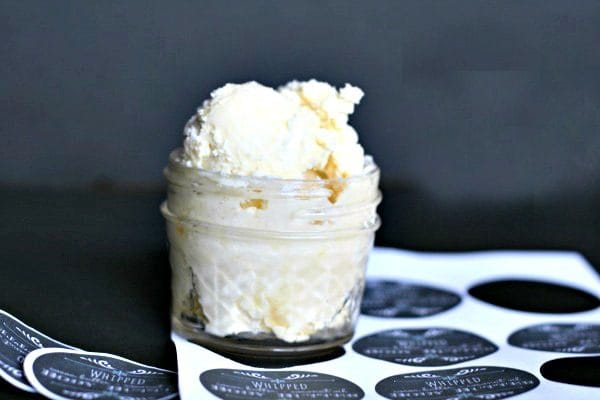 This Whipped Body Butter is GREASY and smells like chocolate……..but it soaks in quickly. I would use it at night if you're wearing anything other than a sweatshirt and yoga pants like I do. I love the smell of cocoa butter, but if you don't, just add a few drops of your favorite essential oil.
This would be a great DIY Holiday gift!
I've got free printable labels located in the Printable Vault under Tags and Labels if you need them.
Printables are free to TCL subscribers. Subscribe here. Your password will be sent to you. Be sure to check your spam folder.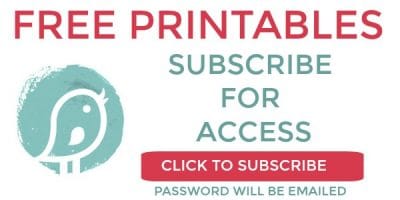 So easy to make. The next time I make it, I won't whip it so long.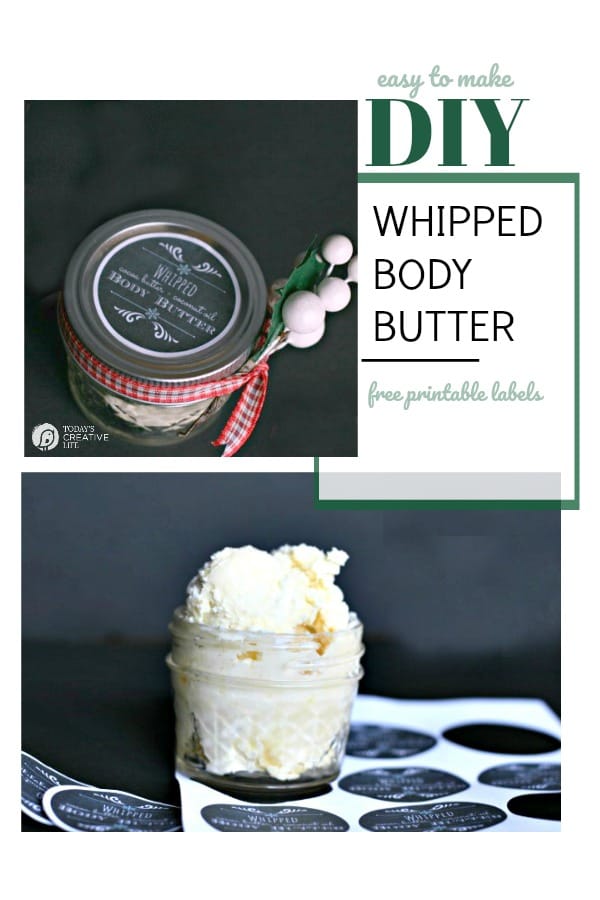 My skin is happy again.
Homemade Whipped Body Butter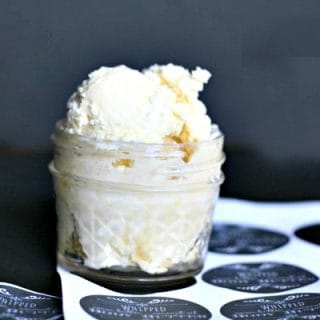 How to Make Body Butter
Yield: 2 cups
Prep Time: 20 minutes
Additional Time: 2 hours
Total Time: 2 hours 20 minutes
Difficulty: Easy
Estimated Cost: $20
Easy to make 3 ingredient moisturizing body butter.
Materials
1 Cup Raw Cocoa Butter
1/2 Cup Coconut Oil
1/2 Cup Almond Oil
Tools
Electric Hand Mixer
Double boiler
Instructions
Melt the cocoa butter and coconut oil in a double boiler. I used a large saucepan with my 4 cup pyrex glass measuring bowl, hooking the handle over the edge of the pot.
When they are fully melted, remove from heat and add almond oil.
Place in the refrigerator for a couple of hours until it starts to harden, but still soft enough to poke your finger into.
Use your hand mixer to whip until it resembles whipping cream.
Fill your containers and enjoy!
Notes
Add essential oils before whipping if desired.
Apricot oil also works great.
Recommended Products
As an Amazon Associate and member of other affiliate programs, I earn from qualifying purchases.
Create homemade gifts by using a cute jar and printable label.
Follow along on Instagram | Pinterest | Facebook
Homemade Beauty Recipes
Make your own beauty recipes for a homemade spa! Simple non-toxic ingredients.
Fresh homemade body scrub with grapeseed oil and oranges.
Remove and clean hands after gardening with this easy-to-make hand scrub.
Homemade body scrubs with cocoa butter and coconut oil are the main ingredients for smooth skin.
Homemade body wash is simple to make and healthy for your skin.
This soaking recipe is great for homemade gifts too.
Easy to make body sugar scrub with vanilla. The scent will be your favorite.
Get ready for fall with this homemade sugar scrub recipe. Makes a great gift too!
Essential oils give this body scrub that invigorating scent!