Homemade gifts from the kitchen like this Gingerbread Cake Mix are so easy to make! Make up a large batch for yourself or create homemade gifts using the free printable instructions gift tag! Food gift ideas for the holidays is always a welcome treat!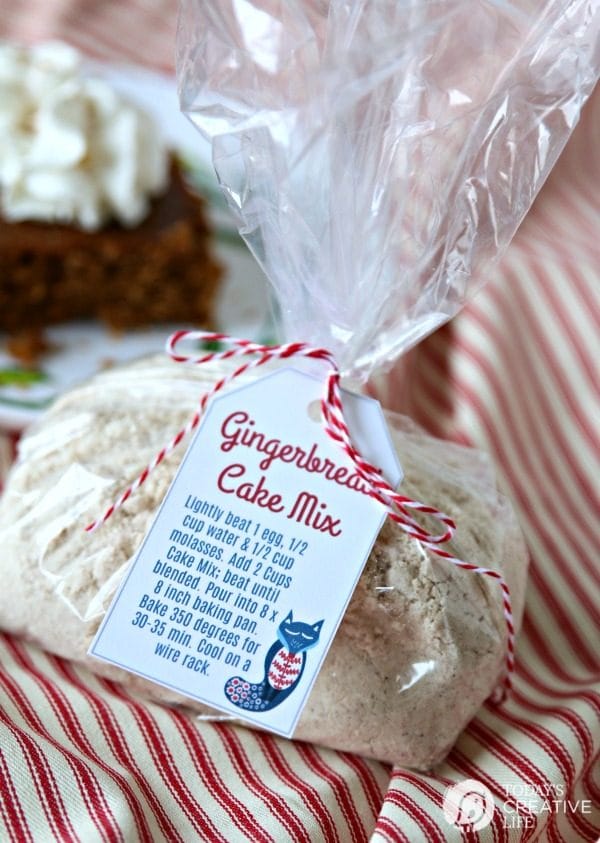 Gingerbread Cake Mix
This time of year is all about seasonal flavors! Cinnamon, cloves, nutmeg etc… This Gingerbread Cake Mix has all the holiday spice you crave with a hint of molasses! Printable recipe below.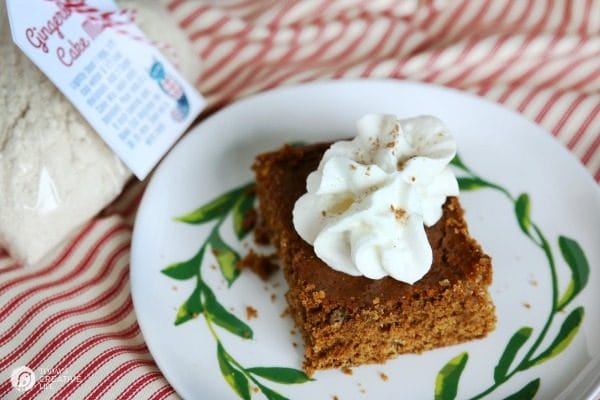 This cake mix makes such a great unique homemade gift, especially with the cutest tag to go along. You could package it up in a jar like my homemade Mocha Mix (free printable tag on that one too) or just use a bag with cute twine or ribbon. It's 2 cups mix for each gift.
I'm all for being creative with no extra stress! Who needs it right?
Gingerbread Cake Mix Gift Tags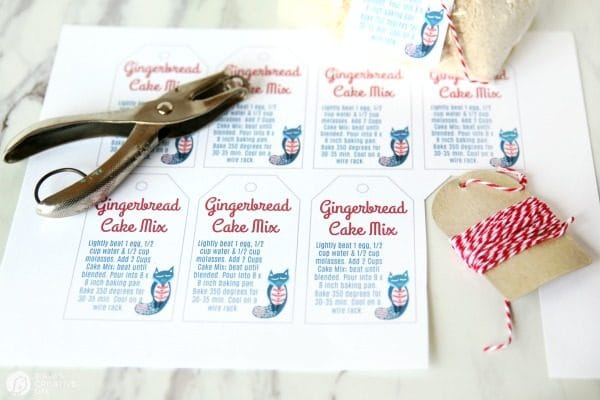 Supplies Needed:
Make Ahead Mixes
Make-ahead mixes are great for batch cooking and baking. It also allows you to make easy homemade gift ideas that you can jar up and wrap with fabric and the instruction tag.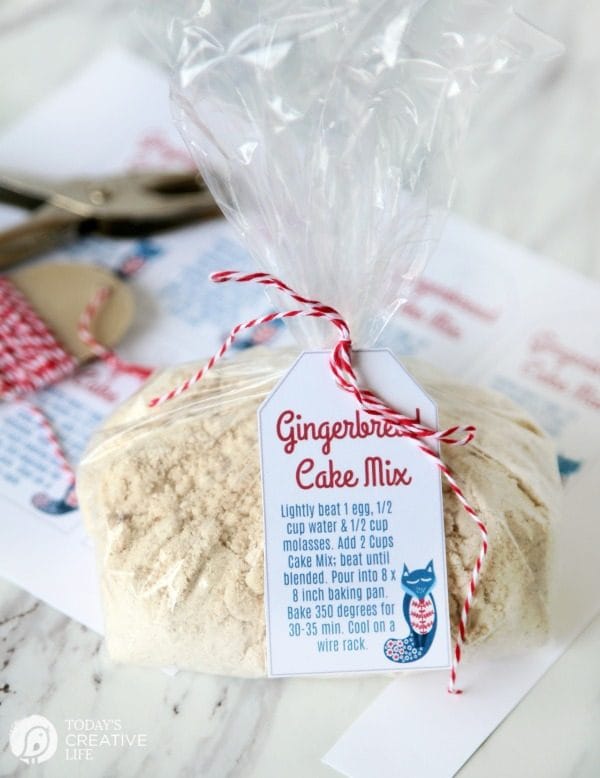 Download your free gingerbread cake mix directions gift tag.

Cut each tag out.
Punch a hole at the top where indicated.
Thread your ribbon through and tie it to your homemade gift of Gingerbread Cake Mix!
So easy and simple! Not to mention delicious!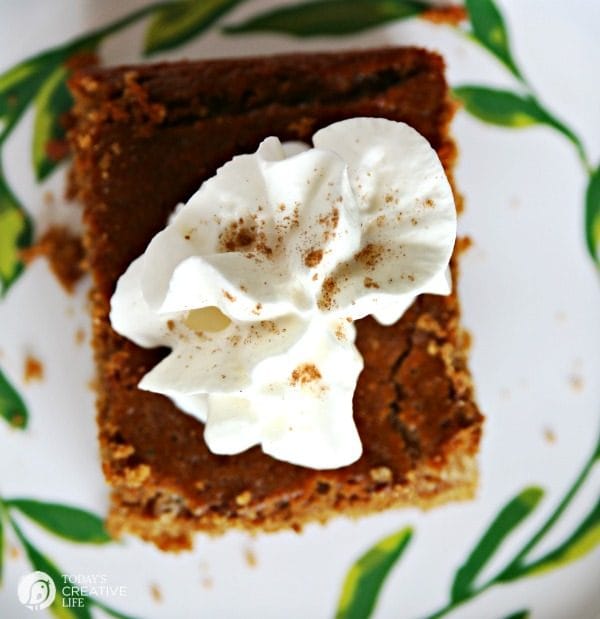 Homemade Gifts from the Kitchen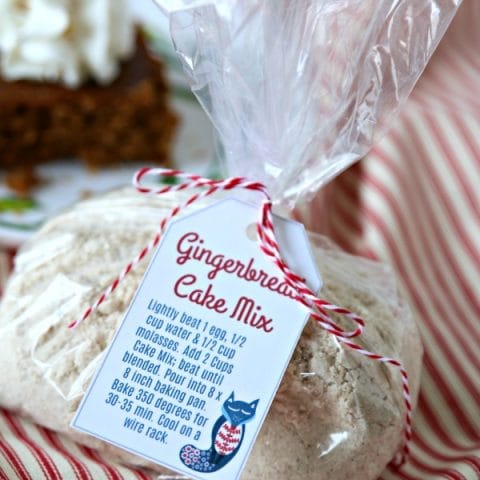 Gingerbread Cake Mix with Free Printable Tag
Yield: 10 Cups
Prep Time: 15 minutes
Cook Time: 30 minutes
Total Time: 45 minutes
Whip up this Gingerbread Cake Mix to have on hand when needed or make up a few holiday gifts. This makes enough for 5 batches.
Ingredients
6 2/3 cups flour
1 1/2 cups sugar
3/4 cup plus 1 tablespoon powdered milk
1/4 cup baking powder
1 tablespoon salt
1 1/2 teaspoon ground cinnamon
1 1/4 teaspoons ground cloves
1 1/2 teaspoons ground ginger
1 1/2 cups shortening
Additional Ingredients for each batch:
1 egg
1/2 cup water
1/2 cup molasses
Instructions
You'll need a large bowl.
Combine the first 9 items and mix well.
Cut in shortening until it's coarse and crumbled. I used a fork to do this, but a pastry cutterworks well.
Store in a cool and dry place, in an airtight container for up to 6 mo.
To Make Gingerbread Cake
In a medium-size mixing bowl, lightly beat egg with molasses and water.
Add 2 cups cake mix; mix until blended.
Spread into a greased 8 inch baking dish and bake at 350 degrees for 30-35 min.
A toothpick inserted into the middle should come out clean when done.
Cool and serve with ice cream or whipped topping.
Notes
Store in an airtight container in a cool dark place up to 6 mo.
Grab the free Gingerbread gift tag on TodaysCreativeLife.com
Nutrition Information
Yield 45
Serving Size 1
Amount Per Serving
Calories 169
Total Fat 7g
Saturated Fat 3g
Trans Fat 0g
Unsaturated Fat 4g
Cholesterol 8mg
Sodium 275mg
Carbohydrates 24g
Fiber 1g
Sugar 10g
Protein 2g
We do our best to calculate, however, nutrition information may not be accurate.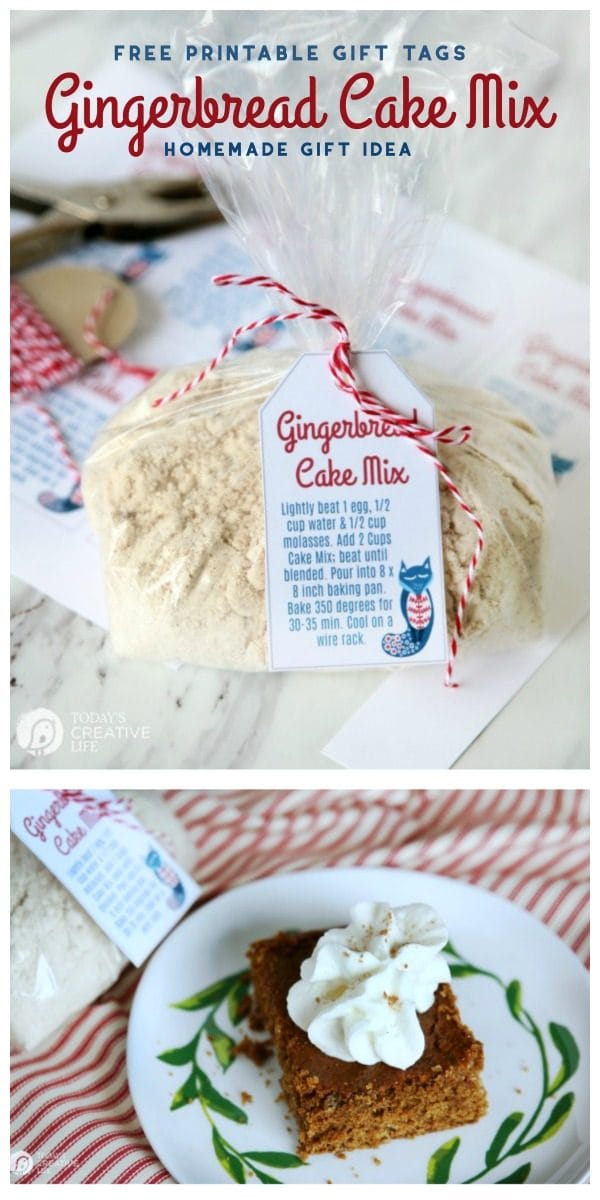 Holiday Gifts from the Kitchen
Simple and easy homemade edible holiday gift ideas!
Who doesn't love cookies?
Another great gift idea you can make.
This is a delicious homemade gift.
Eat as is, or drop them in a mug of hot cocoa.
The secret ingredient makes this homemade gift even better!
Simple, easy and they are beautiful!
Photo Credit: www.texanerin.com
These make great party favors too!