These mulled spice bags have all the spices for hot cider or hot spiced wine. Filled with cloves, orange peel, nutmeg, cinnamon, and more. Add the free spiced apple cider recipe tags for a unique DIY gift idea or party favor during the holidays. I'm also including 2 other gift tag ideas from fellow blogger friends to help you create beautiful custom-looking holiday gifts.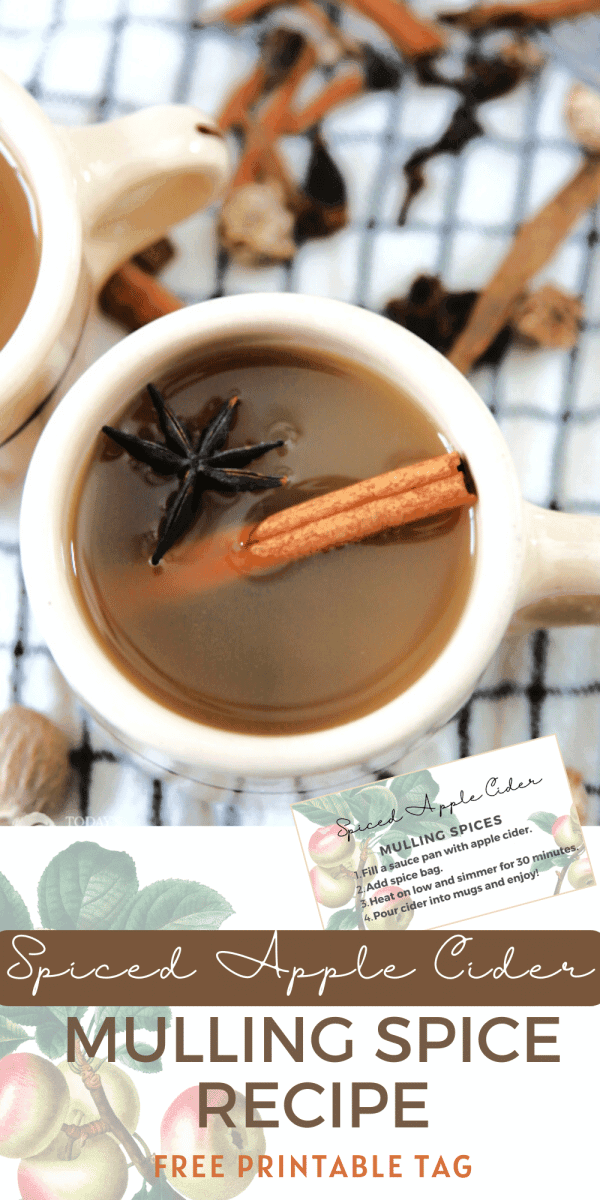 Mulling Spices for Hot Cider
Hot spiced cider or hot spiced mulled wine is a holiday and winter favorite. These traditional hot drinks are easy to make by making your own mulled spice blends and placing them in small cotton bags.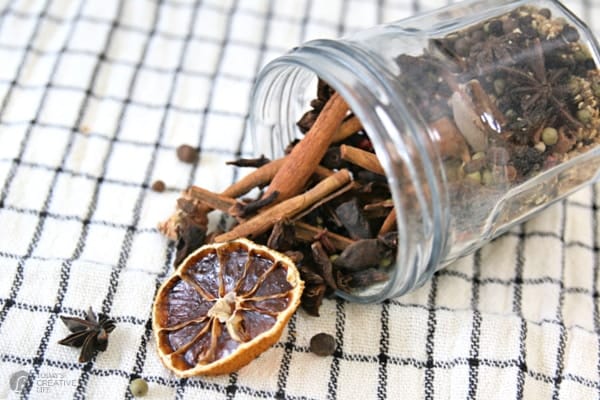 They also make great homemade gift ideas or party favors during the holidays. Print and attach my Spiced Apple Cider recipe tags and tie them to each bag for a quick and easy gift that is unique and useful. You can find these tags in the password-protected Printable Vault. Subscribe here if you need to and your password will be sent to you. If you're already a subscriber, you can find the password reminder in each email I send.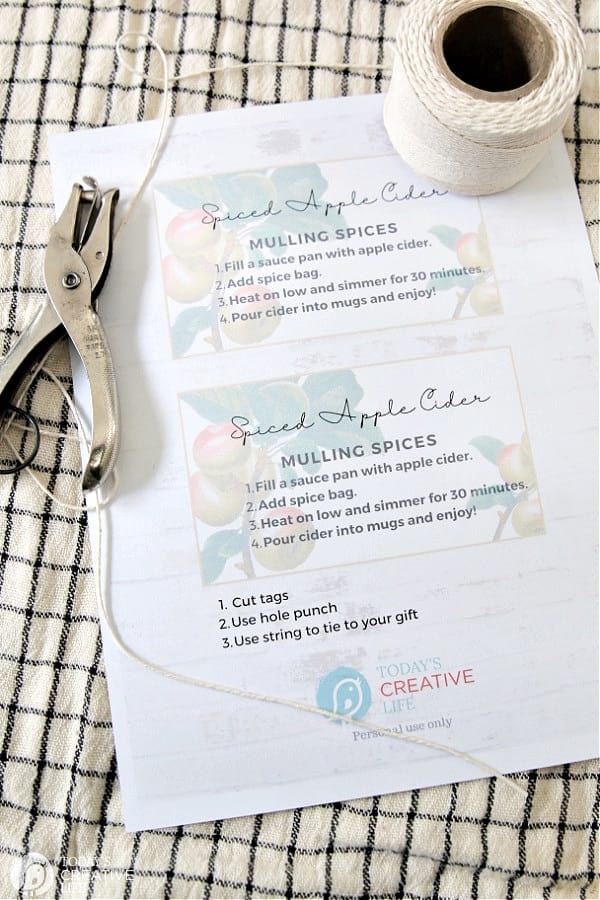 Printable Holiday Gift Tags
Printable gift tags or recipe tags make holiday gift giving so much easier. You can find so many printable gift tags here on Today's Creative Life, or grab my holiday gift tag bundle in my shop.
I'm collaborating with my friends Jen from Tatortots and Jello and Janine from Happy Happy Nester to share their latest holiday gift tags you can grab from their sites.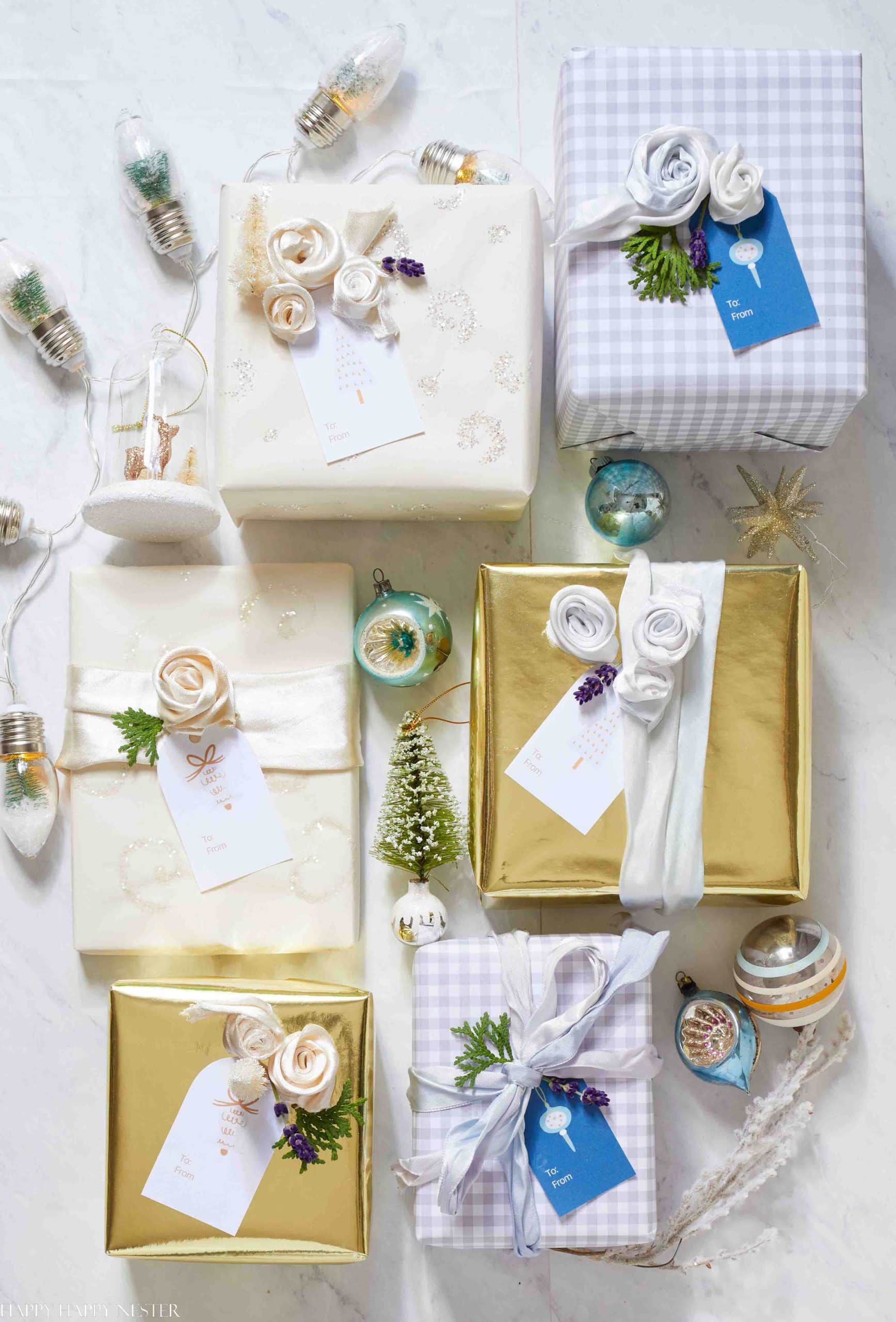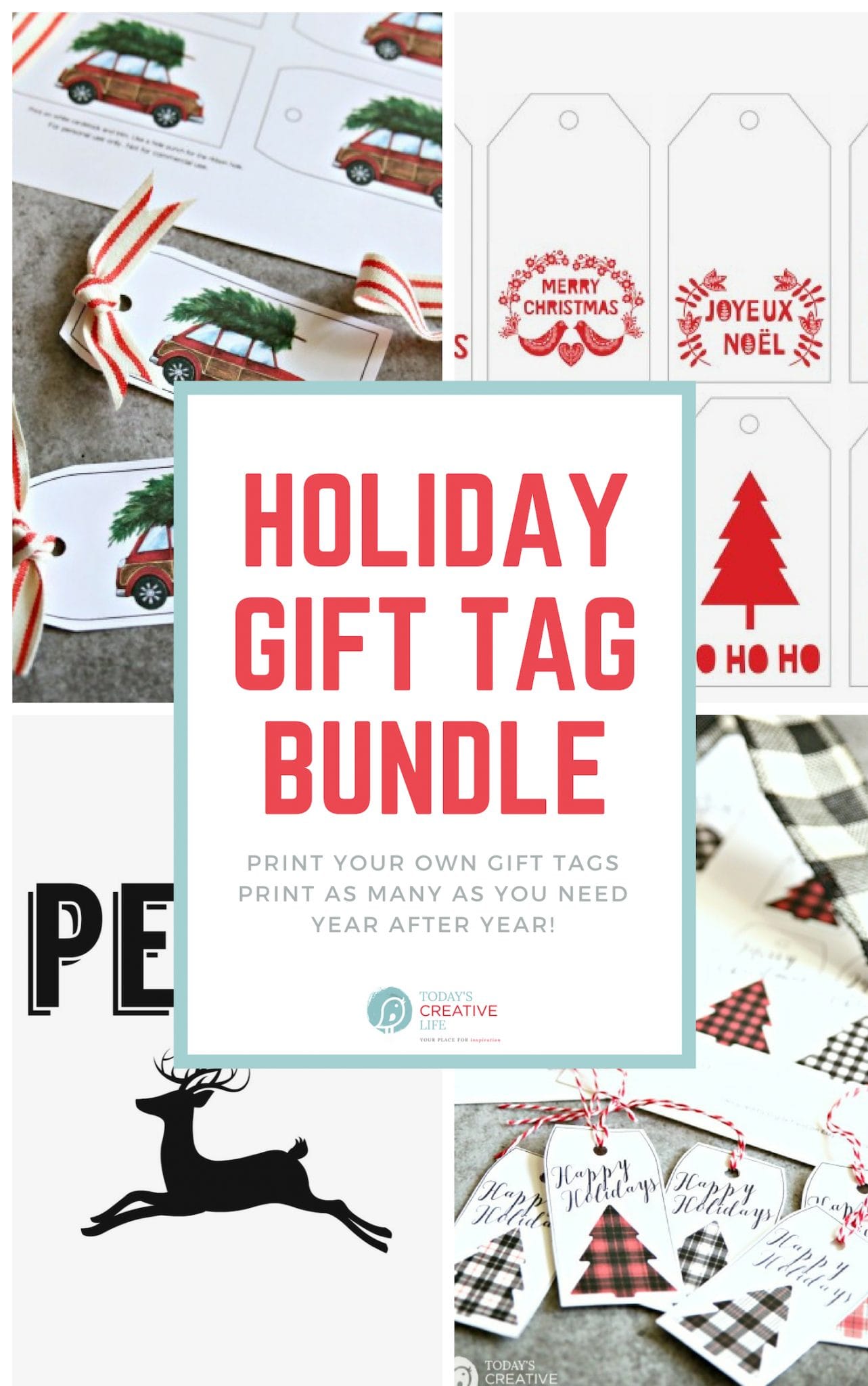 Spices for Apple Cider
My secret to making Hot Apple Cider is the spice blend. I like using a mixture or just a few.
Cinnamon Sticks broken into pieces
Orange Peel – dried or fresh (I like using dried oranges sometimes too)
Star Anise
Whole Cloves
Whole Nutmeg broken into pieces
Whole Allspice
Peppercorns
Cardamom – I didn't have any for this batch, so I left it out.
Sometimes I use all of these and other times, I'll only use cinnamon and cloves. It's really up to you.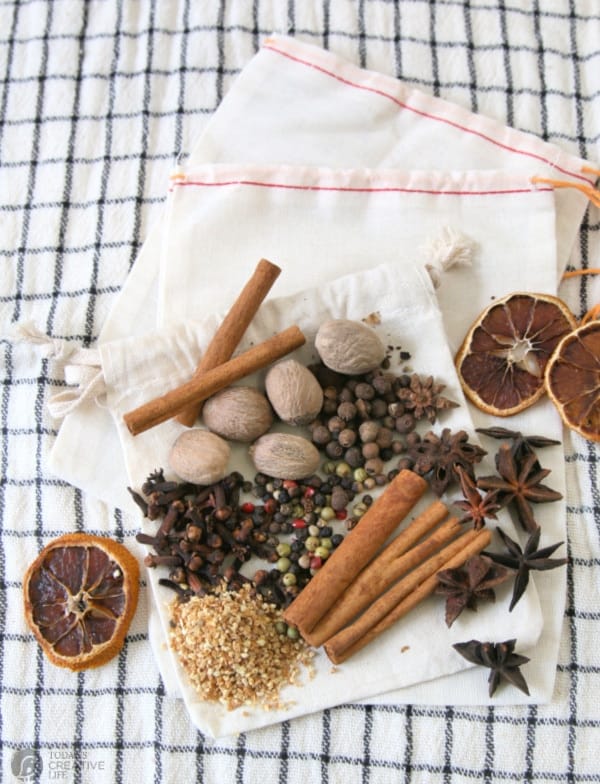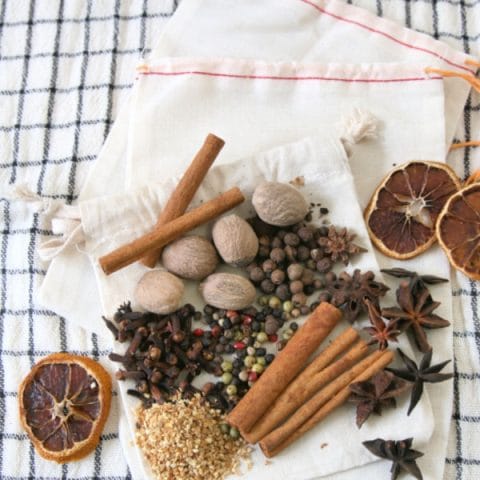 How to Make Mulled Spice Bags
Yield: 4
Prep Time: 15 minutes
Active Time: 10 minutes
Total Time: 25 minutes
Difficulty: Easy
Estimated Cost: $10
Make your own mulling spices for hot apple cider or hot spiced wine. Place the spices in a cotton bag, add my printable recipe tag for simple holiday gift ideas.
Materials
Cinnamon Sticks
Dried Orange Peel - Use fresh if you're giving them away soon. You can also dry your own orange peel.
Whole Nutmeg
Whole Cloves
Star Anise
Peppercorns
Cardamom
Small hammer or rolling pin
Instructions
Gather all the spices you want to use.
Break up the cinnamon sticks and nutmeg into smaller pieces and mix them together. I store mine in a jar or baggie.
Place at least a tablespoon of each spice in the bag. I always use more cinnamon. Use more or less of your favorite or least favorite spices.
Tie the bag tightly.
Fill a saucepan with at least 4 cups of apple cider or juice (or red wine).
Drop the spice bag into the liquid and bring to a simmer for about 30 min.
Pour cider or wine into mugs.
Garnish with a cinnamon stick, sliced apple or sliced orange if desired.
Notes
The initial cost will be higher, but once you have all the spices, you'll be able to make several mulled spice bags. So it's hard to calculate the cost per bag.
I purchase bags in bulk which also make it much more economical. I find uses for these bags all year long. They make great treat bags for any holiday.
Spiced Apple Cider Recipe
Making hot spiced apple cider is easy when you use a mulled spice bag. Making your own spice bags for cider or wine allows you to add or omit any of the spices. My must-have spices are cinnamon, cloves, and orange peel. If I have the rest, I consider it a bonus.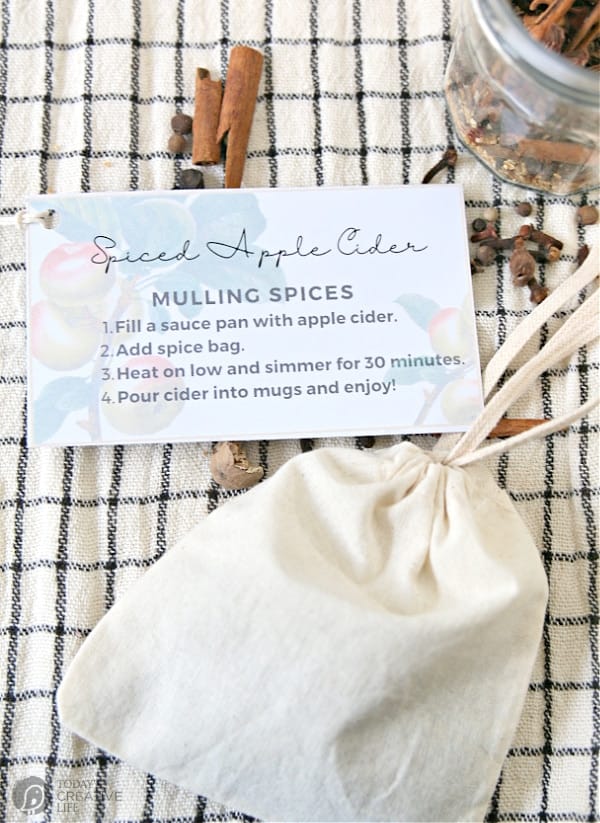 After gathering all the spices I place at least one tablespoon of each spice into the small cotton bag. You can also use cheesecloth and tie it off.
Fill your saucepan with store-bought apple cider, apple juice, red wine, or even cranberry juice (about 4 cups). Drop in the spice-filled bag and bring it to a simmer for about 30 min.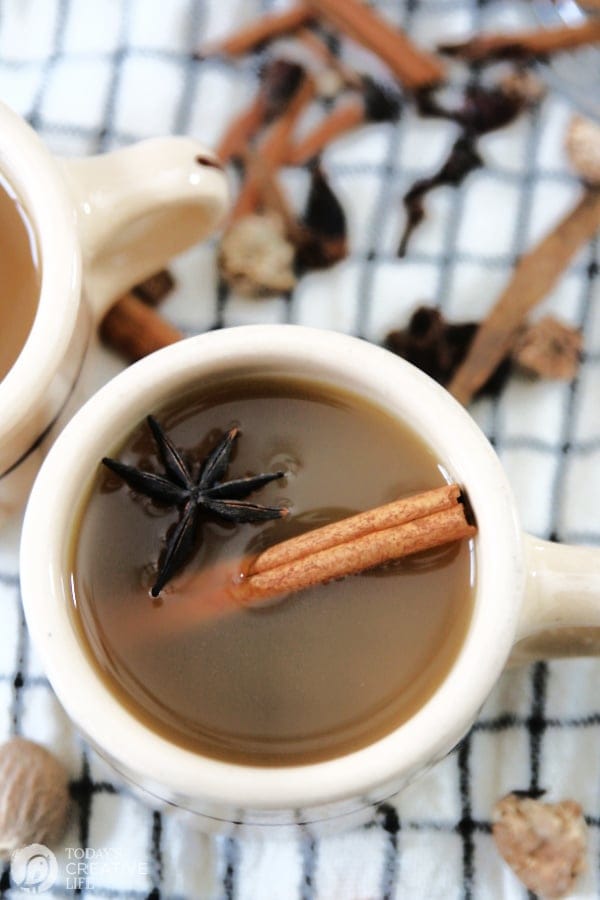 Pour into mugs and garnish with a cinnamon stick, star anise, or even a sliced apple or orange. If you're serving young children, I would leave out the garnish since they could be a choking hazard.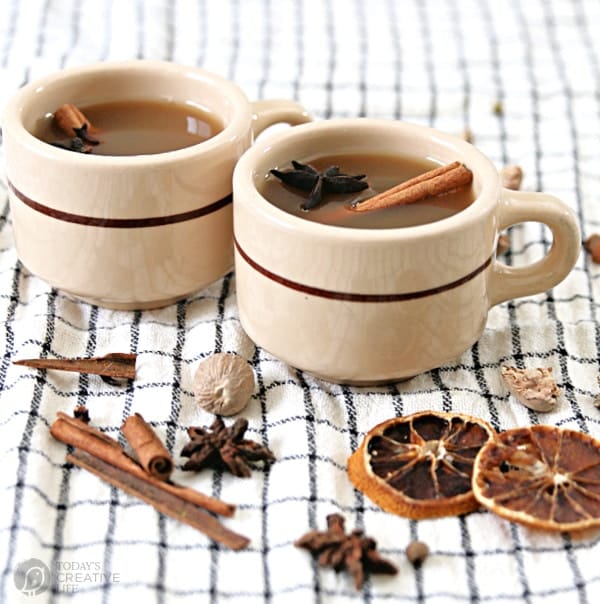 Crockpot Spiced Hot Apple Cider
If you're looking for a hot drink you can serve for a holiday party or any gathering in the fall and winter, making hot spiced apple cider, or mulled wine in the crockpot is a great solution.
Fill the crockpot with your choice and add one or two bags of your spices for hot cider. Have a few garnishes set to go and you are ready!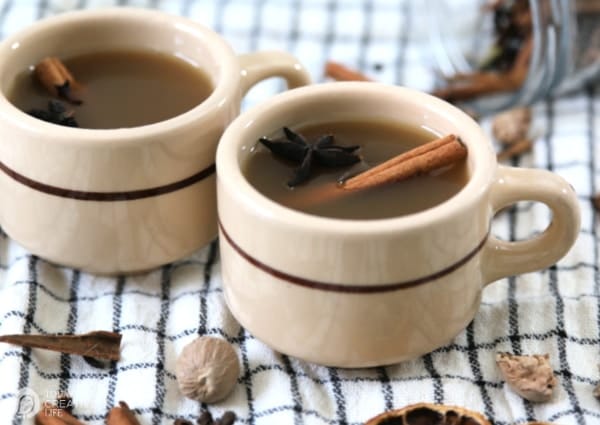 Mulled Spice Gift Idea
Make up a batch of Mulled Spice Bags to give as gifts. Using my printable Spiced Apple Cider Gift Tag, makes the gift original and more personal. Everyone loves homemade gifts.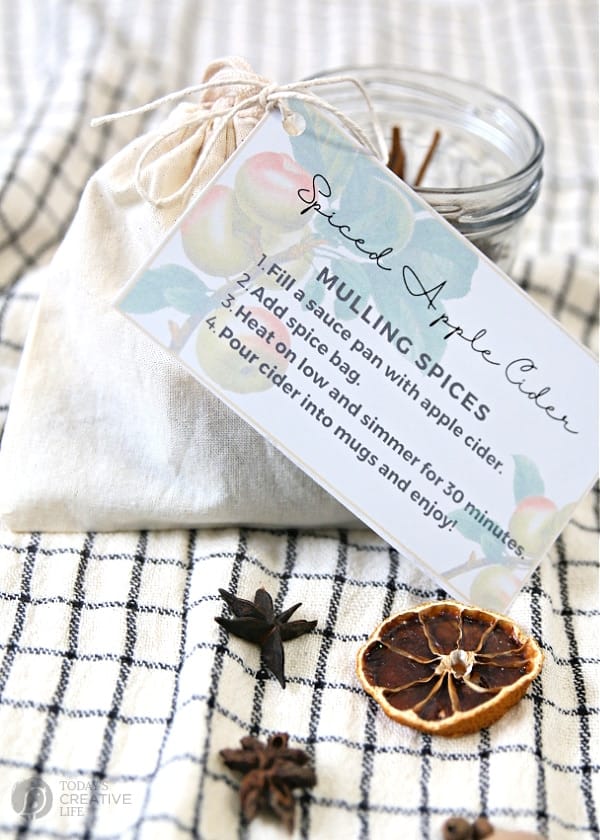 You can find all free printables in the Printable Vault.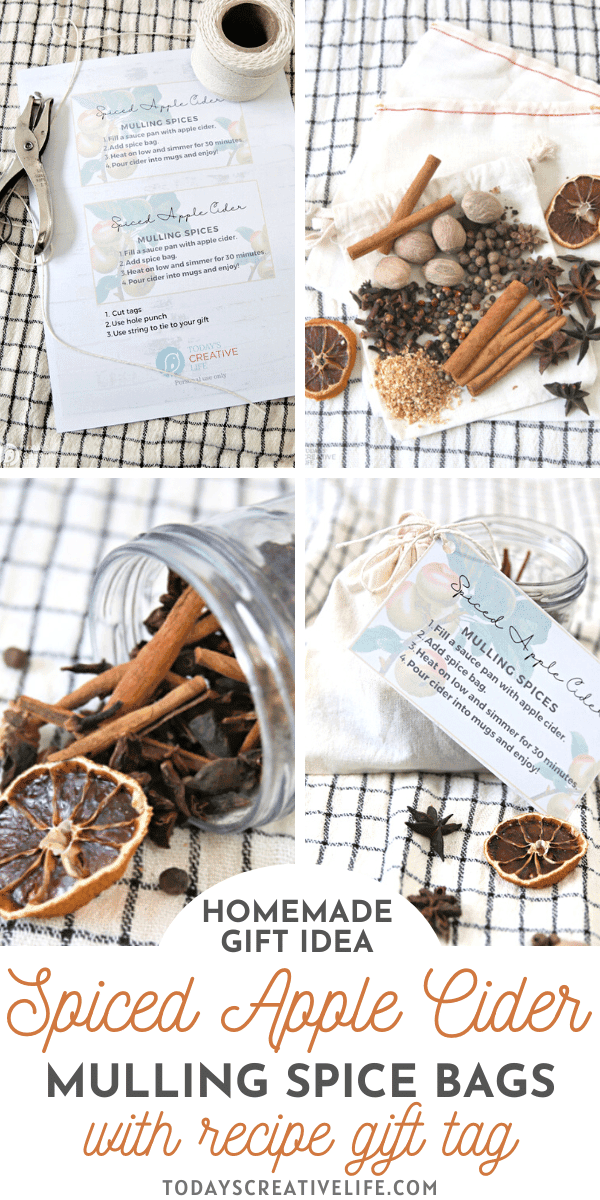 Holiday Recipes
Holiday Recipes for homemade gifts, holiday parties and potlucks.