Dig out your old punch letter label maker and make Budget-friendly Christmas Decor with Candles! Punch out holiday word labels and stick them to candles, ornaments, gift wrap or even holiday cards. This DIY Christmas decorating idea gives a minimal or scandinavian feel to your holiday decor.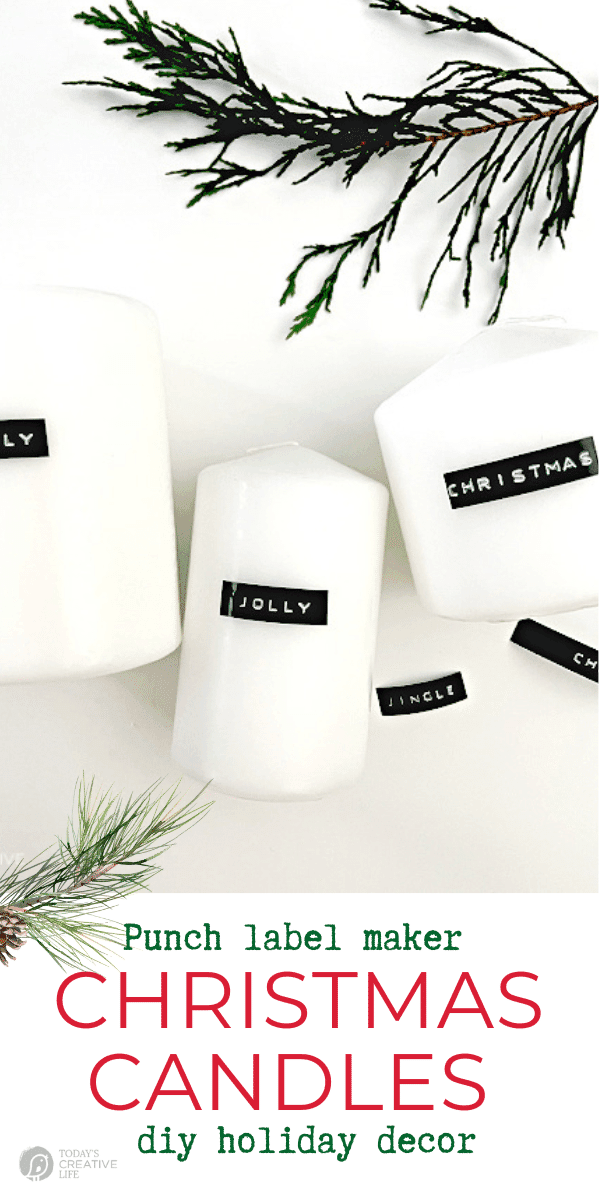 Budget-Friendly Christmas Decor with Candles
I like to create new holiday decor with what I have. DIY Christmas decorating using past holiday decor and incorporating a few DIY ideas to make something look new with a new spin is one of my favorite ways to decorate my home. Make it budget-friendly and I'm tickled pink. Store-bought is great, but adding your own touch brings out your personality.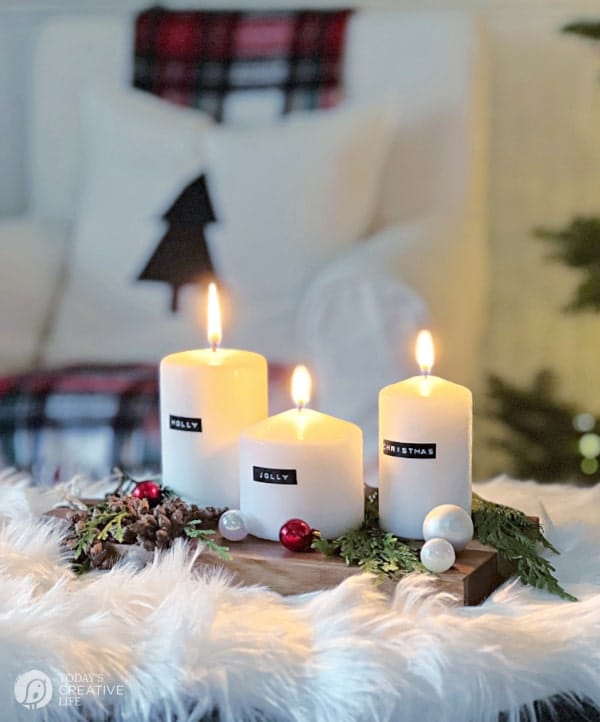 How to Make Christmas Candle Decor
This Christmas candle idea is so simple but adds so much extra holiday charm. It's all in the details when creating a warm holiday home. Use this idea with flameless candles, glass jar candles, tapers, and more. Use your imagination.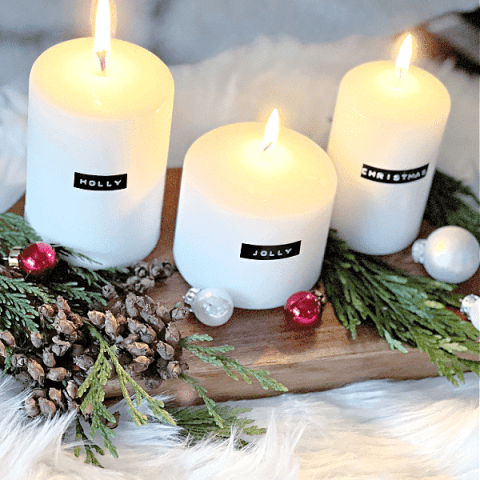 DIY Christmas Decorating
Yield: Several
Prep Time: 15 minutes
Active Time: 5 minutes
Total Time: 20 minutes
Difficulty: Easy
Estimated Cost: $15
DIY Christmas decorating is as easy as using a punch letter label maker with candles.
Materials
Candles - You can use pillar candles or even candles in votives and jars.
Instructions
Gather your Supplies: Label Maker and candles.
Punch the words you want to use.
Peel the adhesive backing off and place it on your candle.
Decorate as you wish.
Notes
Please be mindful when burning candles. Keep children and flammable items away. Remove the label when the candle burns too low.
Recommended Products
As an Amazon Associate and member of other affiliate programs, I earn from qualifying purchases.
DIY Christmas Decorating Ideas
Not all DIY Christmas decorating ideas are budget-friendly, but most here on Today's Creative Life are.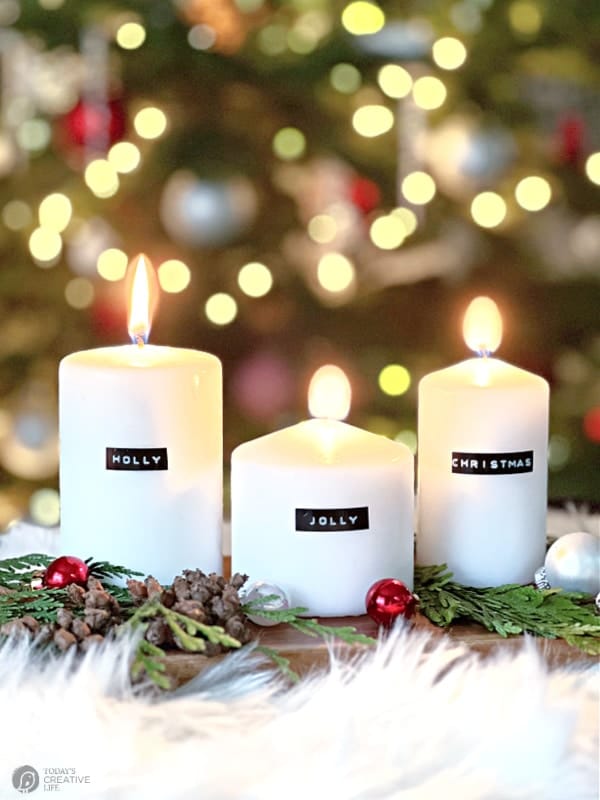 I don't like to spend a lot of money on decor items that I'm only using a few weeks a year. I do have a few items that I absolutely love and know I'll be using them for years to come, but I still keep budget in mind.
Here are a few of my favorites that take little skill or time to make, but make a big impact.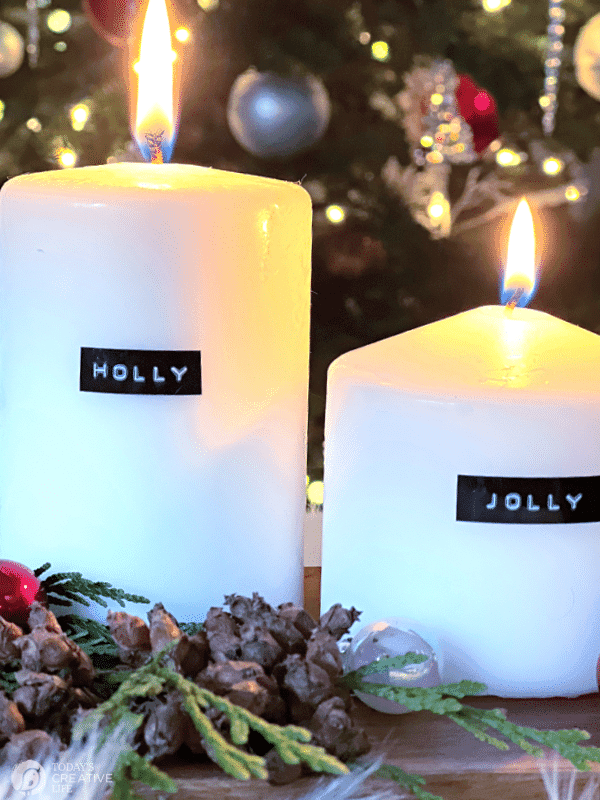 Home Decorating for Christmas
Every year I say I'm not going to overdo my holiday decorating. This year I almost made that promise because I brought out all my holiday pillows and throws, my large Santa print, and some candles. The tree was already up and the house looked pretty much decorated. I realized I hadn't even opened one Christmas tote from under the house yet. Less is more sometimes.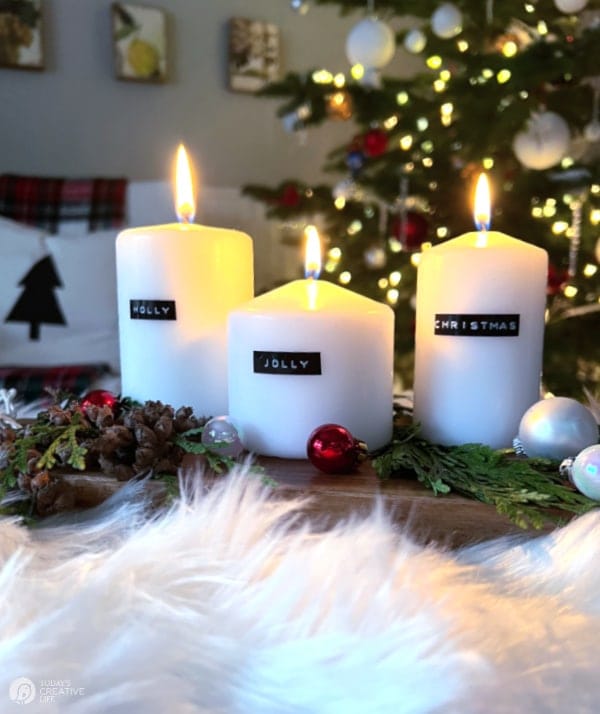 I did end up opening the totes because we wanted to decorate the tree, but I'm happy to say I didn't use all the home-decorating stuff. My secret is always adding live cedar garland, lots of fairy lights, candles, and holiday pillows and throws.
Here's to keeping it simple and thinking outside the box. I hope you use my punch letter labels for Christmas decor with candles.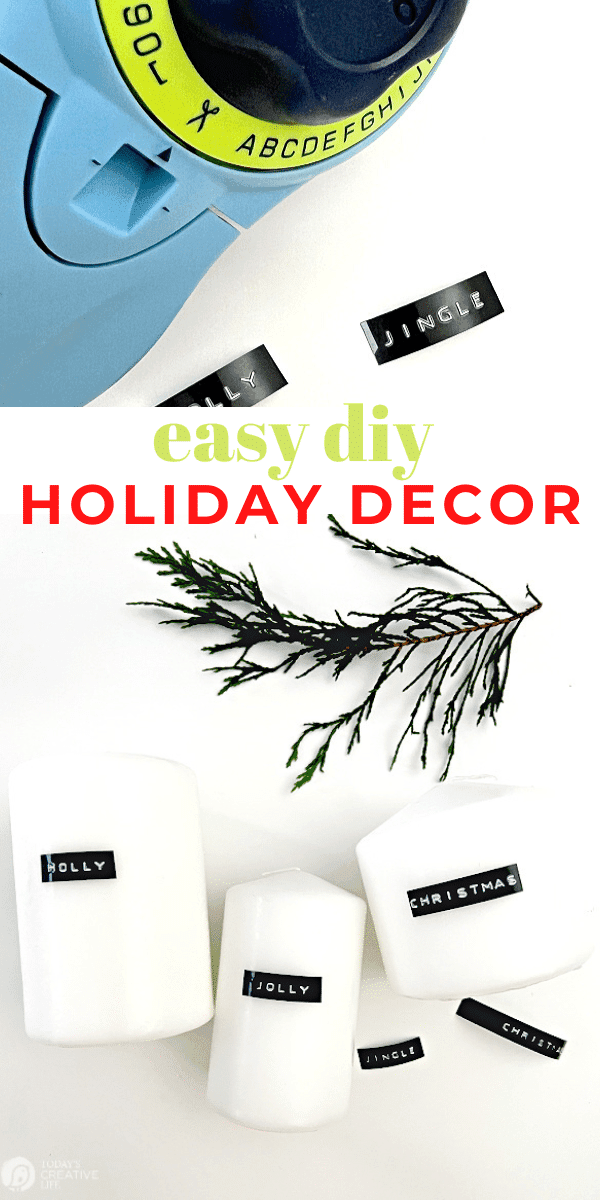 DIY Holiday Decor
Easy DIY ideas for creating your own Christmas decor.
Easy to make Christmas pillows using iron-on vinyl and a pillow cover.
Homemade white clay ornaments are fun and easy to make for holiday decorating.
Drying oranges is a holiday classic. How to make Dried Oranges in the oven for holiday decor, potpourri and gift wrapping.
Free Printable Merry Christmas paper tag banner adds quick DIY holiday decor.
Easy to make felted wool ball pom-pom winter pillow cover.
Easy to Make Holiday Ornaments using chip board or cardboard
Easy to make Christmas luminaries with cedar and cranberries.
Use your Cricut Cutting Machine to make holiday snow topped paper houses.