It's back to the classics for seasonal and holiday decor. Drying fruit for this DIY Dried Apple Wreath or drying orange slices for garland and tree ornaments has come full circle. Dried apple slices make the best decor for fall, Christmas, and winter.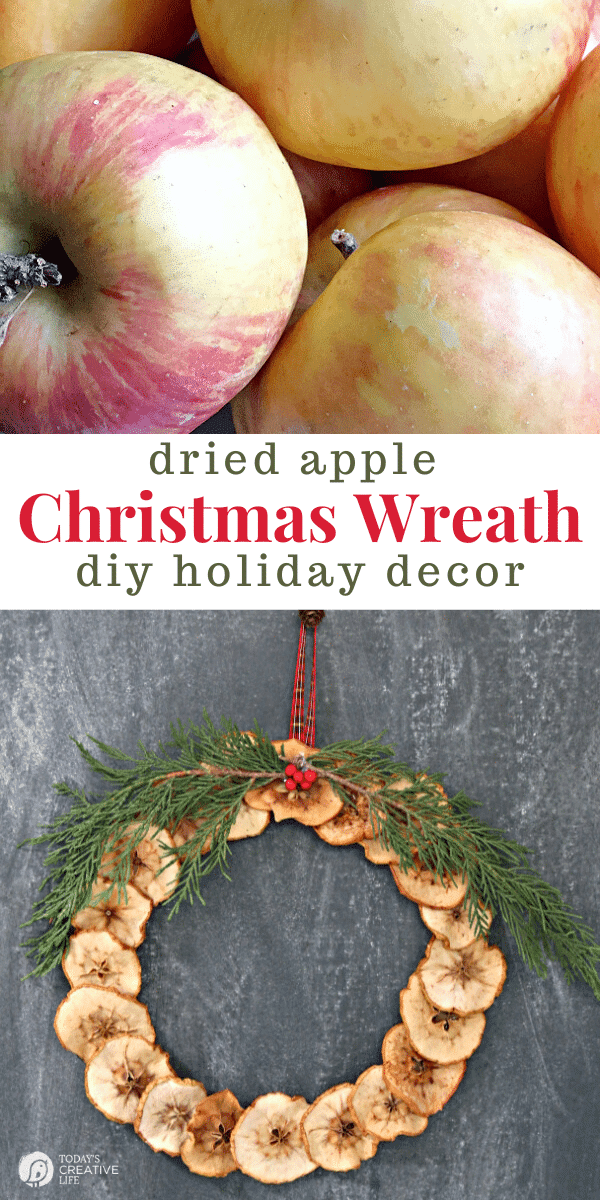 DIY Dried Apple Wreath
I originally thought I'd make a dried apple slice and cinnamon stick garland after drying 2 cookie sheets of apples. But once they were finished, all I could think about was incorporating them into a holiday wreath. I love creating my own simple holiday decor. Either by adding them to an evergreen wreath or alone. I love the "handy crafts" feel of cutting a cardboard circle to use as my wreath form. This is a great craft to do for fall and winter.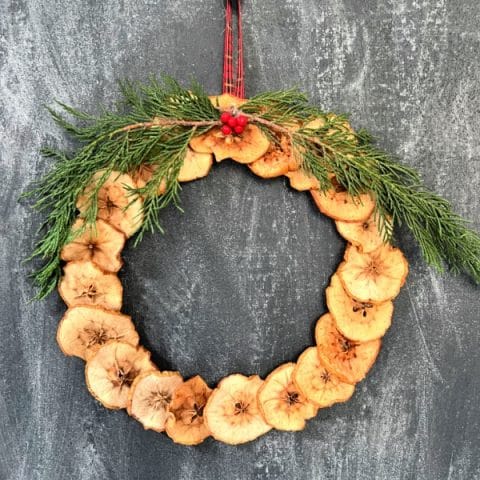 How to Make a Dried Apple Wreath
Yield: 1
Prep Time: 3 hours
Active Time: 30 minutes
Total Time: 3 hours 30 minutes
Difficulty: Easy
Estimated Cost: $5
Learn how to make a dried apple wreath from dried apple slices.
Materials
Cardboard box
Apples
Parchment paper
Ribbon
Cedar (optional)
Tools
Knife
Cookie sheet
Glue gun & glue sticks
Scissors
Pencil
2 round objects in two sizes for making your wreath backing. Or you can use an embroidery hoop or wreath form.
Instructions
HOW TO DRY APPLE SLICES
1. First you need to slice the apples. I sliced from the bottom up to get the nice star shape in the center. I used cheap apples that I knew I wouldn't want to eat and we also have an apple tree. Slice them a 1/4 inch or so. I tried using a mandolin and those were way too thin.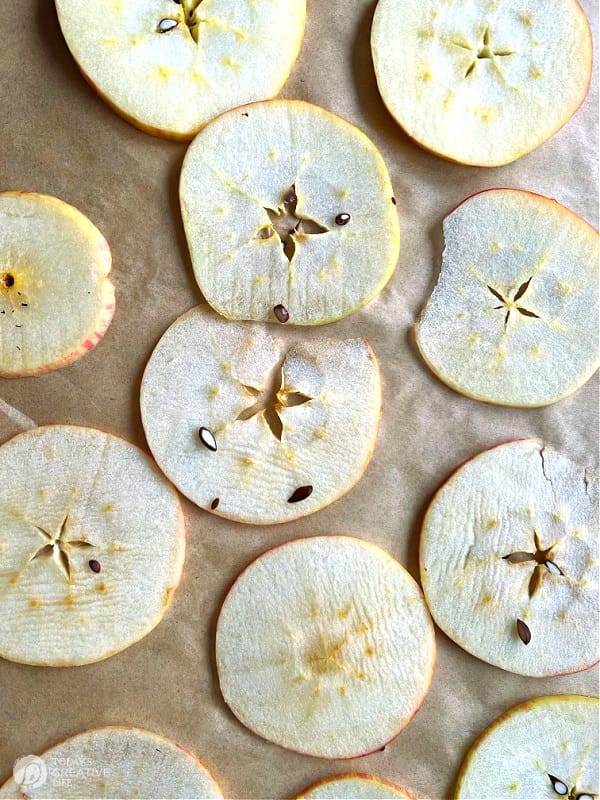 2. Lay the apple slices on a parchment-lined cookie sheet and bake at 200 degrees F. for 2-3 hours. They will still be slightly flexible. Set aside.
HOW TO MAKE A CARDBOARD WREATH FORM
1. Find a piece of cardboard that will be large enough to draw the circle size you want your wreath to be. Mine was about 12 inches across.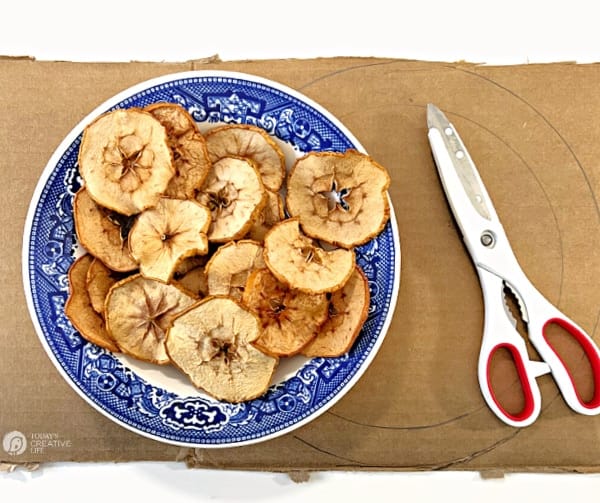 2. Choose two round objects in 2 different sizes. I used a bowl and a salad plate.
3. Place the bowl (round object) upside down on the cardboard and outline it with a pencil. Then place your smaller round object inside the drawn circle and outline.
4. Cut the wreath form with scissors.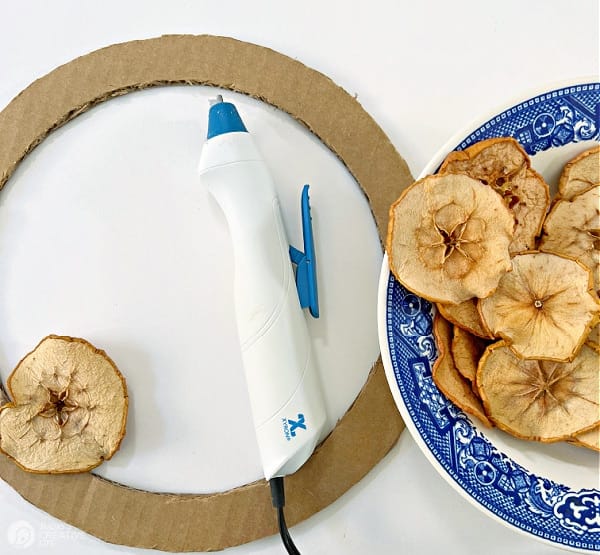 HOW TO MAKE A WREATH WITH DRIED APPLE SLICES
1. Using a glue gun, apply a small dollop or line of glue to the cardboard, then place one apple slice on the glue.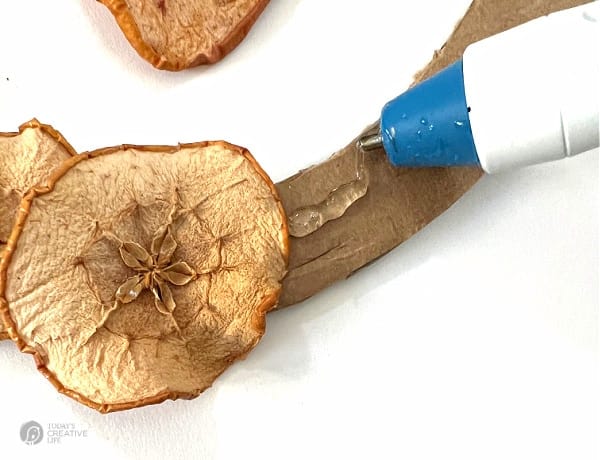 2. Continue this all around the wreath.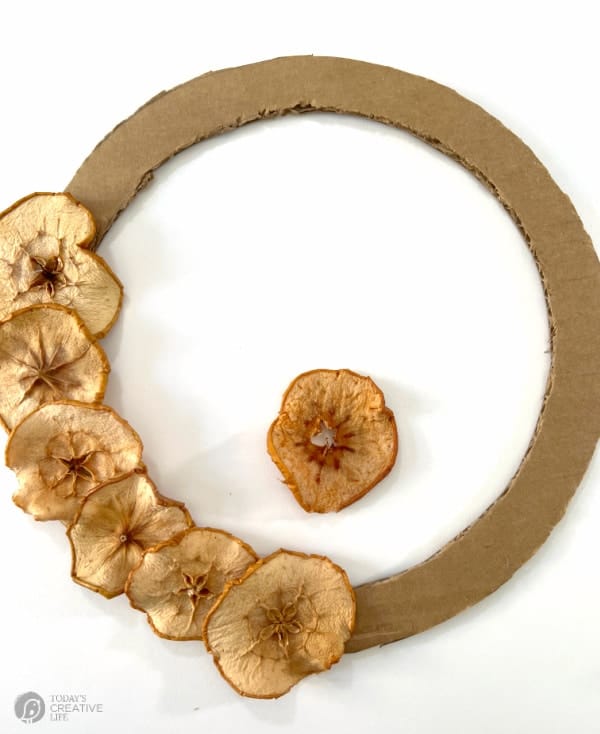 3. Cut a piece of twine or ribbon and glue it to the back for hanging purposes.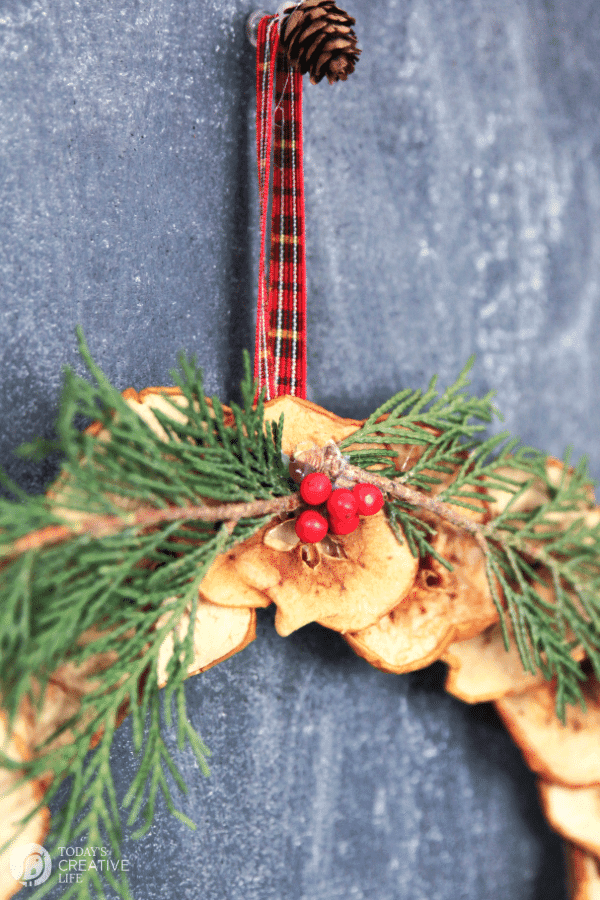 I glued a small pinecone onto a pushpin for an added rustic touch.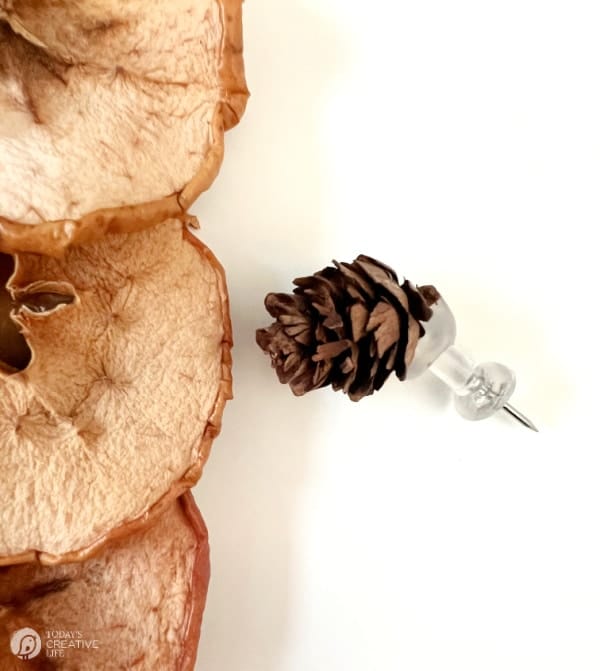 4. You can leave it as is to use for fall or add cedar greens for a holiday look.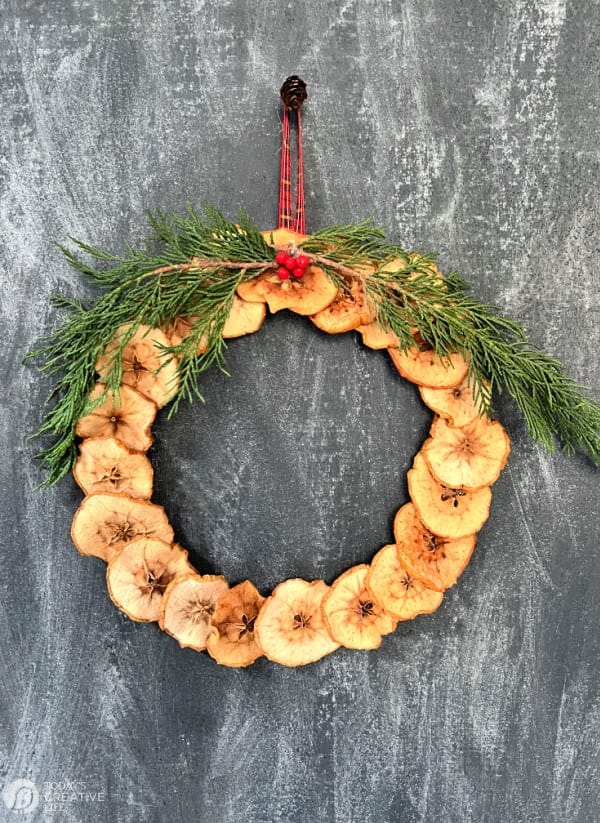 Notes
- Store this wreath flat in a box. I would wait a year before storing in an airtight container because the apples still hold moisture and could mold. Allow it to completely dry out before doing so.
- You can also create a dried fruit wreath using dried oranges or dried pears.
- You can use an embroidery hoop as your wreath form as well.
Recommended Products
As an Amazon Associate and member of other affiliate programs, I earn from qualifying purchases.
How Long Will a Real Apple Wreath Last?
If cared for properly, a dried apple wreath should last a few years. Because the apples are still a bit flexible, I wouldn't store it in an airtight container. This could cause the apple slice wreath to mold. Store it in a paper bag, wrap it with packing paper, or a low-profile box. Be sure to store it in a place it won't be crushed or smashed.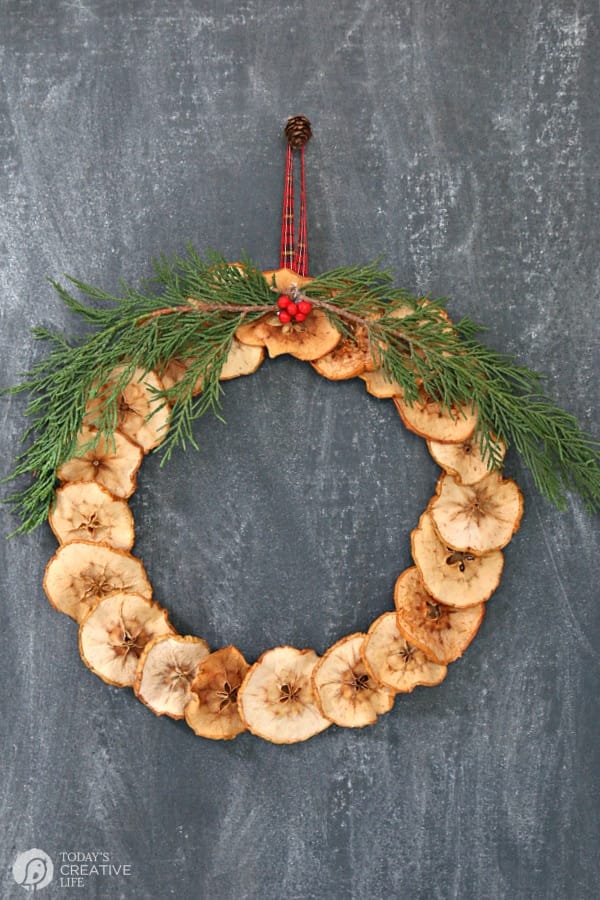 When to Decorate with an Apple Slice Wreath?
This dried fruit wreath is great for kicking off your fall decor. You can add cinnamon sticks to the top with twine or a fall ribbon and then swap it out for a plaid ribbon later. Just gently remove the ribbon from the backside.
For Christmas, add Christmas greens and a few holly berries.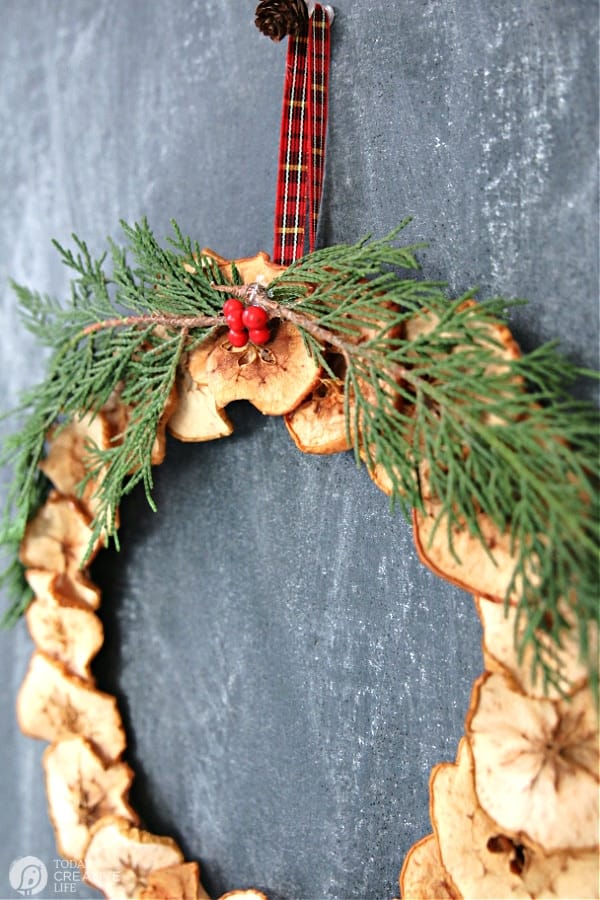 It's very versatile to use from September until New Year's Eve.
DIY Holiday Decor
Easy DIY ideas for creating your own Christmas decor.
Easy to make Christmas pillows using iron-on vinyl and a pillow cover.
Homemade white clay ornaments are fun and easy to make for holiday decorating.
Drying oranges is a holiday classic. How to make Dried Oranges in the oven for holiday decor, potpourri and gift wrapping.
Free Printable Merry Christmas paper tag banner adds quick DIY holiday decor.
Easy to make felted wool ball pom-pom winter pillow cover.
Easy to Make Holiday Ornaments using chip board or cardboard
Easy to make Christmas luminaries with cedar and cranberries.
Use your Cricut Cutting Machine to make holiday snow topped paper houses.