Decorating with candles for Christmas is a simple way to decorate your tabletops and mantel for the holidays. I'm going to show you how to take an ordinary pillar candle and make it into fabulous DIY holiday decor using items from your spice cabinet.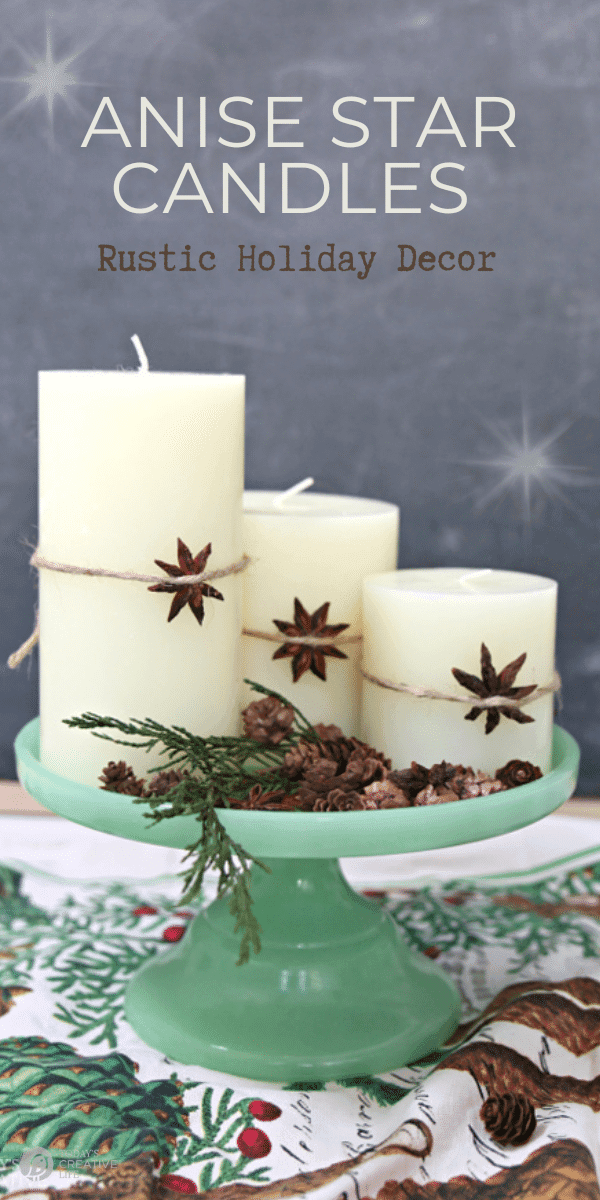 Decorating with Candles for Christmas
Using candles and adding your own personal touch is a really fun way to add more style and personality to your seasonal decor. These Star Anise Seed candles are great for fall and winter decor, as well as Thanksgiving and Christmas holiday decorating.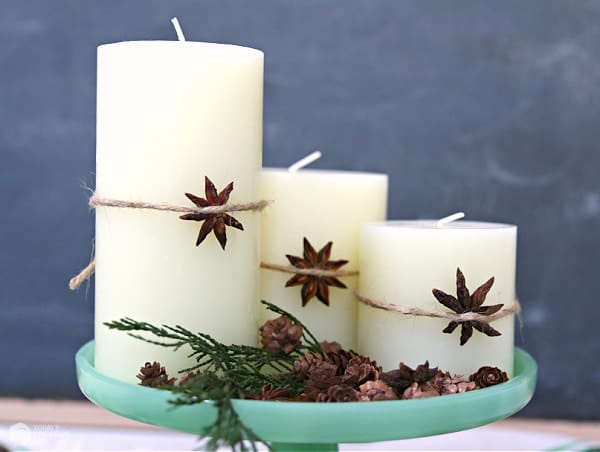 Other Simple Ways to Decorate with Candles
DIY Christmas Decorating
My favorite way to decorate is using items I already have. It really is as simple as tying an item around a candle.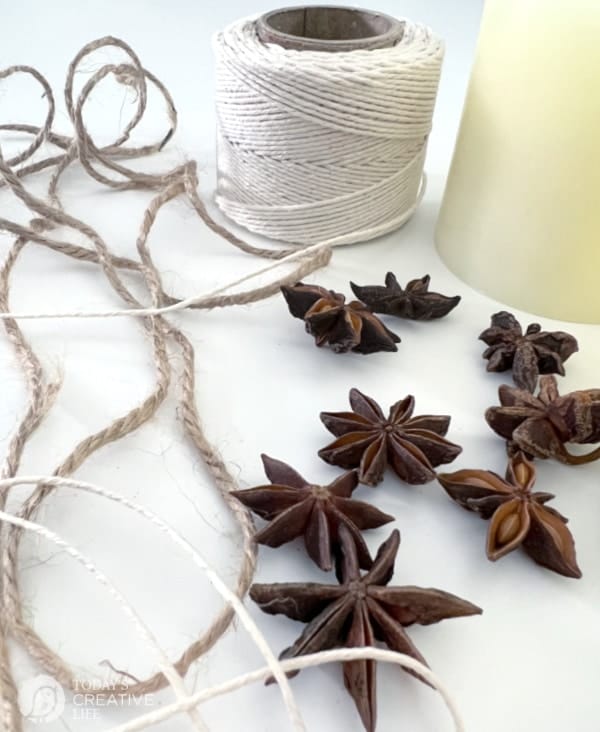 I used items I found in my craft room.
Candles – flameless or wax
String, twine or ribbon
Star Anise seed.
I have a few candles I keep around for different holidays, I also bought a lot of cinnamon sticks and spices for making my apple cider mulling spice bags. This craft took me about 5 minutes to make and I had a cute way to decorate my holiday tabletops or even a centerpiece.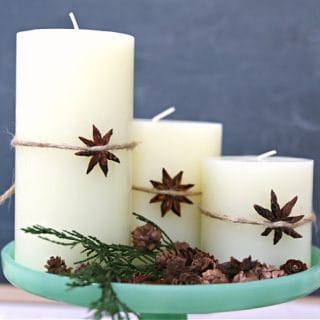 Christmas Decorating with Candles
How to take plain candles and items from your spice cabinet to make original and creative rustic holiday decor.
Materials
Pillar Candles - I used 3 in varying heights and widths.
Twine, string or ribbon - It's really up to personal taste for what you want to use.
Star Anise Seed - or Cinnamon sticks, sprigs of Christmas greens, bay leaves, etc...
Instructions
Gather your items.
Measure and cut string to the length you need.
Add your Star Anise seed where you want it on the candle. Place the string over the star and wrap the string around and tie.
Trim string.
Repeat.
Notes
Keep the cost low by using items you already have. Repurpose older candles and use other items like bay leaves, cinnamon sticks, or herbs. Use sprigs of cedar, fir, or pine. Or a few twigs. Use your imagination to create your own look.
Use common sense when burning candles. Make sure you tie flammable items lower than where the flame would be. Never leave a burning candle unattended.
Recommended Products
As an Amazon Associate and member of other affiliate programs, I earn from qualifying purchases.
Other Items to Use when Decorating with Candles for Christmas
You can add so many different items with this type of candle craft. Here are just a few ideas that can be tied around a candle.
Cinnamon sticks
Holiday Greens – Springs of cedar, fir, and pine.
Bay leaves
Orange peels – shape into stars, or cut thin strips
Small Twigs – or make a twig star and tie it around
Decorative Ribbon – a Tartan plaid ribbon tied around would be so cute.
Small photographs
Small Pinecones
Decorative Paper – there are so many great scrapbook papers
Once you get to brainstorming, you'll think of all kinds of ways to add more style to your holiday decor.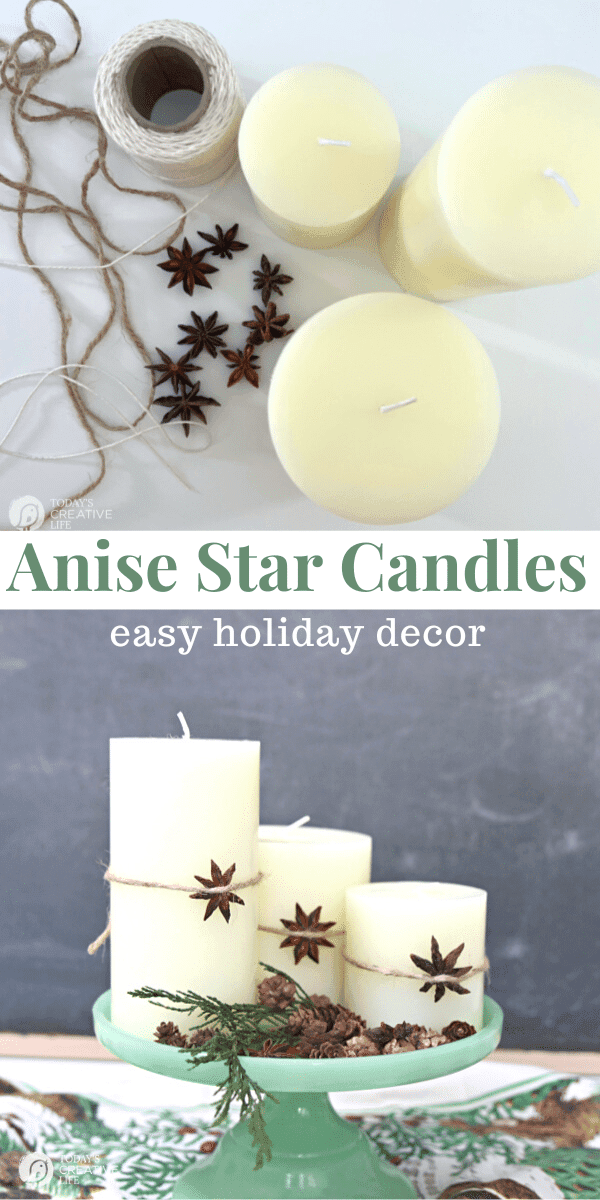 Candle Crafts for Decorating
Simple, easy, and budget-friendly ways to decorate with candles. Learn how to embellish candles for seasonal decorating.
How to transfer an image onto a wax candle for Halloween Candles.
Simple and quick way to decorate tall glass prayer candles for any season.
Easy DIY Easter decor with tea lights and colored rice. Perfect for Easter or St. Patricks day.
Paper lanterns can be made with any paper design making it easy for any event.
Easy red, white and blue holiday DIY decor.
Simple, Fresh and beautiful for any spring table.
Follow this DIY craft tutorial and learn how to transfer images onto a wax candle using tissue paper or decorative napkins.
Spooky printables for wrapping glass prayer candles.
Easy to make Christmas luminaries with cedar and cranberries.
Make your own spooky and creepy Halloween glowing eyes and window candles with Victorian photos.
Create this slithering snake candle centerpiece in just minutes. Use it as a centerpiece or for any surface that needs Halloween decor.
DIY Christmas decorating is as easy as using a punch letter label maker with candles.