Create original DIY Decor with DIY Cloche Jars
I have had the supplies to make my own DIY Cloche Jars for a couple of months. I fell in love with the blue and white porcelain cabinet pulls and thought they'd be perfect!
Although I have written step by step instructions below, this video may also help. You'll see how versatile this type of project is and how you can use it year around.
DIY Cloche Jars
My mother collected Blue Willow dishes ever since I can remember and she also had a beautiful blue and white porcelain vase she used for her kitchen utensils on her counter. After she passed away, I brought the large vase full of utensils and placed in on my counter. I love seeing it daily and I love using many of her kitchen tools she had had since her honeymoon.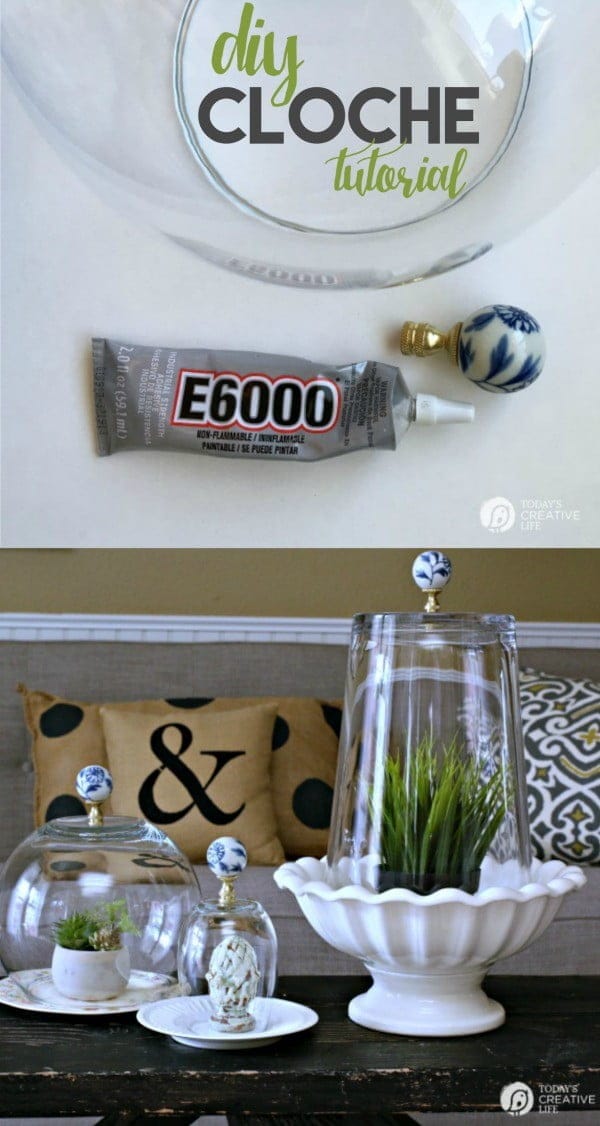 These drawer pulls remind me of all her blue and white decor.
Making your own Cloche Jars couldn't be easier. It's very much like making your own cake plate. The hardest part for me was finding the glass shapes I wanted.
DIY Cloche Supplies
Jars or Vase of your liking – the Dollar Tree is a great place to look.
Drawer Pulls that are flat on the end.
Variety of plates, platters or bowls to place your cloche on. Although it's not necessary.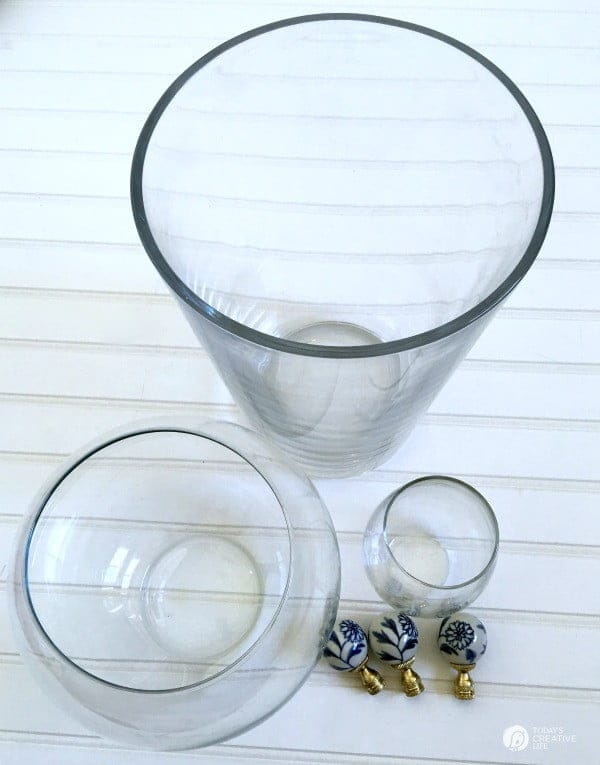 I found the round fish bowl and the stemless wine glass at Target or Walmart. The larger vase was from IKEA a few years ago.
How to Make DIY Cloche Jars
Remove all stickers and clean your glass.
Turn your glass items over so they are upside down.
Place a small amount of glue to the bottom of the drawer pull and place it on the bottom, directly in the middle. Press firmly for a couple of seconds to set.
Leave alone for 12 – 24 hours.
I hadn't a clue what I was going to put inside each one, or if I would use a plate, platter, a bowl or nothing underneath.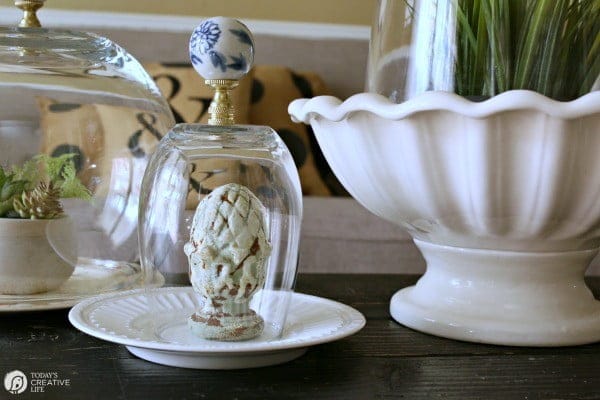 I have enough doo-dads around this house, so I just searched around my home until it hit me. I grabbed a couple of older plates I've picked up here and there and then I thought about trying my favorite scalloped pedestal bowl. Bingo!
I loved it!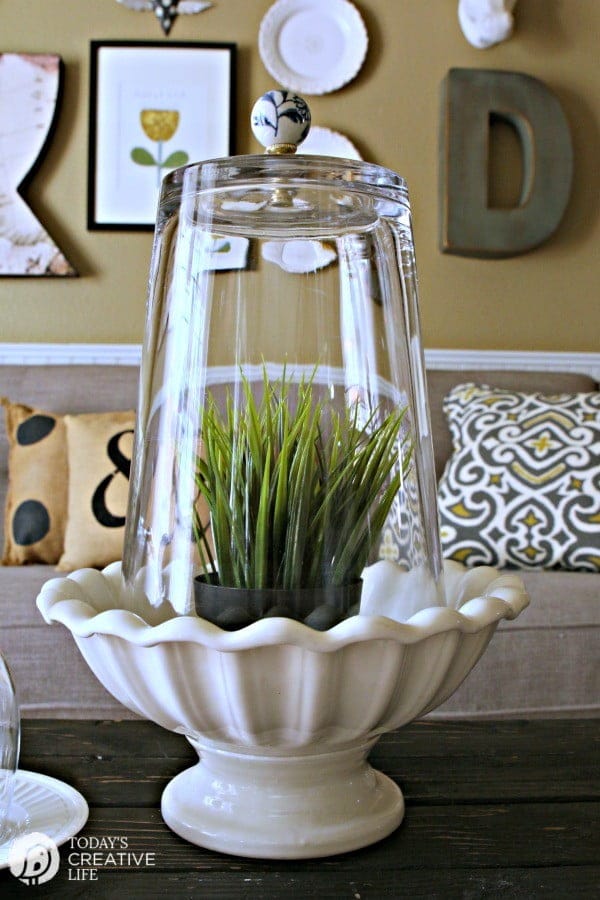 I was so excited, I couldn't be bothered by making sure my items were centered on my plates.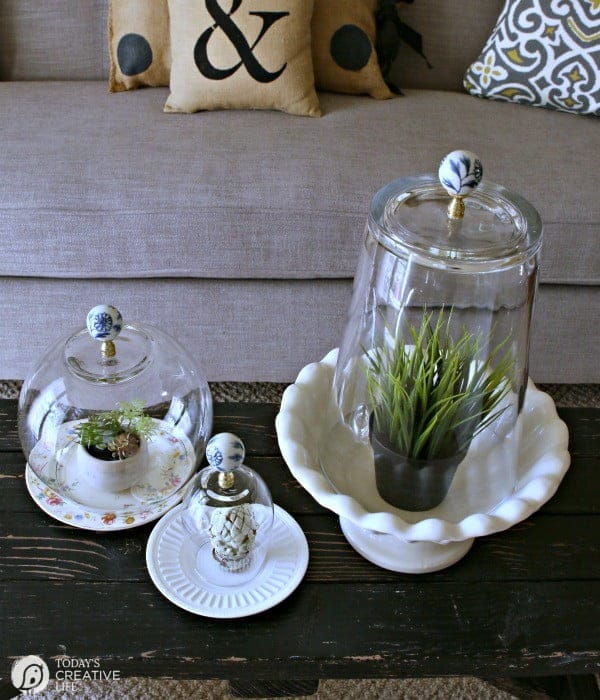 My mind is swirling with other ideas to place in my new cloche jars.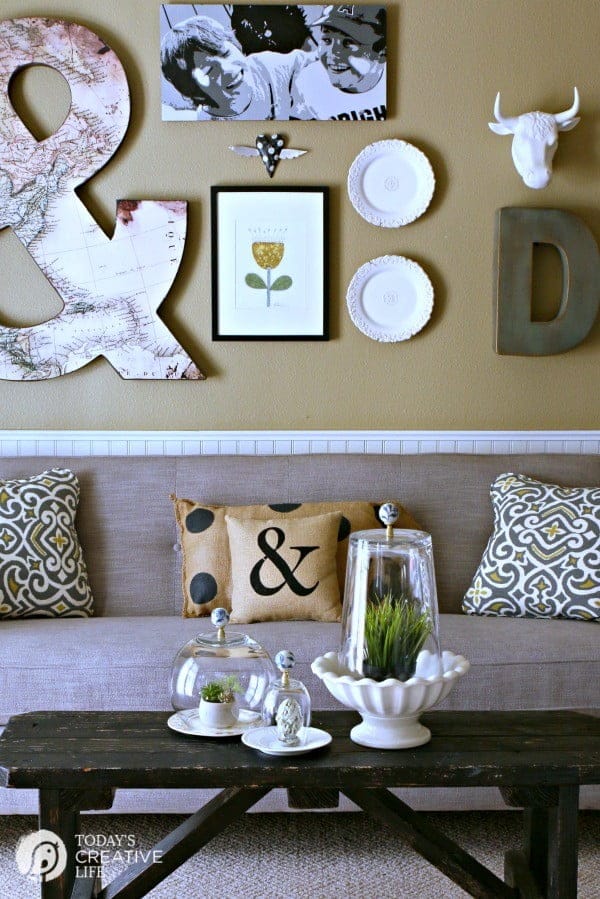 I think they look great with my new La-Z-Boy Sofa. Because I know some will ask where some items are from, I have them listed on my photo on instagram.
The darling burlap polka dot pillow is actually from KariAnne's sister. KariAnne is the amazing blogger from Thistlewood Farms. That whole family ooozes talent!
There's a reason I didn't photograph the arms of the sofa. I had just spent time a couple of days before cat proofing, not realizing I was going to shoot these photos anytime soon. Here's the REAL story.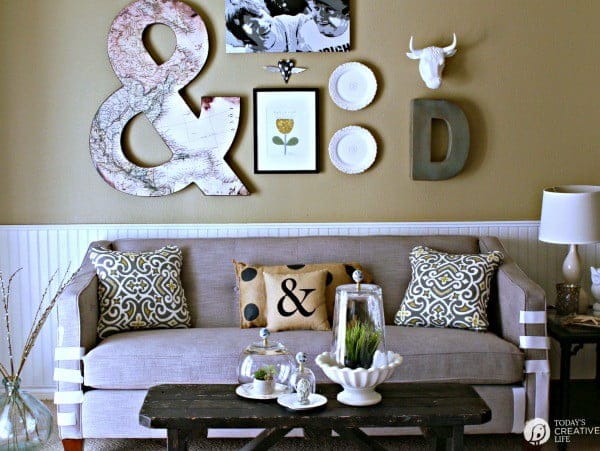 Not very attractive, but it works! It's this cat proofing tape and the white portion you're actually supposed to peel away to expose the sticky. Well…. with a black fluffy dog that also likes to rub against it, the sticky tape looks hairy really quickly….. so I leave the white portion on and it still deters the cat. Real life isn't always pretty…. it just depends on where you look. Right?
---
More DIY Decorating Ideas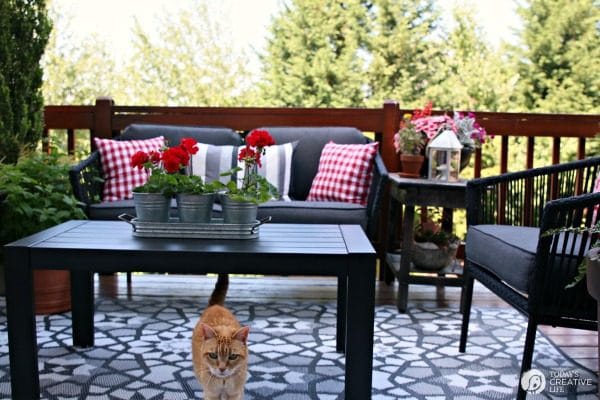 Small Patio Decorating Ideas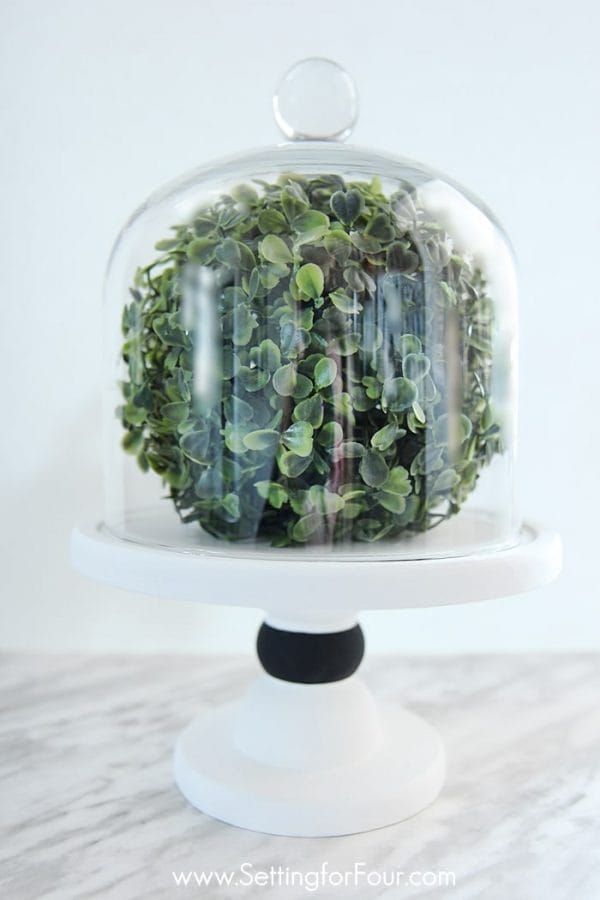 Easy Affordable DIY Glass Cloche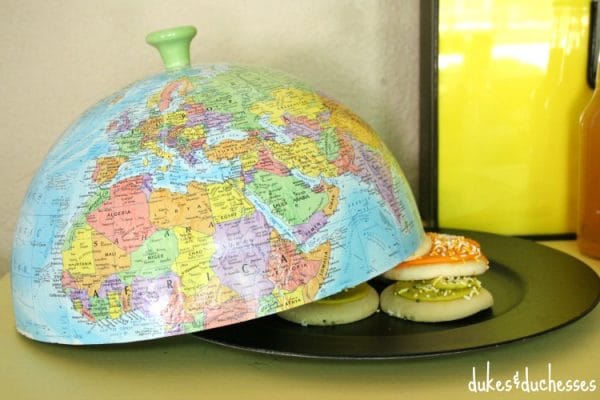 Repurposed Globe Cloche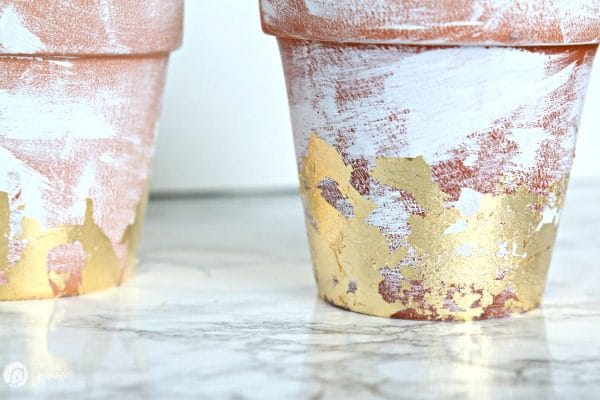 DIY Gold Leaf Distressed Terracotta Pots