Make your own DIY scary Halloween decorations with old victorian photos, vellum paper, a vase, and a candle. This easy Halloween craft is budget-friendly and easy to make!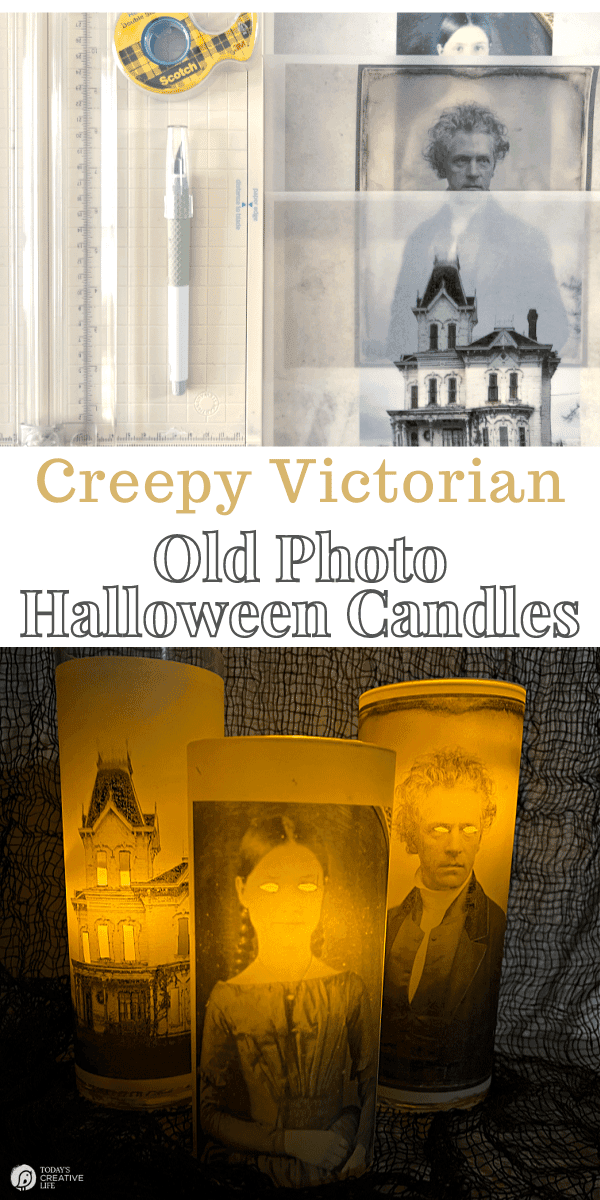 DIY Scary Halloween Decorations
I love creating DIY decor using candles. I have these spooky Halloween candles I did a few years ago that are similar. Easy Halloween decor that I can whip up in no time is my favorite way to decorate. I was inspired by this Halloween candle project from a fellow blogger, Cheltenham Road. Her process is very creative using spray paint and Mod Podge to create a very creepy effect.
I took a different approach since I was short on time and missing some of the supplies. I found my creepy images and created a full sheet that would be printed on vellum, a frosty translucent paper, and could be taped around any clear container.
How to Make Halloween Decorations
I have several DIY Halloween decor ideas. Many Halloween craft ideas can also become decor. See a few tutorials below.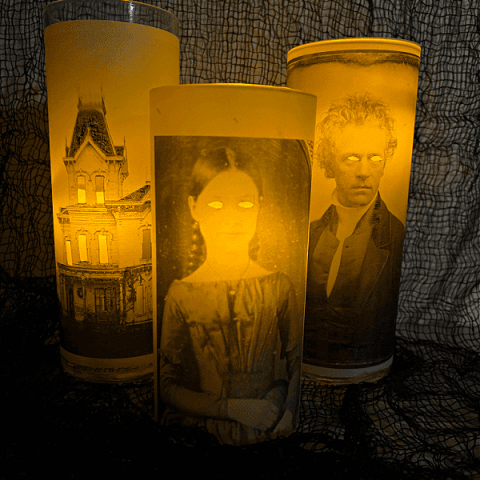 Creepy Victorian Halloween Candles
Yield: 3
Prep Time: 5 minutes
Active Time: 15 minutes
Total Time: 20 minutes
Difficulty: Easy
Estimated Cost: $10
Make your own spooky and creepy Halloween glowing eyes and window candles with Victorian photos.
Tools
Paper Trimmer
Double sided tape
Craft knife
Self healing mat - or a piece of cardboard
Instructions
Gather your supplies.
Print out the Victorian printables.
Using a self-healing mat, use your craft knife to cut out the windows and eye sections on each image.
Trim printable to fit your glass vase or jar. If it doesn't fit all the way around, that's ok. You can add two if wanted.
Run double-sided tape along one edge, leaving space. If the printable doesn't fit all the way around, you can use regular tape or decorative Washi tape.
Line up the printable with your vase and adhere to the tape. Wrap the paper around the stick the other side down, meeting the tape line.
Place a candle or a battery-operated candle inside.
Create a fun Halloween table centerpiece and enjoy!
Notes
If you're using a real candle, be sure your paper printable is not higher than the vase. Never leave a burning candle unattended.
The Printable Vault printables are free to subscribers. You can subscribe here and your password will be sent to you. (check your spam folder if you don't see it right away.)
Cylinder vases can sometimes be found at the Dollar Store.
Cost will vary depending on what you already have.
DIY Halloween Decor
Inexpensive DIY Halloween decor is my favorite way to decorate. These glowing eye and window creepy victorian candles are great as a centerpiece, or on a windowsill. They would look great on any surface. If you're having a party, they would be perfect for the food table!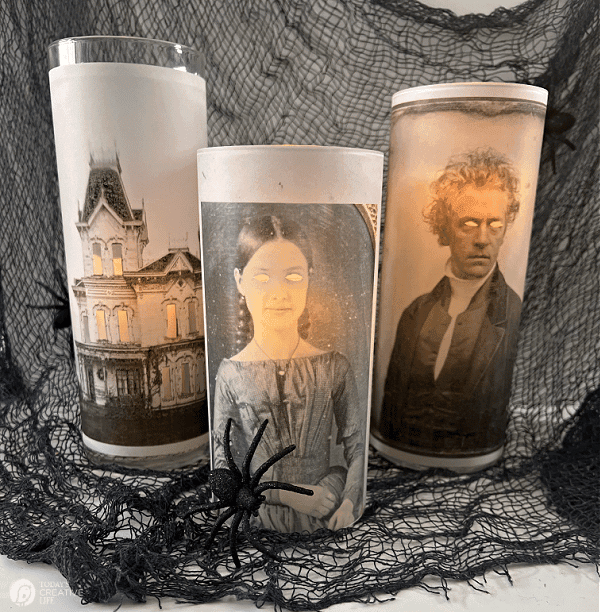 Of course, they look best at night!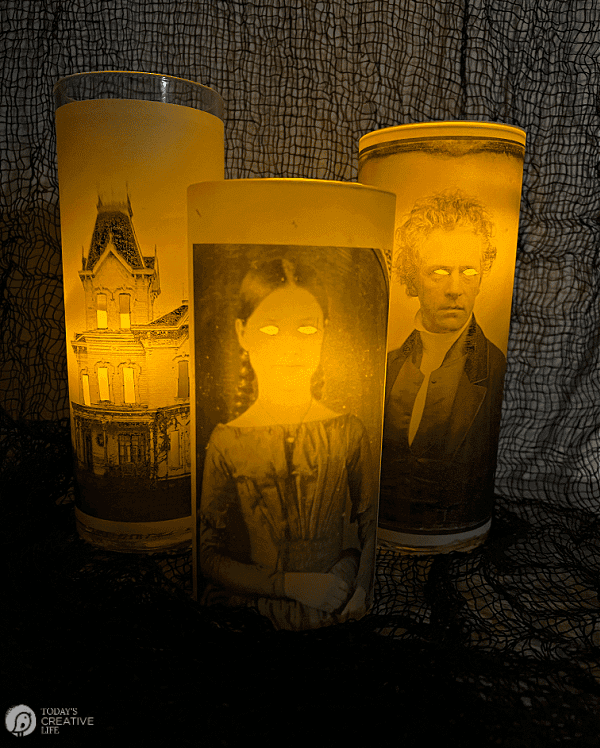 Can You Print on Regular Printer Paper?
You can definitely print on regular printer paper. It's thin enough that you'll get a similar effect. I chose vellum for its frosty look and I happen to have it already. As long as any paper is on the thinner side, it will work.
What Candles Work Best with DIY Spooky Halloween Decorations?
I am using battery-operated flameless candles in a medium size. Any taller and they wouldn't have the same effect for illuminating the areas needed. I tried using small votives and they didn't give off enough light. You can use real candles, just be sure that your printable isn't higher than the vase. Also… never leave lit candles unattended.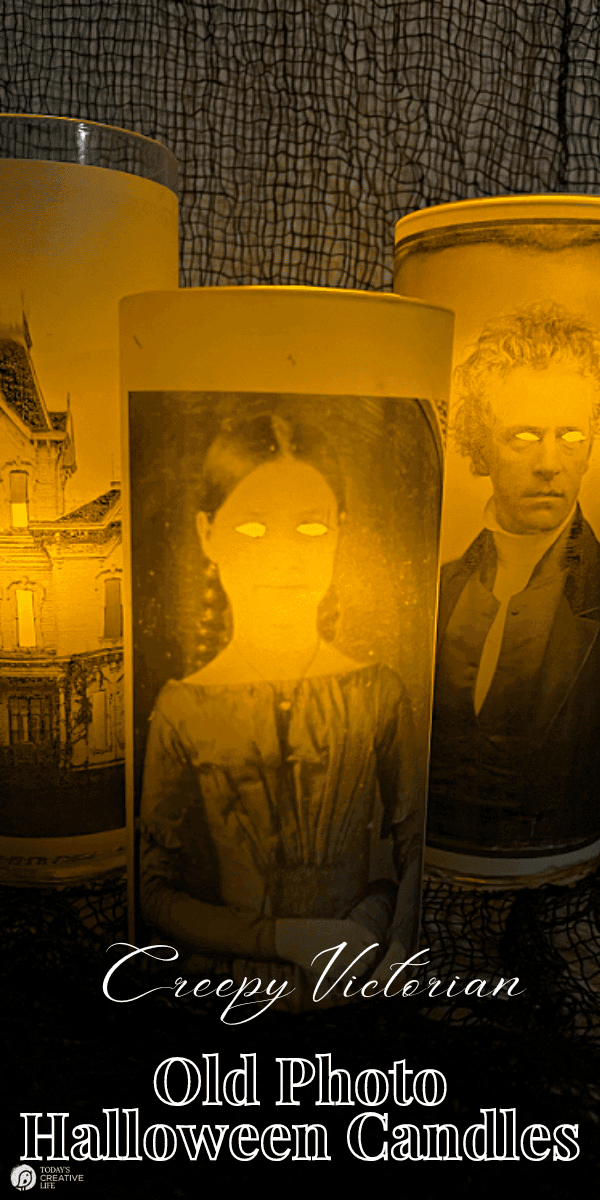 Free Halloween Printables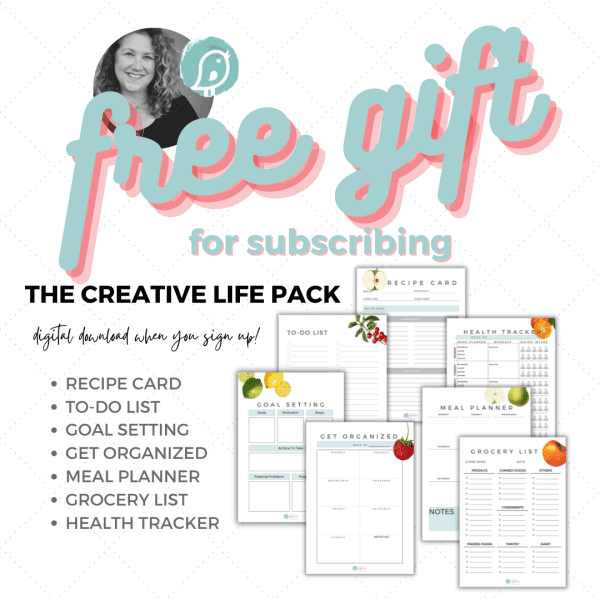 You can find these Halloween printables in The Printable Vault which is free for all subscribers. You can subscribe here. You can download anything there as many times as you'd like.
Your password will be sent to you. Check your spam folder if you don't see it right away.
Halloween DIY Ideas
Create the Halloween of your dreams with Easy Halloween Ideas. Find Halloween decor for cheap for a budget-friendly holiday. Recipes for Halloween too!
Printable Wall Art for Halloween - DIY Halloween decor in a flash!
Easy Halloween Craft for transferring images onto wax candles.
Make this cute beetle pillow design with iron-on vinyl.
Halloween party bottle wrappers printable.
Simple to make Halloween party food ideas.
Get creative with a fun Halloween centerpiece.
This Halloween-decorated take-out box is great for treats or even Halloween party leftovers. Cricut Halloween Ideas.
Free Halloween printables.
Halloween decor for cheap! Dollar store items made into a creepy crawly centerpiece.
Iron-on crafts are my favorites!
Another great Cricut craft for Halloween.
Halloween treat boxes with vintage beetles. Print and decoupage. Free printables.
Who would know you could find the best craft supplies in a hardware store? A little spray paint, a free printable, cobwebs and you've got yourself a simple Halloween craft.
Fun for any spooky party!