This easy Red, White and Blue Memorial Day Craft can be used for all patriotic holidays. It's also perfect for simple holiday decorating for the 4th of July and Labor Day too.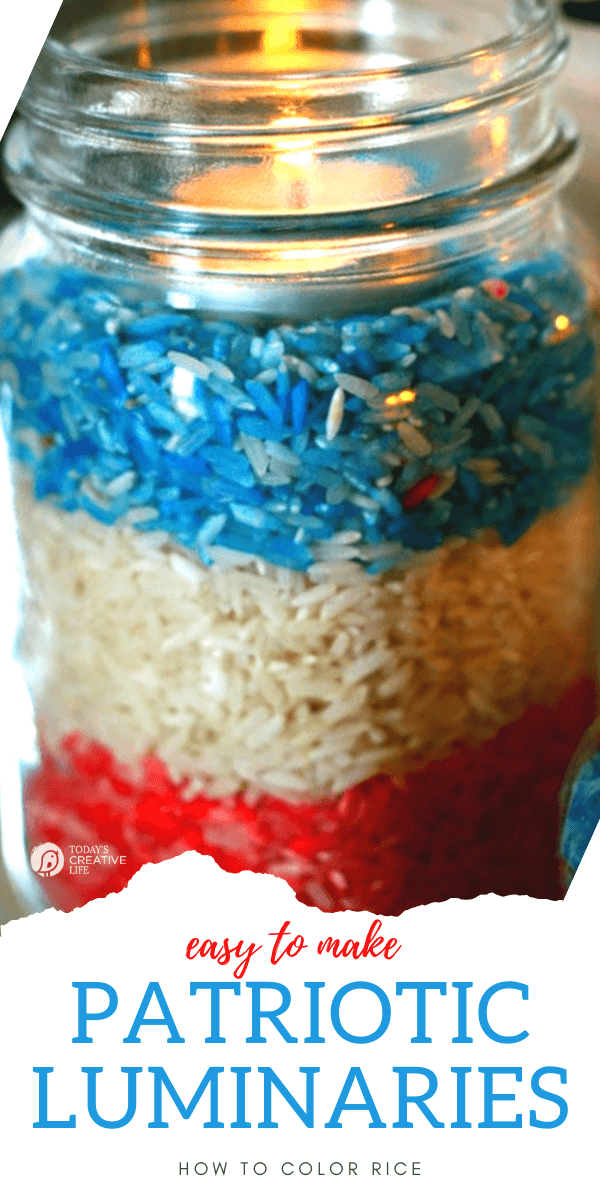 Memorial Day Craft – DIY Patriotic Decor
Other than putting the flag out, I usually don't decorate for Memorial Day. But if we're having a BBQ on Memorial Day or the 4th of July, I do like a simple and festive idea for the table. Using items I already had, I was able to create DIY patriotic decor fairly quickly. These colored rice decorations turned out so stylish and cute!
I consider it a win if I can make cute budget-friendly DIY home decor.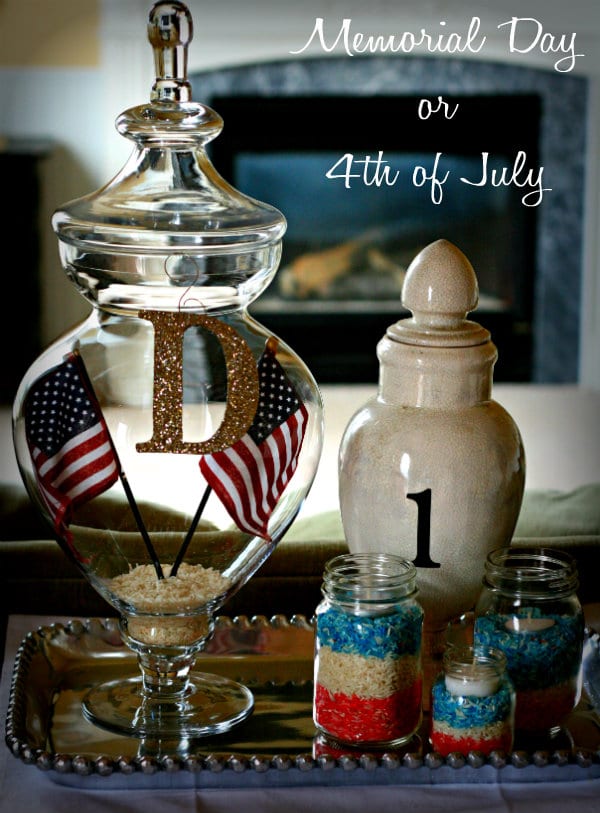 How to Use a Patriotic Memorial Day Craft
Luminaires – Make patriotic luminaires for Memorial Day, the 4th of July or Labor Day. Place a votive on top and press it down just a little. Or try using them as a candle holder with a tapered candle. Line a table or walkway with a few of them for a creative look.
Table Decor – Layered red, white and blue colored rice jars are great on their own, grouped together or in a line.
Miniature Flag Holder – Stick a couple of the small American flags in the rice for quick table decor.
Buffet Food Label Holder – Make up smaller ones in baby food jars, then write the name of a food dish on a popsicle stick and push into the jar to hold.
How to Make Red, White & Blue Colored Rice
I've used this same idea to make Colored Rice DIY Easter Decorations.
Colored Rice Supplies
White Rice
Food Coloring
Rubbing Alcohol
Baking Tray with parchment or wax paper
Ziploc Plastic Bags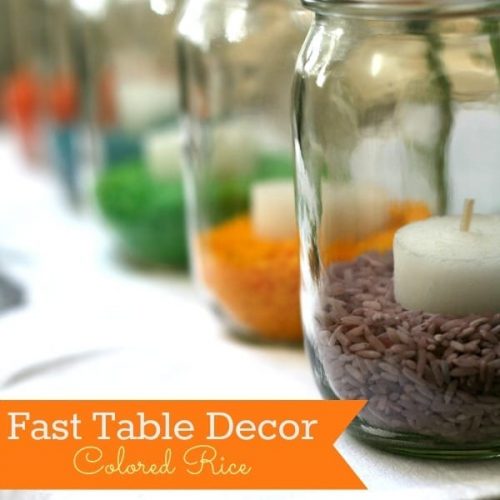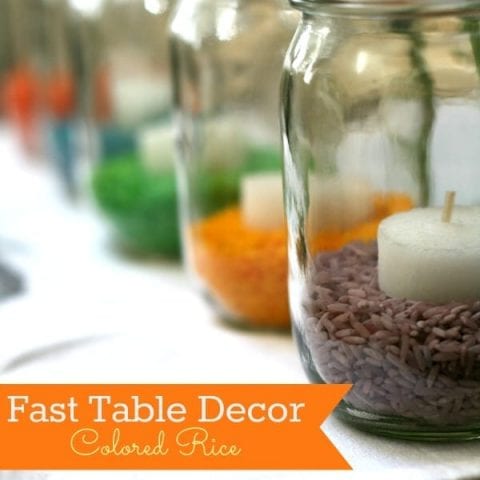 How to Color Rice
Yield: As much as you'd like
Prep Time: 5 minutes
Active Time: 10 minutes
Additional Time: 10 minutes
Total Time: 25 minutes
Difficulty: Easy
Estimated Cost: $5
Colored Rice makes holiday decorating easy. It's also a fun craft for kids.
Materials
Food coloring | liquid or gel 
Rubbing Alcohol
White Rice (not instant)
Plastic Ziploc baggies
Parchment covered baking sheet or paper plates
Instructions
Place your rice inside the ziplock baggie
Drop a few drops of rubbing alcohol inside with the rice
Drip a few drops of food coloring, depending on how intense you want your rice, into the baggie
Seal the baggie and mix around
Once your rice is fully coated, pour onto a paper plate or cookie sheet and spread out to dry.
Dry – I placed mine outside and it dried really quickly (about 10 min)
Notes
Pour into your jars, place a candle on top. (I would wait to light the candle in case the rubbing alcohol is still present.)
How Long Does Colored Rice Last?
To keep your color-dyed rice vibrate, store it in an airtight container and out of the sun. I've just used plastic baggies. You can use it for years. If you want to keep the layering in a jar, just put a lid on the jar and store it upright in a cool dark place.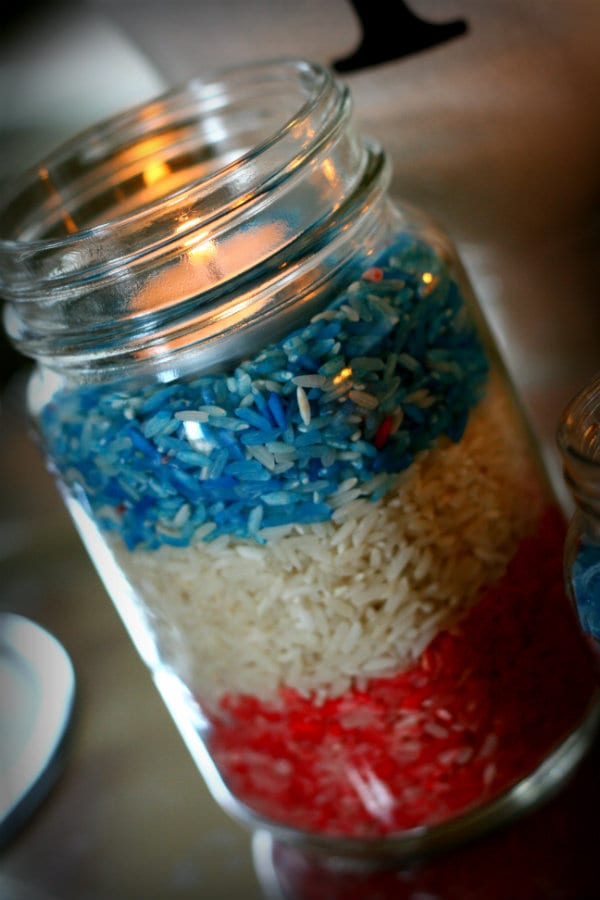 Can I use this Memorial Day Craft for 4th of July?
Absolutely! Red, White & Blue DIY decor can be used for Memorial Day, Fourth of July, Labor Day, and even Pioneer Day (a holiday for the LDS community).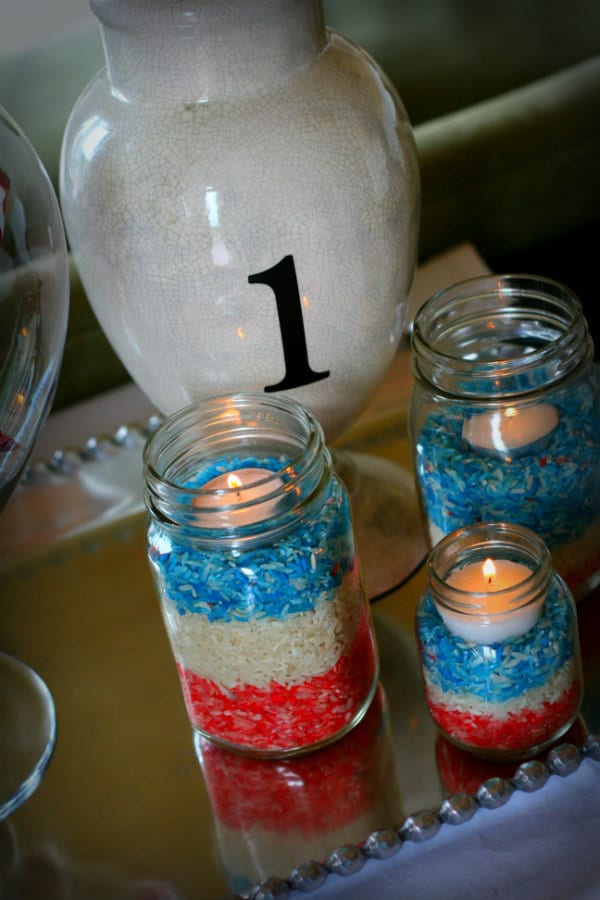 Try this craft with any color for any party, event, or holiday!

Patriotic DIY Ideas
Crafting and decorating ideas for all the Red, White, and Blue Holidays! 4th of July, Memorial Day, and Labor Day!
Free Patriotic holiday printables.
Create your own holiday star garland.
Grab a star-shaped ice cube tray and create patriotic drinks!
Grab your supplies and get busy!
More Red, White and Blue Printables.
Simple 4th of July decorations.
Simple sewing project for the holidays.
Sweet treat for your 4th of July parties!
Photo Credit: craftingintherain.com