Simple to make Patriotic Star Shaped Ice Cubes in Red, White and Blue for easy holiday entertaining. Perfect for Memorial Day, 4th of July or even Labor Day.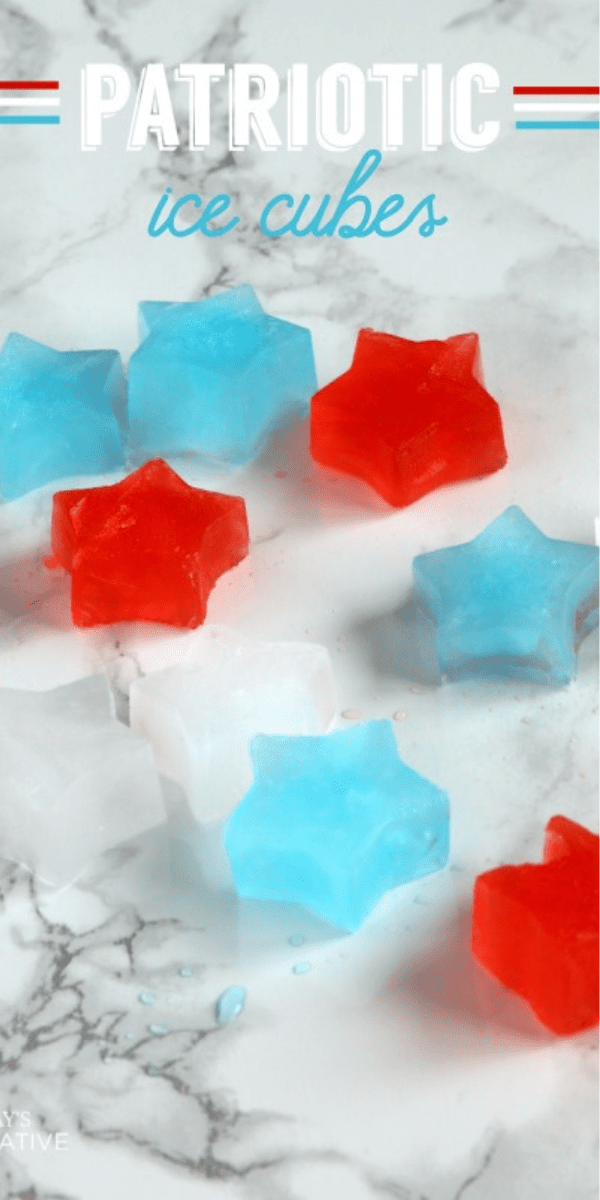 Patriotic Star Shaped Ice Cubes
Shaped and colored ice cubes are a simple way to add more fun to any beverage. It's a great idea for party planning, using any shape you'd like. I chose the star shape because of the 4th of July coming up. I had originally planned to just freeze plain water and then got the idea of red, white or blue stars if I could figure out what to use.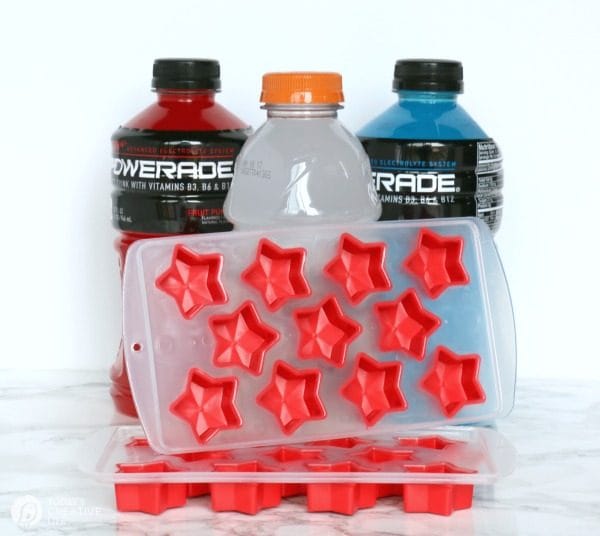 How to Make Red, White and Blue Ice Cubes
Before realizing I could just use plain water with a bit of food coloring, I scoured the grocery store's drink aisle looking for drinks that would fit my red, white and blue theme. Here are the options I found, but not all are going to go with all beverages. I used sports drinks, but if I was serving other flavored drinks, I realized the food coloring idea was best. I've also made fruit and herb-filled ice cubes too.
Plain water with food coloring.
Sports Drinks – they come in a wide variety of colors for other events.
Kool-aid – again, so many options.
Fruit and Veggie Juices
Needed:
Star Shaped Ice Cube Tray
Red Liquid
Blue Liquid
White or Clear Liquid
I found that using one tray per color was much easier to manage.
Any baking or candy mold can be used for ice cubes.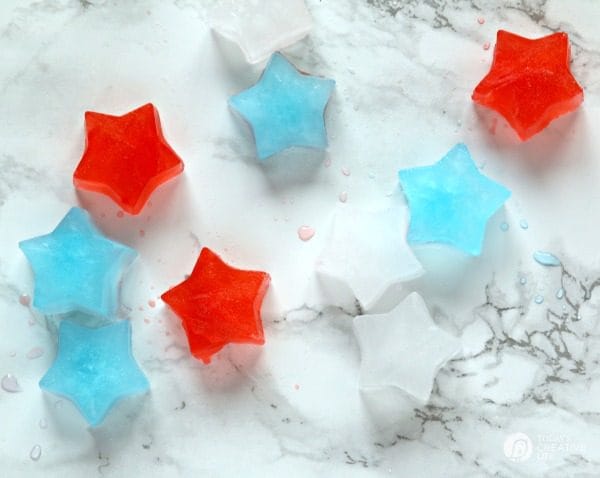 Wash and dry all your ice cube trays.
If you're dying your own water, grab one of the 4 Cup Pyrex measuring cups and experiment with how much food dye to add to get the desired color.
Pour chosen liquid into trays and place in the freezer.
Freeze for at least 4-6 hours.
Keep frozen until you're ready to use them.
I poured sparkling water into a couple of fancy glasses, added my patriotic star-shaped ice cubes, and suddenly had a smile on my face! It's the simple touches that make a day special.
Add a bucket of these to your Easy Entertaining Drink Station like I created and just wait for the happy comments. The red ones melted enough to make the sparkling water a faint pink, but that's OK. It's still pretty.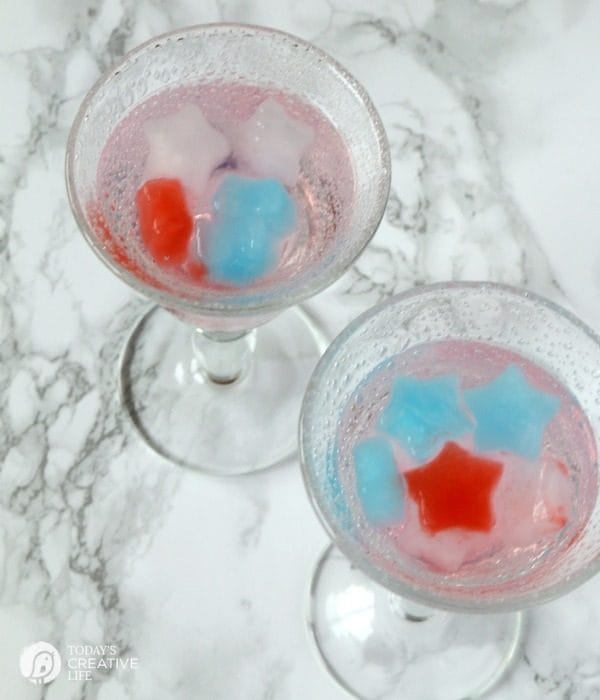 So if you're having a BBQ for the 4th of July, you've still got time to order these star-shaped ice cube trays. I got mine on Amazon. You can use my affiliate link.
I also thought this could be a great way to get kids to drink more water. Add a couple of these patriotic star-shaped ice cubes that also add a hint of flavor and they'll be slipping away.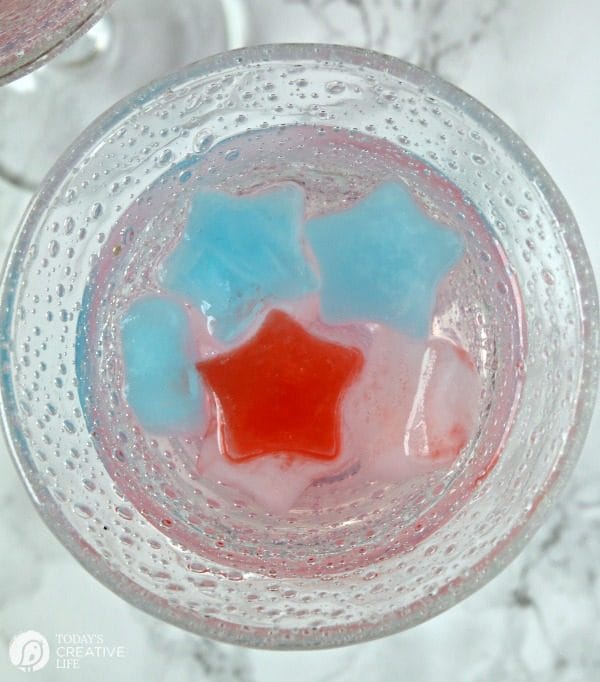 Combine these festive cubes with a few of my patriotic ideas below or this patriotic printable for easy holiday decorating.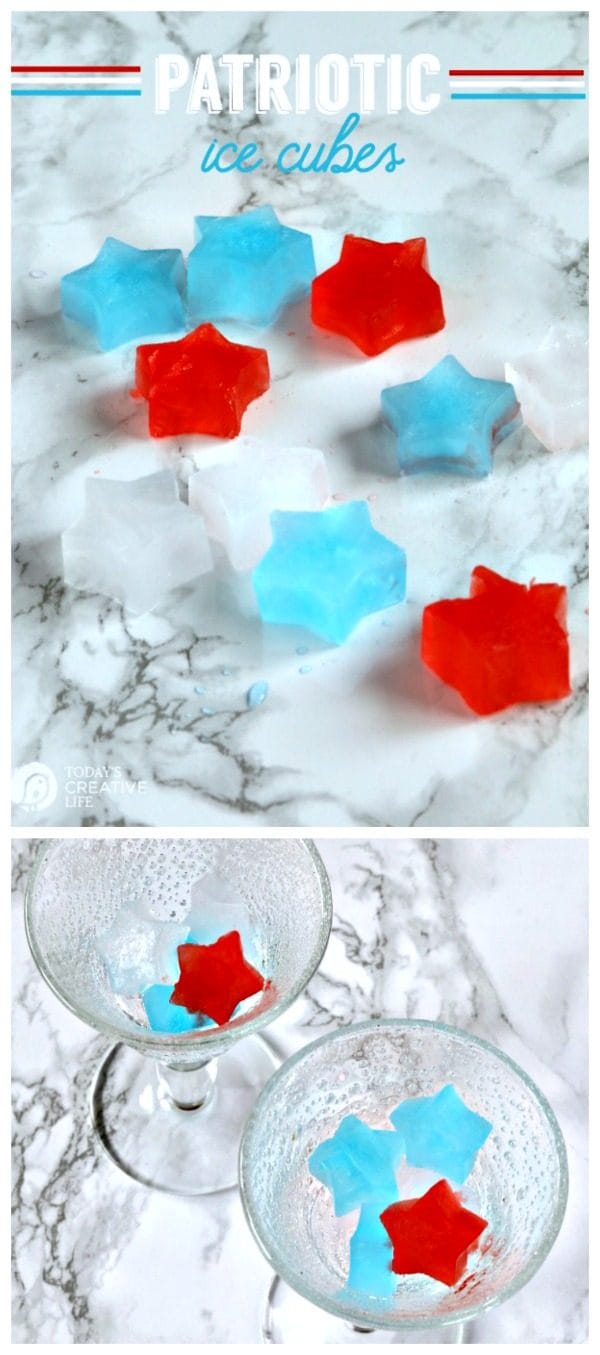 Patriotic DIY Ideas
Crafting and decorating ideas for all the Red, White, and Blue Holidays! 4th of July, Memorial Day, and Labor Day!
Free Patriotic holiday printables.
Create your own holiday star garland.
Grab your supplies and get busy!
More Red, White and Blue Printables.
Simple 4th of July decorations.
Simple sewing project for the holidays.
Sweet treat for your 4th of July parties!
Photo Credit: craftingintherain.com