Choose your friuts and herbs for fruit filled ice cubes in any flavor or color combo you'd like. Ice cubes with fruit makes a plain glass of water a beautiful beverage. Easy to make!
I'm always looking for ways to make drinking water more appealing. I never used to have that problem, but it seems like it's a constant battle, always reminding myself to fill my water cup.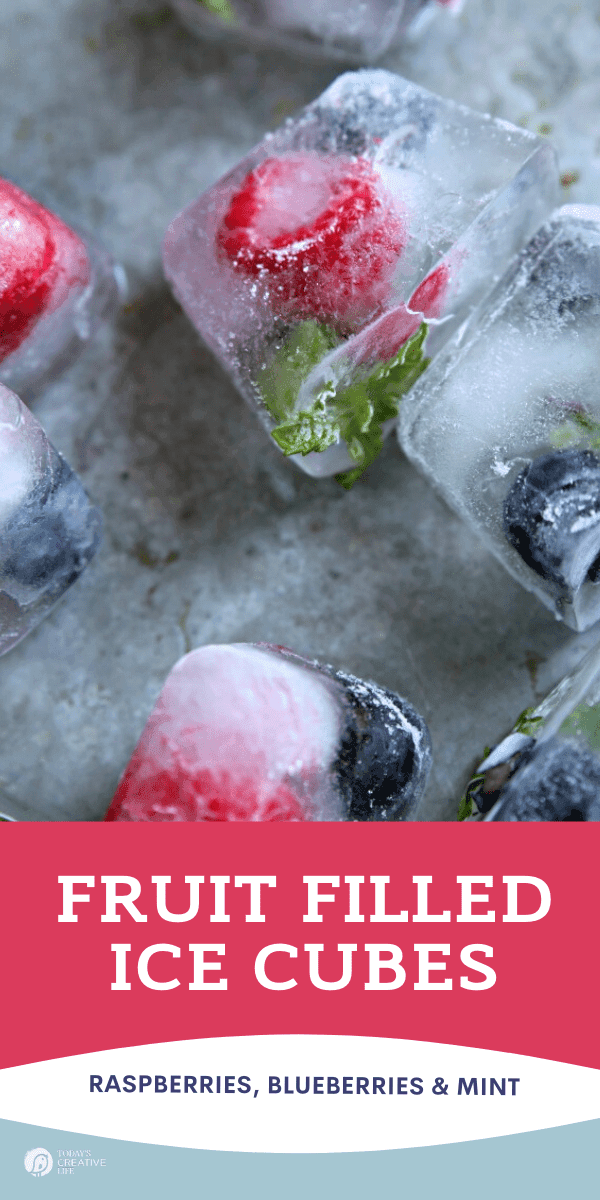 Fruit Filled Ice Cubes with Mint
With the abundance of berries this time of year and my flourishing mint plant, I decided to try the latest craze of freezing Fruit Filled Ice Cubes with a hint of mint. If anything, I may think it's a Mojito! These ice cubes make every drink more refreshing.
How To Make Fruit Filled Ice Cubes
You're going to need an ice cube tray, fruit, and herbs. You can make regular size ice cubes but have found it's actually easier if you use those jumbo-sized ice cube molds.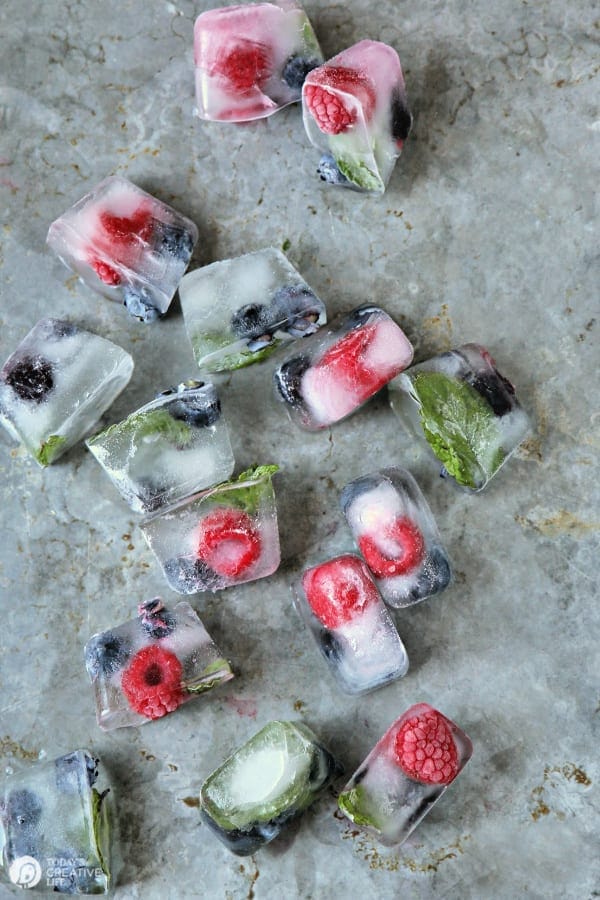 Choose your Fruit
Any fruit that freezes well can be used.
all berries
peaches
pineapple
mango
I haven't tried using oranges, but the smaller cuties may work well.
Choose your Fresh Herbs
I've only tried the ones listed, but feel free to experiment with what you have.
mint – all varieties
rosemary
basal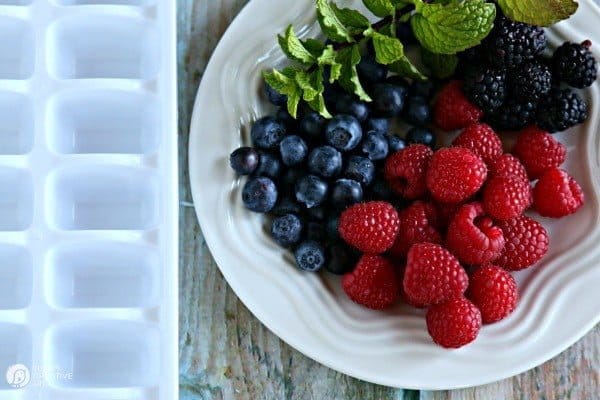 Gather and rinse the fruit you want to add. I happened to have blueberries, raspberries, and blackberries. I also picked a sprig of mint, washed it, and plucked off the leaves.
I tucked a variety in each section. Truth be told…… mine was a little overfilled. I'll show you what to avoid later.
Fill each section with water trying to cover all the fruit.
Place it in your freezer and in about 3 hours, you'll have the most gorgeous ice cubes you've ever seen. You'll suddenly want to drink water all day long!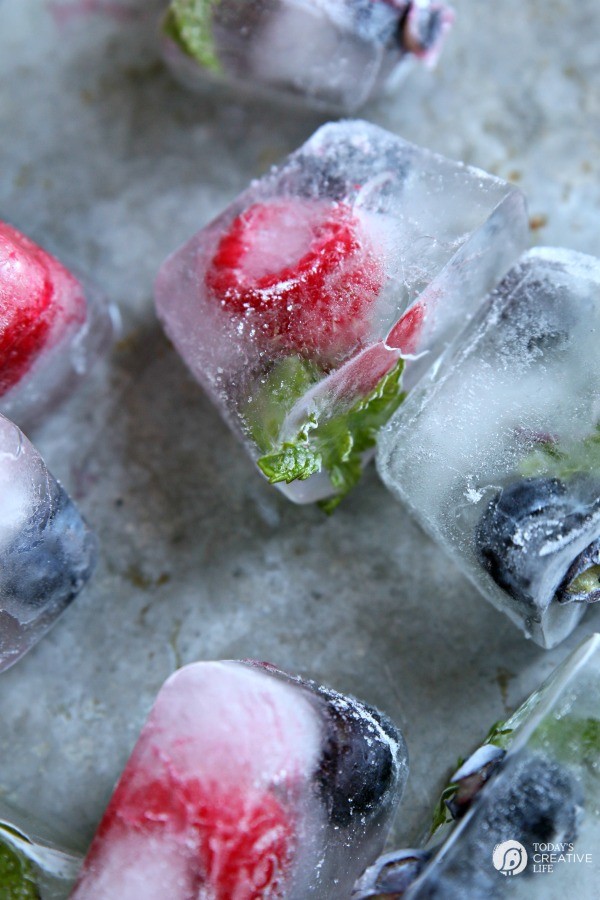 Remember when I said to make sure your fruit is submerged?
This is why. Those beautiful blueberries, if not fully covered with water, will end up looking like the Loch ness monster.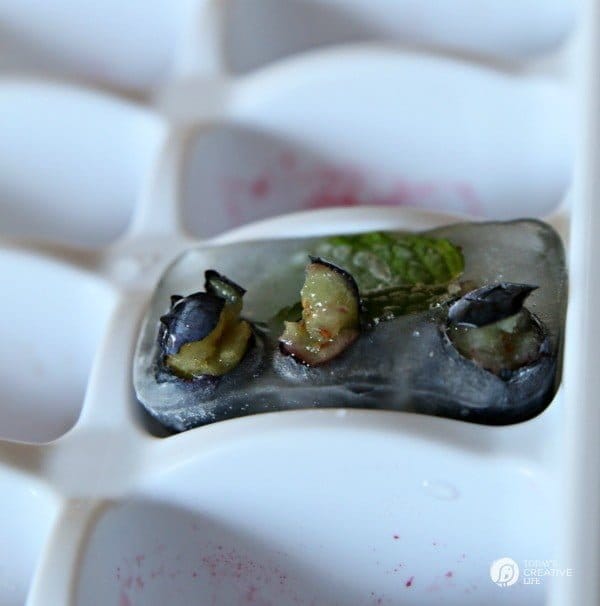 I still kept mine, because they'll still taste fine and once in the water, they'll look ok. But if you're serving to guests…… save these for yourself or throw out.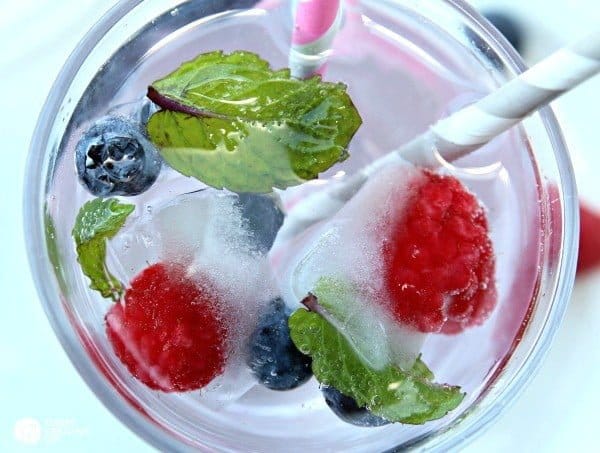 Add a few ice cubes to your glass and fill it up with either filtered water, tap water, sparkling water…… whatever kind you prefer. For fun, add a cute and colorful paper straw.
I'm going to try limes and lemons next and add them to my Brazilian Lemonade.
Do Ice Cubes with Fruit Taste Different?
The flavor is very faint. As the ice melts, you may get a hint of flavor from the herbs first and then the berries.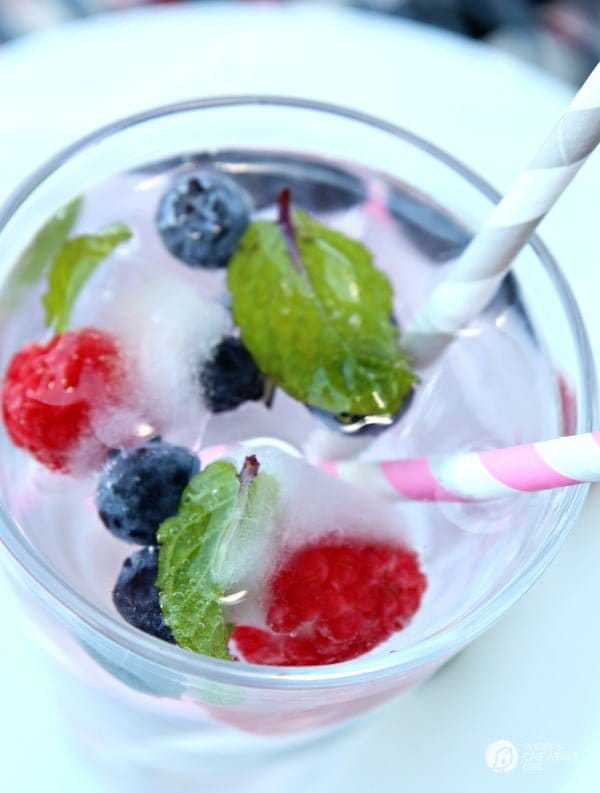 Recipes for Summer Drinks
Find a variety of simple recipes for the summer season.
This cocktail recipe is by Spabettie.
I don't measure. This way it can be made in any size glass.