You are going to LOVE this easy DIY Tabletop Fire Bowl project! I love summer entertaining hanging outside on my deck or in my outdoor room, so I was so excited to try this! I mean, who doesn't want a fire bowl? It reminds me of my easy DIY Mason Jar Solar Lights I made too!
Once I had my supplies, I put this together in about 5 minutes!
DIY Tabletop Fire Bowl

Now that my DIY tabletop fire bowl is completed, I may actually re-position and add two more cans of the Sterno burning gel and then, of course, move it away from my deck railing. We don't want to burn the house down.
Who wants to make one?

How to Make a Tabletop Fire Bowl
Affiliate links for products listed are for your convenience only. This costs you nothing extra. If you happen to purchase anything as a result of clicking, TCL will receive a small percentage. Thank you for your support. This allows me to continue to offer you free content. 
Supplies Needed:
Fire Glass (comes in many colors. I'm wishing I would have gone with the amber. Pea gravel is also a great option and easier to find.) The rocks I painted for my indoor Rock Garden would also be a great addition.
Terracotta flower bowl
Food Safe Sterno burning gel – if you wanted to roast marshmallows.
Fill terracotta, tin or ceramic planter 3/4 full with fire glass or pea gravel.
Position the burning gel can in the middle.
Take the lid off to light. Replace the lid to extinguish.
Use outdoors only. Use common fire safety guidelines when using.
Finding fire glass was my biggest obstacle. No one seemed to carry it, so I ordered it directly from Lowe's and just picked it up from the store. There are no shipping costs, which was nice.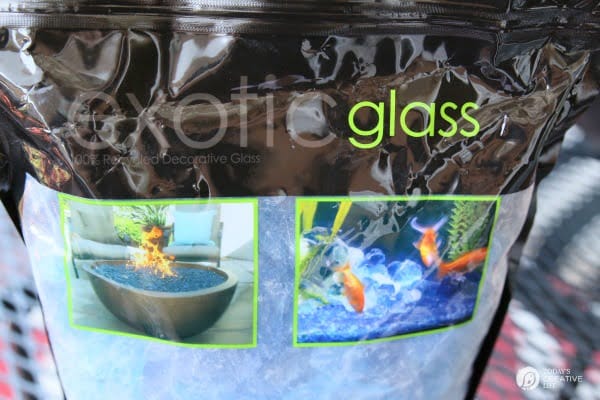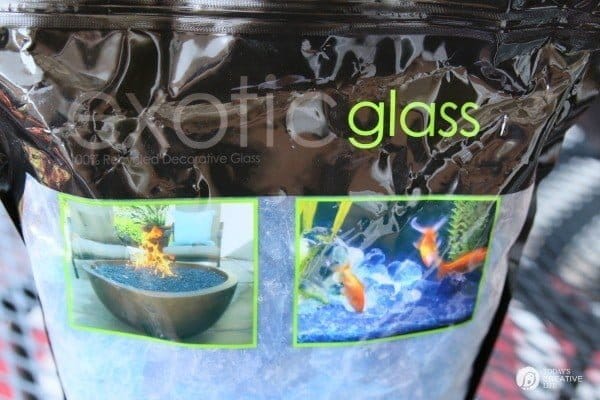 I thought the rocks were going to be smaller and didn't expect them to be big chunks, but what's a girl to do?
I had a small wide flower bowl I also picked up from Lowe's and used a 10lb bag of the rocks. I didn't think it would be enough at first, so I filled the bottom with pea gravel, then topped it off with the blue fire glass. I loosened the lid of the sterno can and then wedged the can into the center. I found the gel flame cans at my local Fred Meyer in the camping section.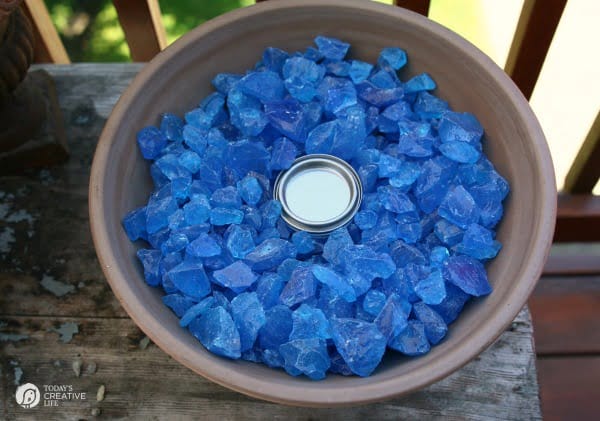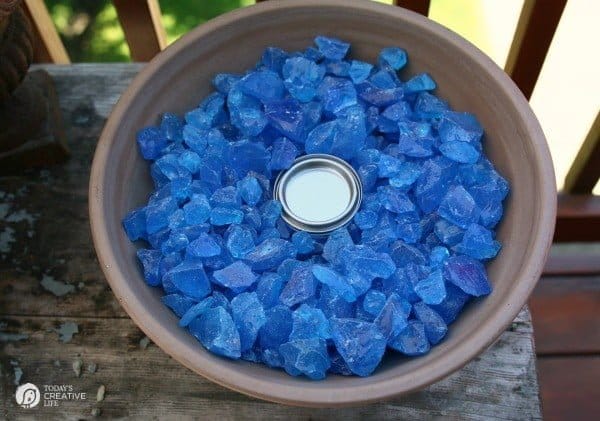 Can You Use Other Rocks for a Tabletop Fire Bowl?
Rocks, pea gravel, or any hard non-flammable material will work great. The fire isn't in direct contact like it would be for a natural gas firepit and there is very little heat generated.
The fiberglass is beautiful and it worked well, but it's expensive.
And I hate to admit it, but the pea gravel looked more my style and would have worked great……and here I already had a full bucket in my potting area.
Now I had to wait till it was dark to see how it was going to look.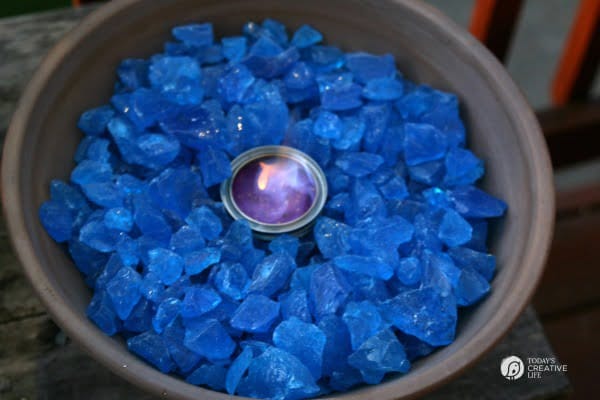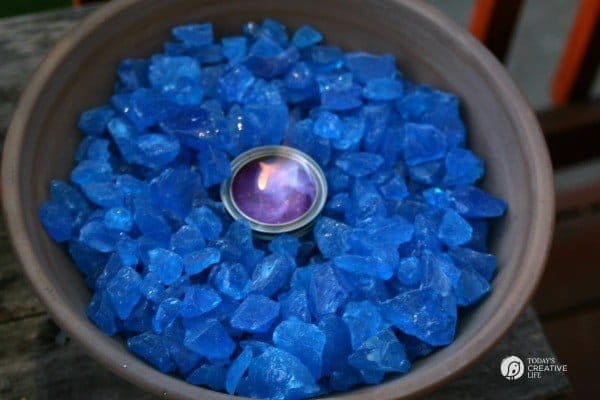 I couldn't help but try lighting it to see, but the flame is pretty much invisible in the daytime.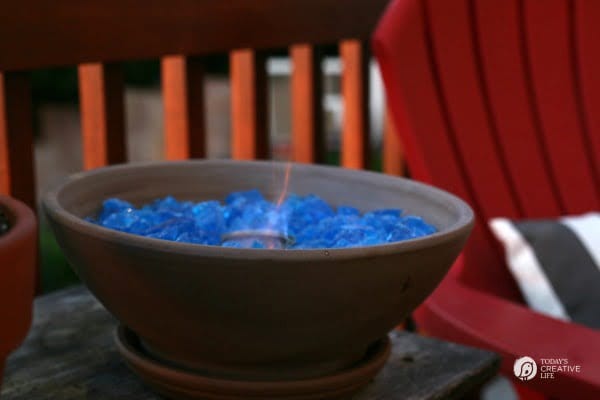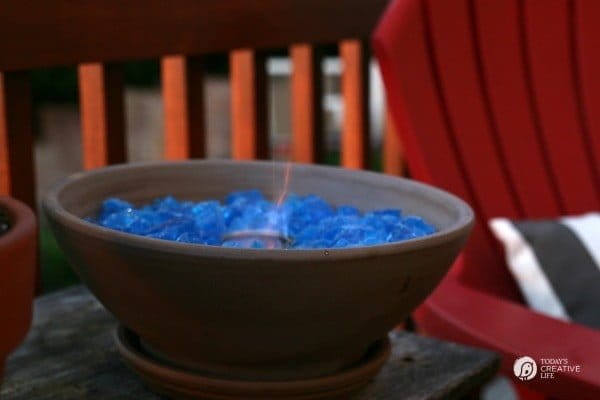 So I waited…….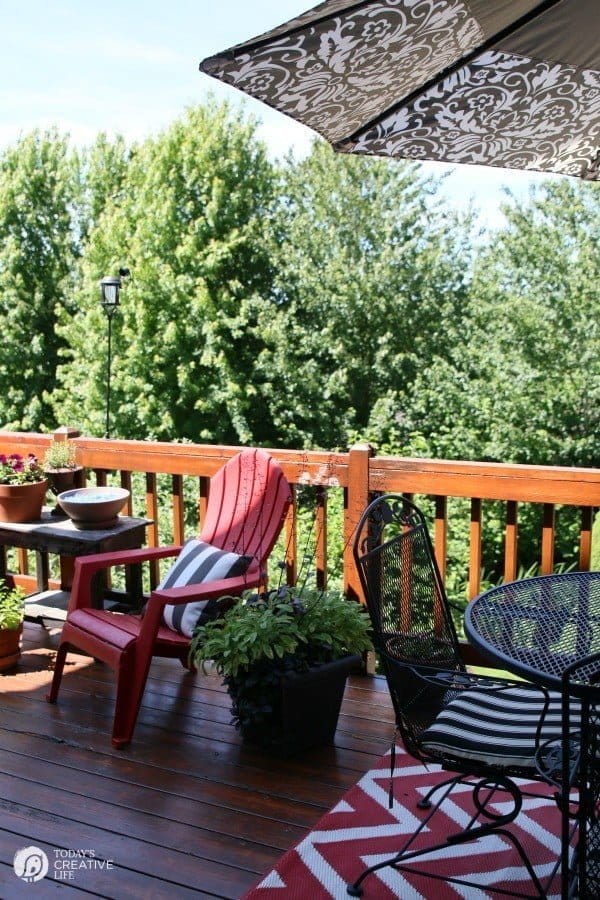 Just so you know….. it was much more vibrant in real life.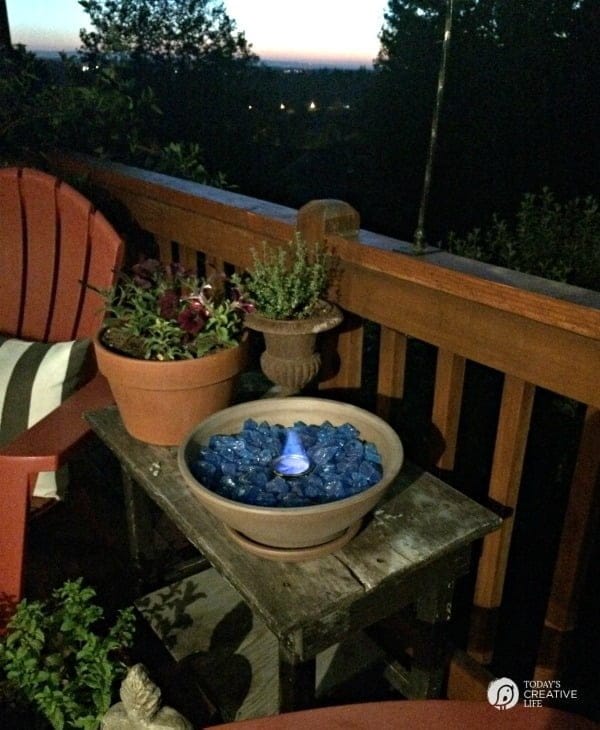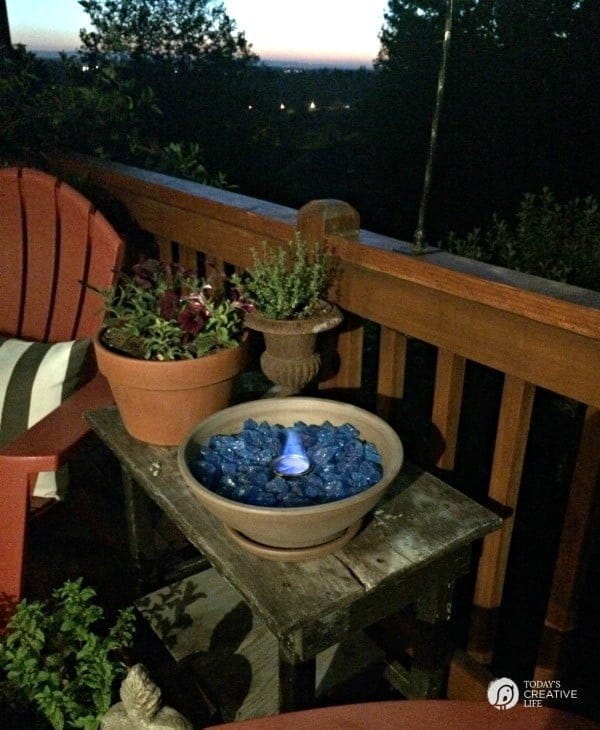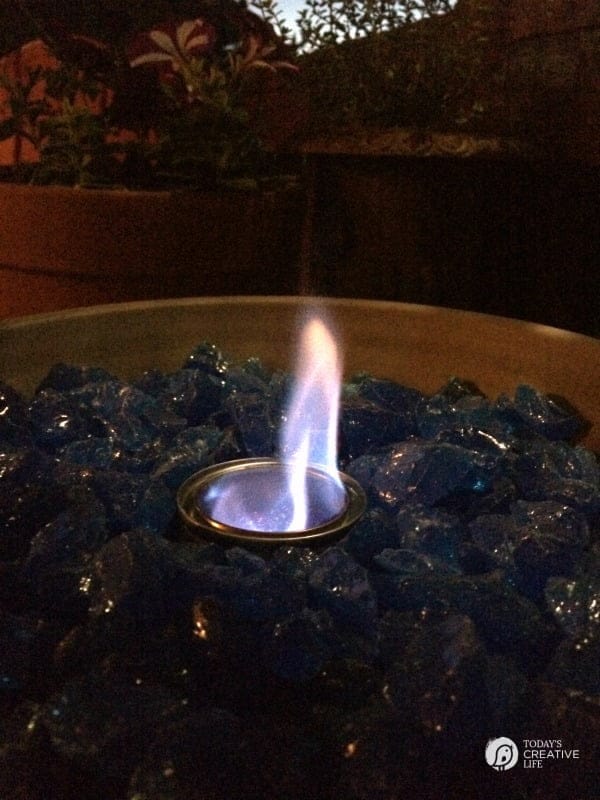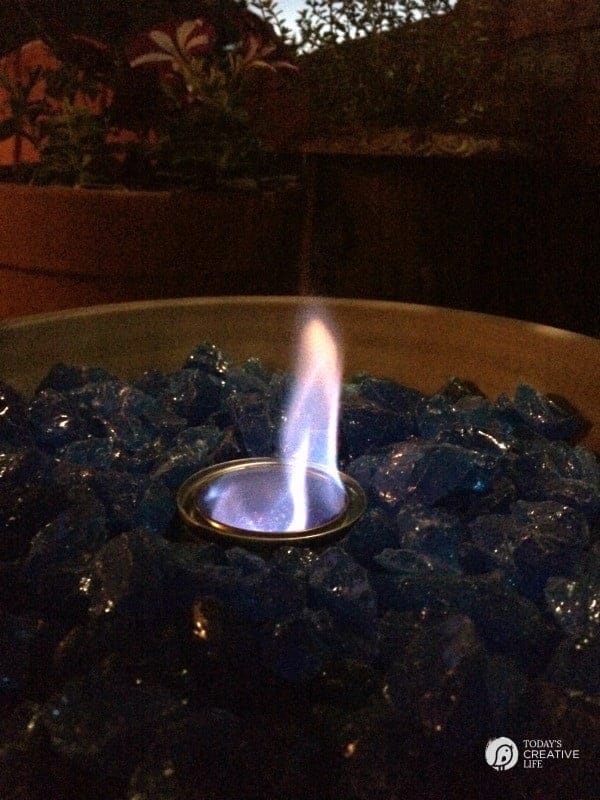 To extinguish the flame, I used tongs to place the lid back on. It goes out immediately.
I'm getting used to the bright blue fire glass and besides, it matches my DIY Fountain I made a couple of years ago. I think I'm going to like my new DIY Tabletop Fire Bowl!
My next project may be a DIY Firepit!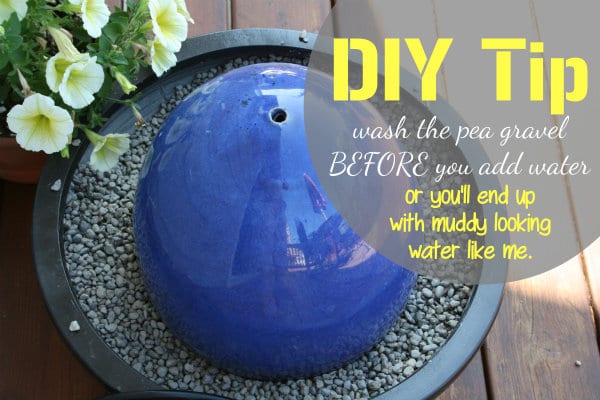 ** Use common sense when using fire of any kind. Read the instructions on the clean-burning gel.
I've had readers ask if they can roast marshmallows over the small flame and the answer is yes if it's one made for food. Sterno makes a specific one for roasting marshmallows.
---
More Outdoor Entertaining Ideas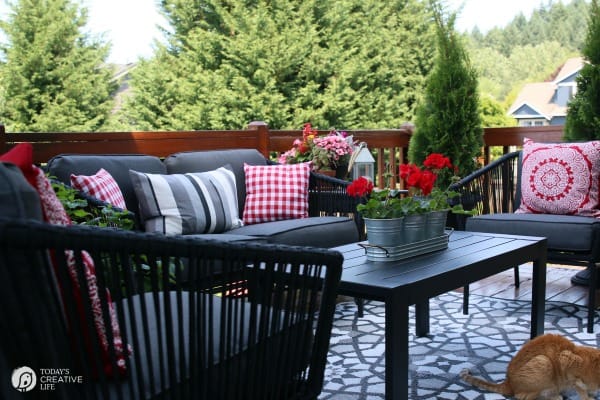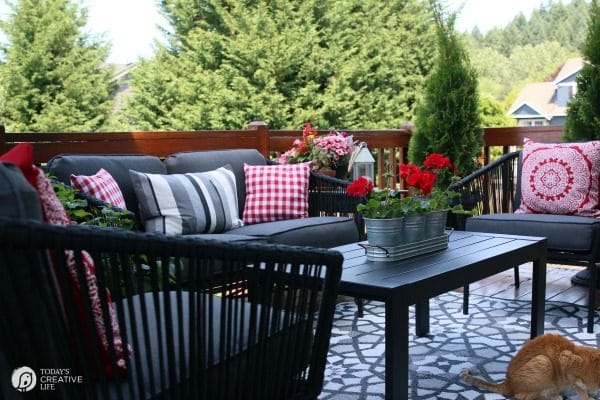 Decorating a Small Patio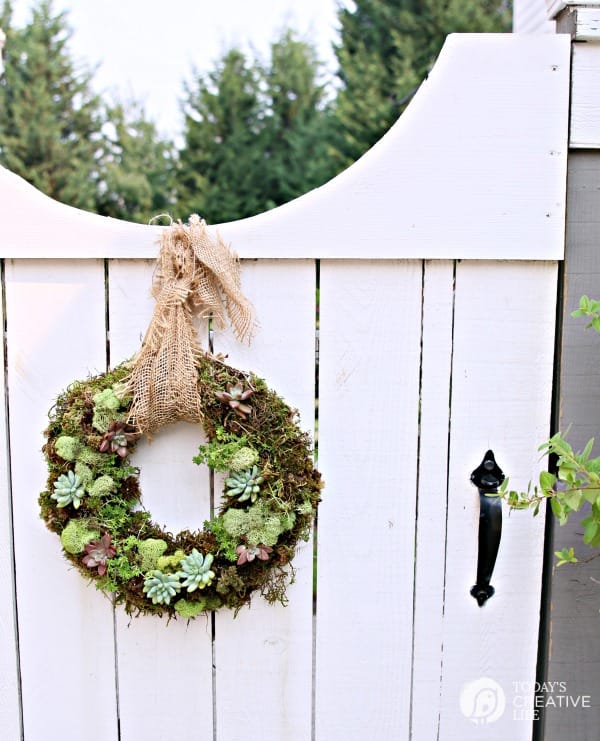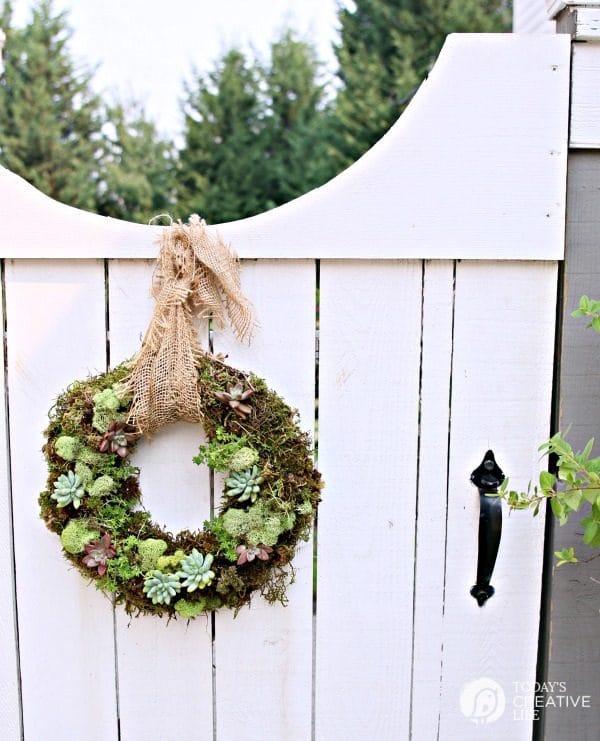 How to Make A Succulent Wreath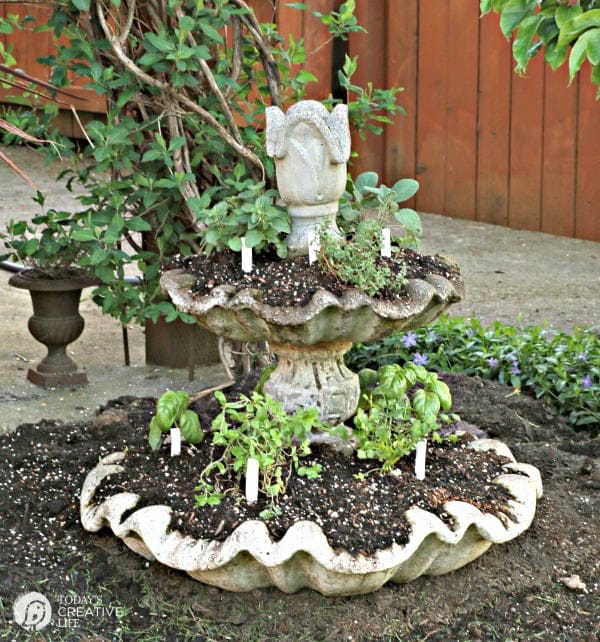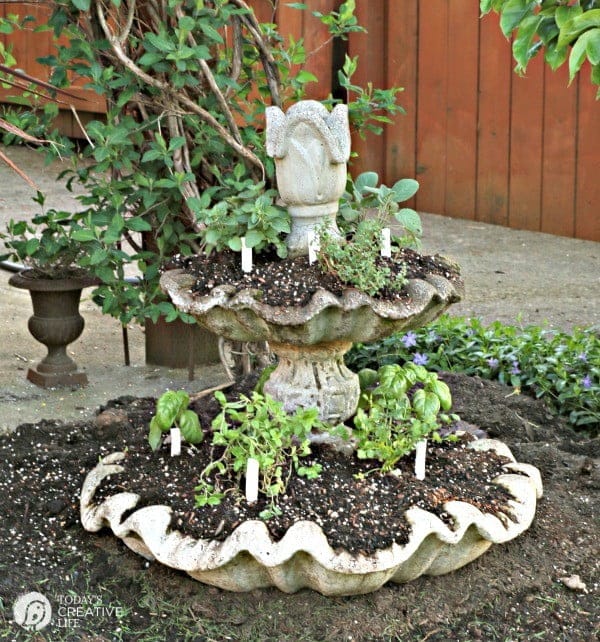 Planting a Herb Garden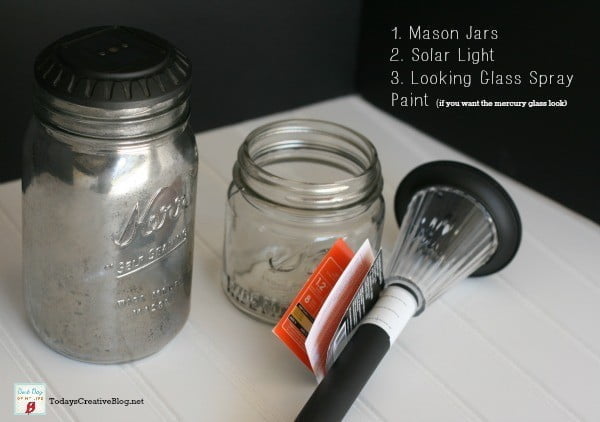 DIY Mason Jar Solar Lights