I am republishing this post for Easy Patriotic Table Decor because it continues to go viral every year around the 4th of July. Easy to make holiday decor using a glass vase or jar, food coloring, water and daisies. Today's Creative Life loves to share simple ways to celebrate the Fourth of July that is fuss free and enjoyable!
I am ALL about creating quick and inexpensive table decor using items you most likely already have. This Easy Patriotic Table Decor is very simple to put together and looks festive and stylish! Perfect for Memorial Day, 4th of July or even Labor Day! I have lots and lots of Red, White and Blue creative ideas.
Easy Patriotic Table Decor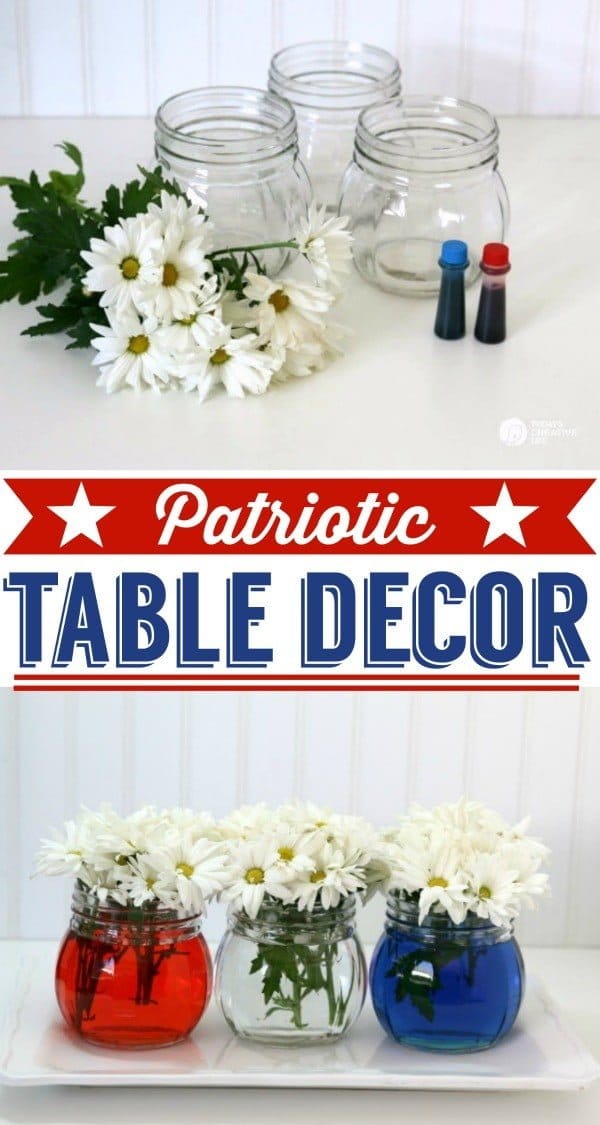 If it's no fuss and it looks good! I'm on it!
Like my Red, White and Blue Colored Rice jars, or the colored rice combined with white dried beans, I've been able to create a quick DIY centerpiece for fast decorating. Adding a simple touch goes a long way!
How to Make Red, White and Blue Table Decor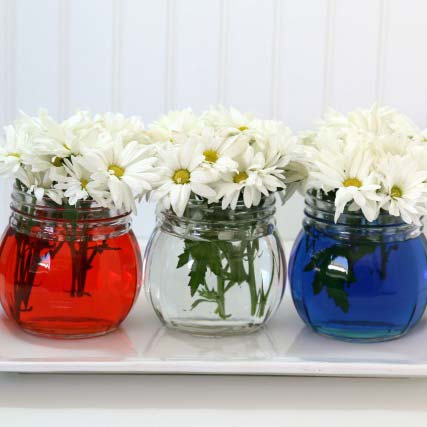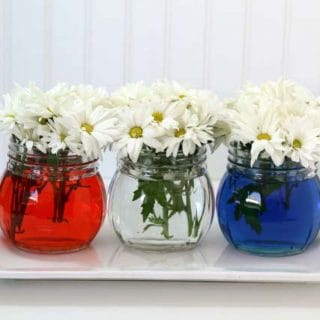 Simple Patriotic Table Decor
Yield: 3
Prep Time: 5 minutes
Active Time: 5 minutes
Total Time: 10 minutes
Difficulty: Easy
Estimated Cost: free
All you need is 10 minutes and a few household items.
Materials
Three Clear Glass Jars or Vases
Red and Blue Food Coloring
Water
Daisies or any white flower
Instructions
Gather your supplies.
Fill jars with water.
Add a few drops of red food coloring to one jar and stir.
Stir in a few drops of blue food coloring to another jar.
Add daisies to each jar.
Arrange and enjoy!
Notes
Try adding a few sprigs of lavender or small decorative American flags.
I already had the food coloring and the jars were left over from an old Halloween apothecary jar project. Since my daisies haven't bloomed yet, I picked up a potted daisy mum plant from the grocery store and cut the stems. That's all I needed.
Experiment with how many drops of each coloring you'll need. I put way too much in the first round and the colors were too deep. One drop goes a long way! (Try making food coloring lava lamps here).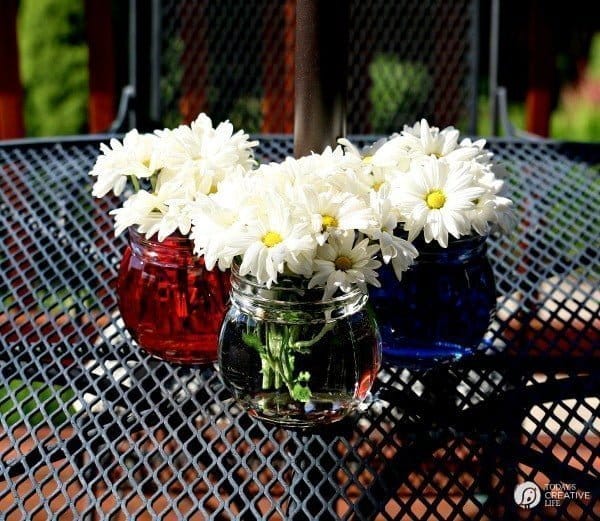 Place your daisies in and you're good!
4th of July Decoration Ideas
I had 3 American flags I added to each jar, but it just wasn't looking the way I wanted. The flags were too stiff. If I find smaller ones, I would try again. Of course, you could add a patriotic ribbon around the rim of the jar.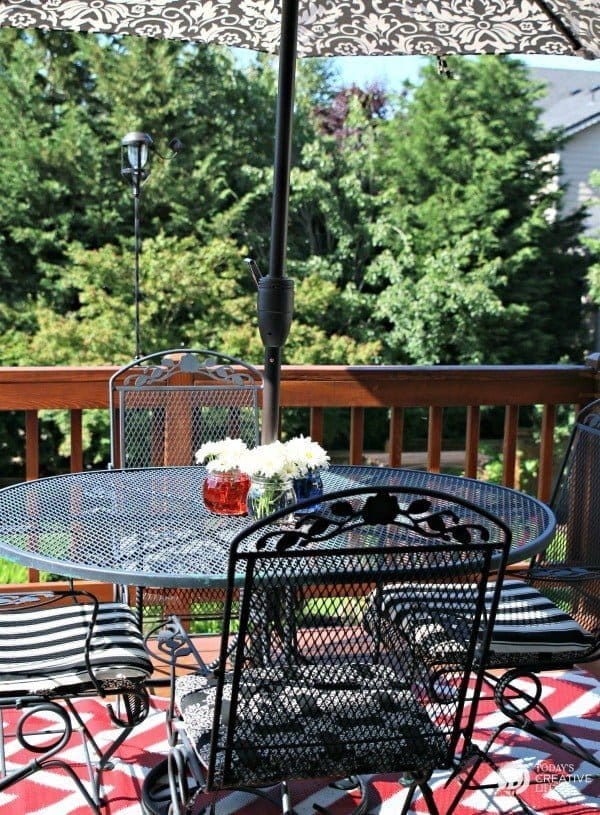 Every time I looked out to my patio, they made me smile! My patio has become one of my happy spots! Did you see the tabletop Fire Bowl I just made? Another simple project.
After a couple of days, I had an epiphany to add sprigs of lavender from one of the many lavender plants we have. Perfect!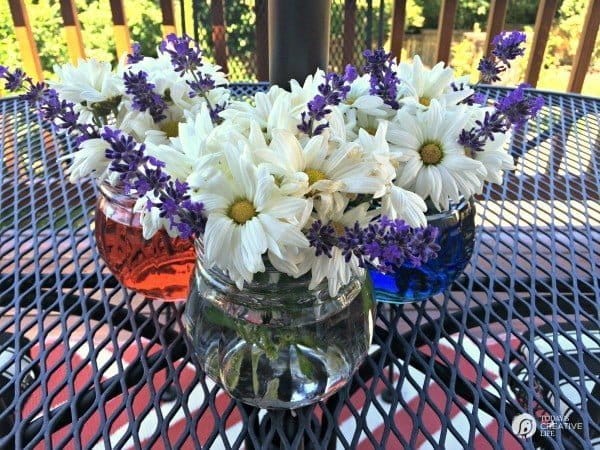 The poor daisies were starting to wilt in the 90-degree weather we've been having, but I think they still look OK.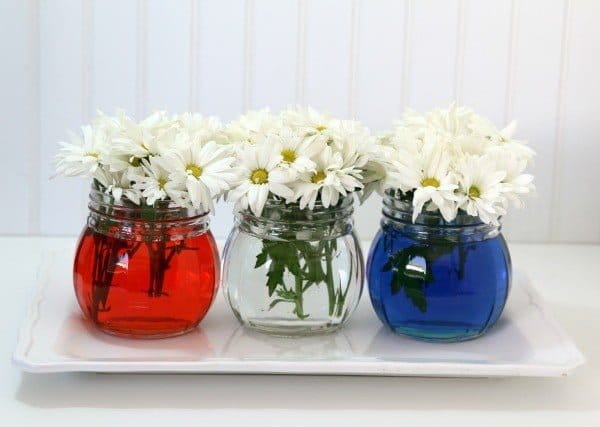 Of course, they would also good great on the table inside too!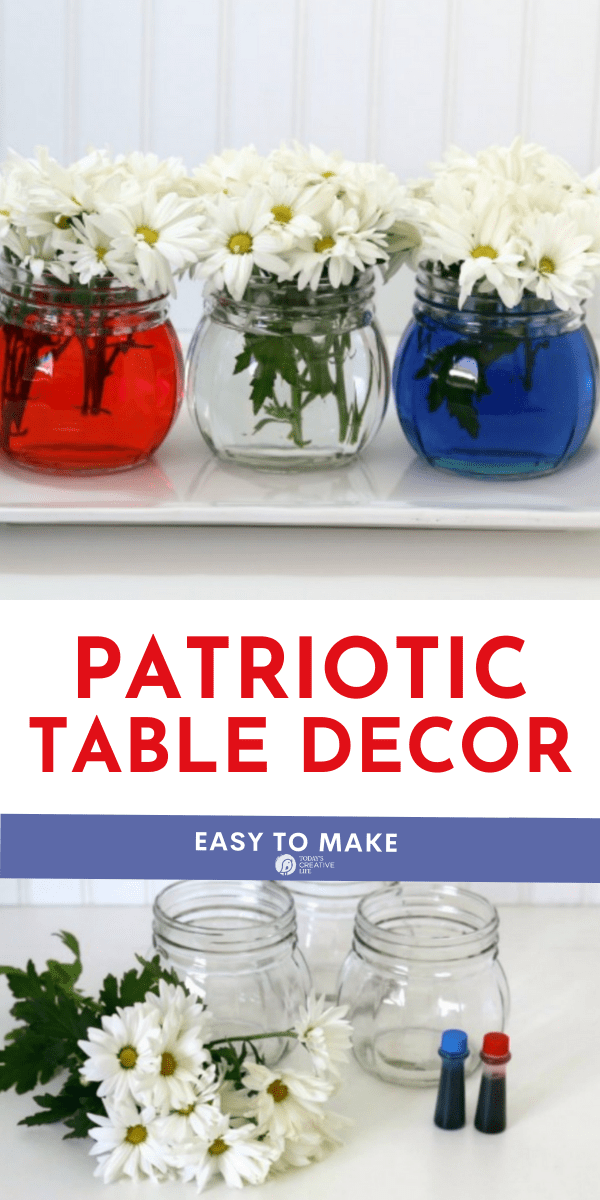 Patriotic Holiday Ideas
Creative ideas for celebrating patriotic holidays.
Free printables for your 4th of July celebration.
Print and hand these sparkler holders out to party guests or at a parade.
Printable cupcake toppers or food picks.
Easy to make colored rice for quick table decor.
Easy to make star garland for quick decor.
This DIY project will last years!
Perfect 4th of July sweet treat!