This easy heart craft using iron-on transfer paper to create DIY Valentine's Day Decorations is a simple and stylish way to decorate your kitchen for Valentine's Day.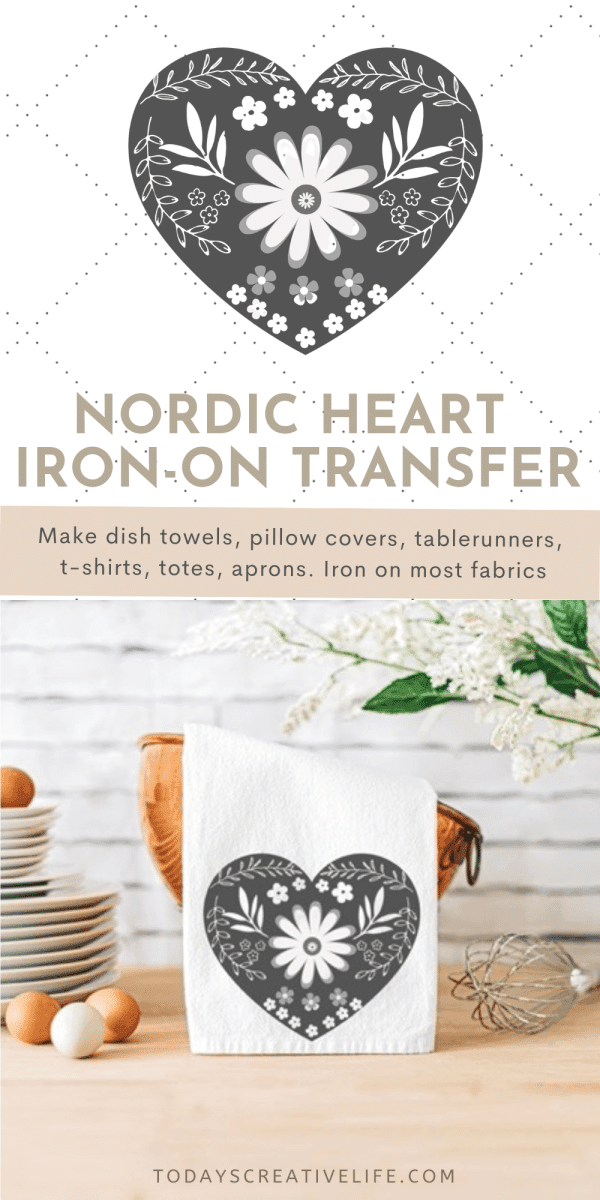 DIY Valentine's Day Decorations
I wanted to design a heart shape that was inspired by a Nordic or Scandinavian look. Similar to the Mexican Otomi designs. So I opened up Canva and started playing around. If that sounds like something you want to do, but aren't sure how you should check out my course that teaches people how to make printables for the creative home. My goal was to make DIY Valentine's Day decorations that could also be used during other seasons if wanted.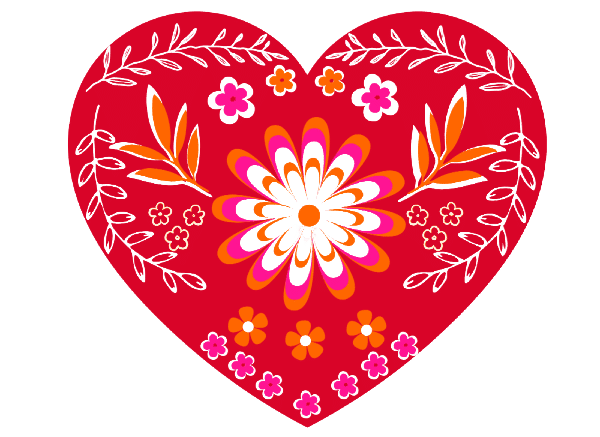 Easy Heart Crafts
Heart crafts seem to go hand in hand with Valentine's Day, but when that heart craft can also double as DIY home decor, even better! You can even print and frame, or send to Staples to make a poster size for easy printable wall art. See my tutorial on how to make poster-size wall art for more details on that. I thought making iron-on transfer dish towels for the kitchen would be so cute!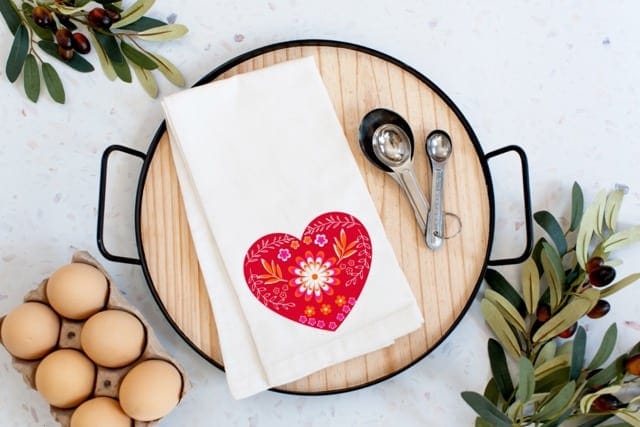 Crafts for Valentine's Day
This craft for Valentine's Day using iron-on transfer paper can be utilized in many places in your home. You can use iron-on transfer paper to add designs to the following.
Pillow Covers
Table Runners
Cloth Napkins
Pillow Cases
Cotton or Linen Wall Hangings
T-shirts
Totes
Aprons
I think you get the idea. Always check the fabric compatibility on the transfer paper package instructions.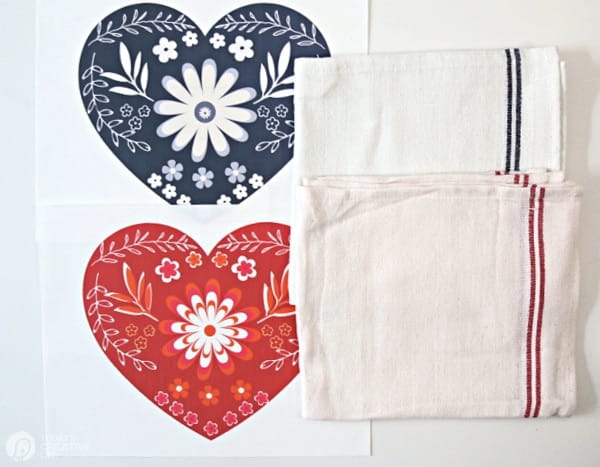 Supplies Needed for Iron-On Transfer Dish Towels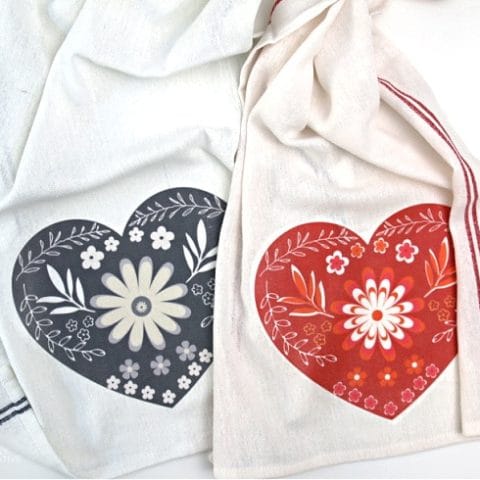 How to Make Iron-on Heart Dish Towel
Yield: 2
Prep Time: 10 minutes
Active Time: 10 minutes
Total Time: 20 minutes
Difficulty: Easy
Estimated Cost: $5
Easy DIY Valentine's Day Decorations using iron-on transfer paper and this Nordic-inspired heart graphic. Easy to make crafts for Valentine's day.
Materials
Heart Graphic found in the Printable Vault
Iron-on Transfer paper
Cotton dish towel
Tools
Scissors
Iron or Cricut EasyPress
Ironing board or pad
Instructions
Print the heart graphic on Iron-on Transfer Paper. Follow the package instructions.
Gather your supplies: dish towels, heart graphic, scissors and iron.
Trim the heart graphics, leaving a 1/2-inch border.
Iron the dish towels and decide where you want the heart to go.
Keeping the towel on the ironing pad, place the heart face down where you want the design to be.
Apply and press a hot (NO STEAM) iron or Cricut Easy Press (330°F) for about 30 seconds.
Let it cool and then start peeling the paper away to reveal the image. If it pulls away from the fabric, place the paper back and repeat the ironing process.
It will soften with washing. When finished, do not iron over the graphic.
Notes
Cost is reflected in already owning many of the supplies. Dish Towels were under a dollar and the images are free.
Recommended Products
As an Amazon Associate and member of other affiliate programs, I earn from qualifying purchases.
Can you Wash Iron-on Transfer Valentine Dish Towels?
One of the biggest questions about iron-on transfer crafts, is "Can you wash them?" And yes, you can! They will fade over time, but washing will also soften the ironed-on portion since it tends to feel a little stiff at first.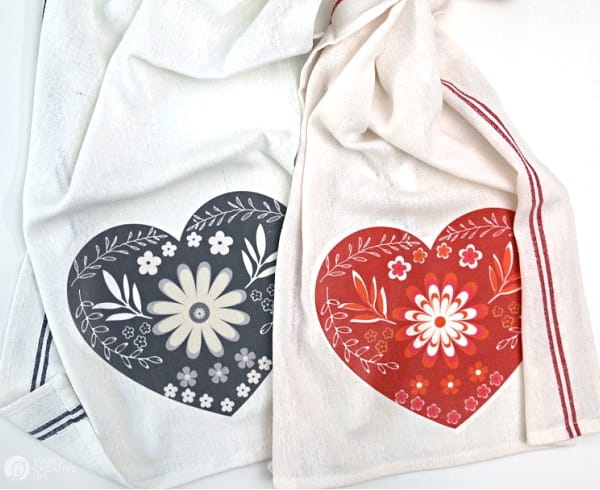 Pinterest Crafts for Valentine's Day
Pinterest is a great place to look when you're looking for craft ideas for any holiday. You'll find many DIY Valentine's Day decorations to get inspired for your next project. I love a good Pinterest craft that looks easy but impressive! All projects on Today's Creative Life are easy with a WOW effect.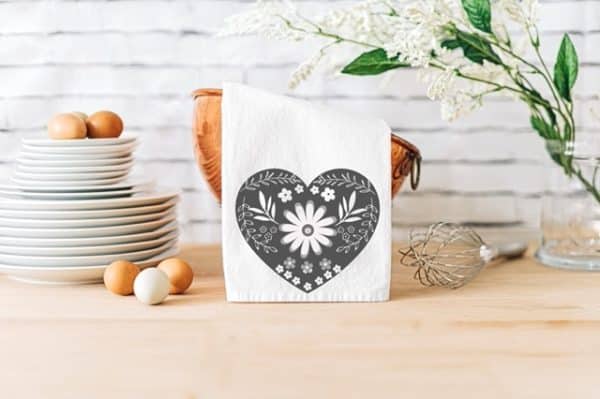 Valentine's Day Craft Idea
These Valentine's Day dish towels are such a great craft for Valentine's Day. They're easy, they don't need a lot of supplies and they turn out great every time! I have so many other great ideas for Valentine's Day that I think you'll enjoy.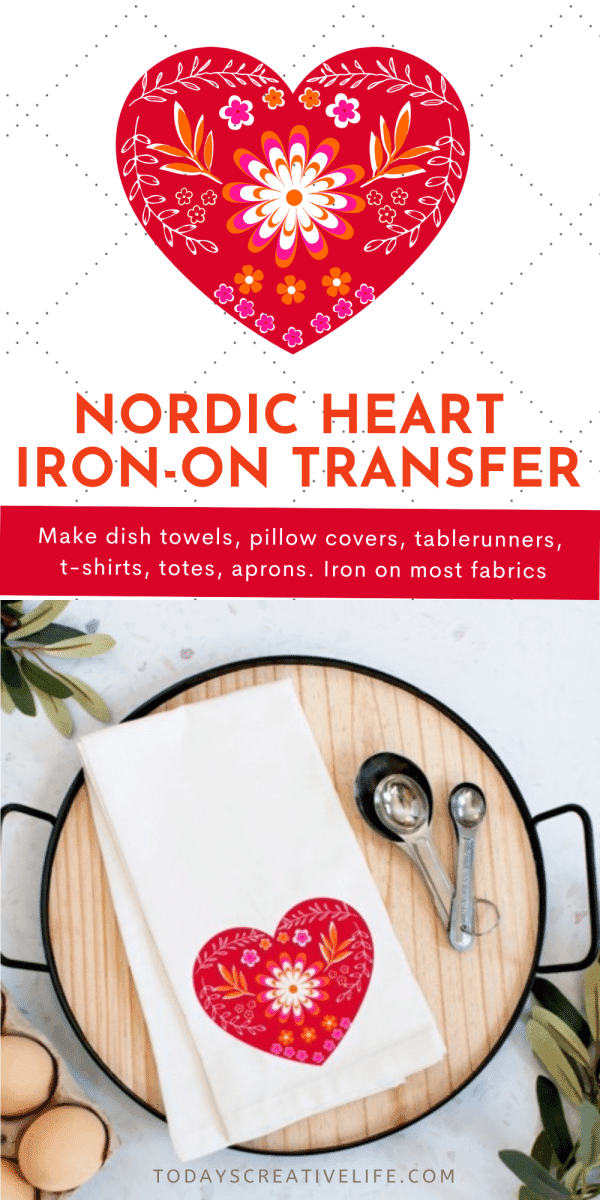 Valentine's Day Ideas
DIY Valentine's Day ideas for crafting, decorating, baking and more!