These free printable DIY Cupcake Toppers for Valentine's Day are great for easy Valentine's cupcake ideas. I'm going to teach you how to make the cutest cupcake toppers that you can add to store-bought or homemade cupcakes for instant Easy Valentine Cupcakes.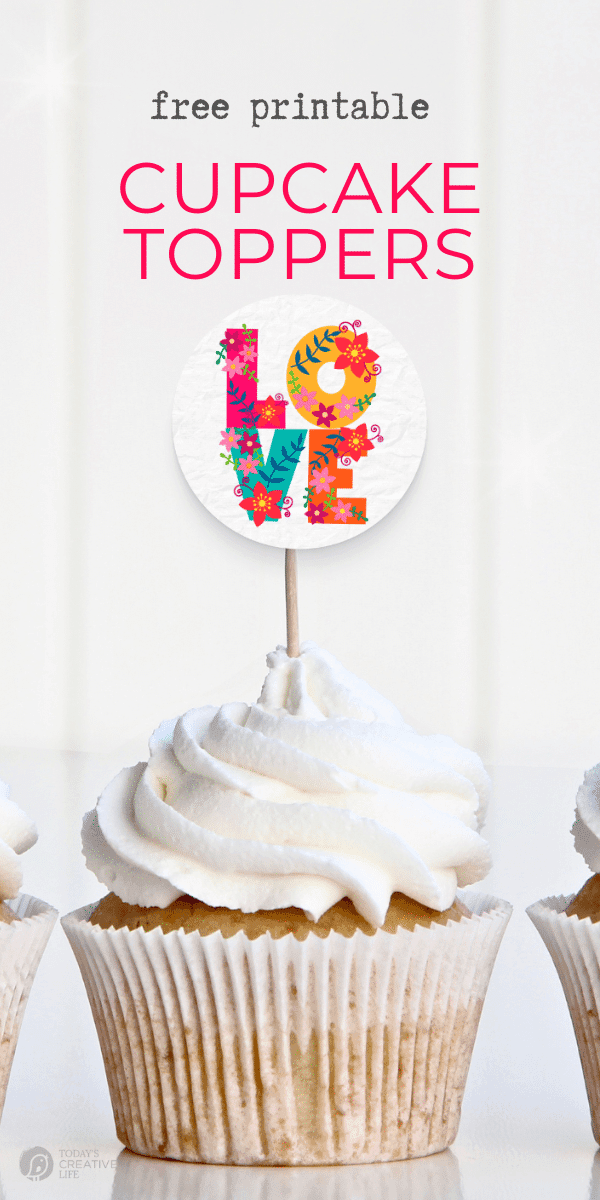 DIY Cupcake Toppers for Valentine's Day
These LOVE designs are great to use for any celebration of love. Valentine's Day, an engagement party, or a bridal shower. Print and make up as many as you need and add to any cupcake. A simple cupcake instantly becomes fancy when you had printable cupcake toppers.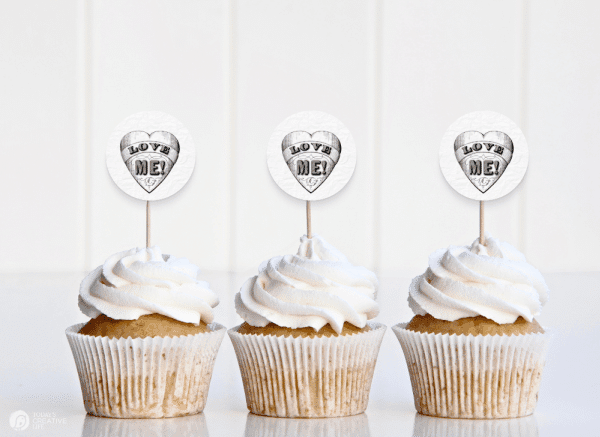 Printable Cupcake Toppers
Choose one design or all four. These printable cupcake toppers are so cute and can be found in The Printable Vault. Subscribers have access to all the free printables. Subscribe here if you haven't already. If you're already a VIP, use the password that has been sent to you.
LOVE – fun, bright and colorful. This topper is full of energy.
LOVE ME! – vintage typography for a nostalgic feel.
NORDIC SCANDINAVIAN HEARTS – simple and warm Scandinavian hearts for any event.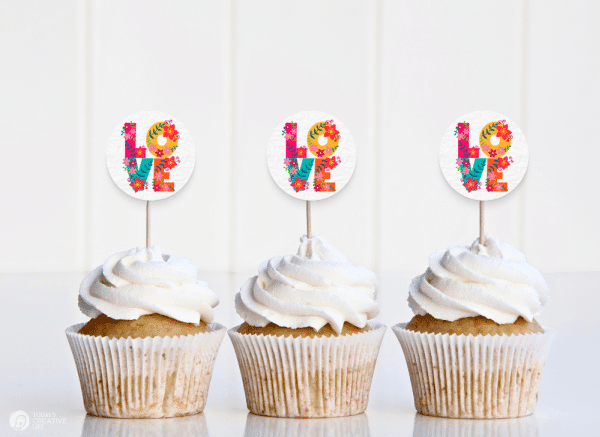 Valentine Cupcake Ideas
These cupcake and muffin toppers make any cupcake a Valentine's Day treat instantly. There is no easier way to make up a simple batch of Valentine's Day cupcakes by keeping it simple and using cute cupcake decorations. No fancy decorating. And if you have no time to bake, just buy cupcakes and add to them. No shame!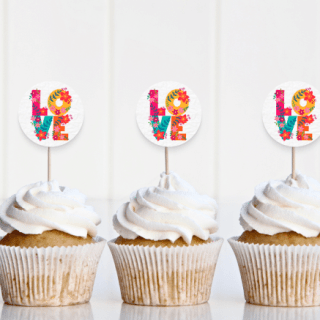 How to Make Cupcake Toppers
Yield: One printed page makes 6 toppers - print as many sheets as needed.
Prep Time: 10 minutes
Active Time: 10 minutes
Total Time: 20 minutes
Difficulty: Easy
Estimated Cost: free
Easy cupcake ideas with free printable DIY cupcake toppers in 4 different designs. Cupcake ideas for Valentine's Day, Bridal Showers, Engagement parties.
Materials
String, ribbon or twine
Toothpicks
Glue stick or glue gun - I used both, but any adhesive will work.
Instructions
Open the downloaded file for DIY Cupcake Toppers from The Printable Vault.
Fill your printer with white cardstock and print.
Gather all supplies needed to complete this craft.
Trim each line of images so that when they fit into the paper punch, the image is centered. Be careful not to make the strip too thin. They have to be at least a little over 2 inches so a full circle can be punched.
Slide one strip into the circle paper punch. Your punch may look different than mine. I like to use the visual side to line up my circle.
Grab two circles. Take one and lay it face down. Add glue. I like to add a small dollop of hot glue to where I'm placing the toothpick. Place it in the bottom middle.
After placing the toothpick, place the other circle face up over the top, sandwiching the toothpick between the paper circles. Let it dry for a few minutes before placing it into a cupcake.
Notes
Cost is calculated based on already owning the tools I used for this project. Printables are free for subscribers. If you don't have these tools, you can hand cut with scissors in any shape. If you don't have toothpicks, just carefully set the topper into the frosting.
Recommended Products
As an Amazon Associate and member of other affiliate programs, I earn from qualifying purchases.
Make Cupcake Toppers with Cricut
This craft can easily be done using your Cricut. You can print at home, and upload the design to your Cricut and the Cricut will cut each circle out in less time. See this tutorial on how to cut and then print from my friend Cori.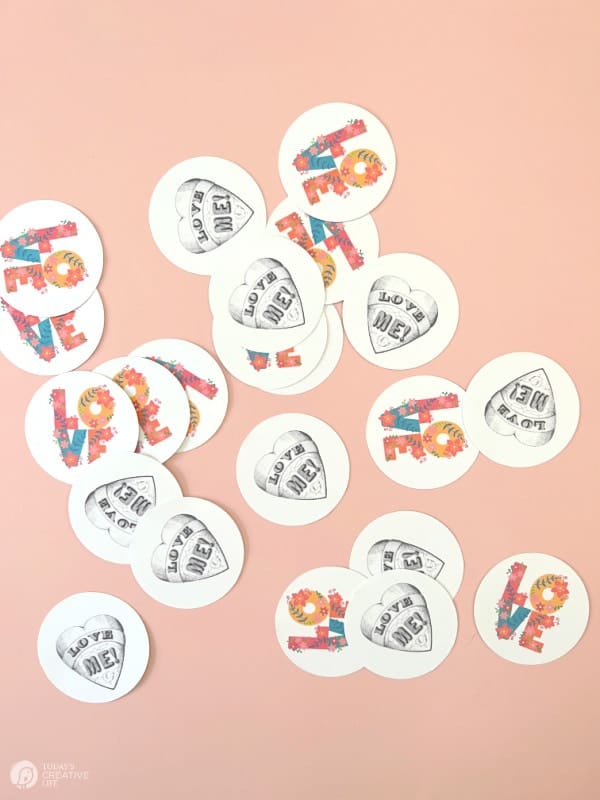 Printable Wall Art for Valentine's Day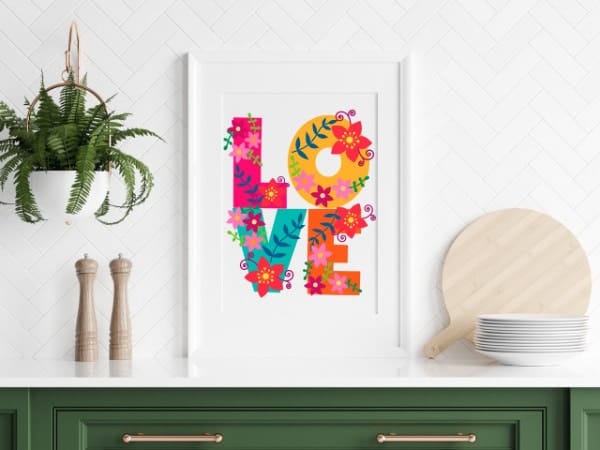 I couldn't help but offer this LOVE design as wall art. It's bold, colorful and so perfect for decorating.
You can print it at home and frame it as a 5×7 or 8×10, or send it to Staples and have a poster size made. See my poster-size wall art tutorial here.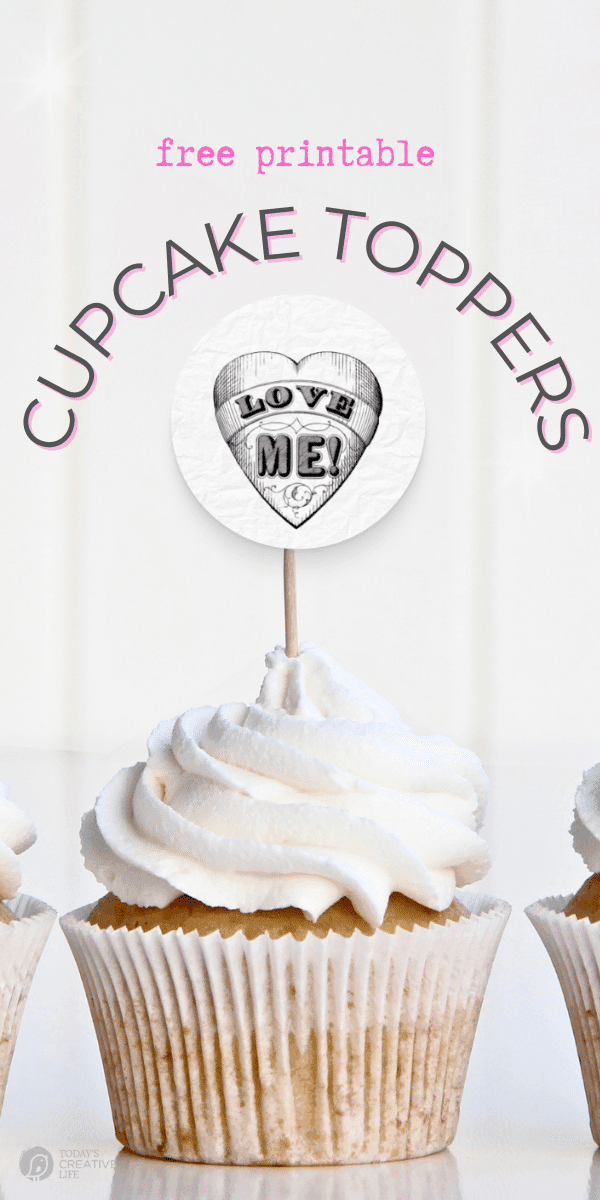 Free Printables for Valentine's Day
Easy Valentine's Day printables and decorating ideas.
Super cute tag for a Valentine Treat!
Fun Classroom Valentine's idea.
Decorate your own tea bags for a quick and cute gift idea.
Valentine Printable candy bar wrappers for king-size bars.
Free printable Heart Valentine Gift tag or label.
This is perfect to place in a heart-shaped candy box!
Printable Bag Toppers for easy gift giving.
Tags and labels for Valentine's Day gift giving.
This fast and cute Valentine Banner is so cute for the mantel or door.
Send the kids to school with this Valentine surprise.
Cupcake toppers or stickers for more than just Valentine's.
XOXO Printable banner for easy DIY Holiday Decor!
Fun classroom activity for Valentine's Day.
Make a book of Valentine's Day coupons with these free printables.