Learn how to use paint markers and paint pens to write on ceramic mugs or glasses. These DIY Confetti Painted Heart Mugs make an easy craft and gift ideas. They are also one of my most popular craft tutorials!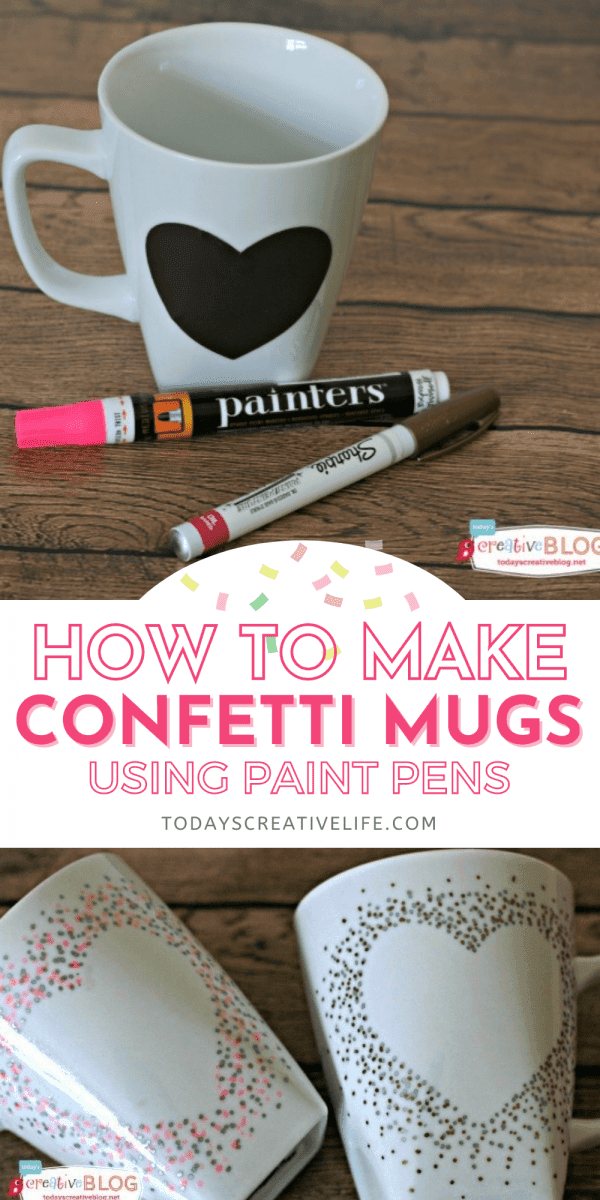 DIY Confetti Painted Heart Mugs with Sharpie Paint Pens
I have been in love with Confetti glass for many years. My favorite drinking glass is one of those original confetti rimmed glasses, I had 4 and now I'm down to one. I just can't bear to get rid of it. They remind me of the Marbled Bottom Drink glasses I also made.
I've noticed people trying to replicate the Confetti Painted technique on mugs, glasses, and plates and I thought I'd try painting on a ceramic mug with paint markers and a glass tumbler. You can use any shape as a guide or freestyle any design you want. I was thrilled by how easy this was to do!
Supplies for Painting On Ceramic Mugs or Glass
Elmers Paint Markers – These come in so many color options. I used the neon pack for clear glass tumblers.
Oil Based Sharpie Paint Pens – NOT MARKERS, but the paint pens. I used metallic silver and gold. These are different than your regular sharpie marker. If you're using a regular sharpie, you'll have to bake the item after you apply your design. I've never made those, so I'd google for instructions.
White Mug
Contact Paper, Vinyl, or Stickers
I had a couple of white mugs to use and used my Cricut Explore™ to cut my heart image, but you could use a heart shaped sticker or cut your own using any self adhesive paper like Contact Paper.
How To Make Confetti Painted Heart Mugs
This tutorial will share how I used the Sharpie paint pens to create fun designs on ceramic mugs. You can make a set for home or gifts. I'm using silver and gold, but the paint pens come in a variety of colors.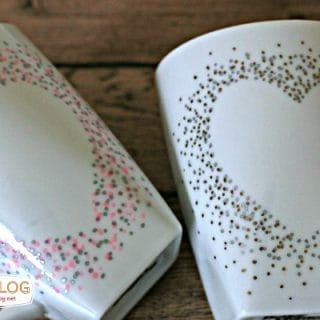 How to Use Paint Pens on Glass
Yield: As many as you'd like to make.
Prep Time: 10 minutes
Active Time: 20 minutes
Total Time: 30 minutes
Difficulty: Easy
Estimated Cost: $15
How to use markers and paint pens on ceramics and glass.
Materials
Sharpie Paint Pens - I used oil based
Elmers Paint Pens - I used these on the clear glasses.
White Ceramic Mug or Clear Glass
Any shape cut from vinyl, or contact paper.
Instructions
Clean your mug or glasses and wipe completely dry.
If you're using a shape, you can cut any shape like I did use my Cricut and vinyl. If you don't have a Cricut, you can cut your own shape from contact paper freehand or using a template.
Apply shape to your mug.
Using one color first, outline the shape by dabbing the paint pen around the outside of the shape.
Continue to dab the first color surrounding the shape, and move the dabs further away.
After the first color is dry, take the second color and filled in.
When it's dry, remove the vinyl shape.
Notes
The Sharpie Paint Pens dried much faster, whereas Elmer's Painters Markers took about 5 to 10 minutes. The Elmer's Paint Markers bring a little texture, but the Sharpie does not.
Hand Wash Only with a soft sponge.
Recommended Products
As an Amazon Associate and member of other affiliate programs, I earn from qualifying purchases.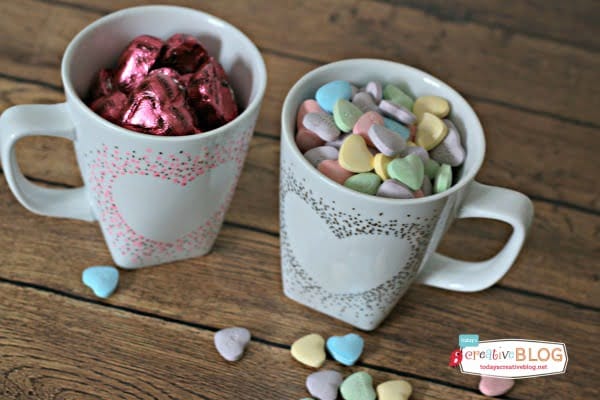 This craft would make a cute and quick Valentine's Day gift, or just use them to show your love of coffee or hot chocolate.
Once I do something I love, you should know by now, that I'll overdo it.
I suddenly needed all my white mugs to have confetti hearts.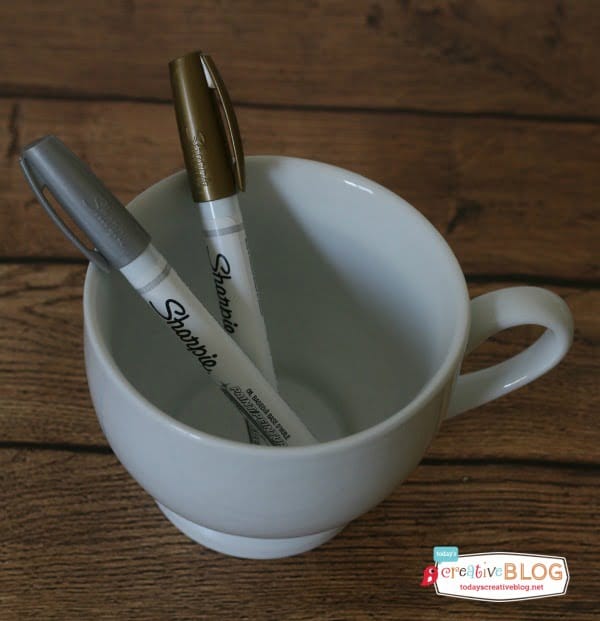 Isn't that adorable? Let's pretend that I didn't mess up my heart at the bottom. Besides…… Handmade is never perfect.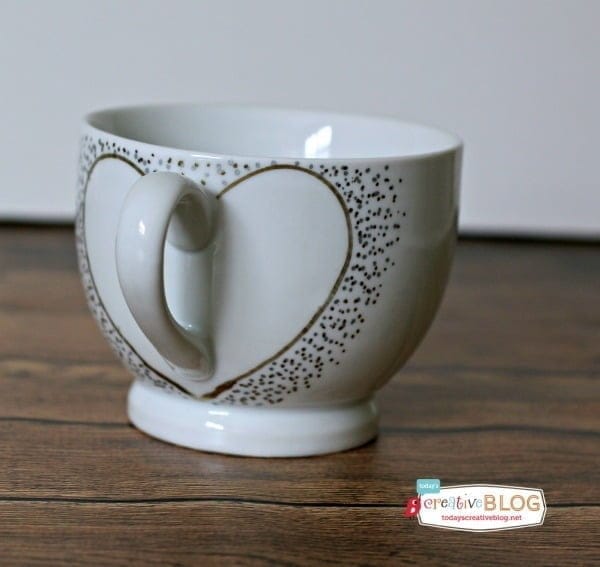 How to Use Paint Pens on Glass Tumblers
Grab any smooth clear glass tumbler along with Elmers Painter's markers. These take longer to dry than the Sharpies. These also add a slightly bumpy texture.
Prime the marker as directed in the instructions.
Start with one color and start dabbing.
Fill in with your additional colors.
Allow to dry, per instructions.
Hand wash.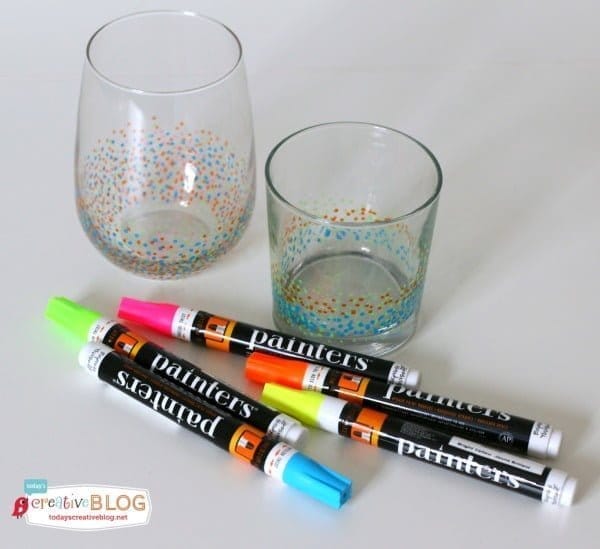 Tips for Making Confetti Dot Glasses and Mugs
This craft is very easy, but here are a few tips to keep it that way.
Color Combo – To get the color scheme to your liking, try dotting all the colors you want to use on a piece of paper first so you can see how they really look together.
Practice your Dots – practice if you can on an old glass or mug. The surface is slicker than paper.
Keep the Pen Verticle – I realized that my best dots were made when I kept the pen completely vertical, making sure to use the tip of the marker. Otherwise, you may have more of a smudge. Which is fine if that's the shape you're going for.
How To Wash Sharpie Painted Mugs
These particular products are pretty hearty, but you'll still want to hand wash with regular dish soap and a soft washcloth or sponge. Any scrub sponge may wear down the design. If you're using regular sharpies, there is a baking method to make sure the marker is permanent. You can see the Ultimate Guide to Sharpie Mugs here.

Easy Crafts To Do At Home
Easy crafts to do at home are my favorite! These crafts are great for home decor, DIY gift ideas and more.
Using a sharpie, you can create mud-cloth-inspired votives.
Create custom designs with nail polish and water.
When you have broken pottery, make a mosaic frame.
Quick and Easy party decor using paint chip samples.
Learning how to etch glass is easy and addicting.
Make any color ornament you'd like using acrylic paints, or glitter.
Easy to make homemade Christmas ornaments for all ages.
Create your own home decorating keepsake with numbers that are special to your family.
Turn jars or vases into stylish home decor.
DIY custom-designed fabric napkins with fabric paint.