It's all about the garland when it comes to decorating my front porch for the holidays! My simple and rustic Porch decorating ideas for Christmas won't take a lot of time. I'm also sharing more inspiration with a Christmas Porch Decorating Tour with a few blogger friends of mine! I love the variety of ideas for holiday decor! Leave me a comment and let me know which one inspires you the most!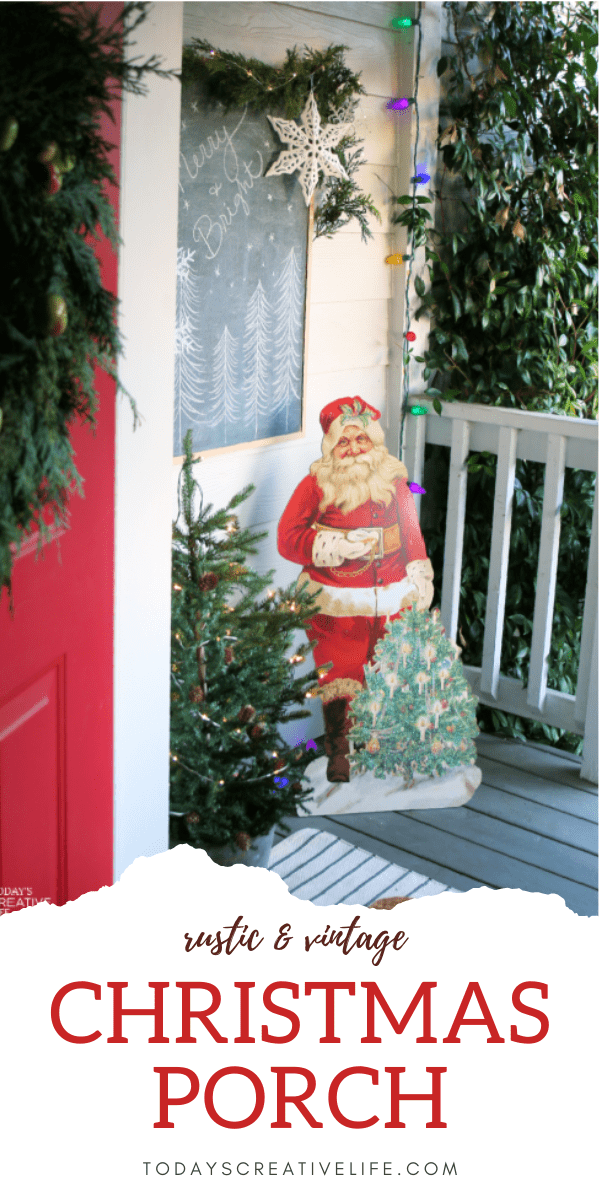 Porch Decorating Ideas for Christmas
I love having a decorated porch for Christmas. It's a great way to greet guests coming to your home. Even though we won't be hosting any holiday parties this year, it was still important to create a festive porch for us. It's also nice for anyone driving past, or for anyone making a delivery. It makes me smile and sets the holiday spirit every time I walk outside.
There are so many creative Christmas porches on this tour, something for everyone.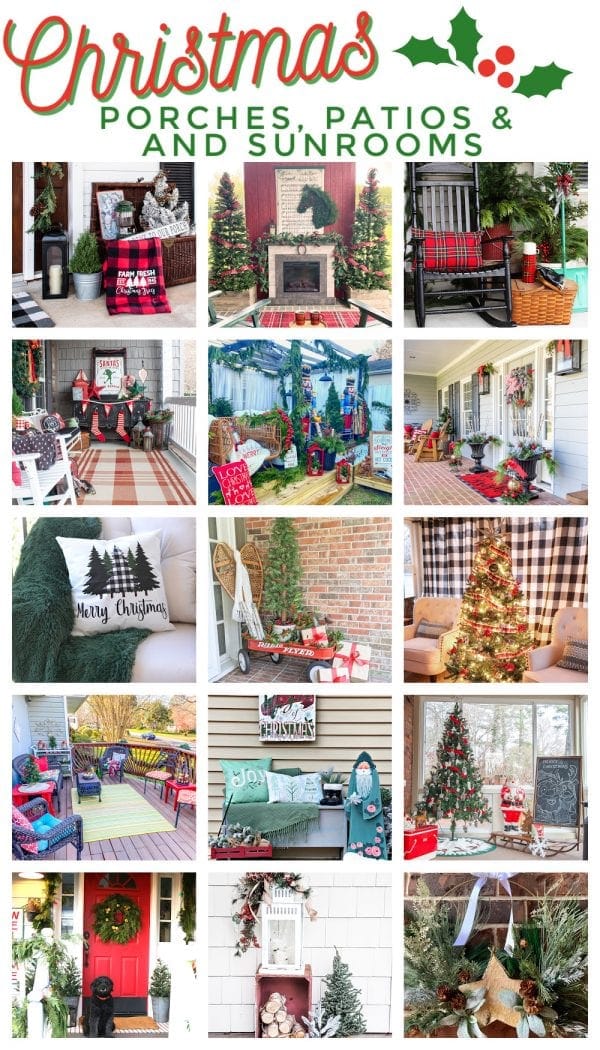 All blog posts for holiday porch ideas are listed below… keep reading.
How to Decorate a Porch for Christmas
I try to not make it too complicated when decorating, sticking to a few basic rules I've learned that work well for me. These are tried and true porch decorating ideas for Christmas and any other time of year.
Greenery & Garland
I always start with greenery and garland. We use fresh cedar garland that we purchase from Home Depot, Lowes, or Trader Joe's. We frame the door with lights and garland, as well as drape it along our railing. Just adding that alone is enough sometimes!
Christmas Door Decor
Add something with a holiday feel to your front door. A wreath, a basket filled with greens, ice skates, anything! You can use a faux wreath year to year, or make your own, or pick one up. Again, TJ's usually has boxwood wreaths that are wonderful.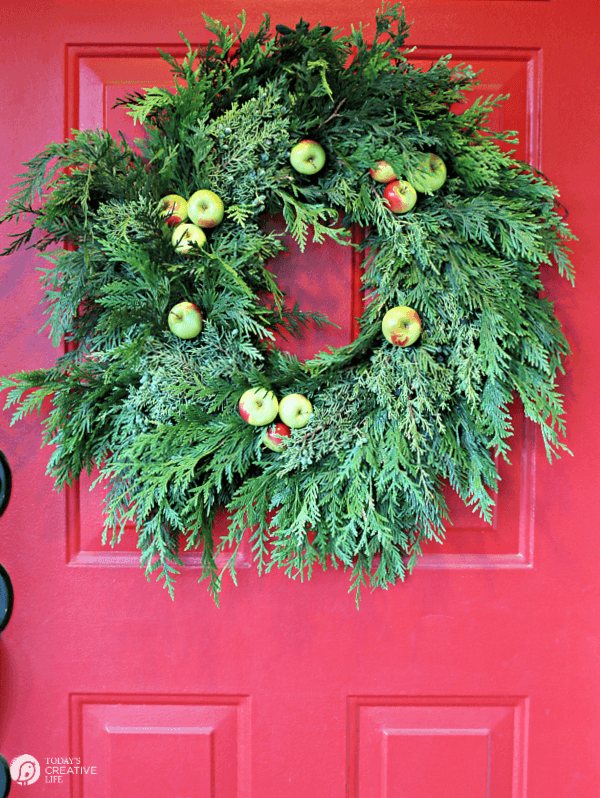 Planters
To keep it easy, I usually have matching planters flanking each side of the door. This year I used two different types of artificial Christmas trees on each side. Symmetry always works.
Ornamental Decor
Add the unexpected. Maybe fill in the planters with plastic ornaments or something larger like my vintage Santa cutout. Lanterns with flameless candles are always a great addition too.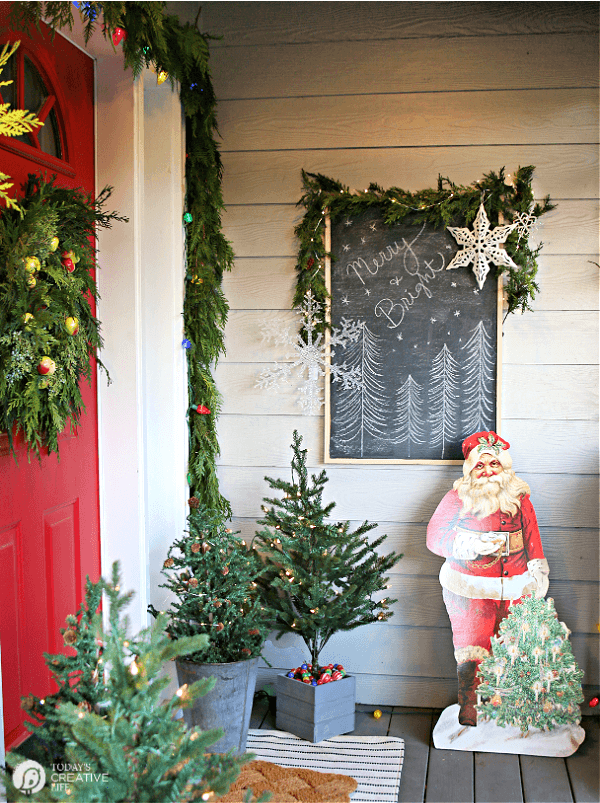 I also added my new DIY Christmas sign and a metal Welcome sign.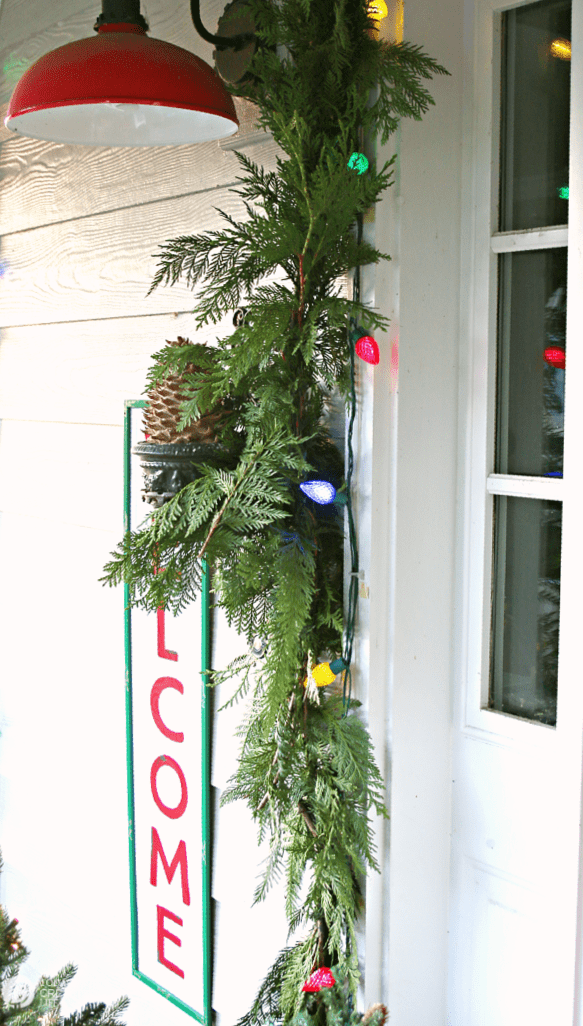 Holiday Lights
Lots of holiday lights. Those fairy lights are inexpensive and really easy to work with. Add them anywhere you can! Lights make all the difference.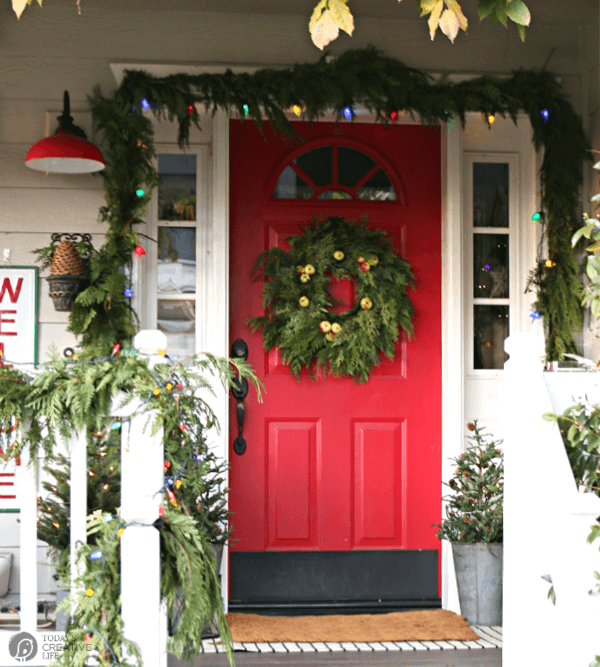 Natural Elements
I always use what the season offers. Pinecones are perfect for holiday decor. Fill a basket or just one small planter like I did.
DIY Christmas Porch Decorating Ideas
A simple Ideas do each year is either make or purchase a simple wreath made with cedar or boxwood and then I add to it.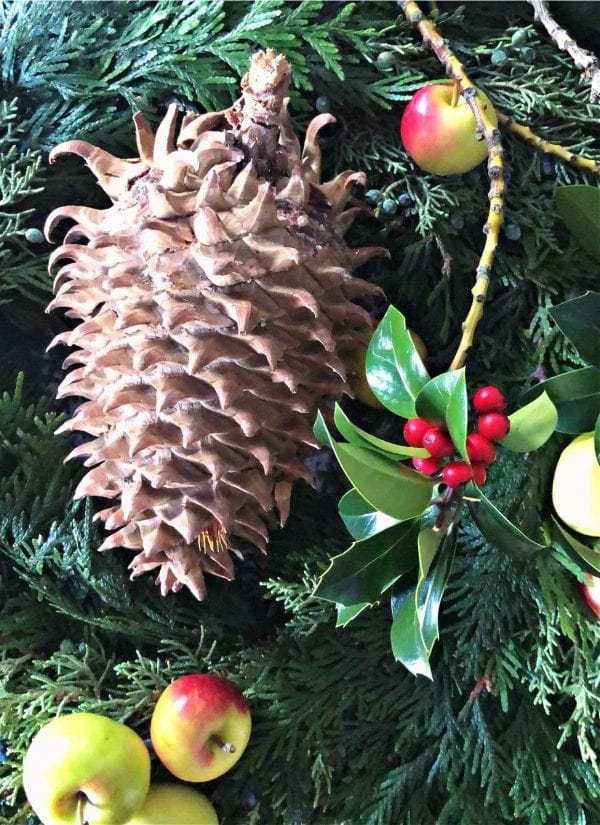 This year, I added small little apples. I had planned on adding other items like pinecones, holly berries, etc… but once I got the apples on, I was smitten. I loved it just like it was. I didn't even add a bow.
How to Add Fruit to a Wreath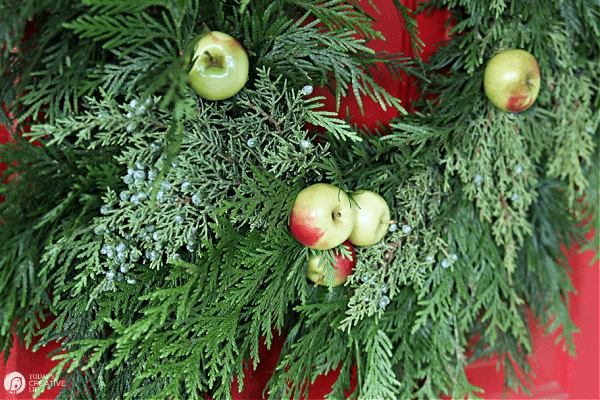 As I mentioned, it's so nice to add your own touch to a fresh wreath. Add apples, oranges, pomegranates, limes, lemons etc… I tend to stick to smaller fruits. All you need is a paddle of wire.
Unwind and clip about 8-10 inches, depending on the size of your item. Poke the wire along the backside of the fruit or the opposite side you want to show.
Set the fruit on the wreath where you want it and wrap the loose ends of the wire around the wreath. Twist and tighten on the back. Tuck the end in so you don't poke yourself or scratch your door.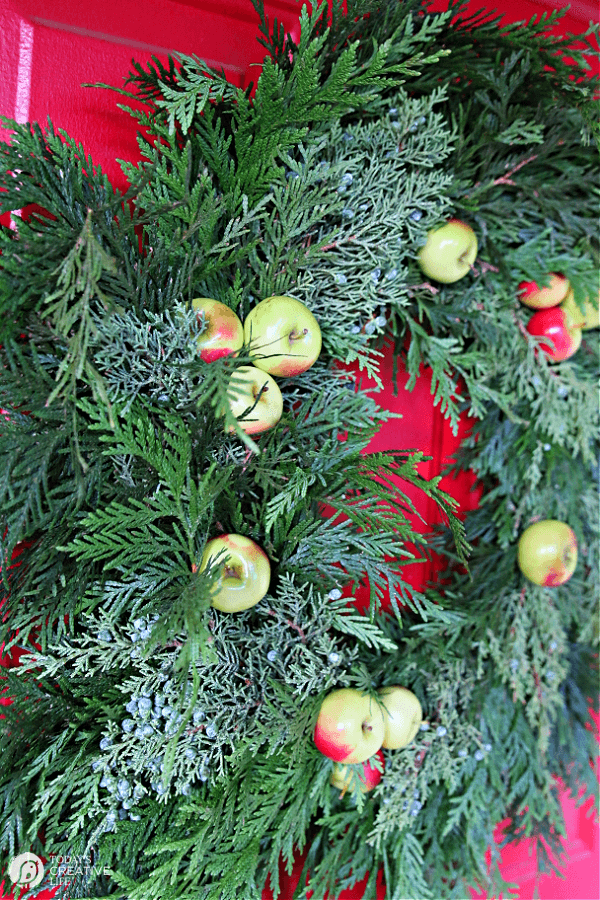 How to Make a Christmas Sign
I learned about this simple inexpensive trick from my friend Rhonda at Hallstrom Home. All you need is:
23 x 45 inch Framed Cork Board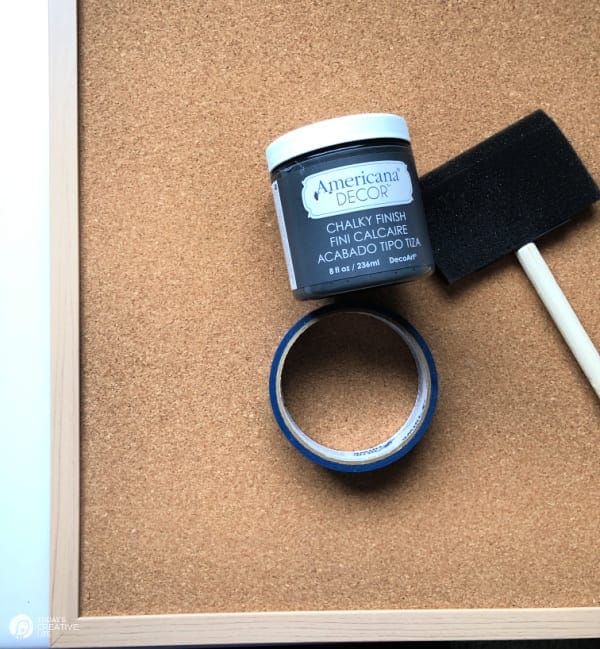 Cover the frame with painter's tape.
Paint the cork with dark paint. I used grey colored chalk paint.
Allow drying completely.
Using chalk, place it on its side and rub the entire painted surface until covered.
Wipe off with a paper towel.
Draw any design you want. I did simple trees.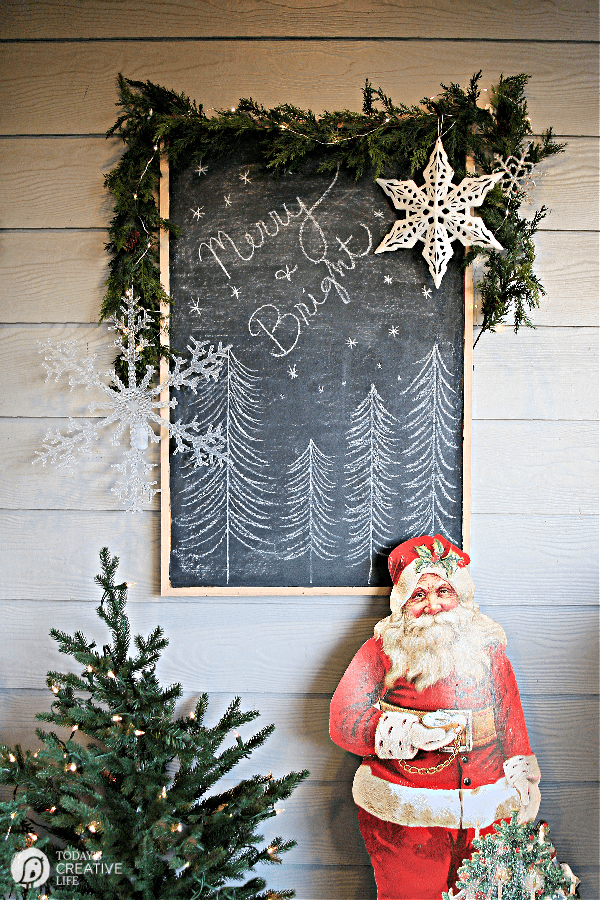 14 Porch Decorating Ideas for Christmas
Links are located between the photo collages.
MORE CHRISTMAS PORCH INSPIRATION
Be sure to visit all the participating bloggers for festive decorating inspiration for your front porch, patio, sunroom and screened-in porch.
Atta Girl Says // House of Hawthornes // DIY Beautify // Chica & Jo
Worthing Court // Cottage at the Crossroads // Postcards from the Ridge // Weekend Craft
This Worthy Life // Marty's Musings // Sweet Pea // Our Crafty Mom
Major Hoff Takes a Wife // Today's Creative Life //