Learn how to easily make this Sugar Cookie Easter Egg Fruit Pizza with fresh fruit, cream cheese frosting and sugar cookie dough.
I have been wanting to make one of these FOREVER! This Sugar Cookie Fruit Pizza was so much easier than I thought it would be! Shaped like an egg, topped with a delicious cream cheese frosting and your favorite fruits, makes a colorful Easter dessert!
Fruit pizzas are always a fun surprise. Have you tried the Watermelon Fruit Pizza here on TCL?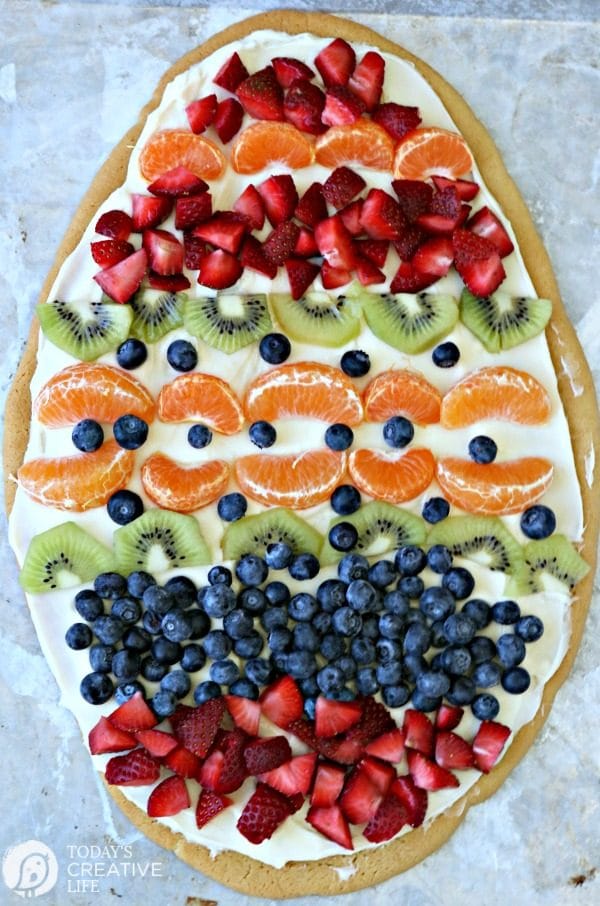 Sugar Cookie Easter Egg Fruit Pizza
I had a roll of store-bought sugar cookie dough in the fridge. I don't even know how it got there, but I wasn't going to waste it.
Ever since a co-worker back in the 90s brought a fruit pizza to work, I've been mesmerized by them! This was my chance to make one! And since it's close to Easter, why not make it an Easter treat in the shape of an Easter egg?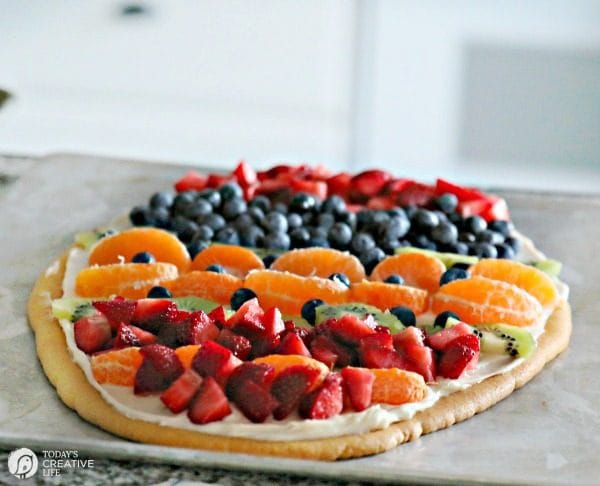 I was kind of worried about getting the egg shape, because, fancy baking isn't my skill set.
After letting the cookie dough warm-up, I squished it into a ball. I placed it right on my baking sheet and just rolled it out… and it magically rolled out in the shape of an egg! How lucky was that?
After I baked it, and it was cool, I spread the most delicious cream cheese frosting over the top. From there, it was all about getting creative. I had a variety of fruits in all the right colors.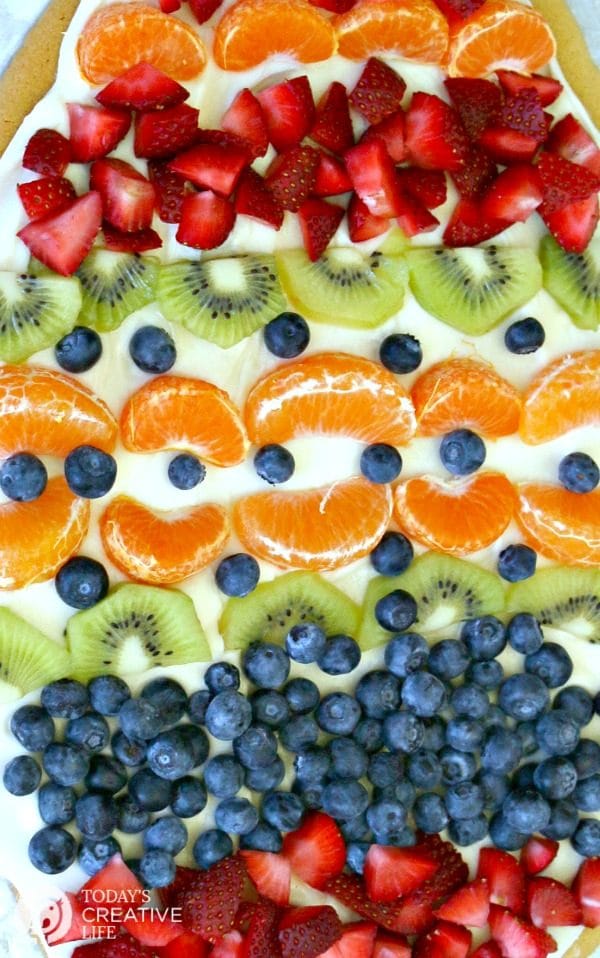 You really can't mess this part up. Just channel your creative side and have fun!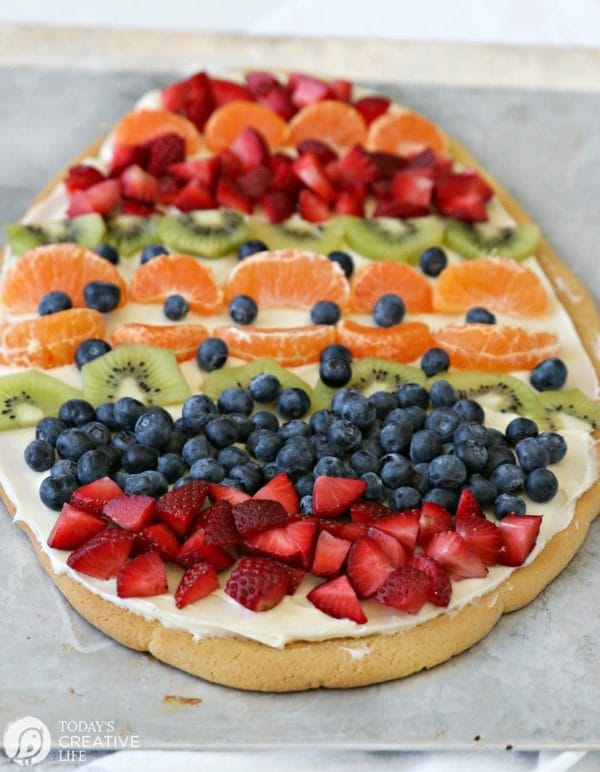 Sugar Cookie Pizza Shapes
What if Easter is over and you still want to make this Sugar Cookie Easter Egg Fruit Pizza? You can! It can be the shape of a circle instead. In fact, you can make them any shape you'd like. You can even do individual sugar cookie fruit pizza's!
This recipe idea is easy and adaptable for any time of year.
I ended up walking this over to the neighbor and they were very impressed.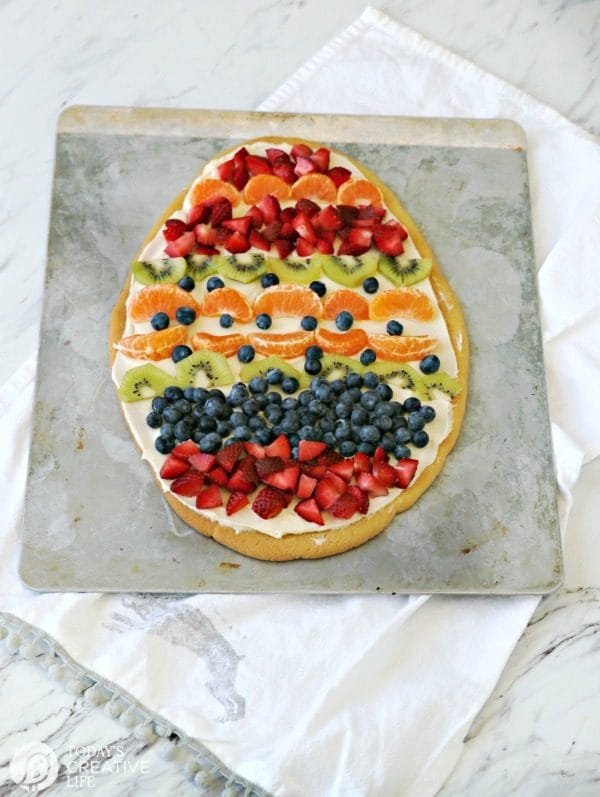 And just a quick note for those of you who would never buy pre-made cookie dough, it's OK, you can use homemade cookie dough.
How to Make a Fruit Pizza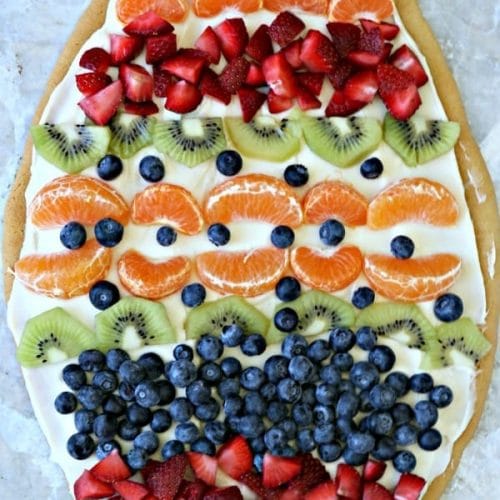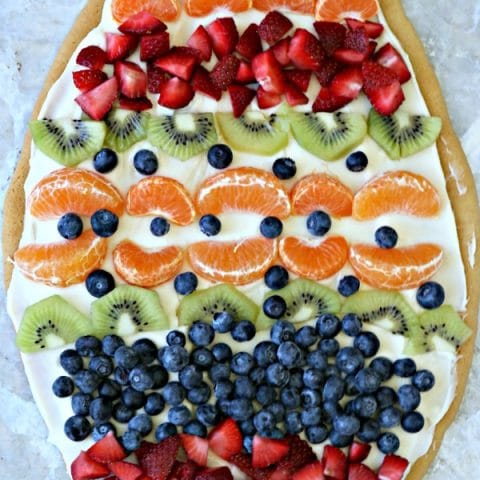 Sugar Cookie Easter Egg Fruit Pizza
Yield: 24
Prep Time: 45 minutes
Cook Time: 20 minutes
Total Time: 1 hour 5 minutes
Make this sugar cookie fruit pizza anytime of year! Just change the shape!
Ingredients
1 batch sugar cookie dough - either store-bought or homemade
12 oz. cream cheese brick - room temp
6 tablespoons butter - room temperature
2 cups powder confectioners' sugar
1 teaspoon vanilla extract
Colorful Fruits - I used strawberries, blueberries, kiwi, mandarins, grapes. Some may need to be cut into smaller pieces.
Instructions
Roll out cookie dough into an egg shape onto a cookie sheet. Trim if needed.
Bake according to package instructions until golden brown.
Allow to cool.
Using an electric mixer, beat together cream cheese and butter in a large bowl until smooth and creamy.
Add sugar, continue to beat until well blended.
Add vanilla and stir.
Spread frosting on to the cookie, then decorate and create a design with your fruits.
Nutrition Information
Yield 24
Serving Size 1
Amount Per Serving
Calories 126
Total Fat 8g
Saturated Fat 5g
Trans Fat 0g
Unsaturated Fat 3g
Cholesterol 22mg
Sodium 71mg
Carbohydrates 13g
Fiber 0g
Sugar 12g
Protein 1g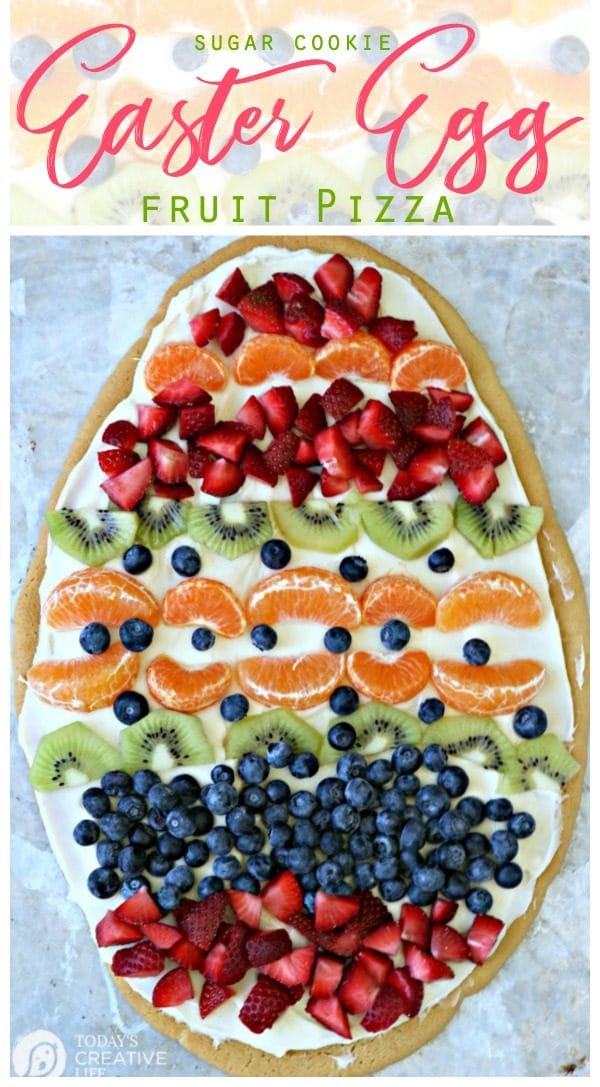 Can I Use Homemade Sugar Cookie Dough
Of course! If you have a favorite sugar cookie dough you'd rather make and use, go for it! I'm usually pressed for time, so having the option to create a fun dessert quickly by using store-bought cookie dough is a time saver! You can even make your own frosting if you wish. Tailor this recipe to meet your needs.
What Fruits are Best for Sugar Cookie Pizzas
When I created this Sugar Cookie Fruit Pizza to look like an Easter egg, I wanted bright colors. But you can use any of your favorite fruits you'd like. I would, however, avoid any fruits that may be more watery, like watermelon.
Strawberries
Blueberries
Blackberries
Raspberries
Kiwi
Mandarin Orange wedges
Bananas
Pomegranate seeds
Can I Make this Sugar Cookie Easter Egg Fruit Pizza Ahead of Time?
Yes and no. You can make up the cookie portion and even frost it ahead of time, then make sure you've covered it carefully with plastic wrap. You'll want to add the fruit the day you're serving it. Otherwise, placing the fruit on ahead of time could make the cookie portion soggy.
Fruit Recipe Ideas
Simple and delicious fruit recipes.
Fruit Pizza for a fun treat.
Mixed fruit salad with a tangy sour cream dressing!
Fruit ice cubes make every beverage better.
The perfect spring salad recipe.
Refreshing berry dessert idea.
Slab Strawberry Pie is a summer favorite.
Easiest and most delicious cobbler recipe you'll ever make!
Easy to make, fancy to look at!
---