This DIY Halloween craft using large plastic bugs, gold spray paint, and black painted wood plaques makes stylish and dramatic DIY home decor. Use them all year or just for quick Halloween decorations.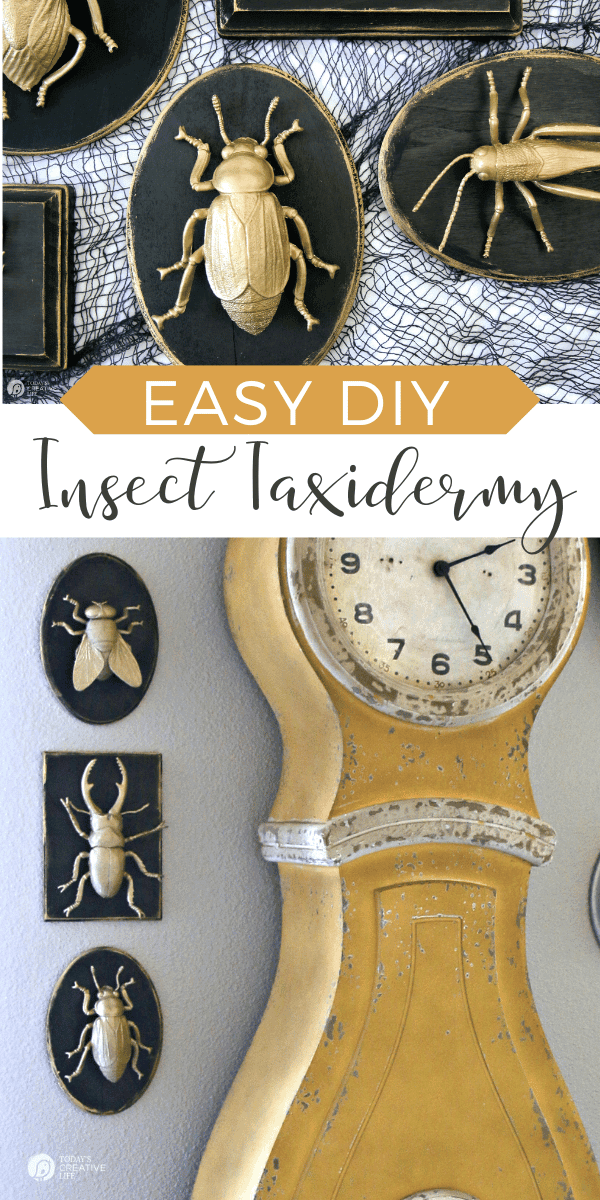 DIY Faux Insect Taxidermy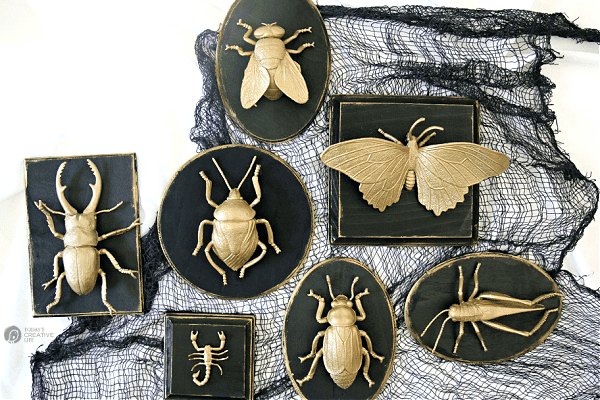 I was scrolling through Pinterest looking for some Halloween inspiration and came across these amazing gold-gilded insect plaques by The Gathered Home. They are stunning and even though they technically aren't Halloween decor, I thought they'd be perfect. We use the same bugs, but our methods are completely different. Let's get started!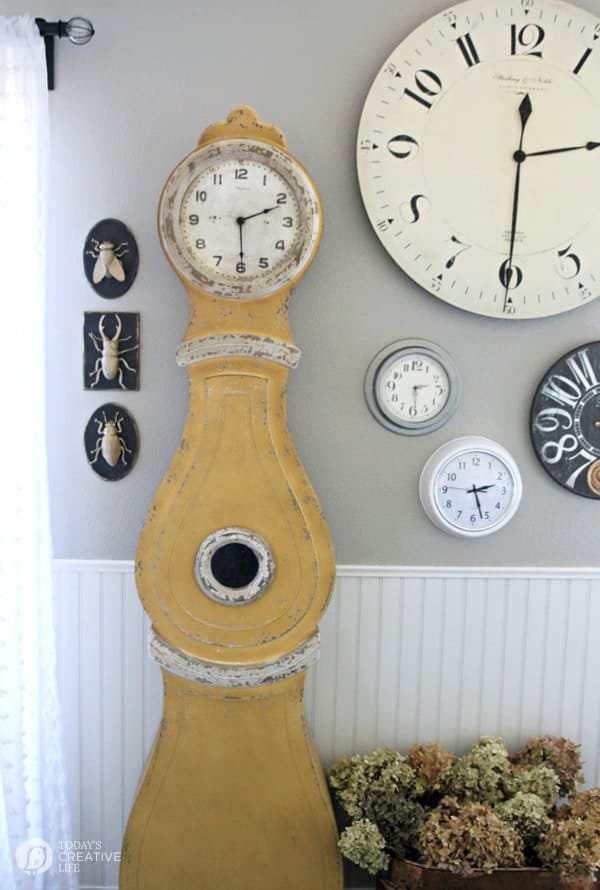 How to Make Halloween Wall Art
Halloween decor can get spendy and let's be honest, it's usually really tacky. Last year I created the coolest large Halloween wall art. They turned out very cool! Definitely not tacky or expensive! This insect taxidermy craft is also a bit classy and has an old vintage vibe to it. As mentioned, you could use it year-round if you'd want.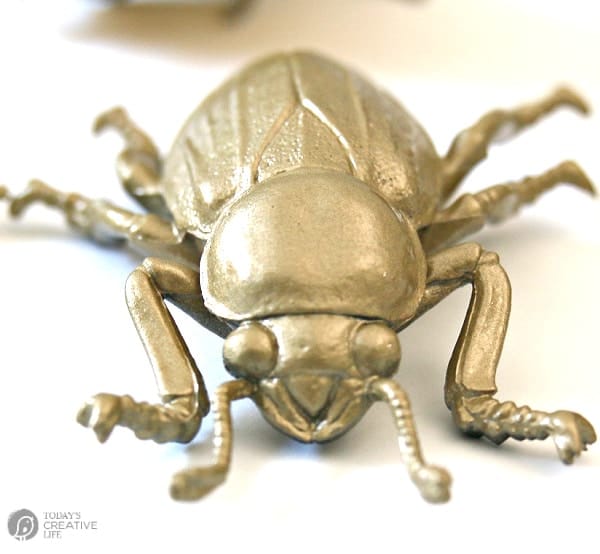 For this Halloween craft, you'll need a few items.
Wood plaque cutouts – I already had a couple of wood plaques in my craft room stash. They are thicker with a nice beveled edge. When I went to find more at the craft store, they were out. So I headed to Walmart and found thin wood cutouts in a few shapes that would work. They were only $1.
Craft paint brush – I used a foam brush
Glue gun or craft glue – craft glue will take a lot longer to set.
Drop Cloth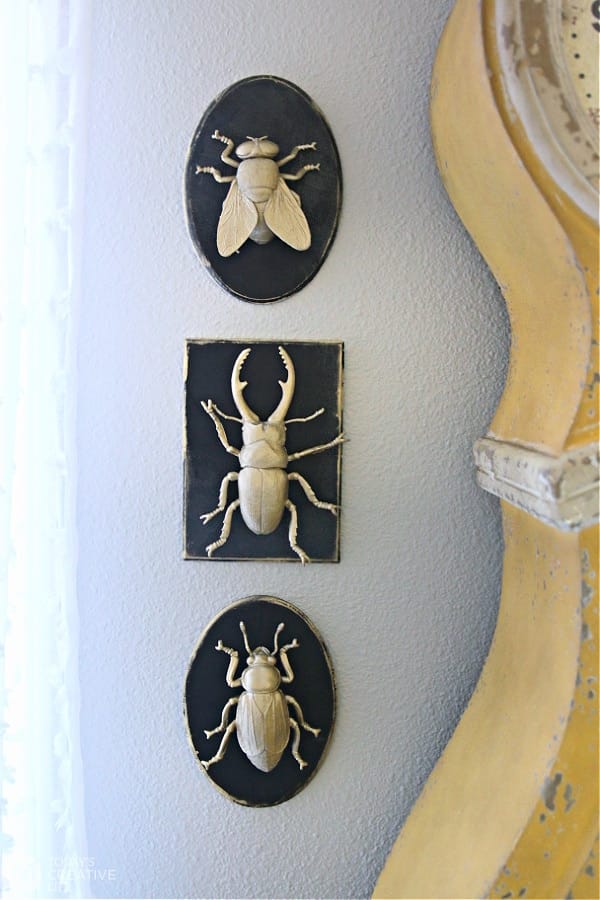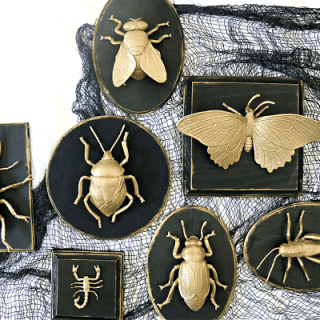 Faux Bug Taxidermy - DIY Halloween Decor
Yield: Several
Prep Time: 30 minutes
Active Time: 30 minutes
Additional Time: 2 hours
Total Time: 3 hours
Difficulty: Easy
Make your own faux insect taxidermy for DIY Halloween decorations, or use year round.
Materials
Tools
Foam Craft Paint Brush
Glue Gun with glue sticks
Instructions
Gather your supplies.
Place a drop cloth in a well-ventilated area or outdoors. Lay your bugs out and spray paint with the gold paint. I used 2 coats, waiting an hour between each coast.
Paint wood cut-out plaques with black craft paint.
Once the black paint has dried, you can add a small amount of gold trim around each plaque. I ended up adding it after I glued the bugs down because it was a last-minute decision.
Use your glue gun to add glue to the underside of the bug. Since the bugs aren't flat, take note on what portion of the underside makes contact with the surface. Place glue on those parts.
Press onto the center of the plaque and hold for a couple of seconds.
I used 3M velcro wall hangers to hang each Faux Insect Taxidermy Wall Art.
Notes
If you're spray painting inside the garage, make sure you're far from the water heater or furnace. Open the garage door for ventilation.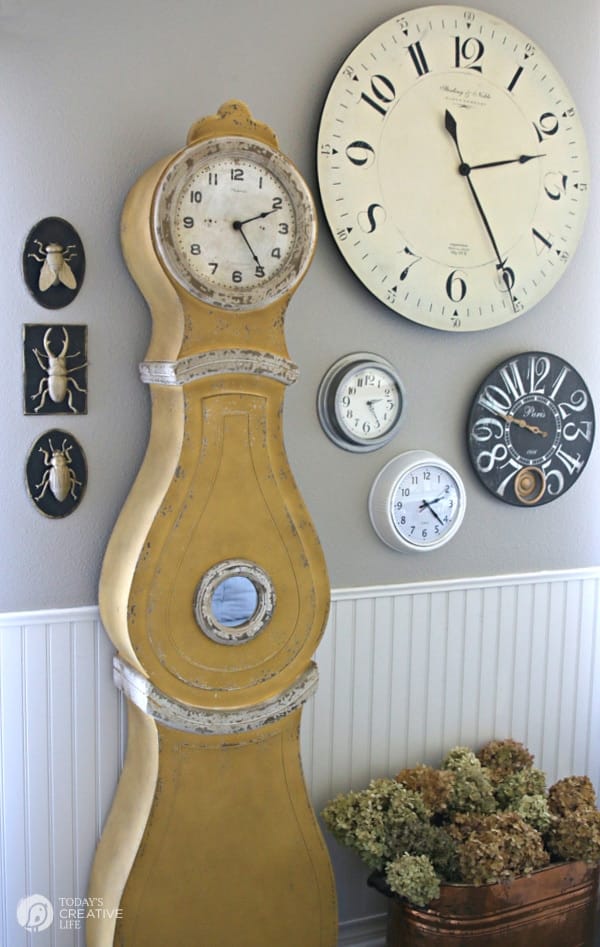 How do you hang Faux Insect Taxidermy?
Although they are growing on me, I had planned on these being temporary for the Halloween season. I used the 3M Velcro Command Strips. These were simple and will be easy to remove.
Can you hand-paint insects for faux taxidermy?
I tried painting one bug with craft paint and I think it would have worked had I added a couple more coats. The other tutorials I've seen used liquid gold gilding paint, which seemed to work pretty well.
Can these be used for outdoor Halloween decorations?
If you're making these to decorate outside for Halloween, I would spray them with a clear acrylic sealant to make them more durable to the outside elements.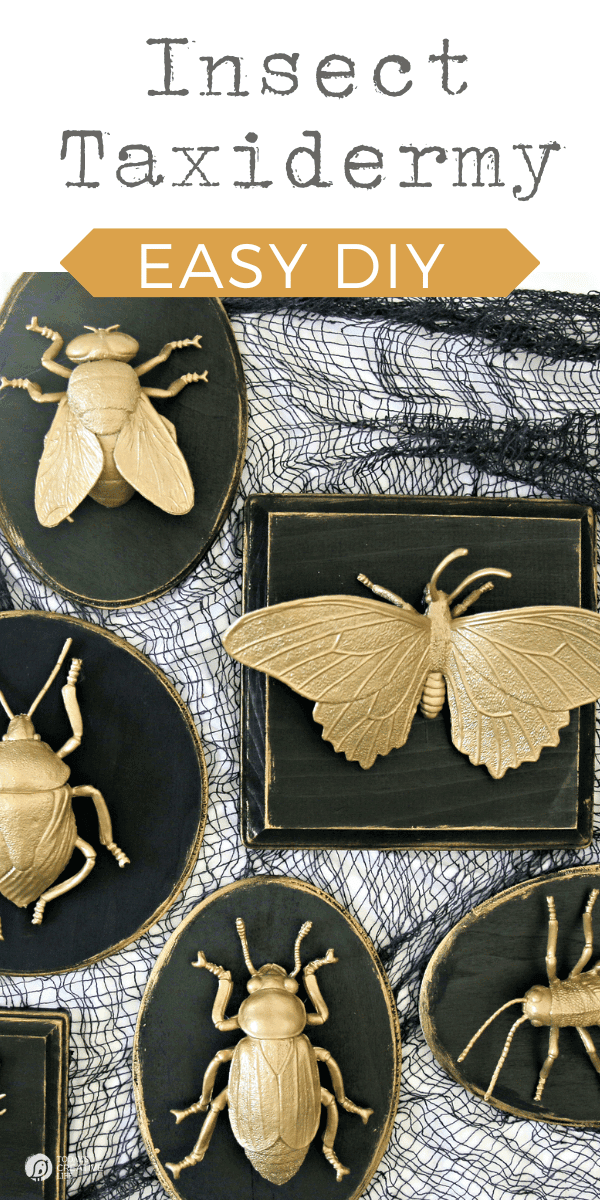 Halloween DIY Ideas
Create the Halloween of your dreams with Easy Halloween Ideas. Find Halloween decor for cheap for a budget-friendly holiday. Recipes for Halloween too!
Printable Wall Art for Halloween - DIY Halloween decor in a flash!
Easy Halloween Craft for transferring images onto wax candles.
Make this cute beetle pillow design with iron-on vinyl.
Halloween party bottle wrappers printable.
Simple to make Halloween party food ideas.
Get creative with a fun Halloween centerpiece.
This Halloween-decorated take-out box is great for treats or even Halloween party leftovers. Cricut Halloween Ideas.
Free Halloween printables.
Halloween decor for cheap! Dollar store items made into a creepy crawly centerpiece.
Iron-on crafts are my favorites!
Another great Cricut craft for Halloween.
Halloween treat boxes with vintage beetles. Print and decoupage. Free printables.
Who would know you could find the best craft supplies in a hardware store? A little spray paint, a free printable, cobwebs and you've got yourself a simple Halloween craft.
Fun for any spooky party!