This Blueberry Bubble Bread is the best recipe for frozen blueberries. Made with refrigerated biscuits and frozen blueberries for an easy delicious special breakfast treat. Fluffy biscuit pieces smothered with bubbling blueberry goodness make the perfect breakfast for holiday mornings or anytime really. Give the gift of a ready to bake holiday breakfast to be baked in the morning. This comes with a printable baking directions label and gift tag. This post is in partnership with the Oregon Blueberry Growers. Like always, all ideas and opinions are 100% mine. Oregon blueberries are a perfect ingredient for your holiday recipes. They're frozen straight from local farms so you can enjoy them during the holiday season. You can find them in the freezer section of your local grocer, or in the freezer cases in the produce department.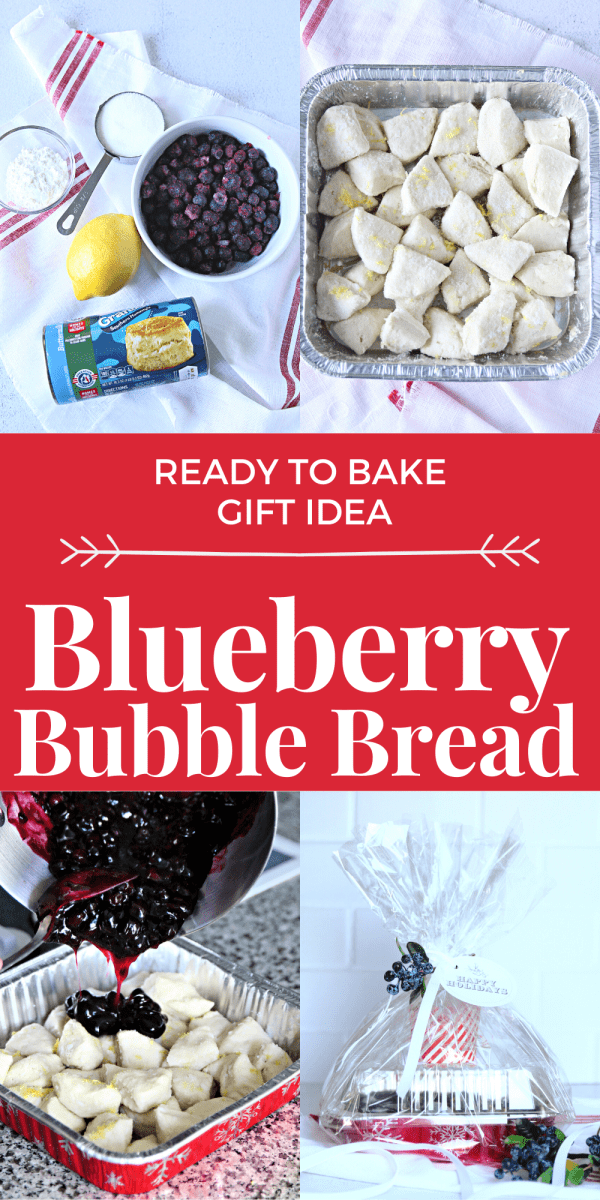 Blueberry Bubble Bread – Recipe for Frozen Blueberries
When kicking around ideas on creating a recipe for frozen blueberries, I kept coming back to the idea of delivering breakfast as a holiday gift to friends and family. Something that I could make up and deliver a day or two before, but was ready to bake for Christmas morning. I wanted an easy and quick recipe to help make the holidays less stressful.
Can you imagine being gifted your Christmas morning breakfast, but ahead of time and it's ready to bake for later? Having one less thing to do when you have a busy household is the real gift.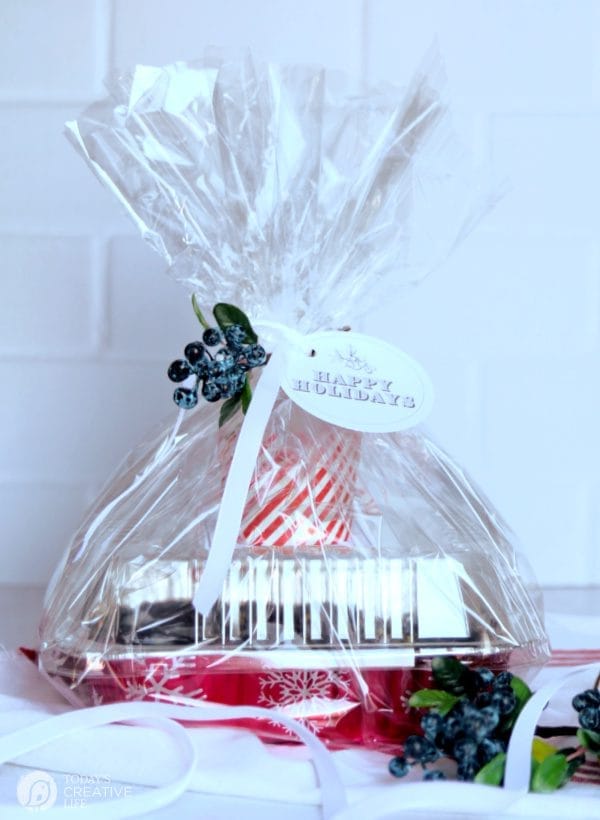 This homemade gift from the kitchen is a time saver all around. It takes very little time to make and it saves the recipient time because now they have breakfast ready to go!
How to Make Blueberry Bubble Bread
My favorite kind of recipe calls for simple ingredients. You'll need: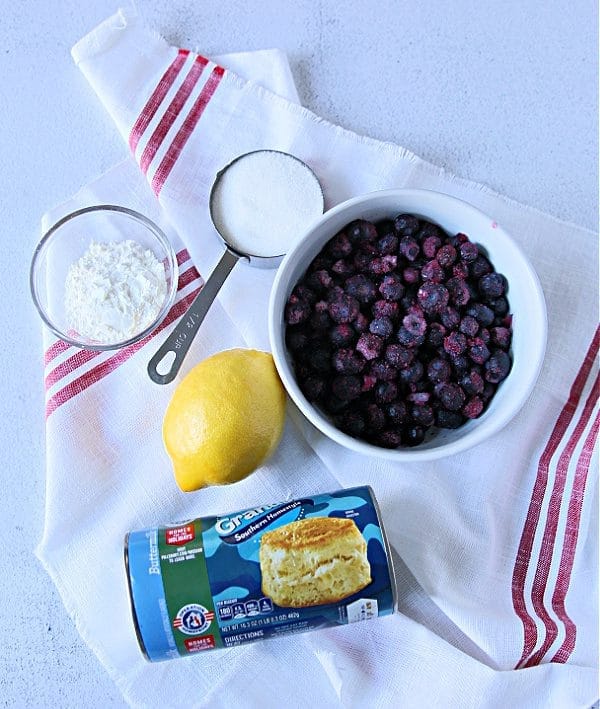 Refrigerated Biscuits – You could easily substitute Bisquick or homemade biscuits. The baking times would probably vary, so please keep an eye on it when baking.
Frozen Blueberries – Oregon blueberries are my favorites.
Lemon – juice, and zest.
Sugar
Powdered Sugar
Cornstarch
Aluminum Baking Pan – if you're giving it away as a gift.
Printable Baking Directions and Gift Tag – You can find all free printables in the Printable Vault.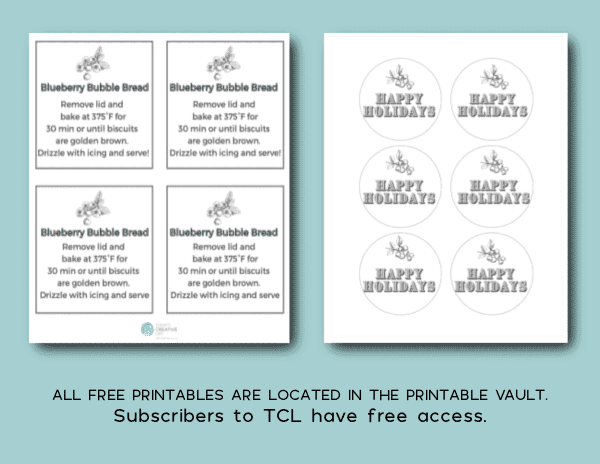 After greasing my pan, I cut each biscuit round into quarters and placed them in a bowl of sugar and lemon zest. I then placed the sugar-covered quarters in the baking pan.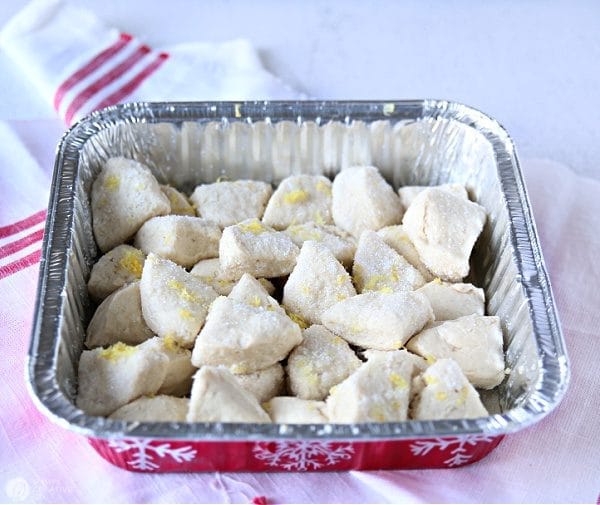 After cooking up the blueberry sauce, pour it over the top of the biscuit pieces.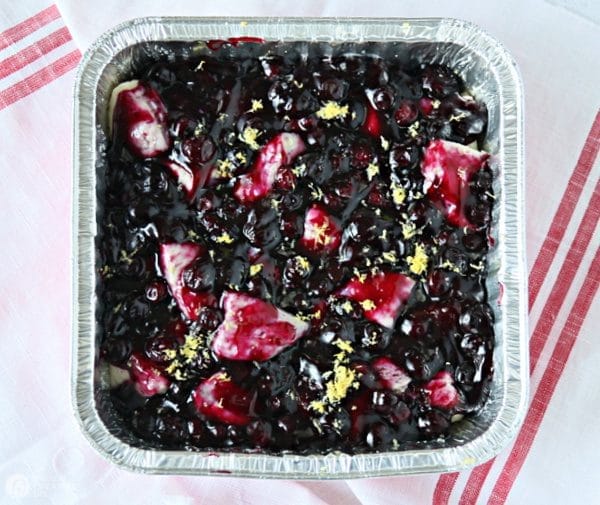 After it's finished baking with all the bubbling blueberry goodness, I drizzled a homemade glaze over the top and served it warm. Delicious!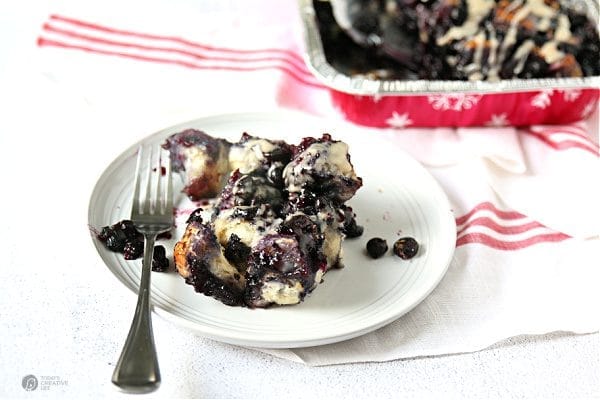 If you're giving it as a gift, you'll want to place the baking directions label on the lid.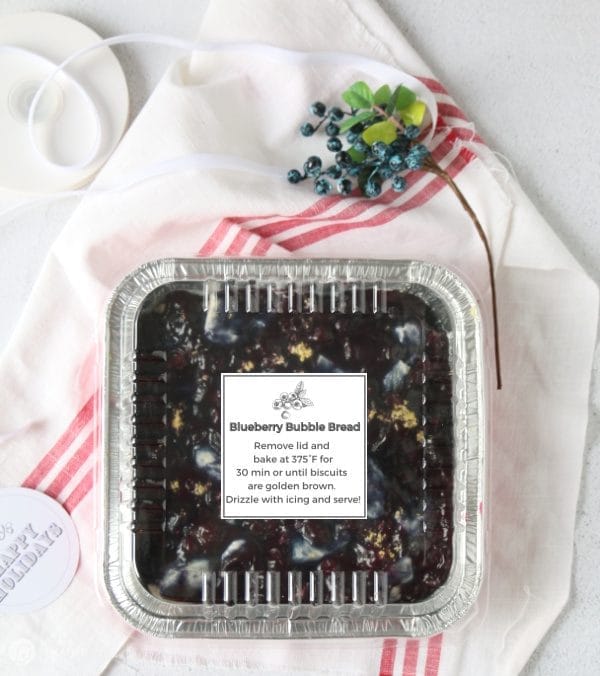 Don't forget the gift tag too!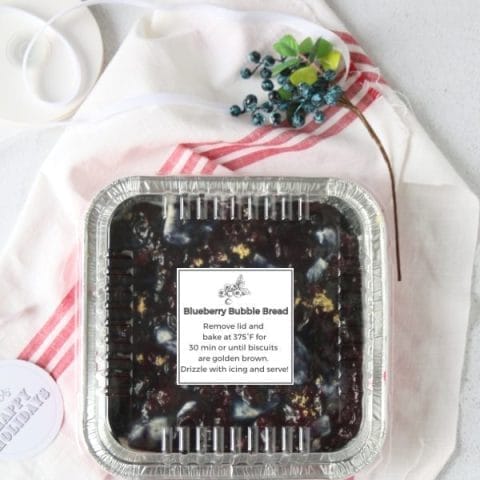 Blueberry Bubble Bread
Yield: 1
Prep Time: 15 minutes
Cook Time: 30 minutes
Total Time: 45 minutes
Recipe for frozen blueberries makes the perfect holiday Blueberry Bubble Bread. Make up ahead of time for a ready-to-bake gift idea.
Ingredients
1 tube refrigerated biscuits
1 cup sugar - divided
2 teaspoons lemon zest
2 tablespoons cornstarch
2 cups frozen blueberries
1/2 cup water
1 teaspoon fresh lemon juice
GLAZE
1/2 cup powdered sugar
1/2 tablespoon butter - softened
1/4 teaspoon vanilla
1 to 2 tablespoons milk or half and half. Add more if needed.
Instructions
Gather your ingredients.
Prep a 9x9 inch disposable baking tin with cooking spray or butter.
Place 1/2 cup sugar in a medium-size bowl with lemon zest and stir.
Open the tube of biscuits and separate each round.
Cut each biscuit round into quarters and place biscuit pieces in the sugar mixture. Make sure each piece is covered with sugar.
Place biscuit pieces in the baking pan.
In a medium-size saucepan, add cornstarch and the remaining 1/2 cup sugar. Whisk to get rid of any lumps.
Add water, frozen blueberries and lemon juice.
Cook over medium heat, stirring frequently until it thickens. It will look like pie filling.
Pour into the baking pan over the biscuits.
GLAZE
Mix glaze ingredients together until smooth. Add more milk until you reach the consistency you'd like. If you're giving it as a gift, place the glaze in a disposable sauce container or a small Ziploc bag like I did. I placed the bag in a cute paper container and placed it on top of the Blueberry Bubble Bread before wrapping.
BAKING FOR YOURSELF?
If you're baking it for yourself, bake at 375° F. for 30 min or until any biscuits peeking through are golden brown.
GIVING AS A GIFT?
Allow the blueberry mixture to cool and then place the baking tin lid on. Add one of the printable baking directions on the lid. I printed onto sticker paper, cut and applied. You can use tape if needed.
Wrap in cellophane or place in a gift bag, using the printable Blueberry Gift Tag.
Deliver and smile!

Notes
The blueberry filling can also be used as pie filling.
Recommended Products
As an Amazon Associate and member of other affiliate programs, I earn from qualifying purchases.
Nutrition Information
Yield 6
Serving Size 1
Amount Per Serving
Calories 252
Total Fat 3g
Saturated Fat 1g
Trans Fat 0g
Unsaturated Fat 2g
Cholesterol 4mg
Sodium 72mg
Carbohydrates 56g
Fiber 2g
Sugar 47g
Protein 1g
We do our best to calculate, however, nutrition information may not be accurate.
Can Blueberry Bubble Bread be made up ahead of time?
That's the beauty of this recipe for frozen blueberries, you can make it up ahead of time and deliver it unbaked. It's one of those amazing ready-to-bake recipes, ready to be delivered! I made this Blueberry Bubble Bread the day before (you could probably make it up 2-3 days before if needed) and baked it the next day. You can also bake it right away.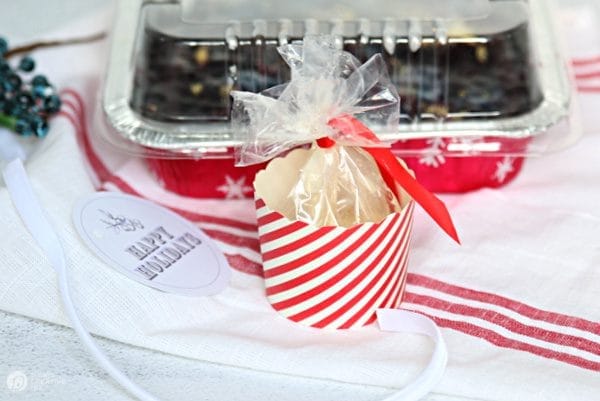 For the glaze, I mixed up a batch and put it in a plastic baggy and tied it with a ribbon, then placed it in a cute paper baking cup I had. Small disposable condiment containers are also perfect for this use.
Frozen Blueberries
Everything about this recipe is easy. Easy for you to make and easy for whomever you gift it to. Any recipe for frozen blueberries makes baking easier, especially when not in season. They are easily stored and ready in your freezer.
How to Print Labels and Tags
Items I use:
Inkjet printer
White sticker paper
White cardstock
Single hole punch
Craft scissors or 2-inch circle punch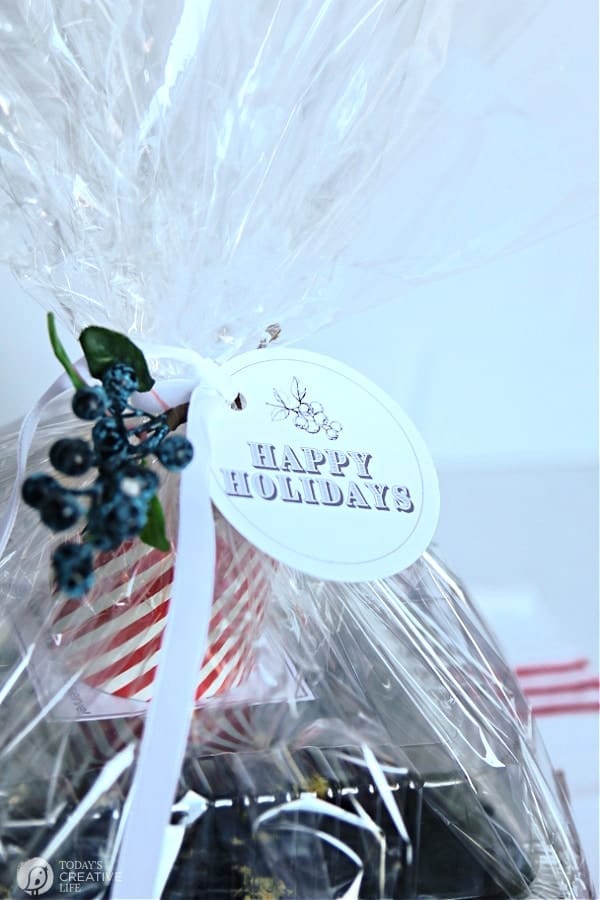 Download the baking directions and blueberry gift tag on your device.
Loading your Printer – Each printer will be different for what direction to load the paper. My printer prints on the backside of the loaded stacked paper. Run a test with regular printer paper and mark a paper sheet with a pencil. Print a test and look for the pencil mark.
Printing Baking Instructions – If you're using sticker paper, load the printer properly so you're printing on the front side. Regular cardstock can be used as well, you'll just have to tape the label on.
Printing Gift Tags – Load the printer with white cardstock and print. A brown kraft cardstock is also a nice way to add a more rustic style.
Use a paper trimmer to cut baking instructions. Peel the back off and apply to the lid of the disposable baking pan.
Use craft scissors or a circle punch to cut out gift tags.
Punch a hole in the gift tags for twine or ribbon.
I added a faux sprig of blueberries and a white velvet ribbon along with the gift tag and I think it looks so cute! Who wouldn't be delighted with this gift?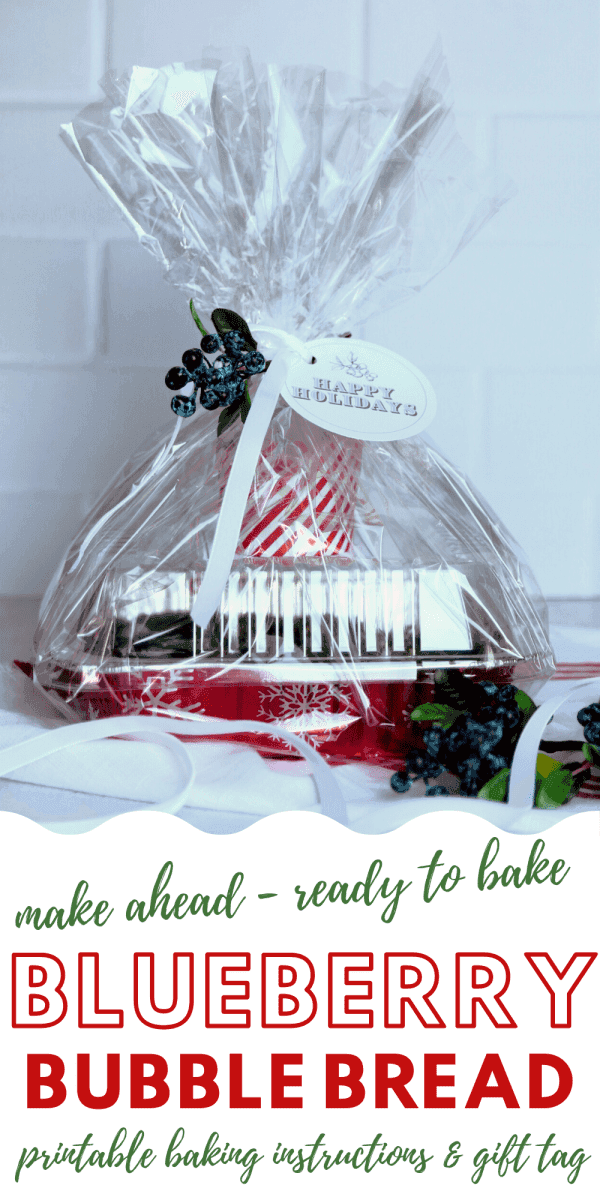 Holiday Gifts from the Kitchen
Simple and easy homemade edible holiday gift ideas!
Who doesn't love cookies?
Another great gift idea you can make.
This is a delicious homemade gift.
Eat as is, or drop them in a mug of hot cocoa.
The secret ingredient makes this homemade gift even better!
Simple, easy and they are beautiful!
Photo Credit: www.texanerin.com
These make great party favors too!