I'm not one to make difficult recipes. That's why I love these White Chocolate Nutty Fruit Bites for a quick homemade holiday gift! Edible gifts always put a smile on your face!
These homemade candy bites make really nice Christmas gifts for neighbors, friends… the UPS driver.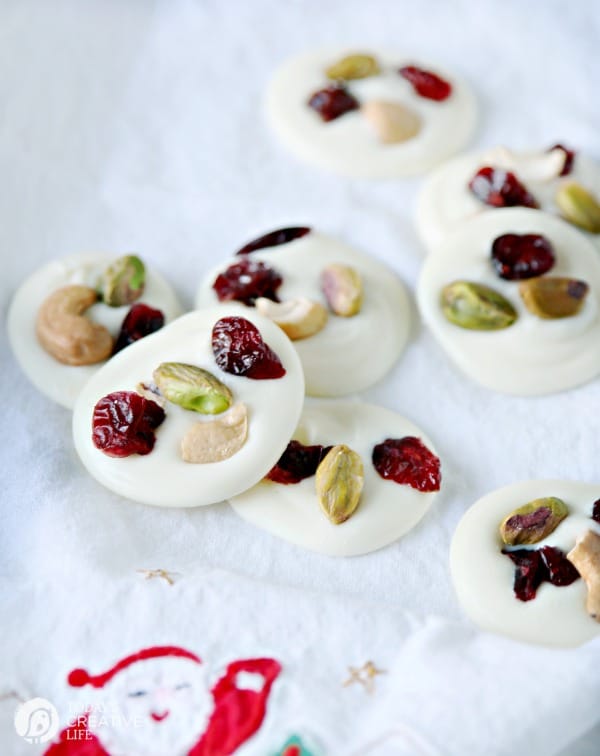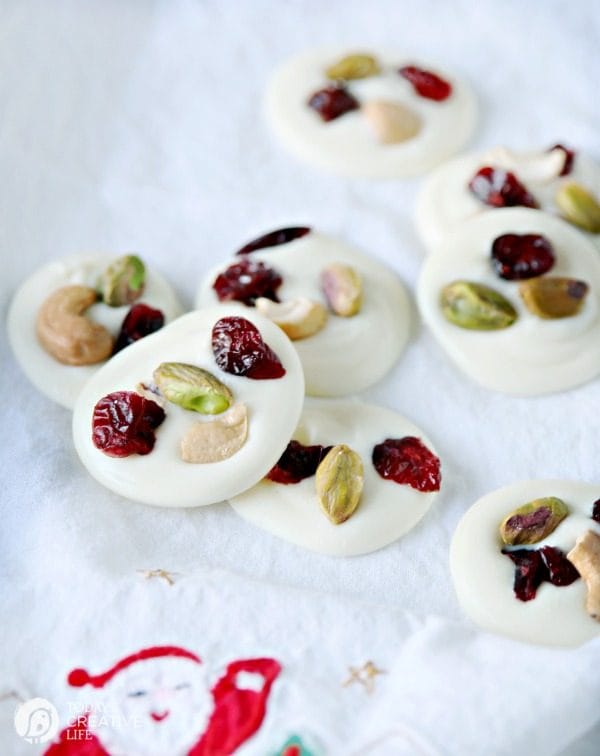 White Chocolate Nutty Fruit Bites
You won't spend hours in the kitchen slaving over this candy making recipe, but because they look so fancy, no one will never know you didn't.  
Remember when I made the Dark Chocolate Nutty Fruit Bites last year? Again…. SO EASY TO MAKE!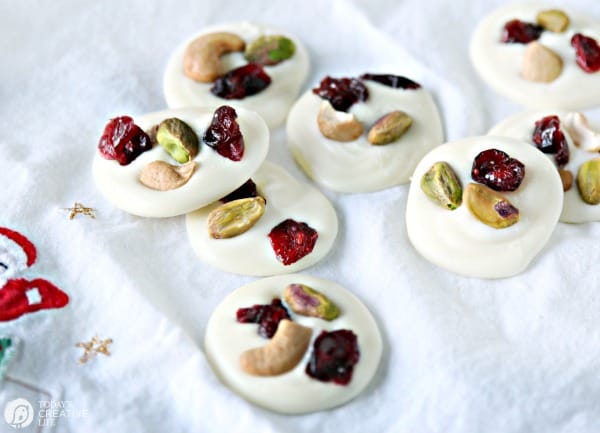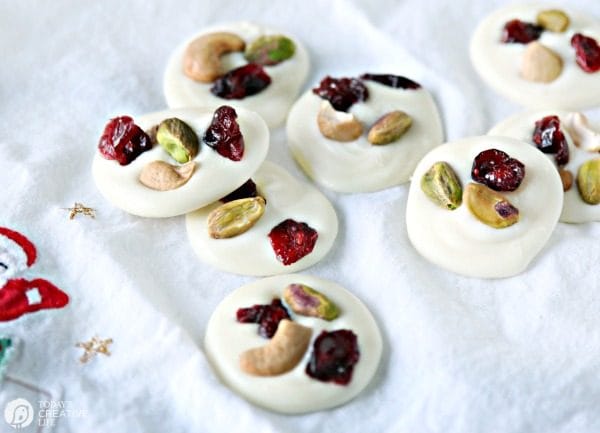 How to Make White Chocolate Nutty Fruit Bites
Affiliate links for products listed are for your convenience only. This costs you nothing extra. If you happen to purchase anything as a result of clicking, TCL will receive a small percentage. Thank you for your support. This allows me to continue to offer you free content. 
What you need:
White Chocolate – I used Ghirardelli melting wafers. I found them at Target. 
Cranberries, Pistachios, nuts – Use a variety of dried fruits, and nuts.
You get to decide what you want to put on top of these little discs of sweetness. I used what I had on hand.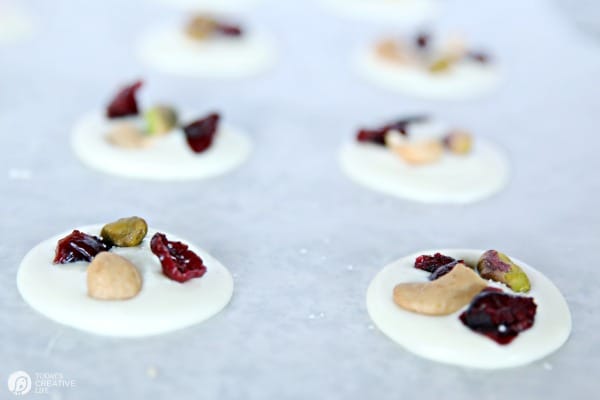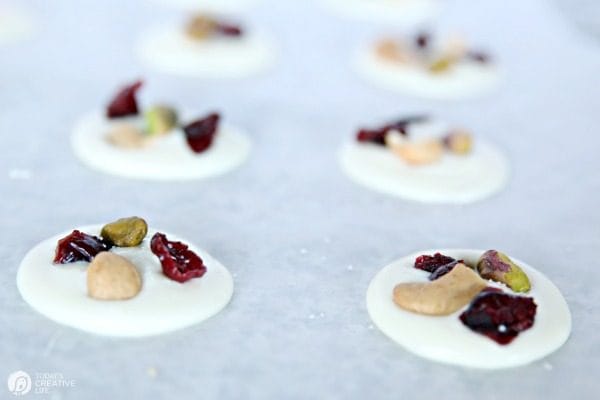 I dropped spoonfuls of the melted chocolate on parchment paper. After I let them sit for a few minutes, I hand placed my toppings. I waited a few more minutes to allow them to harden up before sprinkling with salt.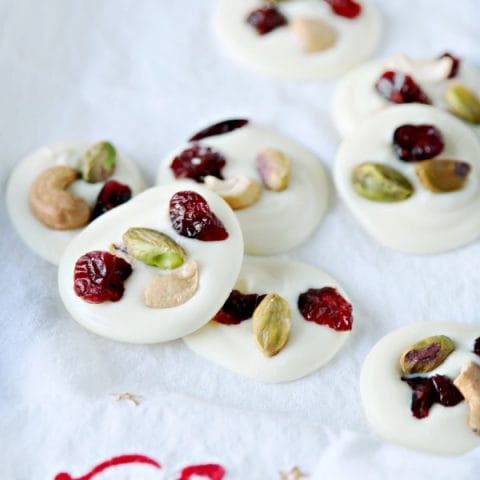 White Chocolate Nutty Fruit Bites
Yield: 15
Prep Time: 10 minutes
Total Time: 10 minutes
Ingredients
White Chocolate Melting Wafers
Dried Fruit
Nuts
Sea salt
Instructions
I used a 4-cup glass measuring cup to melt the candies in the microwave. Heat in 30-second intervals, stirring each time until melted.
Lay parchment paper on a cookie sheet or countertop.
Using a regular spoon, spoon a spoonful of melted candy onto the paper. I made them about the size of a silver dollar.
Place your toppings on each disc.
After they've set for a few minutes, sprinkle with salt.
Let them sit for about an hour before moving them off the paper.
Notes
I have also melted down white chocolate candy bars.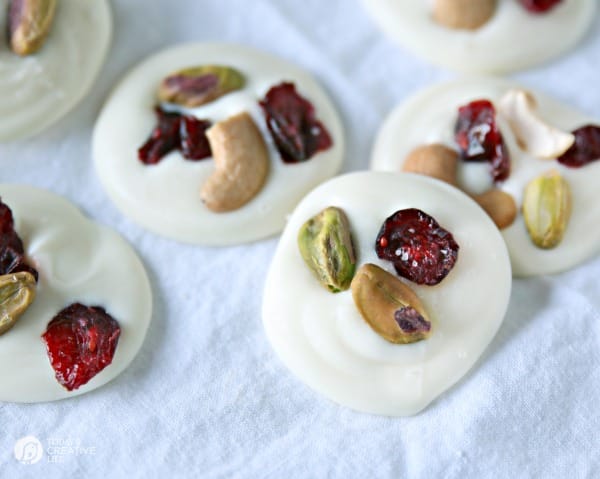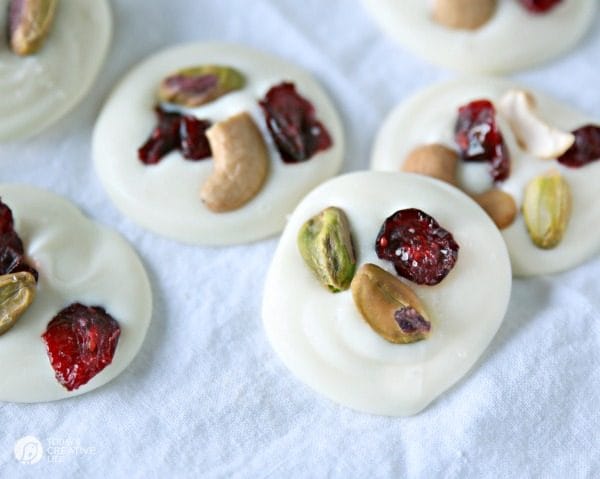 Wrap these delicious white chocolate nutty fruit bites up in a food safe box, add one of my printable Christmas Tags and you have one of the best gifts from the kitchen!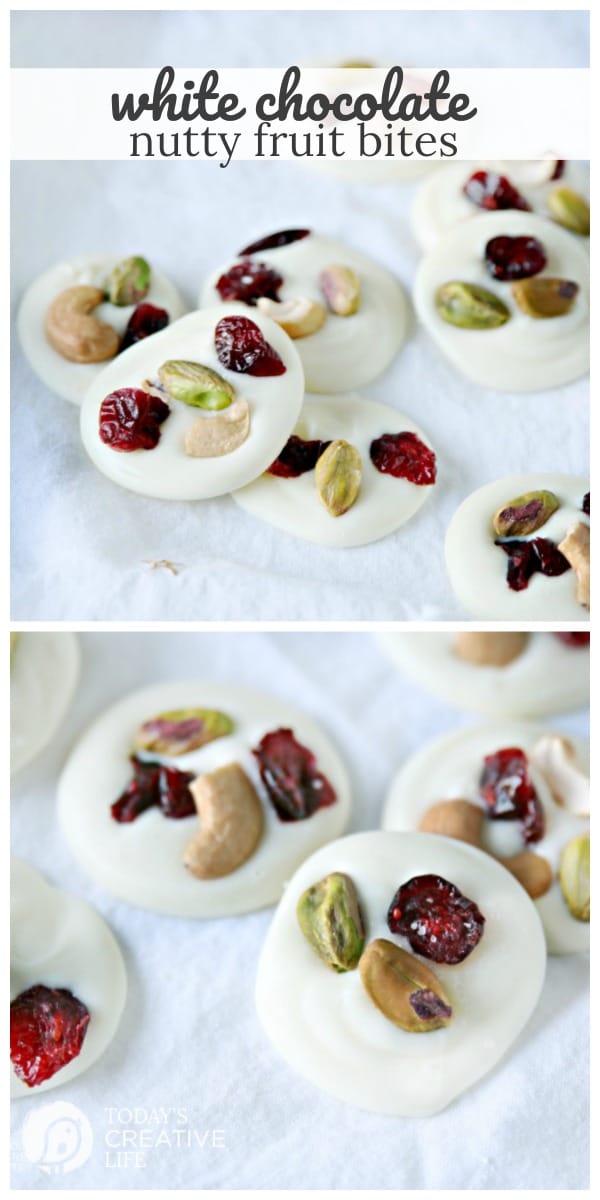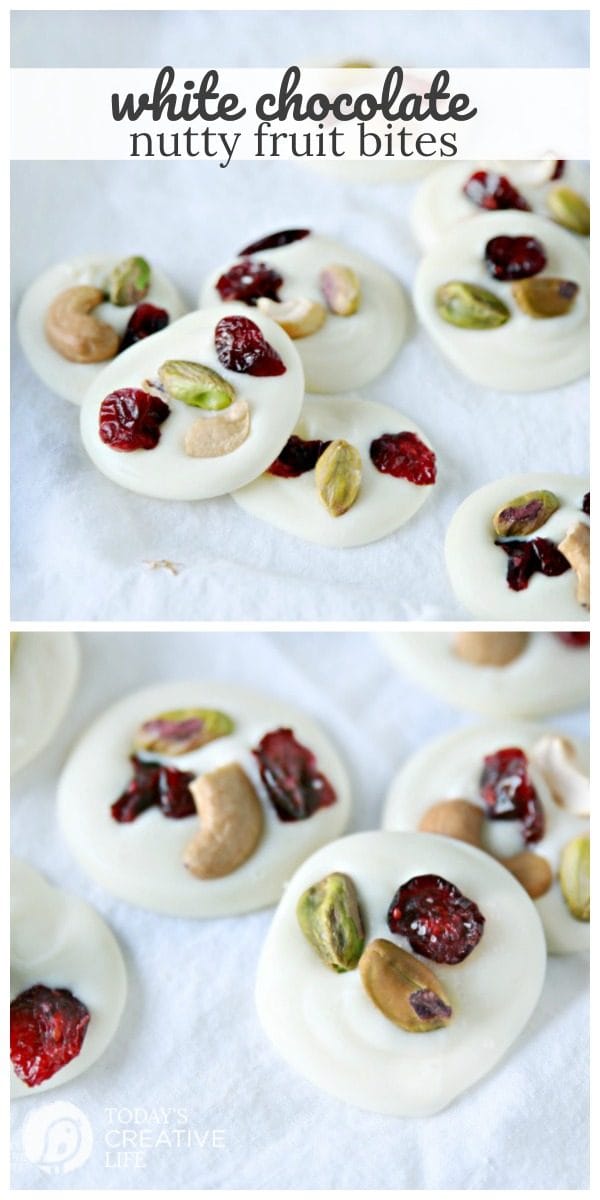 ---
Homemade Gifts from the Kitchen Ideas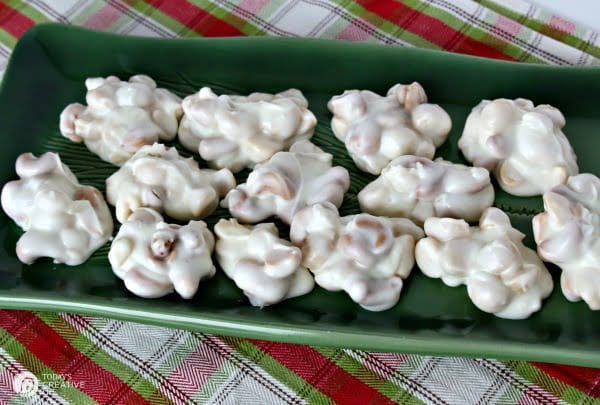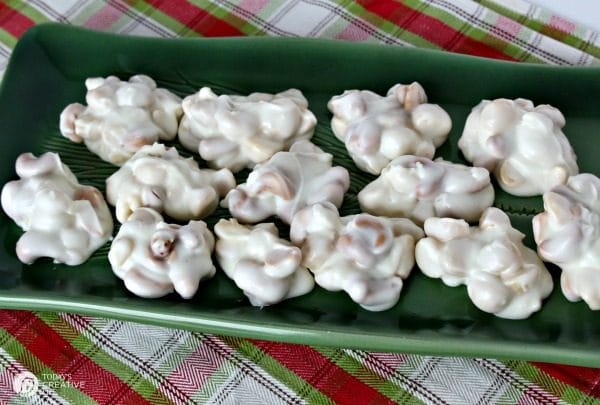 Crockpot Candy Vanilla Nut Clusters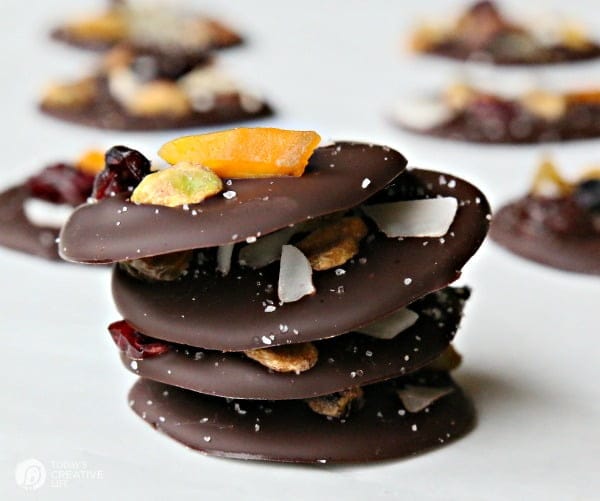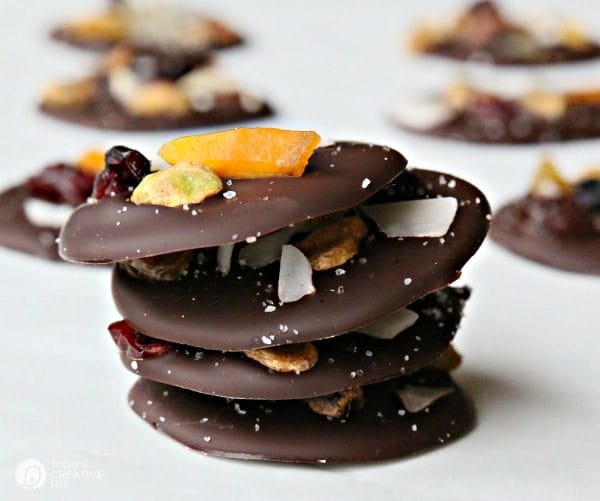 Chocolate Fruit & Nut Bites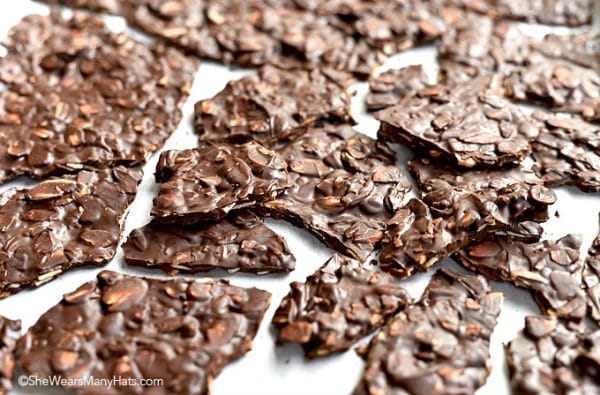 Dark Chocolate Toasted Almond Bark