Many of you have asked about Cricut Projects and "What can you make with a Cricut Machine?". The possibilities are endless considering you can cut 300+ materials with Cricut. You can cut fabric, felt, leather, balsa wood, chipboard, cardboard, cardstock, vinyl, matboard, and more. You can emboss, score and even use markers to write or draw a design. If you can imagine it, you could probably make it with a Cricut. Last month I wrote a post that will help you figure out what Cricut Machine you should buy.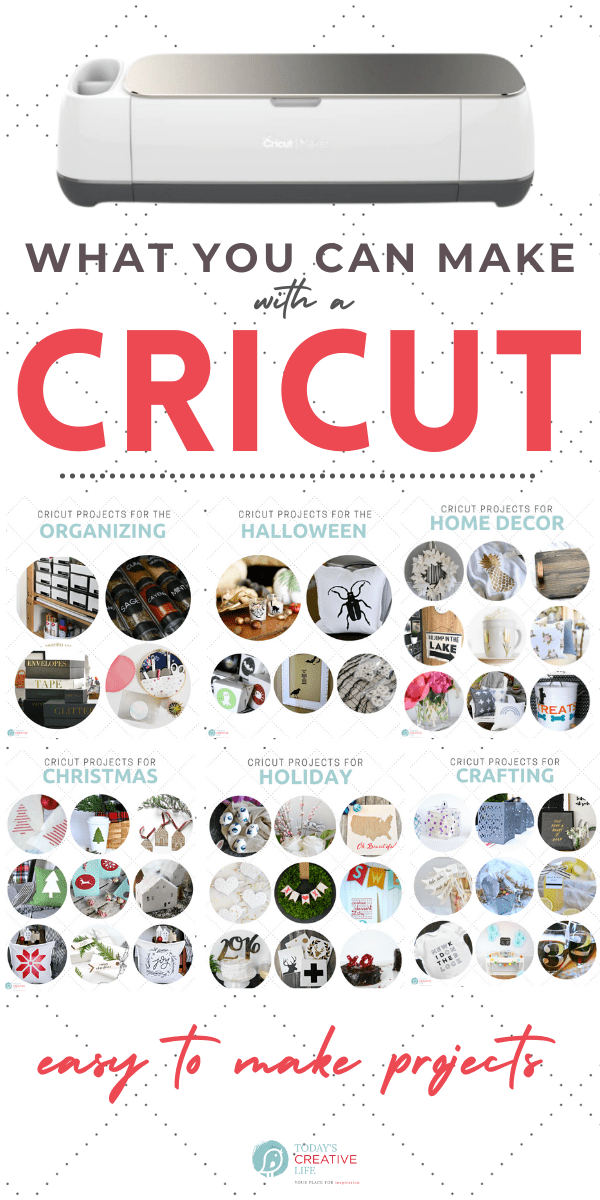 Ideas for Cricut Projects
There are so many ideas for Cricut Projects that you can make for DIY gift ideas, home decor, organizing your home, party supplies, and more.
I like to keep things pretty simple but I've made some really fun projects with a variety of materials.
Home Decor Cricut Projects
I love using my Cricut Maker or EasyPress for making home decor. I can create custom original ideas quickly for any season or holiday.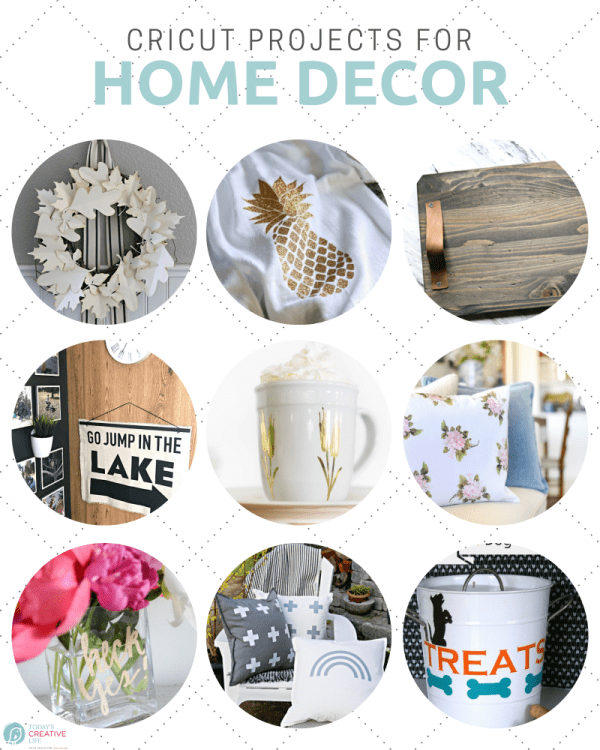 Cricut Projects for Organizing
If you like organizing and labeling everything, then you have to get the Cricut Joy! This little dynamo comes with pre-designed labels that you customize. They have several styles and shapes.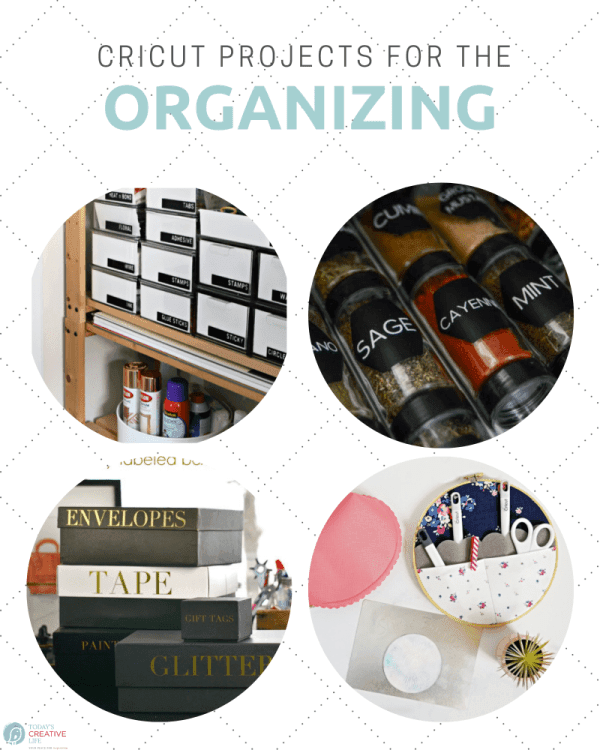 Cricut Projects for Christmas
My Cricut machines are overworked during the holidays! I'm either creating holiday decor, making DIY gifts, or party supplies. I love being able to add my own personality to what I make.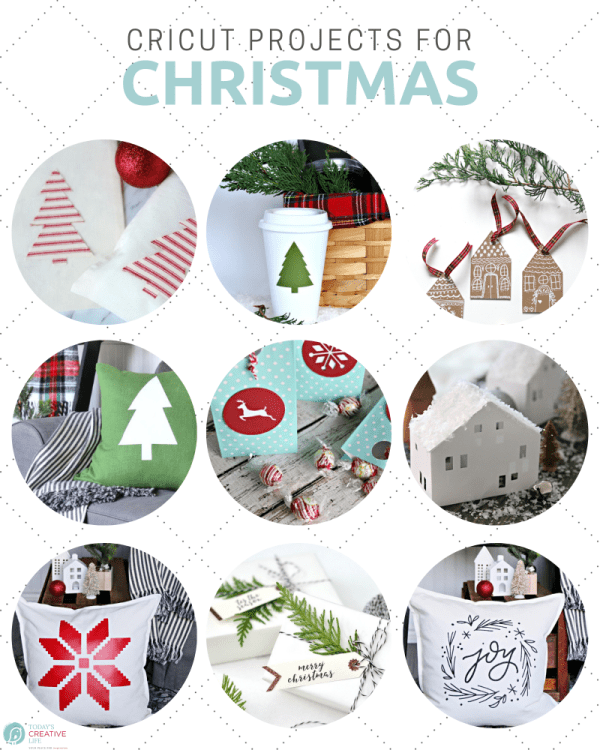 Christmas Tree Canvas Bags – I used my Cricut maker to cut the fabric which I had applied heat n' bond. They made the cutest little bags for easy gift wrapping. Original gift wrapping makes the simplest gift look like the best!
Holiday Travel Mug – I put together a cute gift basket of teas and coffees, then added a travel mug that looks like a paper coffee cup. I cut a cute little Christmas tree out of vinyl and added it to the cup. It's simple, it's super cute and it makes this gift basket look even better!
Gingerbread Holiday Ornaments – These are made from chipboard so they are thick and durable. They can be used for ornaments or even a gift tag. Homemade is always better!
Christmas Tree Custom Pillow – Who needs to buy new holiday decor when you can just use iron-on vinyl and a pillow cover to create new Christmas pillows? I love the bold statement these make!
Christmas Gift Wrap – By making and adding these cute holiday designs to a gift bag, automatically makes them more special.
Snow Topped Paper House – I was so tickled with these! I wanted to decorate with a bunch of white ceramic houses, but I didn't want to spend all the money to buy them. Then I realized I could make them with my Cricut! I cut them using white cardstock and added faux snow to the rooftops. Add a battery-operated votive and you are set!
Snowflake Christmas Pillow – This bright red and white snowflake pillow is so festive and it took me about 15 minutes to make! I used a pillow cover with iron-on vinyl. Boom!
Holiday Gift Tags – First printed and then loaded into the Cricut to cut. This makes holiday crafting much faster. Use your Cricut to cut multiple designs.
DIY Holiday Pillow – Using black glitter iron-on and a pillow cover, I was able to create home decor I can use year after year.
Craft Projects Made with Cricut
I originally got my first Cricut for making papercrafts. I used it for scrapbooking, making cards, gift tags, and more. Papercrafts and vinyl crafts are probably some of the most popular projects people use their Cricut for. But now that there are over 300 materials Cricut machines can cut, the range of creativity has exploded. Compare the capabilities of each Cricut here.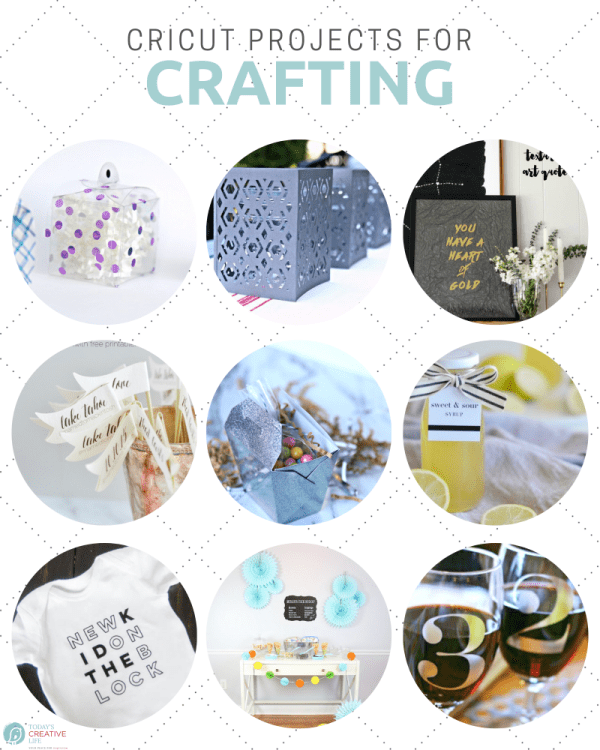 Halloween Ideas Using Your Cricut
I think it's hard to find cute Halloween decor. It's usually poorly made and doesn't fit my style. So, using my Cricut to make my own Halloween decorations makes more sense.
Cricut Projects for Holiday Crafts
Cricut holiday crafts definitely make holiday decorating and celebrating easier. I love making simple banners, gifts, and simple decor that reflects my style.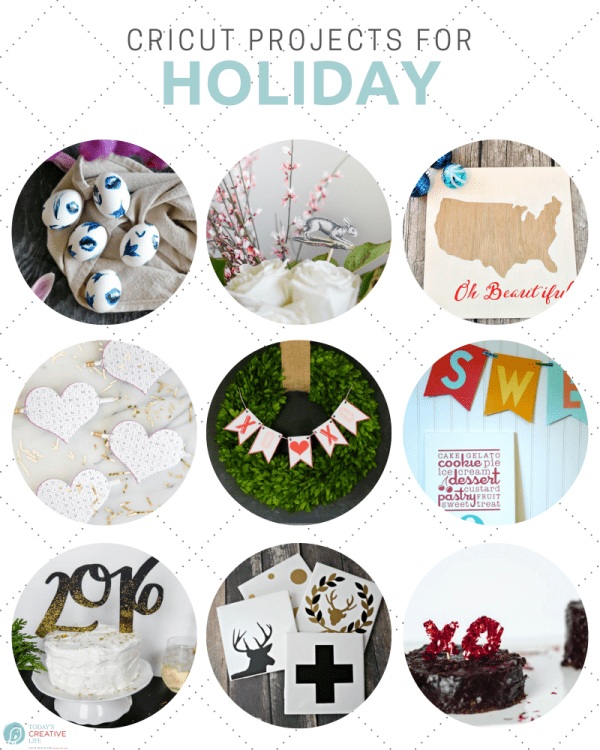 If it isn't obvious, there are SO many things you can make with a Cricut Machine. Whether it's papercrafts, wearables, mugs, leather items, home decor, DIY gift ideas, sewing projects, Cricut machines are worth their weight in gold!
Have you made something lately? I'd love to see it! Tag me @TodaysCreativeLife and @Cricut on Instagram and share!