I partnered with American Beauty Pasta & Kroger on this recipe for creamy mac and cheese. All opinions and ideas are 100% mine. #ad
This homemade one-pot, stovetop Recipe for Creamy Mac & Cheese is easy to make and packed full of flavor. Made with American Beauty® Pasta, evaporated milk, 3 kinds of cheese, and much more. A family favorite recipe that's ready in less than 30 min.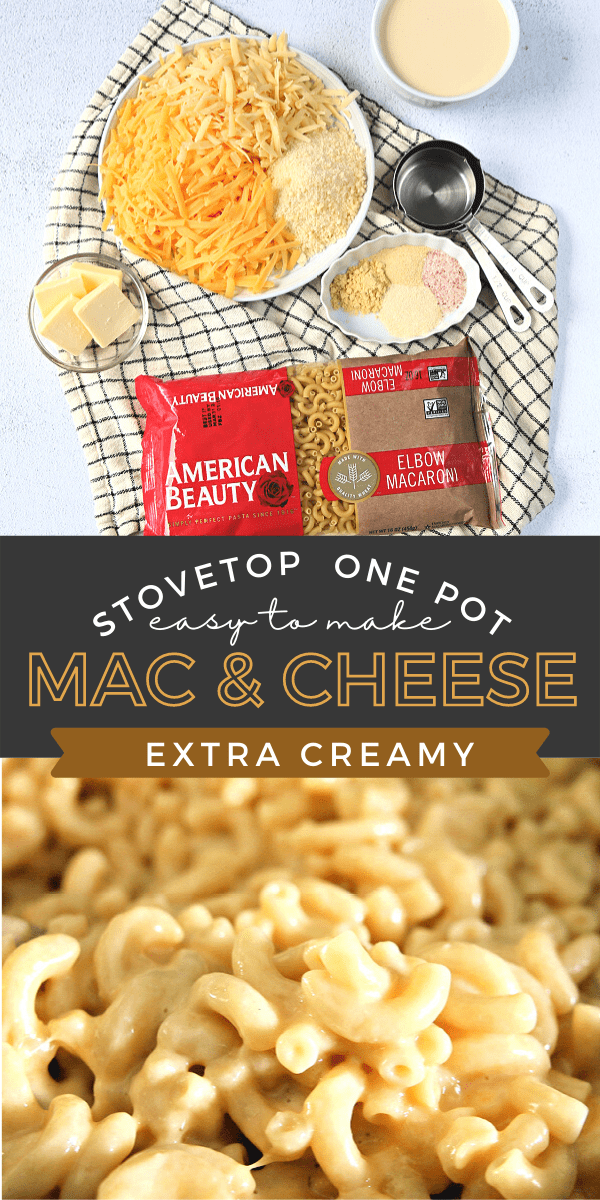 Recipe for Creamy Mac and Cheese
I have a few Macaroni & Cheese recipes on Today's Creative Life, but this one is by far the easiest and creamiest. Easy because it doesn't start with a roux (flour & butter) and it's all cooked on the stovetop in one pot and you don't have to bake it.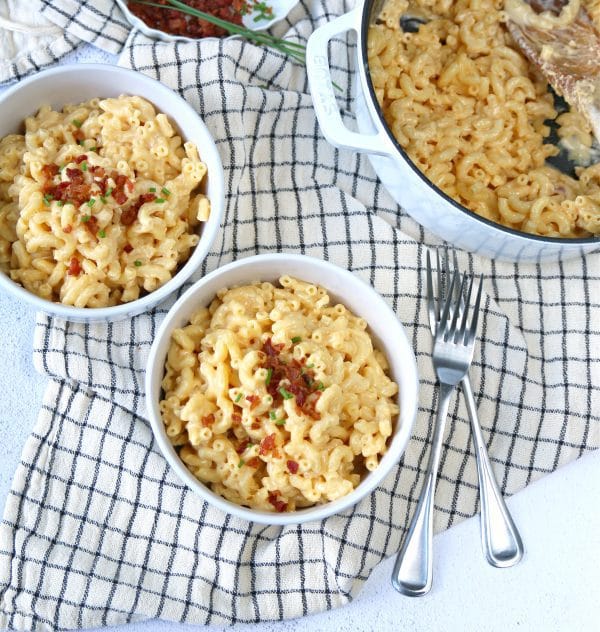 It's one of those comfort food recipes that becomes a family favorite for those busy nights using American Beauty® Elbow Macaroni. Shop Now!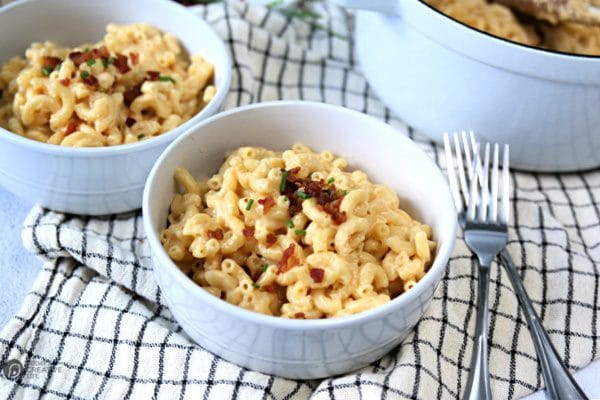 Easy Homemade One-Pot Stovetop Mac & Cheese
The chances are good that you already have all the ingredients needed to make homemade stovetop mac & cheese.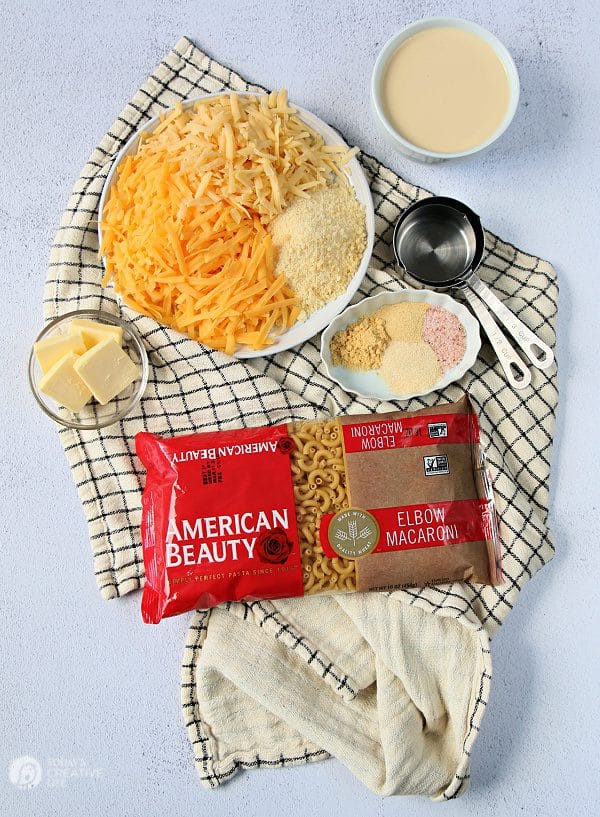 American Beauty™ Elbow Macaroni
Evaporated milk
Garlic Powder, Onion powder, dry mustard, salt
Shredded cheddar cheese
Shredded smoked gouda cheese
Grated Parmesan cheese
Butter
Water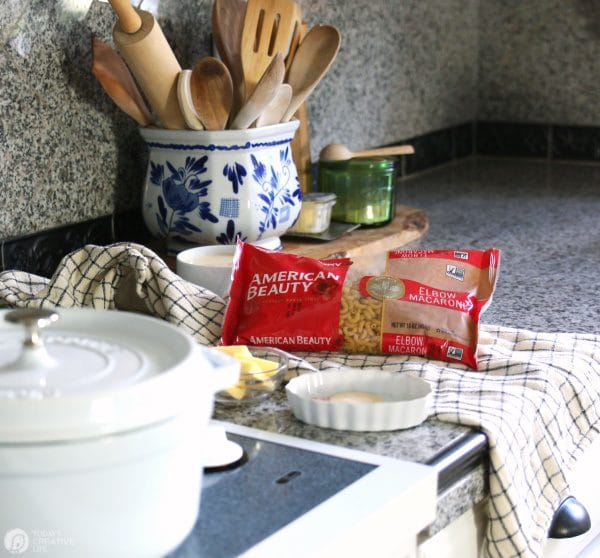 How to Make Creamy Mac and Cheese Recipe
To get started, grab a large pot. I used my cast iron dutch oven, but any large pot will do.
Add the water and the evaporated milk and bring to a boil.
Once it's just starting to boil, add the American Beauty Pasta.
Stir often to break pasta that's sticking together or to the bottom of the pan. When the noodles are tender and there is still some liquid in the bottom, it's time to turn the heat off and slowly add the cheese in along with the butter. Stir it up so it's well blended.
Season with salt or pepper if needed. Garnishing with bacon bits and chives is optional. Usually, my family is so eager to eat, then dish it up right away forgetting the garnish.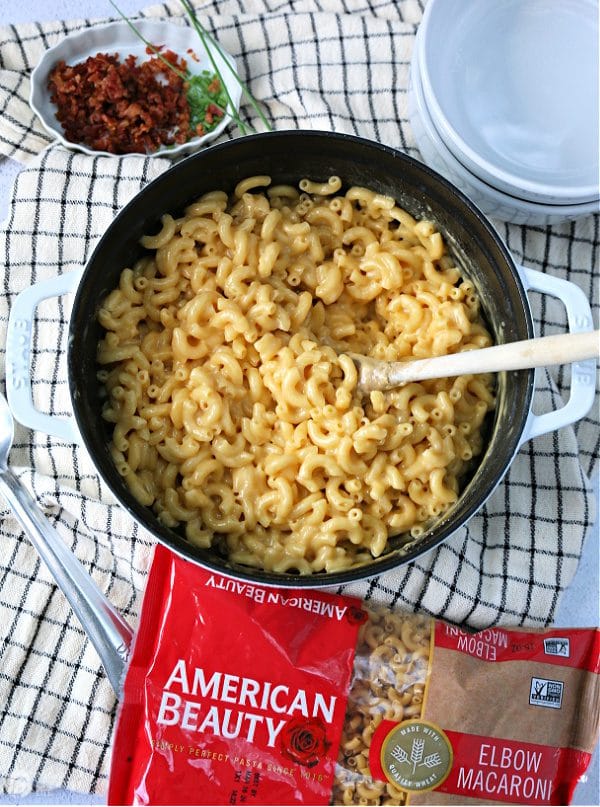 I told you it was easy!
There is nothing better than a bowl of comfort food and this recipe for creamy mac and cheese hit's the spot.
What Cheese is Best for Making Stovetop Mac and Cheese?
There are so many varieties but my all-time favorite is a good cheddar. The sharper the better! I usually like to mix at least 2 cheese varieties together, but in a pinch, I'll stick with cheddar.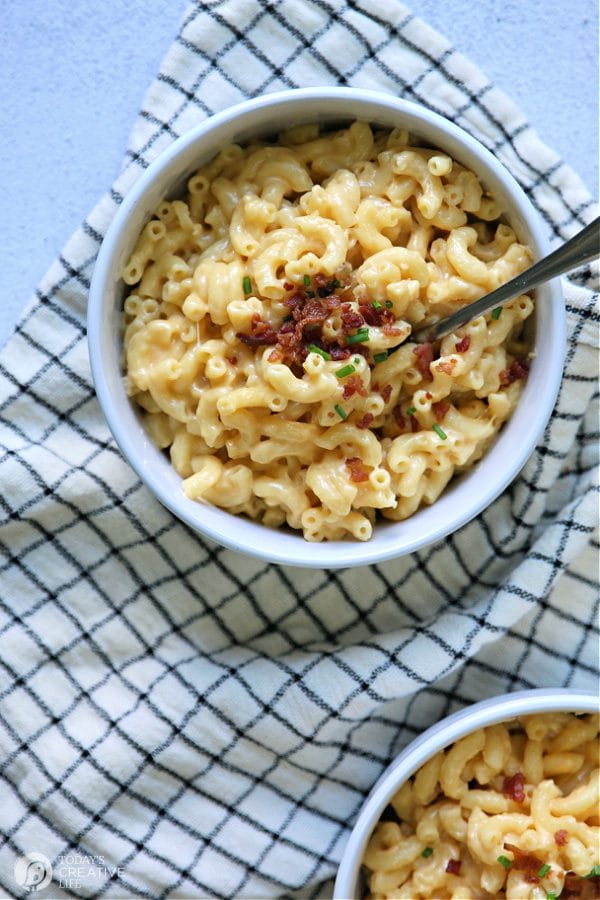 Sharp Cheddar – the most classic taste for mac and cheese and what we've come to expect. It's the most family-friendly.
White Cheddar – A good sharp white cheddar is so good in a recipe for creamy mac and cheese. That extra ting of bold flavor.
Smoked Gouda – Mmmm Gouda cheese melts so creamy and adds a richness that just cheddar mac and cheese doesn't have.
Gruyere – This cheese is a popular one for fondue, but let's not overlook what it can bring to a mac and cheese recipe. When you want a more mature pasta dish, try it.
Parmesan – You HAVE to use a little parm or a lot of parm in all mac and cheese recipes. I'm pretty sure it's the law.
Don't forget to shop American Beauty pasta today for your favorite mac & cheese recipe!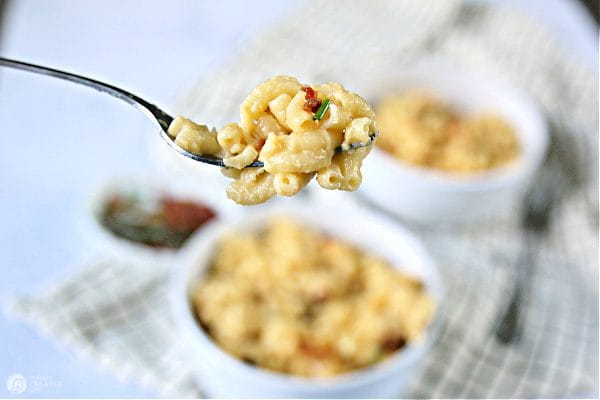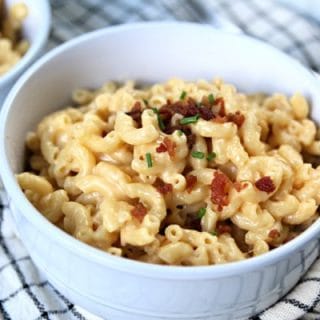 Recipe for Stovetop Mac and Cheese
Yield: 6
Prep Time: 10 minutes
Cook Time: 20 minutes
Total Time: 30 minutes
Easy Stovetop Recipe for Creamy Mac and Cheese using one pot!
Ingredients
12 oz. can evaporated milk (one can)
4 cups water
16 oz. American Beauty Elbow Pasta (4 cups)
1/2 teaspoon garlic powder
1/2 teaspoon dry mustard
1/2 teaspoon onion powder
1/2 teaspoon salt
2 cups sharp cheddar cheese, shredded
1/2 cup smoked gouda, shredded
3 Tablespoons Parmesan, grated.
4 Tablespoons butter
Bacon bits and chives for garnish
Instructions
Using a large pot, add water, evaporated milk, garlic powder, dry mustard, onion powder and salt. Bring to a boil.
Once it starts boiling, add pasta and turn the heat down to a simmer for about 12-14 minutes until tender. Stir frequently to break up any pasta sticking to the bottom or to each other. Add extra water if it's looking pretty dry. The liquid is not covering all the noodles as it becomes closer to done.
Once the pasta is tender, turn the heat off, slowly add cheeses and butter a small amount at a time, stirring to melt between additions.
Add extra salt or pepper if desired.
Garnish with bacon bits and chives.
Notes
If you don't have any evaporated milk, you can substitute regular milk 2% or higher.
Nutrition Information
Yield 6
Serving Size 1
Amount Per Serving
Calories 509
Total Fat 29g
Saturated Fat 17g
Trans Fat 1g
Unsaturated Fat 10g
Cholesterol 89mg
Sodium 703mg
Carbohydrates 39g
Fiber 2g
Sugar 7g
Protein 22g
We do our best to calculate, however, nutrition information may not be accurate.