One of the easiest things you can make is Chili Cheese Fries! They make the perfect comfort food for so many situations! Thick cut French fries covered with chili and lots of melted cheese are a crowd favorite.
Chili Cheese Fries are great at any time of year, but especially for football season! I'll be making these and a few other delicious appetizer recipes for the super bowl.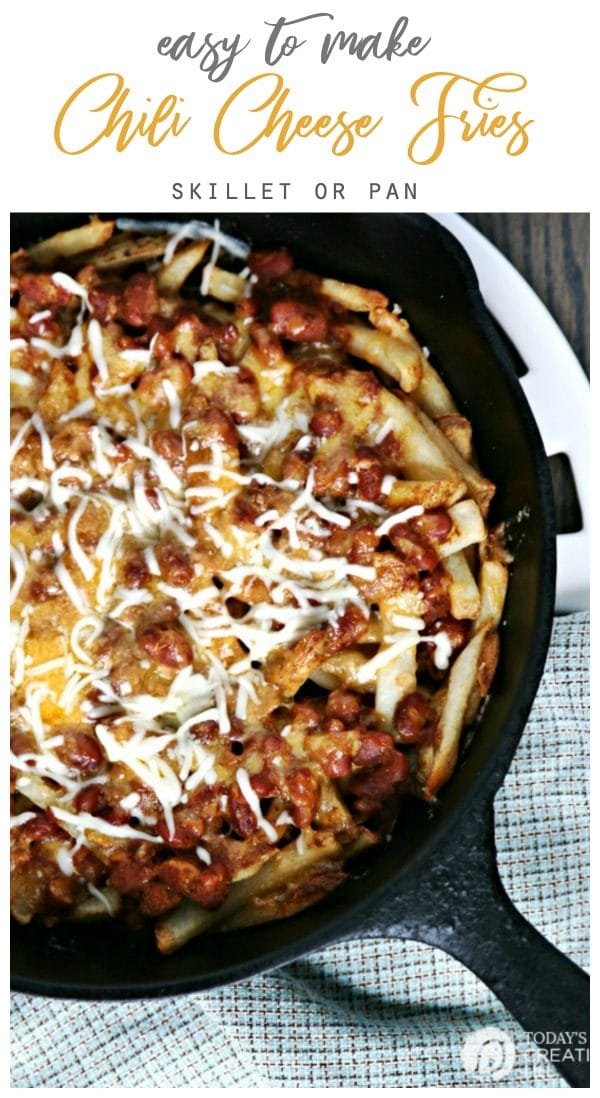 Chili Cheese Fries Skillet Recipe
I first started making these when we were housebound from a snowstorm. My son had a house full of friends who had come to sled down our hill and we all know how hungry kids will get, especially when they've been active and in the snow.
I knew they'd be starving and since I hadn't been able to make it to the grocery store the past few days, the pickin's were getting slim. That's when I headed to the freezer! I had frozen French fries and I had a couple of bags! I grabbed a couple of cans of chili and created comfort food that would fill them up in no time! I wish I would have made this easy vegetarian chili to layer it with.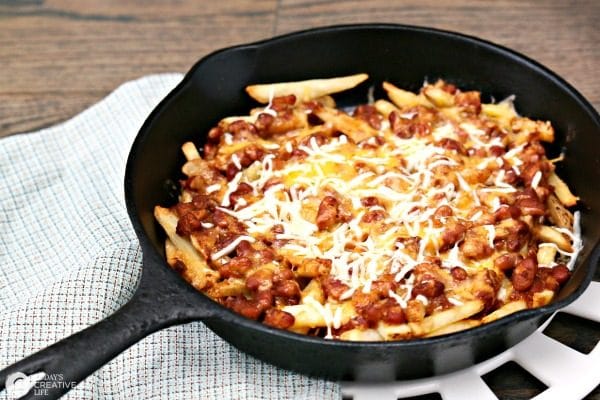 They loved it! So much, that it became a staple for whenever they all gathered here.
I'm a firm believer that if you feed them good food, they will want to hang out at your house! Having a designated teen hangout helps too!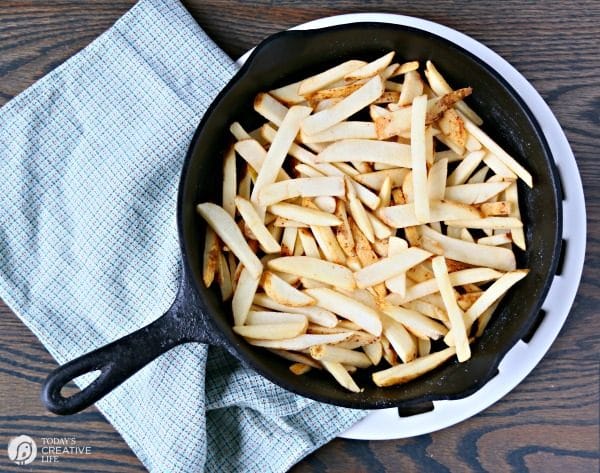 I love the fries at Trader Joe's. They are never processed and they have a few varieties. They are real slices of potatoes with the skin still on! I suppose you could make your own fries if you want, but I was on a timeline.
I usually just make them on a baking sheet, but every now and then I grab my mom's cast-iron skillet. So whatever is easiest for you, is just perfect.
If I have a large crowd, a baking pan makes much more sense because you can make a larger batch.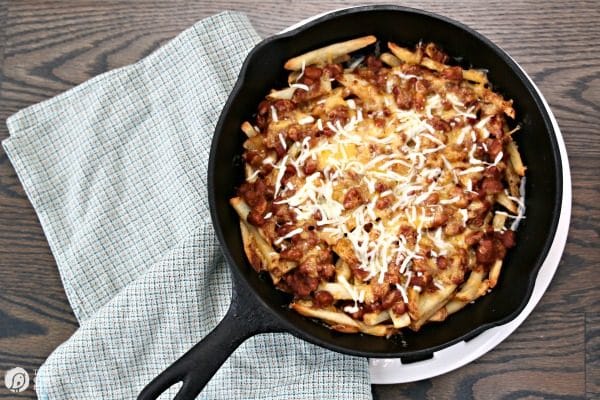 It's all about layering the cheese, then topping with your favorite canned chili. Don't like beans? The chili without beans is perfect too. You really can't mess this recipe up.
It's hard for me to even call it a recipe, it's more of a method. I always bake the fries alone first and warm up the chili separately. This way I know everything is hot!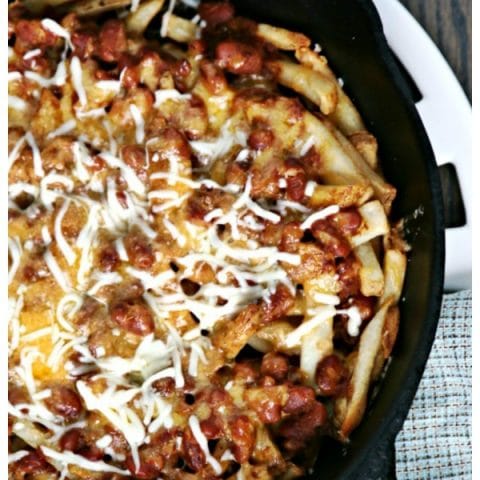 Chili Cheese Fries
Yield: 6
Prep Time: 5 minutes
Cook Time: 20 minutes
Total Time: 25 minutes
Thick cut fries covered with chili and cheese for the ultimate snack food.
Ingredients
1 bag frozen French fries
1 regular can chili - Choose your favorite chili. I used turkey chili.
salt - just a sprinkle.
1 1/2 cups shredded cheese - I usually use cheddar and a bit of Mozzarella.
Instructions
On a lightly greased baking pan or ovenproof skillet, cook fries according to package instructions.
While the fries are baking, heat up the chili on the stove top.
When the fries are finished, sprinkle with salt and 1/2 cup cheese over the hot potatoes.
By the spoonful, scoop chili over the cheese and fries.
Top with remaining cheese and place under the broiler until the cheese is melted and bubbling.
Options:
Garnish with sour cream and onions
Notes
Be creative!
Another great option is adding crumbled Cotija Cheese.
Nutrition Information
Yield 6
Serving Size 1 cup
Amount Per Serving
Calories 413
Total Fat 26g
Saturated Fat 11g
Trans Fat 0g
Unsaturated Fat 10g
Cholesterol 90mg
Sodium 1129mg
Carbohydrates 18g
Fiber 3g
Sugar 3g
Protein 28g
Nutrition information isn't always accurate.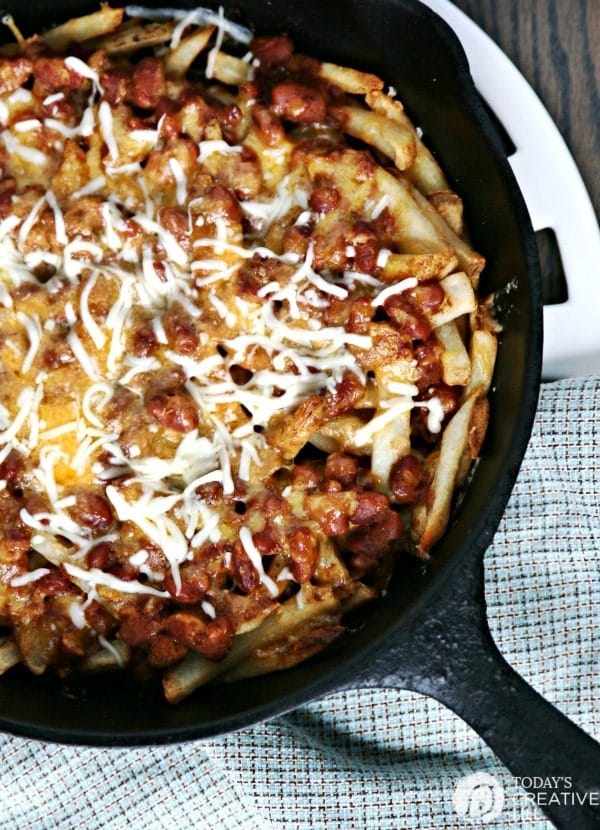 The next time your needing to feed a small crowd, or you need the perfect appetizers and party food, make these Chili Cheese Fries and everyone will be happy!
Easy Appetizer Recipes
Easy to make party food for parties, football games and more!
Photo Credit: www.aspicyperspective.com
Cut into slices for a quick appetizer.
Great for dipping veggies, crackers or more.
Crock Pot Spinach Artichoke dip is an easy recipe for your slow cooker. A hot cheesy dip that's perfect for BBQ's and game day food. An easy appetizer that everyone loves!
Quick, easy and delicious cheesy olive appetizers.
Best combo! Try it on sliced baguettes.
Easy to make Greek Cheese Ball coated in pita chips. Enjoy the taste of kalamata olives, feta cheese and more.
---