Get ready to dive into the world of Homemade Crockpot Tomato Sauce like never before. Who needs store-bought when you can create your own flavorful masterpiece using just a few simple ingredients and your handy crockpot? If you've got an abundance of fresh garden tomatoes, or you bought a bunch on sale, this recipe will become one of your favorites. We'll walk through the process step-by-step, sprinkle in some tips, and have you wondering why you didn't start making your own sauce sooner. Say goodbye to the canned stuff – your pasta and pizzas are about to get a major upgrade!
We have SO many tomatoes right now, and I'm too selfish to give them away, so I'm looking for many ways to use them up! Last week I made this delicious and super easy Tomato Pesto Tart using puff pastry, my new magic ingredient. Next, I'm also going to make Slow Roasted Tomatoes.
Crockpot Tomato Sauce Recipe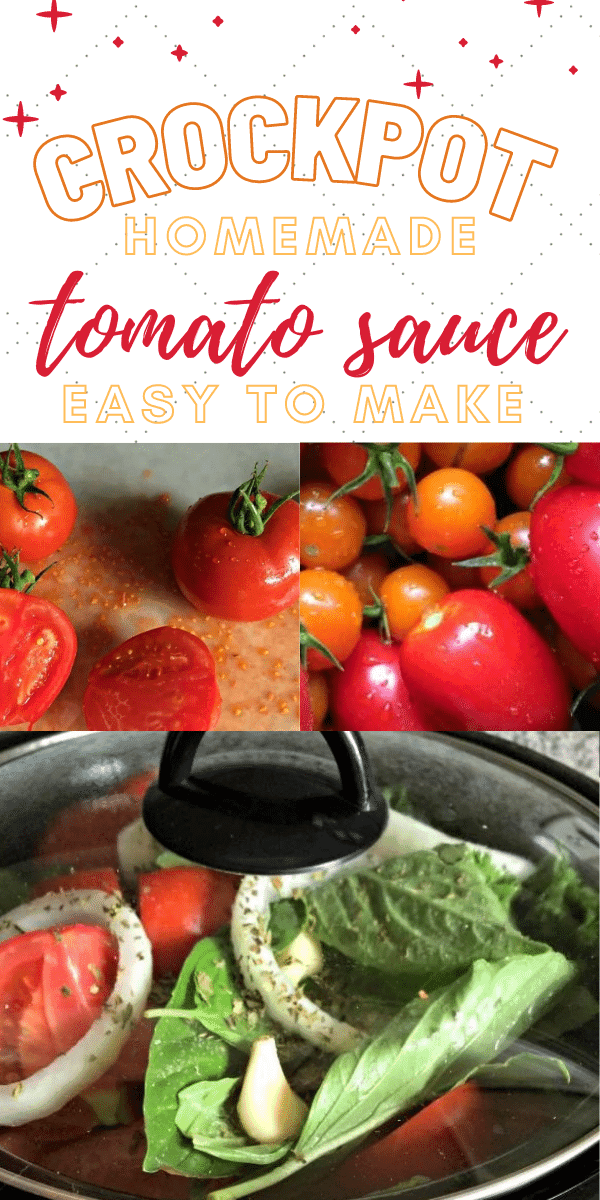 I thought I was ahead of the tomato game, but when I went out to the yard, I suddenly had about 200 ripe tomatoes…..ACK! What the heck was I going to do with that many tomatoes? I picked and I picked, washed them up, cut and cut and cut…..(because I'm lazy, I left the skins on) then I fired up both Crockpots.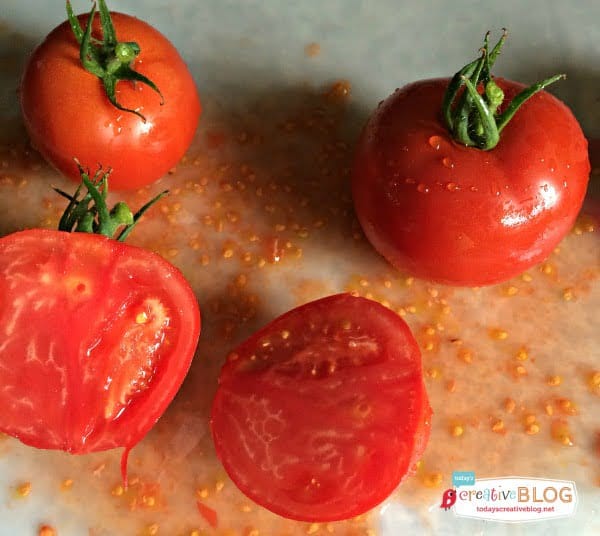 Homemade Tomato Sauce Ingredients
Tomatoes
Garlic
Fresh Basil
Onions
Salt, pepper
When making homemade tomato sauce, it's a pretty flexible recipe. You can add other herbs and spices if you like. I like using fresh herbs when I can, but dried are also fine.
I knew I had leftover basil from making that easy 5 minute Pesto……and we had a couple of onions and we always seem to have several cloves of garlic. I was in business! The choice was easy to make Crockpot Tomato Sauce!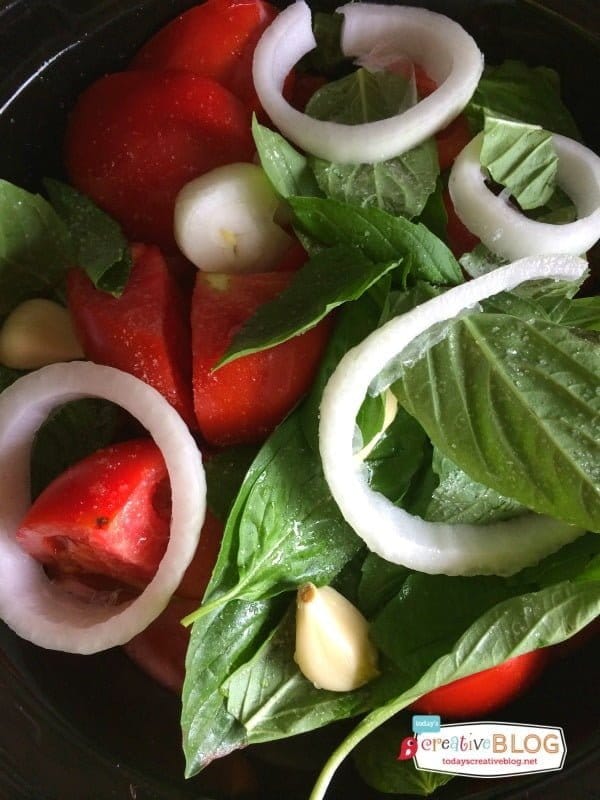 I also had a full workload that day and knew I couldn't spend too much time in the kitchen….so I filled my slow cookers as full as I could with sliced tomatoes, basil leaves, onion, garlic, sea salt and pepper. Then I sprinkled on some oregano for fun. Flipped those baby's on high and walked away.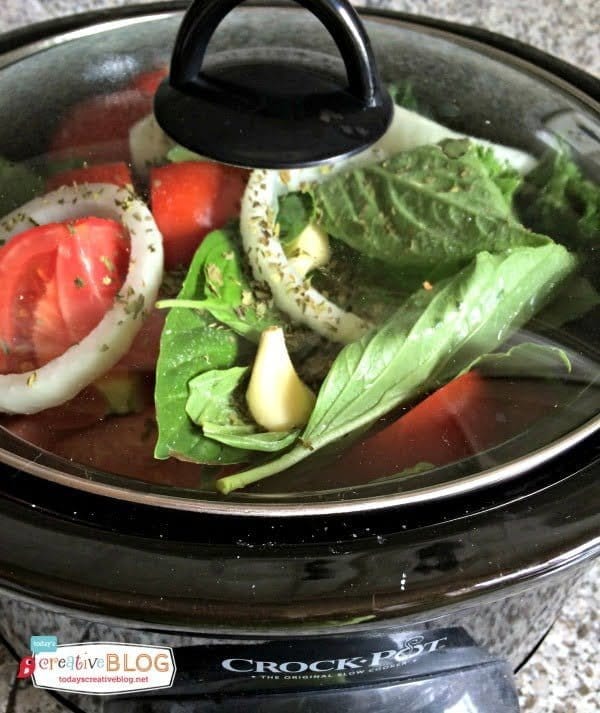 Every time I walked into the kitchen for another glass of ice water, I would stir them around a little. Oh, my kitchen was smelling so delicious!
After about 6 hours, I turned them off, let the tomato concoction cool a little, and ladled it into my blender. You could use a food processor too. But mine is back down in the basement kitchen, and my blender was faster to grab. I blended until smooth and poured into gallon ziplock freezer bags, filling them halfway up. After I blended, I realized I could have also used my immersion blender too.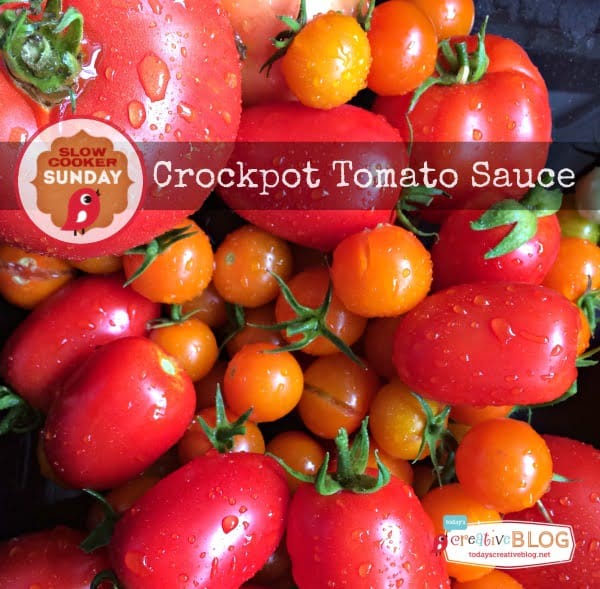 Now I have homegrown tomato sauce to use for recipes for the cold winter months. I'll use it in soups like my Tomato Ravioli Soup, or I can make my Crockpot Lasagna ……..or whip up a mean homemade spaghetti sauce.
This is such an easy way to use all those fresh tomatoes and use them for so many delicious and healthy options. There is something so satisfying about growing and processing your own foods.
How to Freeze Tomato Sauce
As mentioned, I used freezer Ziploc bags. Any air-tight container will do, but you'll want to leave at least an inch of clearance from the top. You can use plastic freezer containers people often use for jam.
Can You Can Tomato Sauce?
Absolutely! Ball Jars has a great recipe and instructions on how to can tomato sauce.
Which Tomatoes are Best for Homemade Tomato Sauce?
If you're pretty serious about your tomato sauce, then this article on what tomatoes are best for is a great one. I had a few varieties of garden fresh tomatoes and just used what I had. It was still delicious. I didn't overthink it and it was great for any of the recipes I made with it.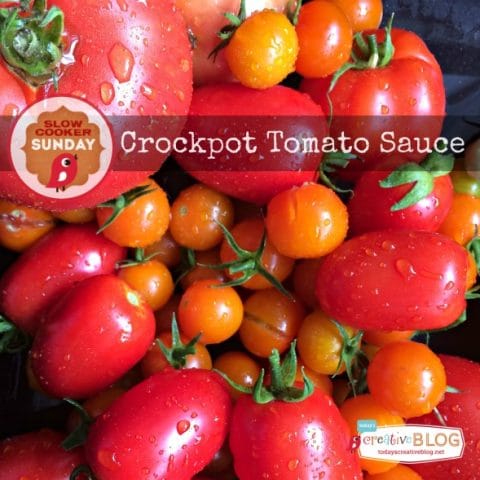 Crockpot Tomato Sauce Recipe
Yield: 8 cups
Prep Time: 15 minutes
Cook Time: 6 hours
Total Time: 6 hours 15 minutes
Easy to make homemade tomato sauce using your slow cooker and your favorite herbs and spices.
Ingredients
Lots of Tomatoes
Onion
Garlic Cloves
Sea salt
Pepper
Basil
Instructions
I didn't measure, so if you're the type of person that needs specific measurements, this is not your recipe, although, it's simple! It would be hard to mess it up.
I used a large crockpot.
Fill your crock pot full of sliced tomatoes. Skin and all. You can remove the skins if wanted.
Slice up one onion
Add 4 or 5 garlic cloves
Add about 1 cup of fresh basil leaves.
Add a few sprigs of fresh oregano or about 1 tablespoon dried.
Turn on LOW for 6 to 8 hours, stirring every hour or so.
Let the tomato mixture cool before ladling it into a blender or food processor.
Pulse until well blended.
Poor the amount you'll think you'll use for recipes into zip lock bags. Freeze.
Stovetop Instructions
Follow the same steps, but place the ingredients in a Dutch oven. Bring to a boil and then turn the heat to a simmer for about the same amount of time. Keep an eye on your sauce, remove it from the heat if it's getting too thick and losing its juiciness.
Notes
You can use any type of tomato
Immersion blenders also work great.
Canning is a great option too.
Nutrition Information
Yield 8
Serving Size 1
Amount Per Serving
Calories 9
Total Fat 0g
Saturated Fat 0g
Trans Fat 0g
Unsaturated Fat 0g
Cholesterol 0mg
Sodium 74mg
Carbohydrates 2g
Fiber 0g
Sugar 1g
Protein 0g
We do our best to calculate, however, nutrition information may not be accurate.
Tomato Recipes
Here are several recipes for using up your tomatoes.
Cherry tomatoes with buttermilk vinaigrette will be your summer go to salad! Great way to use your own homegrown cherry tomatoes! Fresh, tangy and sweet!
You'll never regret making your own sauce!
French Bread with Sun-Dried Tomatoes and garlic for easy snacking.
Easy to make savory muffins for soup, salad or snacking.
One of my all time favorites!
Puff pastry, cheese and tomatoes... nothing better.
Eating your vegetables has never been easier! This Parmesan Roasted Asparagus and Tomatoes dish is bursting with flavor!