It's time to make Crockpot Tomato Sauce! Using my slow cooker allows it to cook all day, bring out all the flavors! Delicious and simple to make.
We have SO many tomatoes right now, and I'm too selfish to give them away, so I'm looking for many ways to use them up! Last week I made this delicious and super easy Tomato Pesto Tart using puff pastry, my new magic ingredient. Next, I'm also going to make Slow Roasted Tomatoes.
Crockpot Tomato Sauce Recipe
I thought I was ahead of the tomato game, but when I went out to the yard, I suddenly had about 200 ripe tomatoes…..ACK! What the heck was I going to do with that many tomatoes? I picked and I picked, washed them up, cut and cut and cut…..(because I'm lazy, I left the skins on) then I fired up both Crockpots.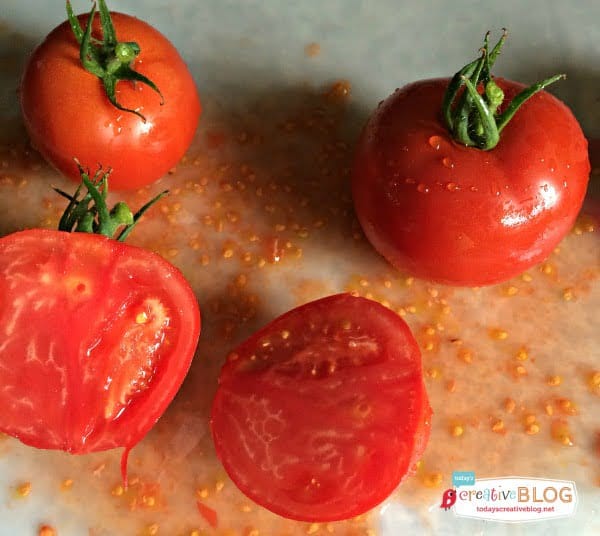 I knew I had left over basil from making that easy 5 minute Pesto……and we had a couple of onions and we always seem to have several cloves of garlic. I was in business! The choice was easy to make Crockpot Tomato Sauce!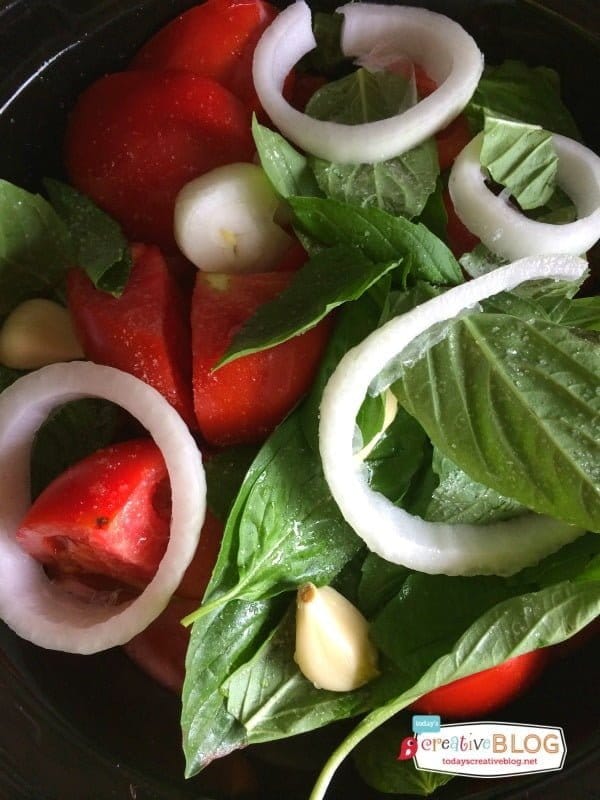 I also had a full work load that day and knew I couldn't spend too much time in the kitchen….so I filled my slow cookers as full as I could with sliced tomatoes, basil leaves, onion, garlic, sea salt and pepper. Then I sprinkled on some oregano for fun. Flipped those baby's on high and walked away.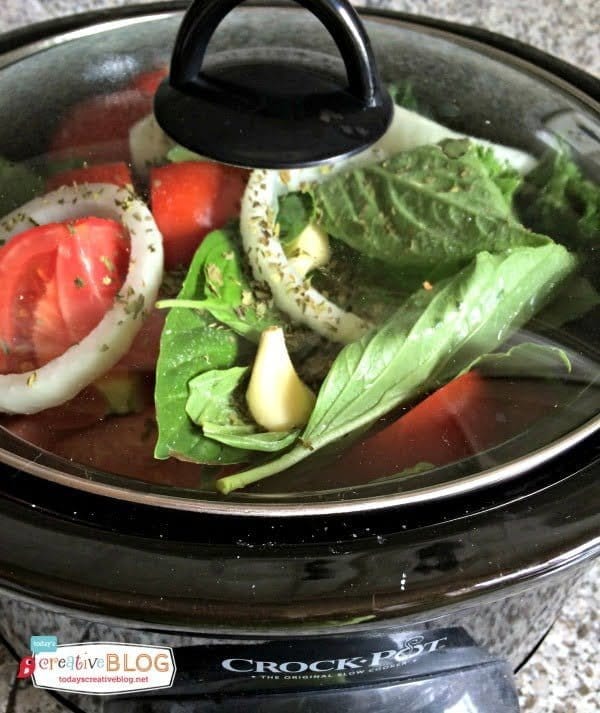 Every time I walked into the kitchen for another glass of ice water, I would stir them around a little. Oh my kitchen was smelling so delicious!
After about 6 hours, I turned them off and let the tomato concoction cool a little, and ladled it into my blender. You could use a food processor too. But mine is back down in the basement kitchen, and my blender was faster to grab. I blended until smooth and poured into gallon ziplock freezer bags, filling them half way up. After I blended, I realized I could have also used my immersion blender too.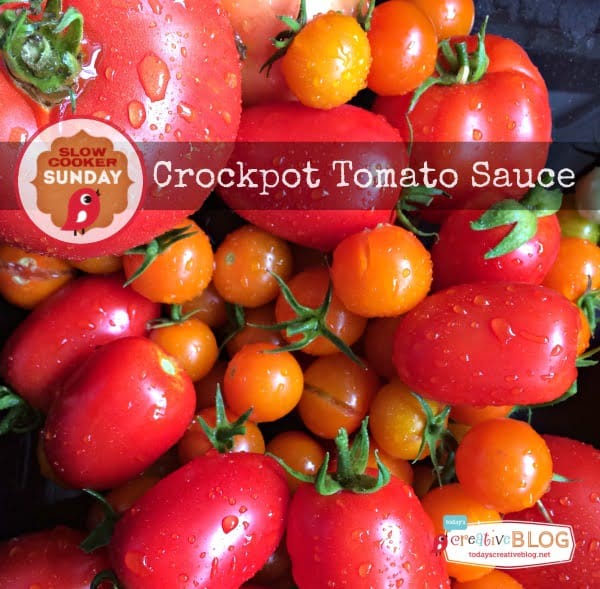 Now I have homegrown tomato sauce to use for recipes for the cold winter months. I'll use it in soups like my Tomato Ravioli Soup, or I can make my Crockpot Lasagna ……..or whip up a mean homemade spaghetti sauce.
This is such an easy way to use all those fresh tomatoes and use them for so many delicious and healthy options. There is something so satisfying about growing and processing your own foods.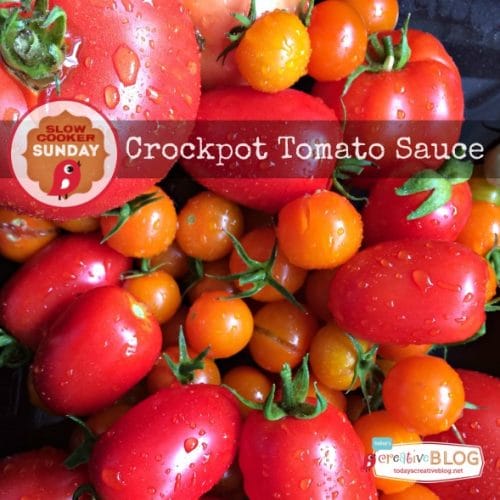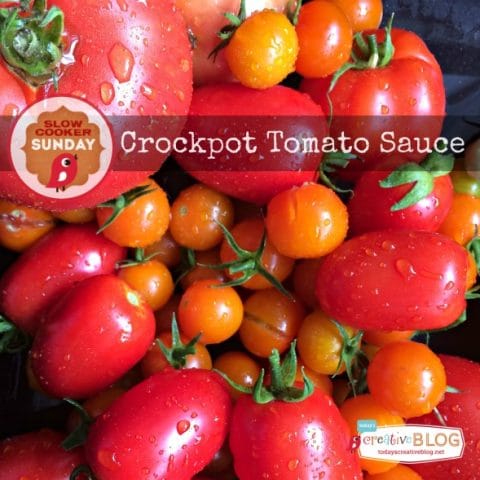 Crockpot Tomato Sauce
Ingredients
Lots of Tomatoes
Onion
Garlic Cloves
Sea salt
Pepper
Basil
Instructions
I didn't measure, so if you're the type of person that needs specific measurements, this is not your recipe, although, it's simple! It would be hard to mess it up.
I used a large crockpot.
Fill your crock pot full of sliced tomatoes. Skin and all.
Slice up one onion
Add 4 or 5 garlic cloves
Add about 1 cup fresh basil leaves
Add a few sprigs of fresh oregano or about 1 tablespoon dried.
Turn on High for 6 to 8 hours, stirring every hour or so.
Let tomato mixture cool before ladling into a blender or food processor.
Pulse until well blended.
Poor the amount you'll think you'll use for recipes into zip lock bags. Freeze.
This post contains affiliate links. All that means is if you click on any product links and you decided to purchase any item, I will receive a very small %.