This Crock Pot Tomato Ravioli Soup may be my most favorite soup I've ever made! My Crock pot Pasta Fagioli soup comes in 2nd, or my super easy and fast Chicken & Wild Rice Soup.
I knew we were going to have a busy Saturday with soccer taking up a large chunk of it right in the middle of the day. The weather report was for heavy rain and I knew we'd be wet, tired and hungry when we got home. I knew if I was wet, tired and hungry, that the last thing I'd feel like doing is either cooking when we got home or even going out for dinner. I knew that getting out of my bra and into my jammies would be a top priority, which would require dinner at home. Don't tell me I'm the only one that looks forward to that.
Crock Pot Tomato Ravioli Soup Recipe
Ever since I bought a bag of these dried mini ravioli at Trader Joe's last week, I've been dying to make a soup with them.
I had a plan. I thought it would be PERFECT to use a ton of my garden fresh tomatoes. Because seriously…..we have a ton! 3 varieties. I figured a soup made with my tomatoes and that ravioli would be the perfect soup for a wet fall afternoon.
I am happy to report that it is delicious! Oh my it's so good, I may have it for breakfast too. There is something about using really fresh ingredients……whether it's in my head or not, I felt complete.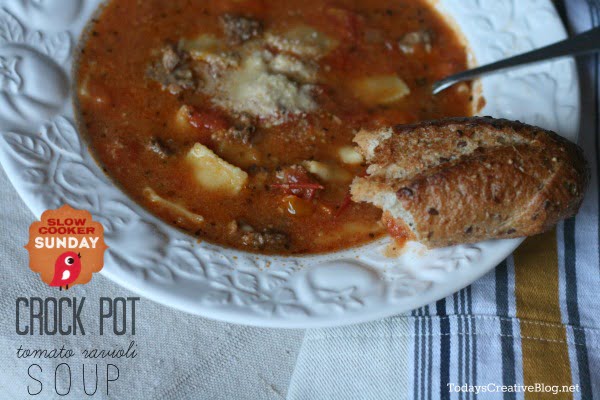 How to Make Crock Pot Tomato Ravioli Soup
I cut up several tomatoes…….probably 7 or 8 LARGE tomatoes. I sauteed about 4 cloves of garlic in 3 or 4 tablespoons of olive oil with a teaspoon of frozen chopped basil. I would have used my own basil, but it has died, so I used those frozen small cubes from Trader Joe's. I added all my tomatoes and let them boil down. This alone makes the BEST sauce. I'm planning on making a bunch just to freeze. It would be a great base for pasta or soups during the winter.
When the tomatoes created lots and lots of juicy sauce, I added a couple bay leaves to really bring out the flavor. I added sea salt too………probably about a teaspoon, and a teaspoon or so of oregano. The house was smelling really really good!
In the crock pot, I poured in 3 cups of chicken broth. I like the broth from Trader Joe's. (surprise) When my tomatoes created about 6 cups of the most delicious sauce ever, I poured that in the crock pot too.
I decided that I should also add some Italian sausage…..so I fried that up ( about 1/2 pound) and put it in the crockpot with the broth and sauce.
I grabbed a large pinch of brown sugar…..about one tablespoon and added it to the crockpot. I turned the crockpot on HIGH, stirred it, placed the top on……….and I left. Left for the soccer game, which was 45 min away……and we had to be there an hour early……
We got lucky because the skies didn't open up until after we got home. So we were only tired and hungry, but not wet. Yay!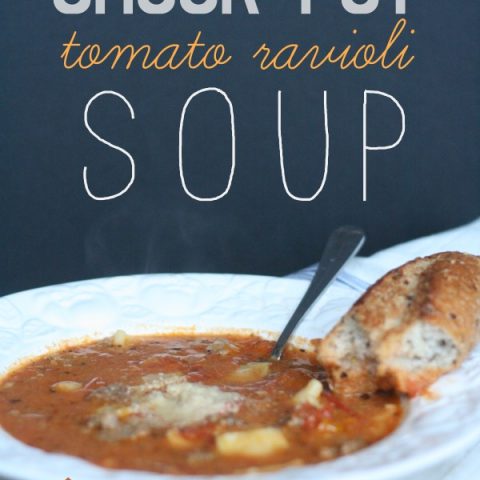 Crock Pot Tomato Ravioli Soup
Prep Time: 10 minutes
Cook Time: 4 hours
Total Time: 4 hours 10 minutes
Yes, please pin and share this recipe! But please do not copy and paste the full recipe into Pinterest or Facebook.
Ingredients
3 tablespoons olive oil
3-4 cloves crushed garlic
1/2 cup diced onion
2 bay leaves
1 teaspoon oregano
1 teaspoon sea salt
7 or 8 LARGE tomatoes (you could use three 14.5 oz cans of diced tomatoes and skip sauteing them, just add directly to crock pot)
1 /2 lb Italian sausage - you could always use sliced bratwursts instead.
3 cups chicken broth
1 tablespoon brown sugar
1/2 cup evaporated milk
1 cup dried cheese ravioli
2 small cubes frozen basil - or 3 tablespoons fresh chopped basil, or 1 1/2 teaspoons dried.
Instructions
Saute garlic, onion and frozen basil in olive oil until garlic is slightly browned.
Add your tomatoes and bay leaves; bring to a boil. Boil until it creates enough sauce for about 6 cups of juice. Add more tomatoes if needed.
Add chicken broth to your crock pot.
Once tomato mixture is ready, add to the crock pot.
Fry up your sausage and add to the crock pot.
Add brown sugar and stir well.
Cook on HIGH for 4-5 hours
Add the evaporated milk and dried ravioli; stir and cook on LOW for another 30-45 min until ravioli is tender.
Serve with crusty bread and enjoy!
The house smelled amazing, this Crock Pot Tomato Ravioli Soup looked really yummy. But I was kind of in the mood for something a little creamier. So I turned the crockpot to LOW and I added a little evaporated milk. I also added the dried mini cheese ravioli, put the top back on and walked away for another 30-45 min.
It was finally done and IT. WAS. PERFECT!
Don't you love it when a recipe in your mind actually turns out? If you make it, please let me know how worked for you. My husband and son loved it. I served it with crusty bread and was heaven the rest of the evening. Until I realized I should share it with all of you and I needed to take a photo.
---
Other Slow Cooker Sunday recipes: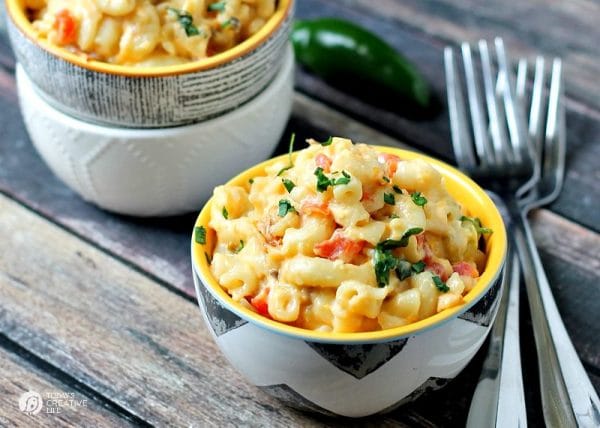 Slow Cooker Mexican Mac & Cheese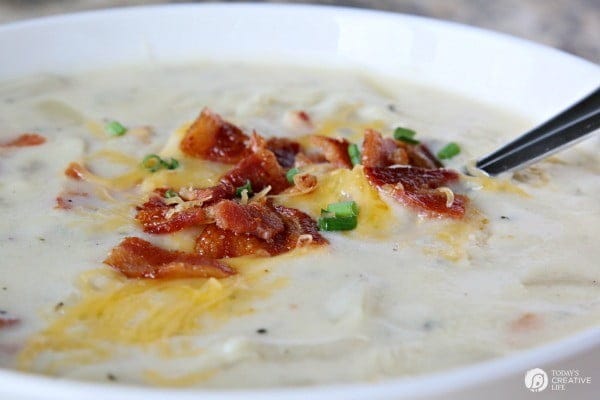 Crock Pot Potato Soup
Crockpot Chicken Tortilla Soup
What's your favorite soup to make in the fall?
---
My Favorite Slow Cooker Supplies
Affiliate links for products listed are for your convenience only. This costs you nothing extra. If you happen to purchase anything as a result of clicking, TCL will receive a small percentage. Thank you for your support. This allows me to continue to offer you free content.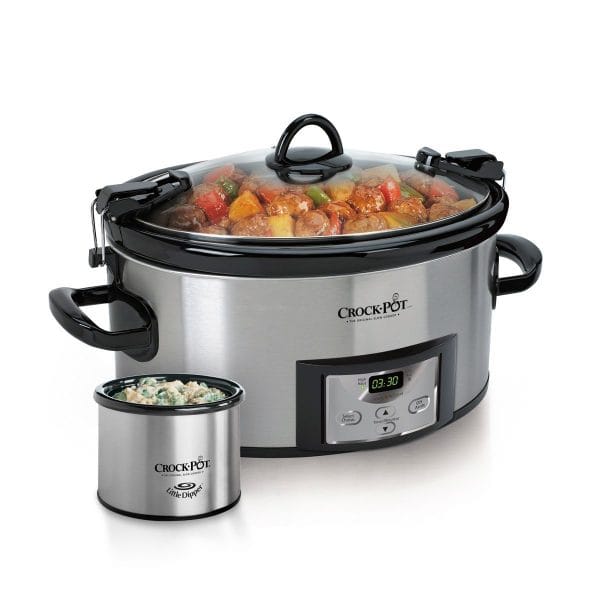 Programmable Crock-pot
Any and all Slow Cooker Recipe Books by Stephanie O'Dea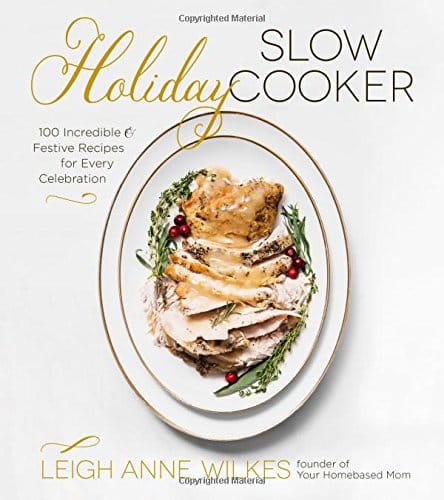 Holiday Slow Cooker Recipes