We are back to soccer 3 times a week. Practices are start at 6:45pm and end either at 8:30pm or 9pm. And that's not counting travel time. It makes for some hectic nights, which can result in poor meal choices sometimes.
5 Minute Power Greens Stir Fry Salad with Chicken
When I attended the Kennedy Space Center event, I met Paula. Paula is one of the Senior editors for Family Circle Magazine…..which of course I happened to have in my bag when I met her! I had already earmarked a couple of salads to try. So we chatted food of course.
I had planned on making the Moo Shu Chicken Salad from their June issue for an early dinner and had already picked up the ingredients or something close to what it called for.
My son had a soccer scrimmage that we both wanted to attend, but my husband was running late, so I thought why not just take it with us! I had some of those round tin foil take out containers that would be perfect! There is something so satisfying about crimping the tin foil edge over the cardboard topper.
I hadn't planned on sharing this with the TCB readers……at least not on my first try and especially with low quality photos. But when I posted a quick snap shot on instagram and facebook, you all wanted the recipe. I even received a few emails.
Since I made it again for lunch, I snapped more low quality photos.
I used the Family Circle recipe as inspiration, since I didn't have the exact items listed.
This salad is FULL of greens and nutrition!
The original recipe called for just red and green cabbage, but when I saw this Cruciferous Crunch Selection, I figured it would be healthier. It's got kale, broccoli, green and red cabbage and brussel sprouts and it's all shredded ready to do.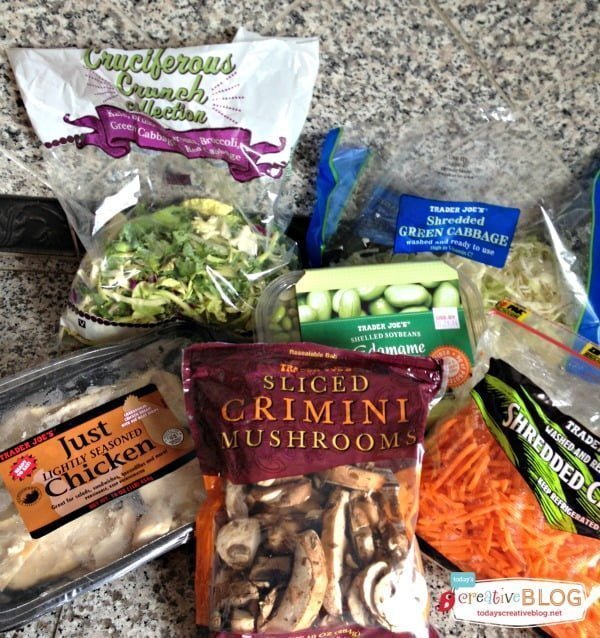 I also added edamame and mushrooms.
Here are the sauces I used. Their recipe called for Mu Shu Stir Fry Sauce, but I could only find the below stir fry sauce while shopping and then I thought "why not" on adding the Oyster sauce.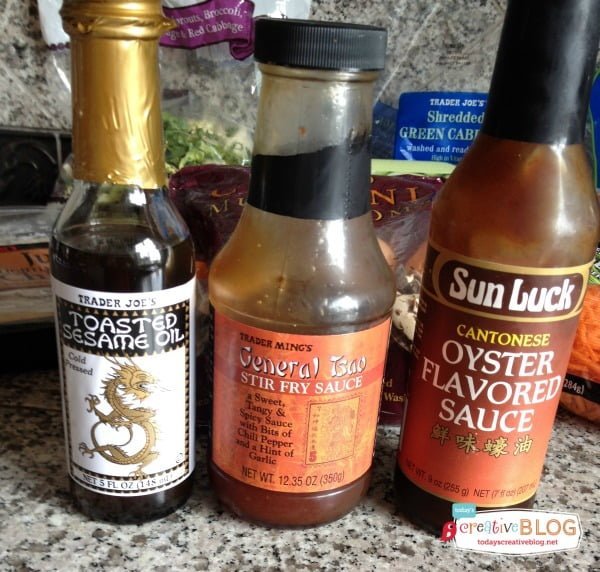 Now I didn't do any formal measuring, so if you're the kind of cook that needs exact instructions……..you'd best move on to another recipe.
I poured about 4 or 5 tablespoons of the Toasted Sesame oil in a frying pan, although that stir fry pan you have in the back of your cupboard would be perfect.
After the oil is hot, I added my cabbage, carrots and the cruciferous blend and sauteed for about 3 minutes or so, then I added the rest of the veggies.
Stir around so everything has a chance to get some tasty oil on it and warm up.
Then add about a 1/2 cup of the stir fry sauce and a few shakes of the oyster sauce along with the chicken. Stir and let simmer for about 5 min.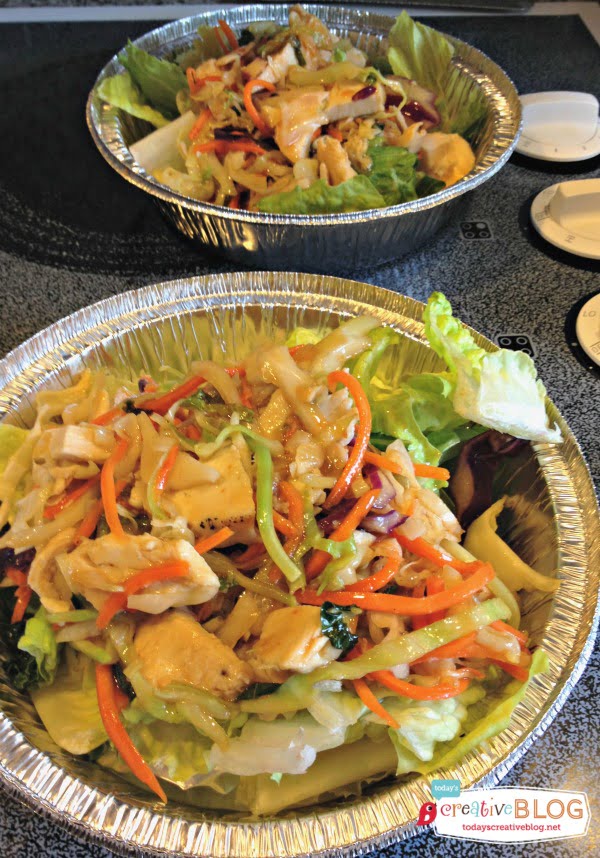 When the mixture is good and hot, scoop over a bed of romaine lettuce. Top with peanuts.
Delicious and it's done in about 5 minutes…….So good! So fast! And it was easy to take with us.
I was feeling pretty fancy eating so healthy at a soccer scrimmage.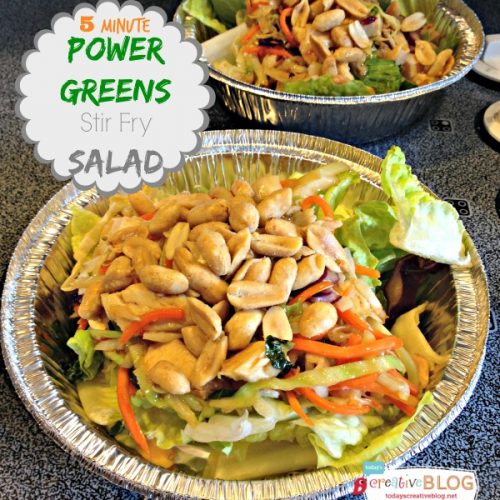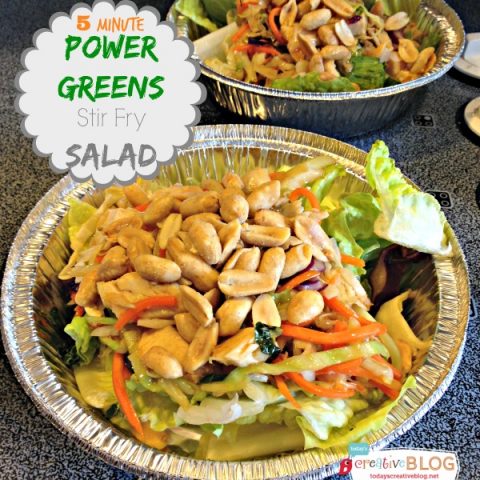 5 Minute Power Greens Stir Fry Salad
Ingredients
1/2 bag Shredded Cruficerous Blend (trader joes - kale, broccoli, red & green cabbage, brussel sprouts)
2 cups shredded green cabbage
1 cup shredded carrots
1/2 cup edamame
handful mushrooms
Cooked Chicken - chopped. However much you want to add.
5 tablespoons toasted sesame oil
1/2 cup stir fry sauce
a few dashes of Oyster sauce
Salted peanuts
Bag of romaine lettuce
Instructions
Heat oil in a stir fry pan or frying pan
Add all shredded veggies and stir until coated with oil, cook for a couple of minutes.
Add edamame, mushrooms and sauces
Add chicken
Continue to stir fry for about 5 min.
Pour over a bed of romaine lettuce, top with peanuts.