It's Crockpot Beer Brats and dogs Slow Cooker Sunday! Cooking hot dogs or brats in a crockpot with beer, broth or both. This is a great way to feed a large group or crowd when you need to.

Yes, you CAN do hot dogs and bratwurst in the crockpot! Make up a batch of Crockpot Beer Brats & Dogs for your next summer party. These can even be thrown on the BBQ for a couple of minutes afterward if you want that grilled taste too.
Crockpot Beer Brats & Dogs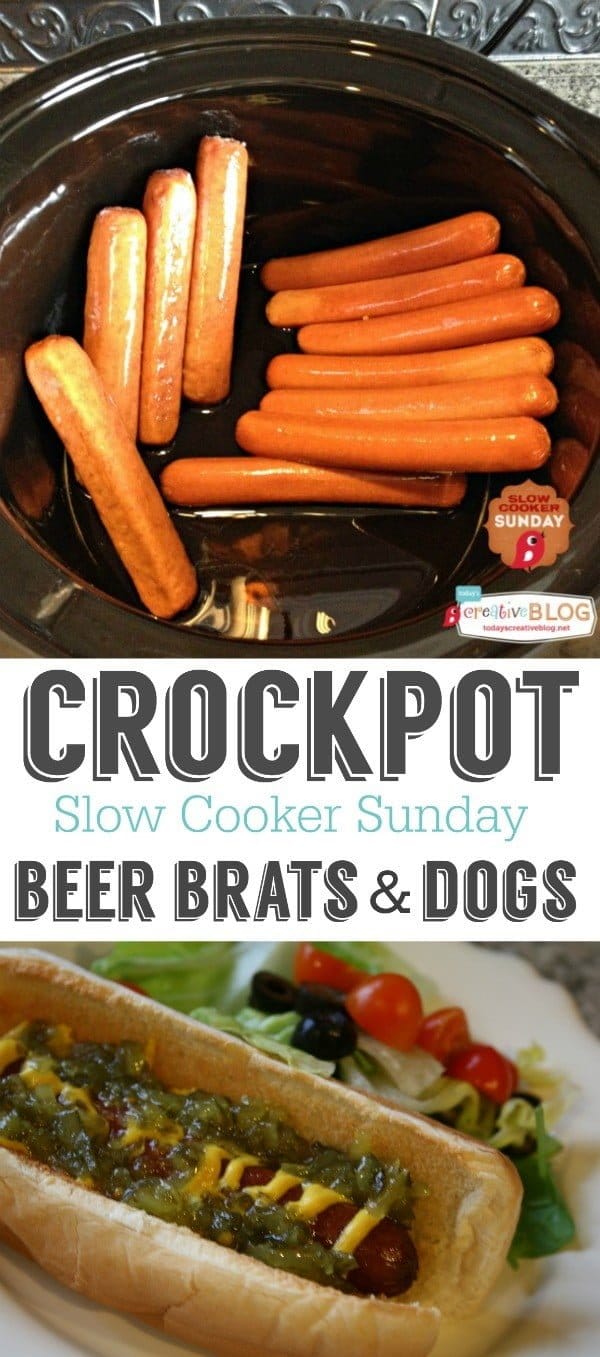 No worries……this won't make anyone drunk. The beer is for flavor and you don't even have to submerge them if you'd rather not. Of course, you can use plain water or broth if you prefer.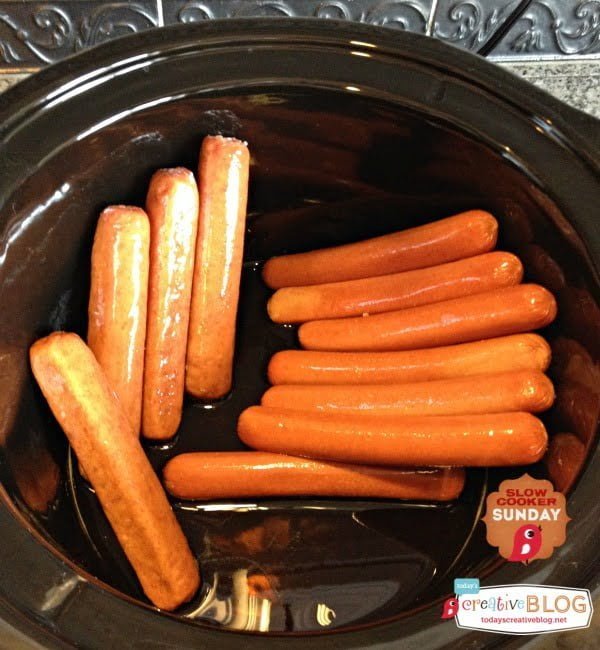 What kind of Beer is Best for Crockpot Beer Brats & Dogs?
Since we live in the MicroBrew mecca, you wouldn't catch my husband with a canned or domestic beer. It's all about the amber ale, the porters, etc… I grabbed a bottle from the pantry and poured about half into my crockpot. With all kidding aside, any beer will do.
How to Keep Hot Dogs from getting Soggy
I didn't show it here, but it's best to use a small rack or vegetable steam in the bottom of your slow cooker and then place your brats and hot dogs on the rack. This keeps your hot dogs from soaking in the beer or broth.
By having your dogs soaking in the liquid, you run the risk of them getting soggy. Nobody likes a soggy dog.
As you can see, the steam is really what will make these delicious!
What Can You Use Instead of Beer?
Any broth will do. Chicken, beef, or vegetable. Or try apple cider. This will give the hot dogs a great flavor.
Making a batch of hot dogs in the crockpot is a great way to cook for a crowd and keep your BBQ open for steaks, burgers, and chicken. You can fill the crockpot with a lot more than I have pictured.
If you like hand-pressed burgers, you'll have to try my NO FAIL Method for making the perfect burger.
Speaking of hot dogs! I just have to share.
If you're crazy for hot dogs, or maybe your child is……… You'll love the Hot Dog Toaster!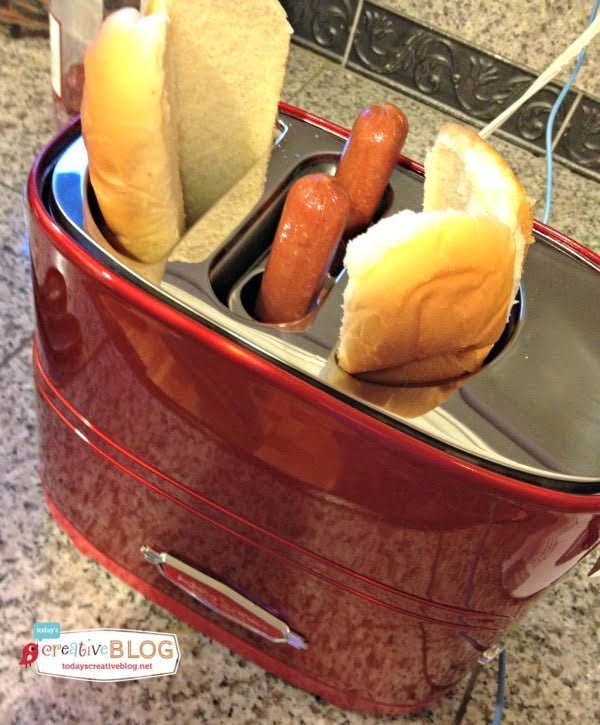 My son received one of these for Easter from my mother and I had no idea he would love it so much. I shared it on Facebook and you all went crazy! It's easy enough for kids to use on their own, the clean up has been easy so far and it's cute! I've seen them for as much more but this one is only $14! Just click on the photo if you're interested in grabbing one yourself. Nostalgia Electrics HDT600RETRORED Retro Series Pop-Up Hot Dog Toaster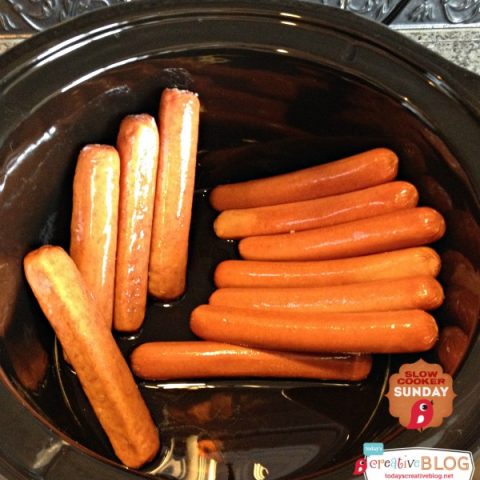 Crockpot Beer Brats & Dogs
Yield: 20
Prep Time: 5 minutes
Cook Time: 3 hours
Total Time: 3 hours 5 minutes
Make up a large batch of hot dogs or brats by using your slow cooker!
Ingredients
Brats and/or Hot Dogs (2 or 3 packs)
8 oz. Beer or beef broth
Instructions
Pour beer or broth into your slow cooker.
If you have a steamer rack, place it into your slow cooker and place the hot dogs on top. If you don't have one, just add the hot dogs inside.
Place the lid on and cook on low for 3-4 hours.
Recommended Products
As an Amazon Associate and member of other affiliate programs, I earn from qualifying purchases.
Nutrition Information
Yield 20
Serving Size 1
Amount Per Serving
Calories 28
Total Fat 2g
Saturated Fat 1g
Trans Fat 0g
Unsaturated Fat 1g
Cholesterol 5mg
Sodium 102mg
Carbohydrates 1g
Fiber 0g
Sugar 0g
Protein 1g
We do our best to calculate, however, nutrition information may not be accurate.
BBQ Recipe Ideas
A list of recipes great for backyard grilling or taking along on a camping trip.

Mixed Fruit Salad with a tangy sour cream dressing!

Cherry tomatoes with buttermilk vinaigrette will be your summer go to salad! Great way to use your own homegrown cherry tomatoes! Fresh, tangy and sweet!

Waldorf Salad was first made from Waldorf Astoria Hotel in 1893. This crunchy salad consisting of apples, grapes, walnuts and celery in a mayonnaise dressing is a classic.

Creamy Fruit Salad for your spring and summer menu.

Tangy Fruit Cabbage salad with a crunch.

Savory Vinegar Cucumber Salad

A classic summer side dish for potlucks and bbqs.

A cold bean salad goes great with your BBQ.

Fresh, healthy and delicious strawberry salad with a tangy dressing.

Simple summer recipe with fresh ingredients.

Crunchy, Savory, and Sweet! Make it a meal or a side dish!

Let's bump it up a notch with this coleslaw recipe.

It's like a BLT without the bread!

Everyone's favorite BBQ side dish!