Making Carrot Banana Walnut Muffins is one of my favorite cake mix hacks. Simple, quick, and always tasty. Using a carrot cake mix, this carrot banana muffin is also full of delicious ingredients like carrots, walnuts, bananas, and more.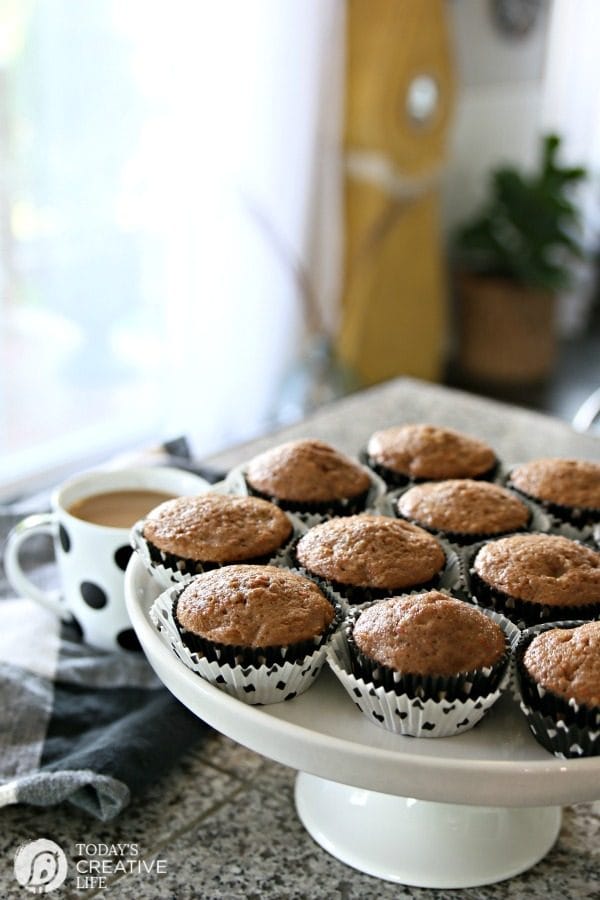 Carrot Banana Walnut Muffins Recipe
The secret to this carrot banana walnut muffin recipe is obviously using a carrot cake mix as the main base. It makes baking so much faster and more successful. I love using cake mixes for cake mix cookies, cake mix quick bread, and now muffins!
You'll need:
Carrot Cake Mix
Banana
Carrots
Walnuts
Eggs
Oil
Water
Muffin Pan for 12
Cupcake liners
Large mixing bowl
Wooden spoon
Measuring cups & spoons
This recipe is pretty simple to throw together. No fancy steps or a million bowls. You literally place your ingredients in a large mixing bowl, mix it together and place them in your muffin tin.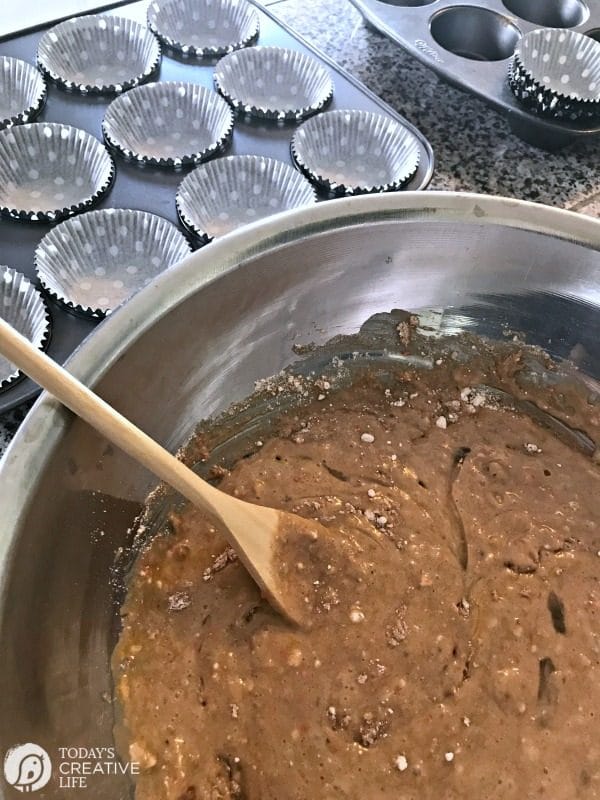 Cake Mix Hacks
Some of my favorite recipes start out with a cake mix.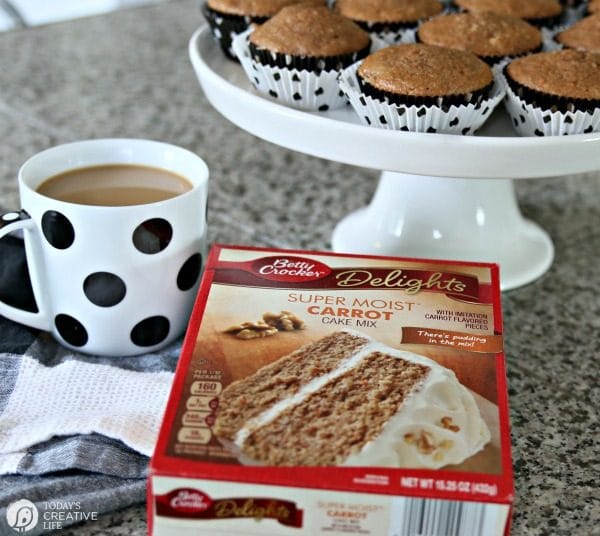 I decided to keep these muffins unfrosted, but a sugar glaze or a smear of cream cheese frosting would turn this breakfast muffin into an afternoon treat!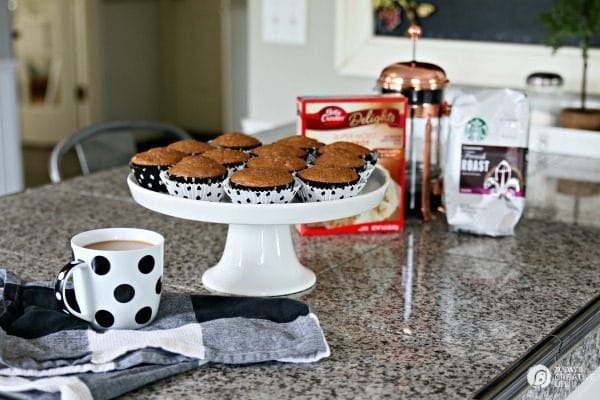 I'm all for making life easier and taking shortcuts where I can. As long as it doesn't jeopardize my personal integrity, bring on the easy way!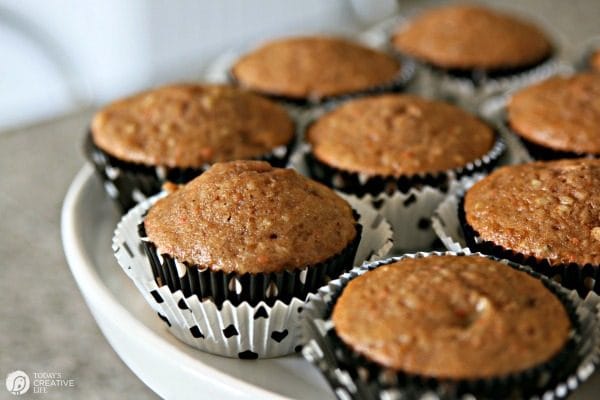 I can only make so much banana bread, so these carrot banana walnut muffins give me another great option for using any old and overripe bananas.
Can You Use Other Cake Mix Flavors?
You absolutely can! If you're wanting to stay as close to the carrot cake taste, try a Spice Cake Mix. Any flavor will work. Chocolate banana carrot walnut would be delicious!
How to Store Carrot Banana Walnut Muffins?
They usually go pretty fast, but if you have any at the end of the day, just cover place them on a plate and cover them with plastic wrap.
Can you Freeze Carrot BananaWalnut Muffins?
Yes, you can freeze them. I've placed them all in a gallon-size plastic freezer bag and froze them for up to 2 months. Remove one at a time or all to thaw.
Other Additions and Variations
Instead of carrots, you can try adding the following variations.
Shredded zucchini
Shredded apple
Shredded sweet potato
Instead of banana try:
Applesauce
Canned Pumpkin
Can I use a Bread Loaf Pan instead of a Muffin Tin?
Yes, you can. I would bake at 350°F for 40 Min.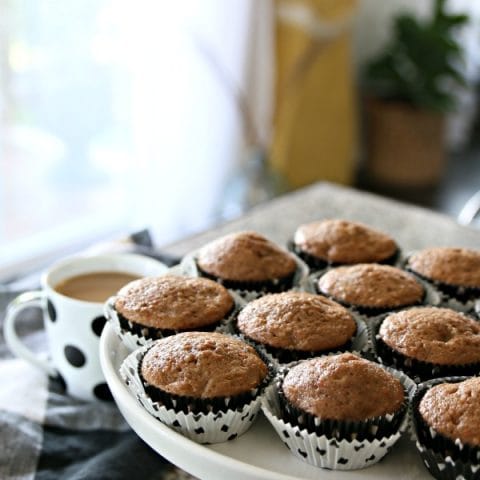 Carrot Banana Walnut Muffin Recipe
Yield: 12
Prep Time: 10 minutes
Cook Time: 20 minutes
Total Time: 30 minutes
Cake Mix Hack recipe using carrot cake mix for making these simple and delicious Carrot Banana Walnut Muffins.
Ingredients
1 Betty Crocker Carrot Cake Mix
2 eggs
1 cup water
1/4 cup shredded carrots
1/3 chopped or diced walnuts
1/3 cups vegetable oil
1 banana, mashed
Instructions
Pre-heat oven to 350 degrees.
Grease or place cupcake liners in your muffin pan.
In a large mixing bowl, mix together the cake mix, eggs, water, nuts, oil shredded carrots and mashed banana. Stir until completely blended.
Spoon batter carefully into each muffin cup 3/4 full.
Bake 20 min or until done.
Notes
A spice cake mix can be substituted.
Recommended Products
As an Amazon Associate and member of other affiliate programs, I earn from qualifying purchases.
Nutrition Information
Yield 12
Serving Size 1
Amount Per Serving
Calories 124
Total Fat 9g
Saturated Fat 2g
Trans Fat 0g
Unsaturated Fat 7g
Cholesterol 38mg
Sodium 49mg
Carbohydrates 9g
Fiber 0g
Sugar 6g
Protein 2g
We do our best to calculate, however, nutrition information may not be accurate.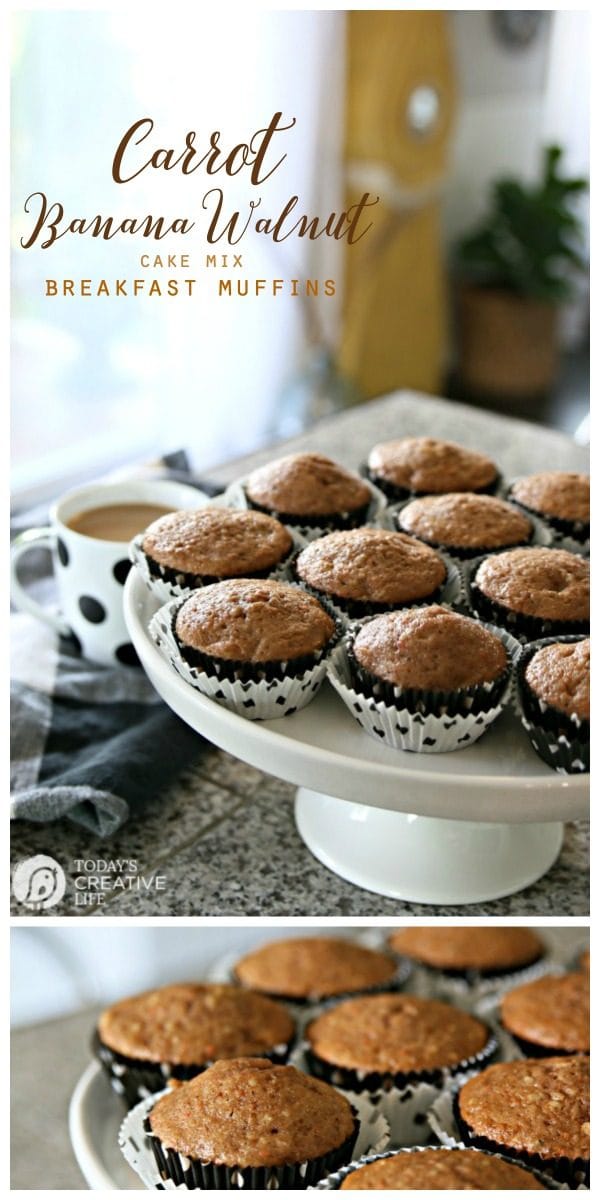 Quick Bread Recipes
Sweet or savory delicious quick bread recipes.
Moist and delicious apple bread with apple chunks and cream cheese.
Easy to make Peanut Butter Butterscotch Quick Bread
Delicious and Easy! Can be made with sparkling apple cider.
Moist and flavorful banana quick bread recipe.
Tart and sweet with strawberries and cherries.
Delicious and moist banana bread with a praline sauce.
This strawberry banana bread is great served with brunch or a snack.
Easy to make buttermilk banana bread that's moist and full of flavor.