Slow Roasted Tomatoes with olive oil, garlic, sea salt and brown sugar are a delicious addition to many recipes. Toss with pasta, into a salad or spread on toast.
It's that time of year to make my Slow Roasted Tomato recipe! I have used this recipe for any kind of tomato. This year I have an abundance of yellow cherry tomatoes and there is no way I'm wasting that delicious sweet ball of sunshine!
Yes! You can roast whole cherry tomatoes!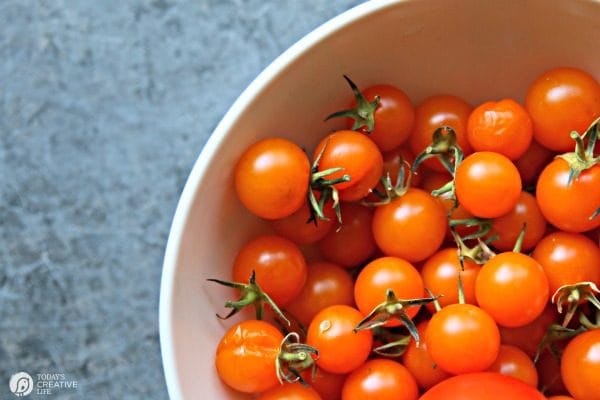 Slow Roasted Tomatoes with Cherry Tomatoes
My recipe is simple with a little olive oil, salt, pepper, garlic and a touch of brown sugar.
You can use any of your favorite spices. You really can't go wrong!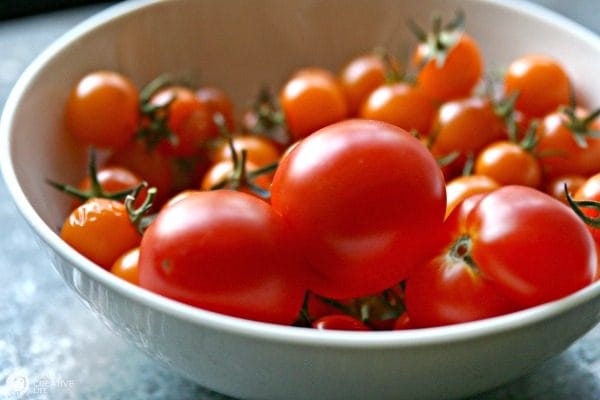 We love growing our own tomatoes and sometimes can't keep up with the small golden delicious variety. Some years we can harvest over 500 regular size tomatoes, which is when I'll make my slow cooker tomato sauce and lots of my 5 min salsa.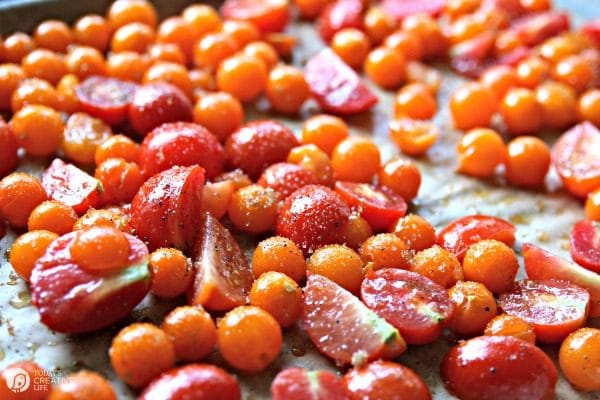 Making BLTs or my Puff Pastry Tomato Pesto Tart are also seasonal favorites.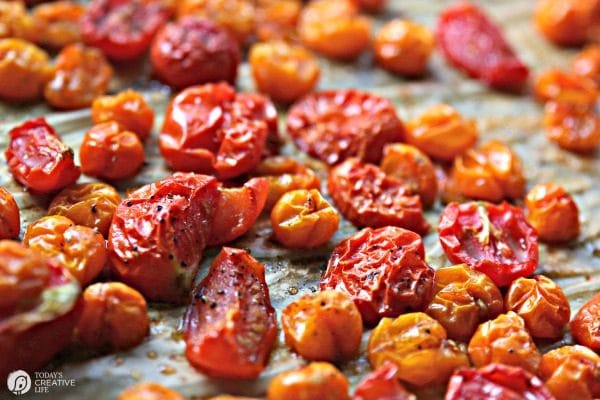 Making Slow Roasted Tomatoes are another way to enjoy the fruits of your labor. Use them in spaghetti sauce, pasta and soup recipes, or smear on a buttered hot garlic bread!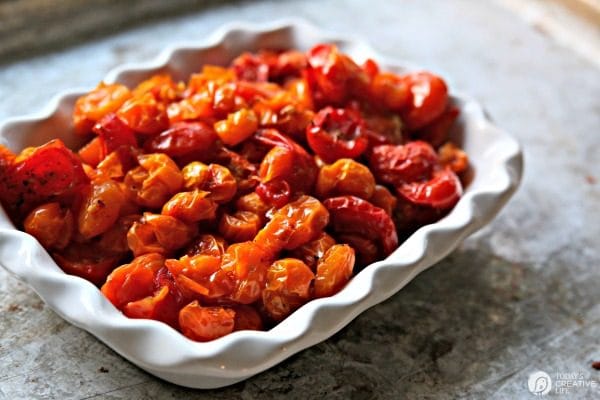 Is your mouth watering yet?
How to Roast Tomatoes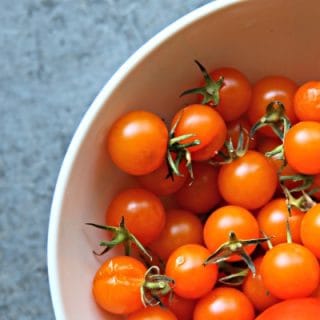 Slow Roasted Tomatoes Recipe
Yield: varies
Prep Time: 10 minutes
Cook Time: 2 hours 30 minutes
Total Time: 2 hours 40 minutes
No matter the amount, just toss with ingredients and roast!
Ingredients
Tomatoes - Any kind
Olive Oil
Sea Salt
Garlic Powder
Brown Sugar
Instructions
Slice your larger tomatoes in half or quarters, depending on size.
Place in a large plastic ziploc baggy.
Pour about 2 tablespoons Olive Oil into the bag and seal.
Gently turn the bag end to end. This will throughly coat the tomatoes with the oil.
Prep a large baking sheet with parchment paper.
Evenly pour tomatoes in the baking sheet.
Lightly sprinkle with your seasonings.
Bake at 325 degrees for 30 min.
Turn down the oven heat to 200 degrees and roast for 2 hours.
Notes
Store in a sealed tub for a week or so. Use on chicken, for sauces, soups, pasta or garlic toast.
Nutrition Information
Yield 5
Serving Size 1
Amount Per Serving
Calories 33
Total Fat 3g
Saturated Fat 0g
Trans Fat 0g
Unsaturated Fat 2g
Cholesterol 0mg
Sodium 118mg
Carbohydrates 2g
Fiber 0g
Sugar 1g
Protein 0g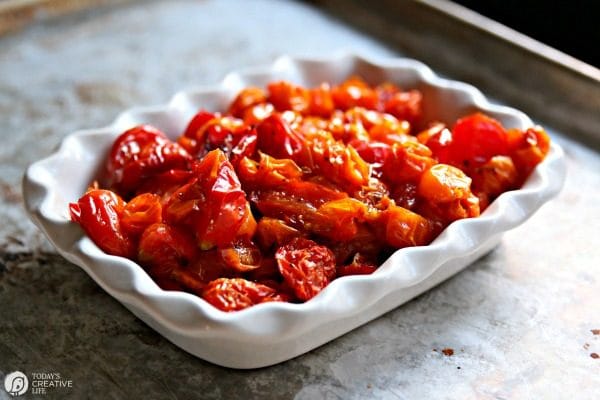 These slow roasted tomatoes also make the best slow roasted tomato bruschetta. But if you're feeling lazy, just smear across garlic toast and enjoy!
Which Tomatoes are Best for Roasting?
If there are rules to which variety of tomatoes are best for roasting, I pay no attention. I roast all varieties. Obviously sweeter tomatoes will bring you more flavor, but I find so many uses, it never really makes much of a difference. Roasting gives me the opportunity to use of my bounty without any waste.

Tomato Recipes
Here are several recipes for using up your tomatoes.
Cherry tomatoes with buttermilk vinaigrette will be your summer go to salad! Great way to use your own homegrown cherry tomatoes! Fresh, tangy and sweet!
You'll never regret making your own sauce!
French Bread with Sun-Dried Tomatoes and garlic for easy snacking.
Easy to make savory muffins for soup, salad or snacking.
One of my all time favorites!
Puff pastry, cheese and tomatoes... nothing better.
Eating your vegetables has never been easier! This Parmesan Roasted Asparagus and Tomatoes dish is bursting with flavor!