Learning how to make sun tea is easy and fun! Sweet tea, steeping in the summer sun, is a great way to celebrate summer!
Do you know how to make Sun Tea? 
I learned How to Make Sun Tea way back in the 70s while living in Central Oregon. Ice Tea is one of my favorite drinks, especially in the summer, which is the perfect time to try different iced tea recipes! There is nothing like an iced filled glass full of ice tea! You'll have to try my Cranberry Iced Green Tea recipe. It's pretty tasty too!
How To Make Sun Tea
Growing up in Central Oregon in the 70s, summers were hot and lazy. I know Oregon has a reputation for all the rain and on the west side of the Cascades, that's pretty true. But on the eastern side of the cascade mountain range, it's all high desert. It's cold and snowy in the winter and dry and hot in the summer.   
During those hot and dry summers is when I first learned the magic of Sun Tea! That's when I learned how to make the best sun tea in the world! I'm pretty sure it would be considered a food hack today.
All you have to do is place a few tea bags in a gallon jar of water and place it in the HOT sun. That's it! And in a couple of hours, you'll have rich, bold, freshly brewed tea to pour over ice.
We had plenty of gallon jars since it was also common to buy raw milk from a local farmer. You know the kind of milk where you'd have to skim the cream off the top?  Yep… we had that. Those jars really came in handy.
Supplies for Making Sun Tea
Gallon Jar – although you can make it in any size.
Tea bags – Use good ole Lipton for classic ice tea, or use any kind you'd like.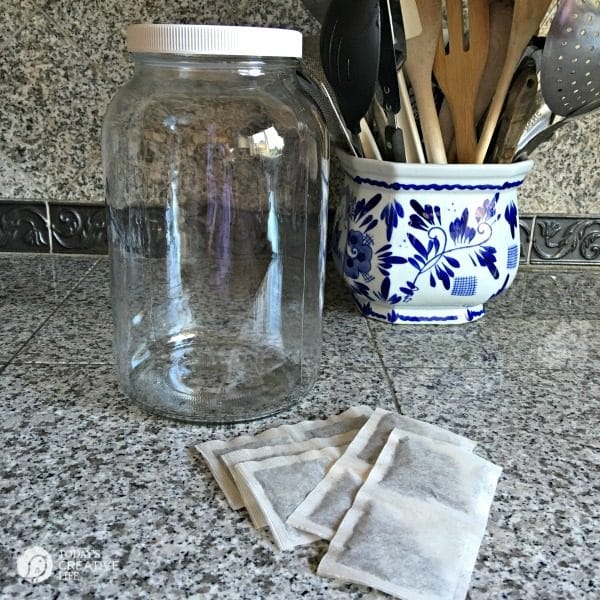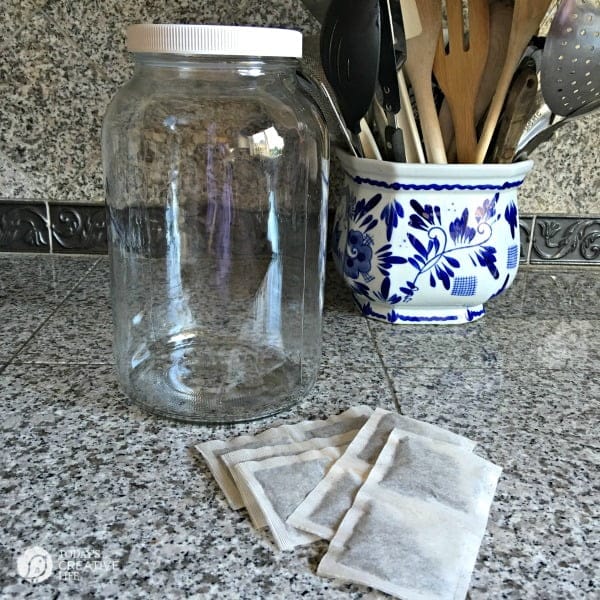 I use 6 to 10 tea bags for one gallon of water.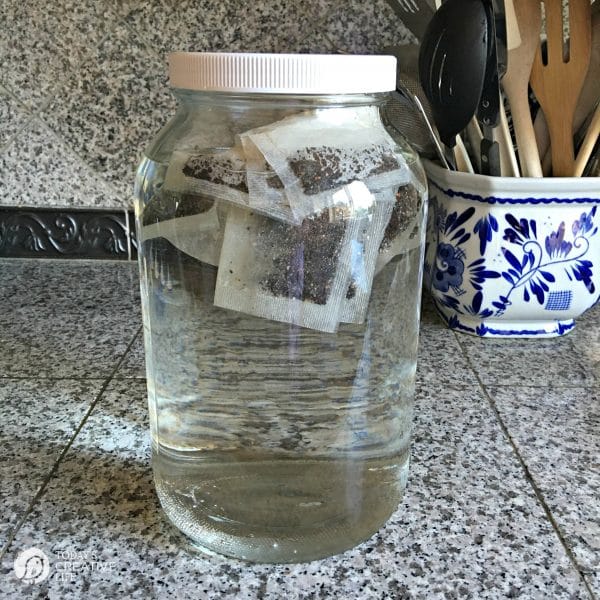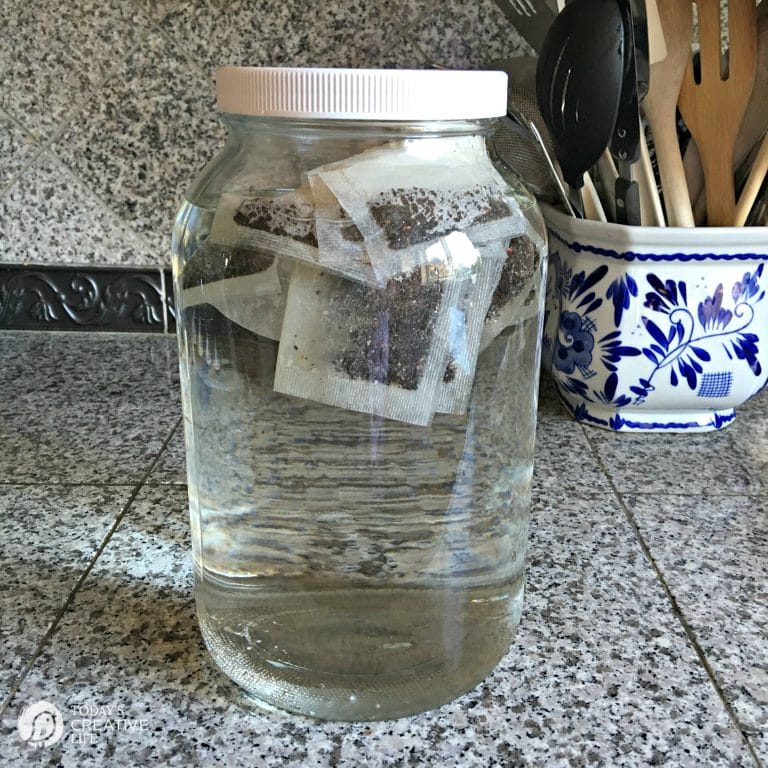 Fill the jar full of cold water and add all your tea bags. Place the lid on and set it outside in the sun.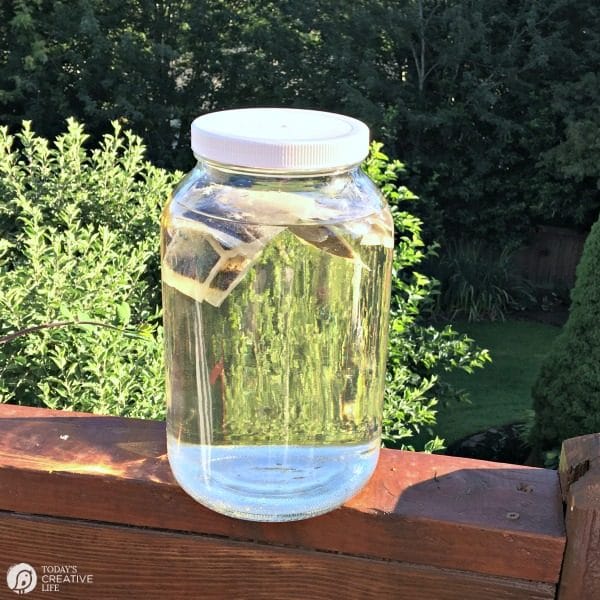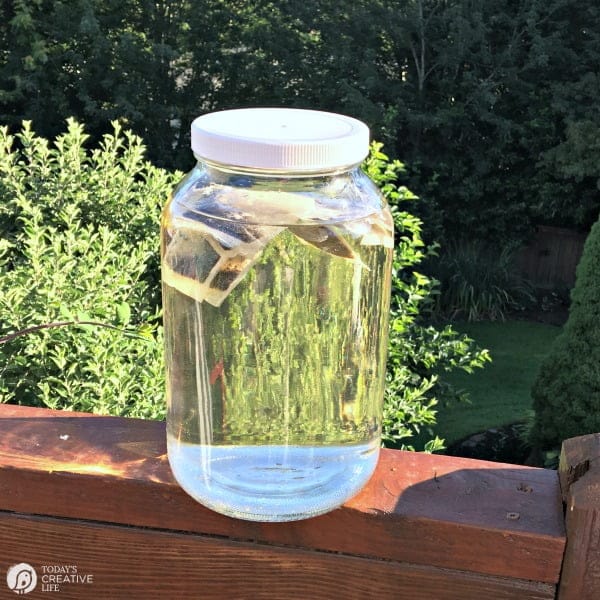 I thought I'd have to wait for the warmer afternoon sun, but with expected temps near 100 degrees today, I had this out at 8am and it was finished by 10am.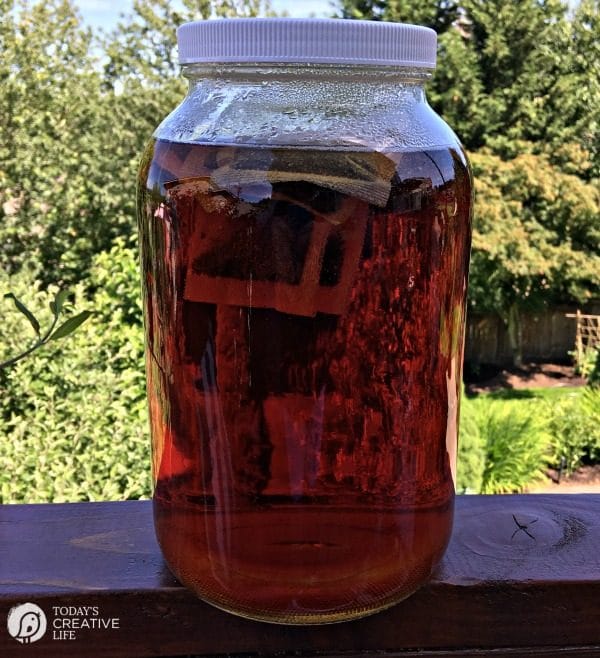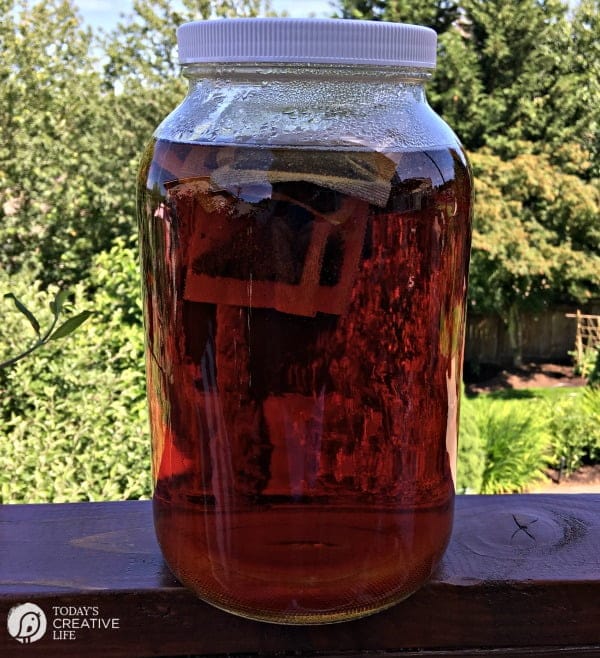 Look how rich and bold that looks!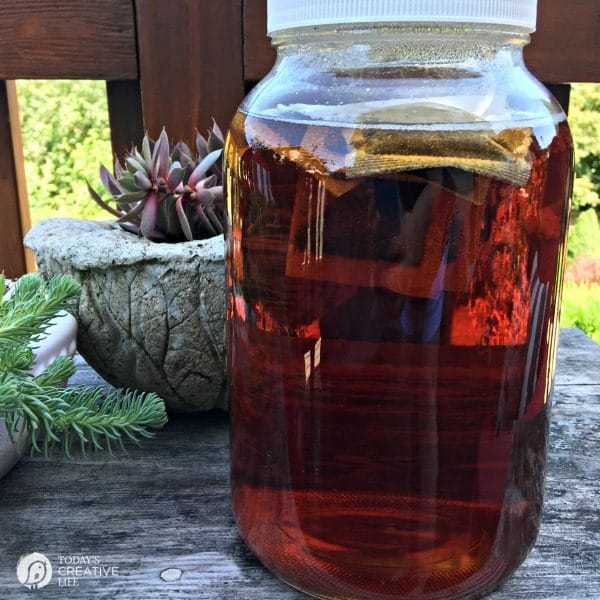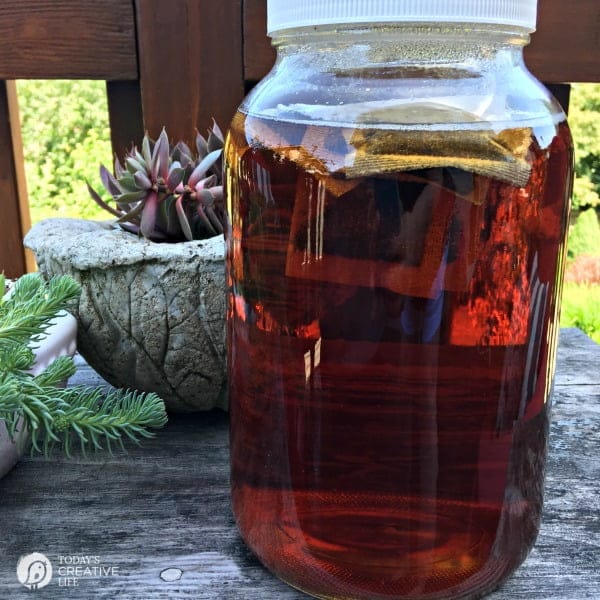 Once your happy with the concentration, just remove the tea bags. If you want sweetened tea, just add sugar. I add about 1/2 cup for a hint of sweetness. If you're trying to stay away from sugar, but still want some sweetness, try Sweet Drops. I have them in several flavors for my water. My favorite flavors are Lemon, Valencia Orange and Vanilla. I bet the Lemon would be great in this tea.
Fill your glass with ice and pour.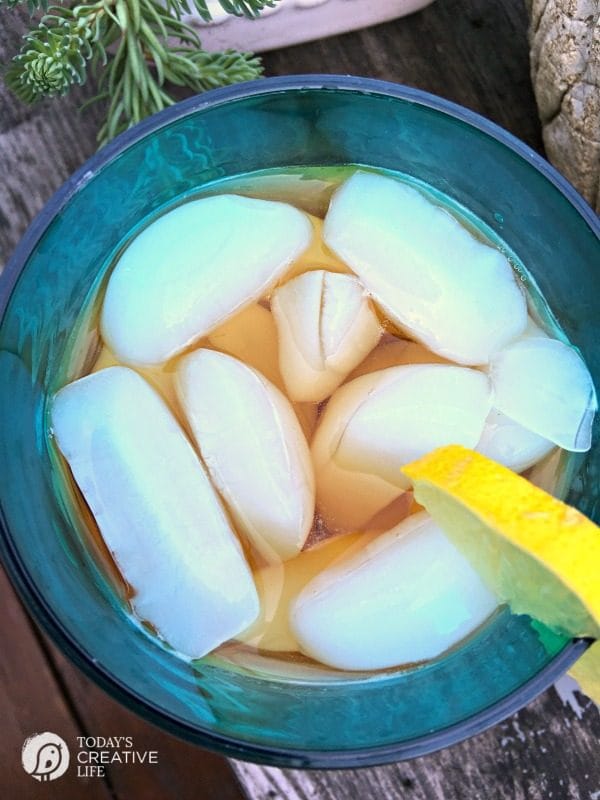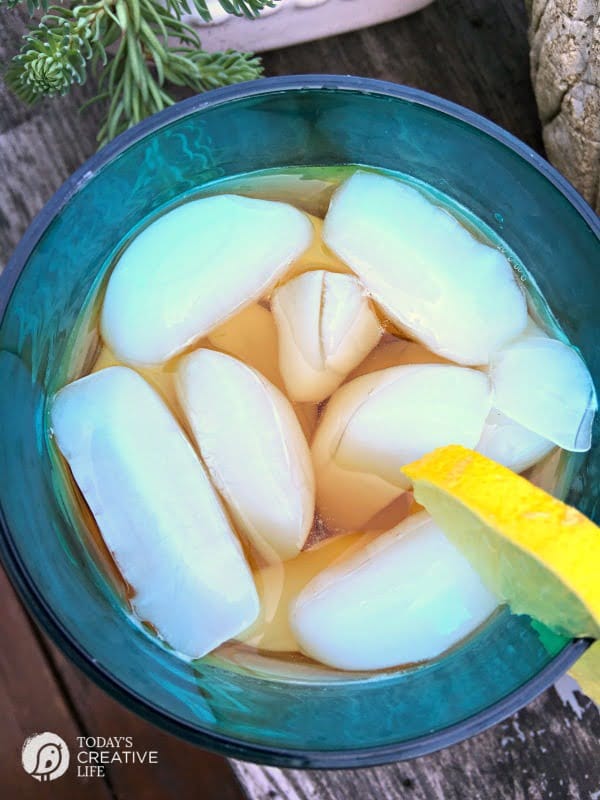 I like lots of ice with my sun tea. Lots and lots of ice. If you like it, add lemon, too.
Now you know how to make sun tea! Time to sit back and enjoy a lazy afternoon.
Sun Tea
Author:
Today's Creative Life
Ingredients
6-10 tea bags - I usually use a plain black tea, but other varieties can be used. Or mix and match!
Water
½ cup sugar - or more.
Instructions
Using a gallon sized jar, place your tea bags inside, then fill to the top with cold water.
Place jar outside in the warm sun.
If you want to make a smaller amount, in a smaller jar, that's good too! Just reduce the amount of teabags.
I determine when my tea is done, but the color. I like a rich strong tea, so I wait until it's a deep amber.
Once it's reached the color and boldness you want, bring it back inside and add the sugar. Of course you can omit the sugar if you want unsweetened tea.
Serve over a tall glass of ice.
Enjoy!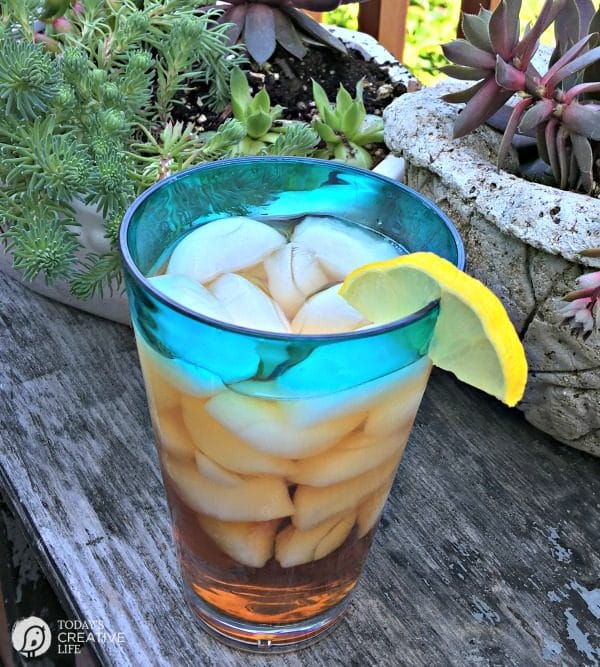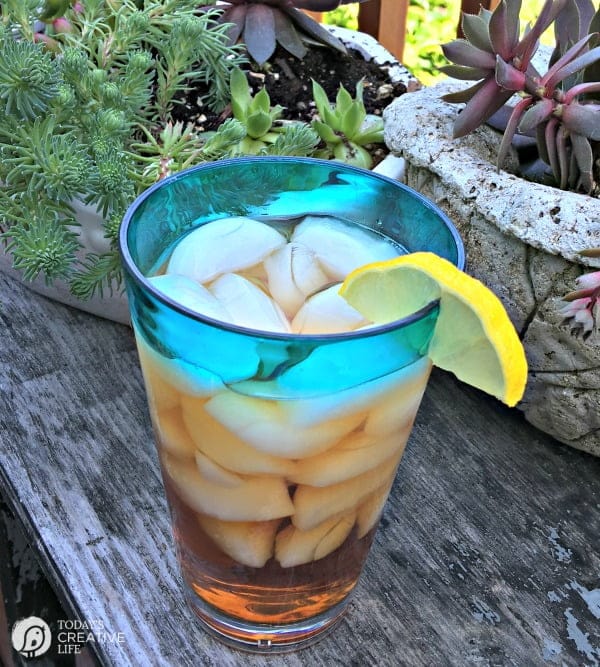 ---
Other Summer Beverages