This Easy Pesto Recipe takes you only 5 minutes once you gather your ingredients!
I've always been a late bloomer. Especially with food. I just realized my love for Pesto a few years ago and now wonder how I've lived without it. I've always just picked it up at Trader Joe's, but thought I'd make some instead. This Easy Pesto Recipe is THAT easy! I love using pesto for a quick pasta or my Pesto Pea Pasta Salad or on my pizza but it was perfect for this Puff Pastry Tomato Tart I made.
Easy Pesto Recipe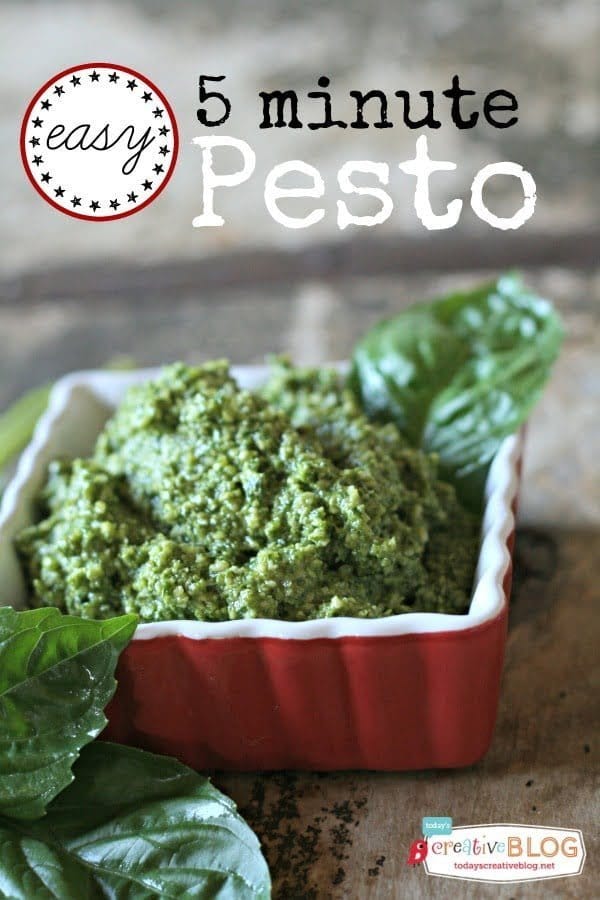 Easy Pesto Recipe Supplies
Affiliate links for products listed are for your convenience only. This cost you nothing extra. If you happen to purchase anything as a result of clicking, TCL will receive a small percentage. Thank you for your support. This allows me to continue to offer you free content.
I had all the ingredients, except for the nuts. I could have used walnuts, but I had my heart set on pine nuts. So off to my local grocery where I knew they had them in bulk. I only needed one item, it would be a quick in and out trip. I headed directly to the bulk section and about fell over when I saw they had "Chinese" Pine Nuts and they were $36 a pound! I may have shared my disillusionment with everyone within earshot and quickly realized no one cared about the expensive nuts. Even though I only needed a cup for this pesto recipe, I bought a half a pound and headed home.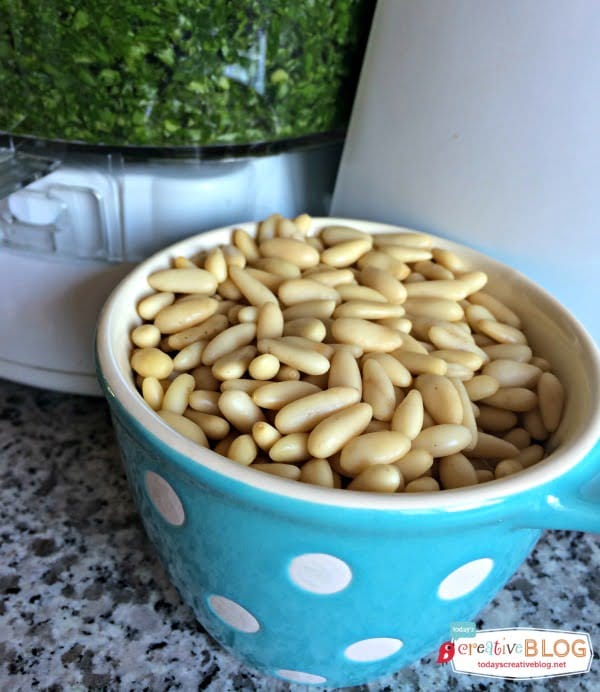 I thought maybe Chinese Pine Nuts were more special than the others, so after I made my pesto, I googled. I shouldn't have. Because then I found this article about a mysterious ailment called Pine Mouth. I love pine nuts, but I may use walnuts next time.
I dug my food processor out of the basement kitchenette cabinets, gave it a good washing and got busy.
While I had it out, I also made Homemade Almond Butter! So easy!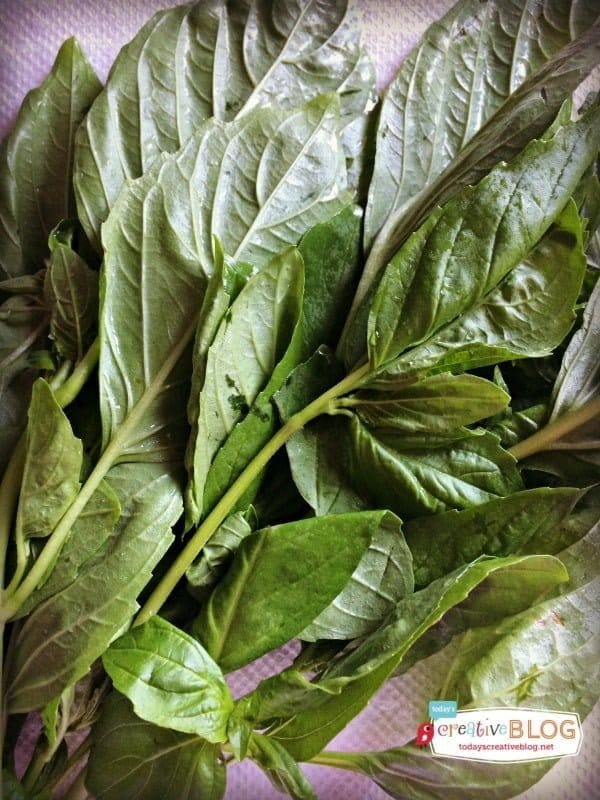 How to Make Pesto
I plucked the leaves off a ton of basil and some fresh parsley, added a few cloves of garlic and blended away.
It was so fresh, so green…..so deliciously smelling. I then added the expensive pine nuts and blended some more! Added the lemon juice, the olive oil and the Parmesan cheese, my seasoning and blended it for the last time.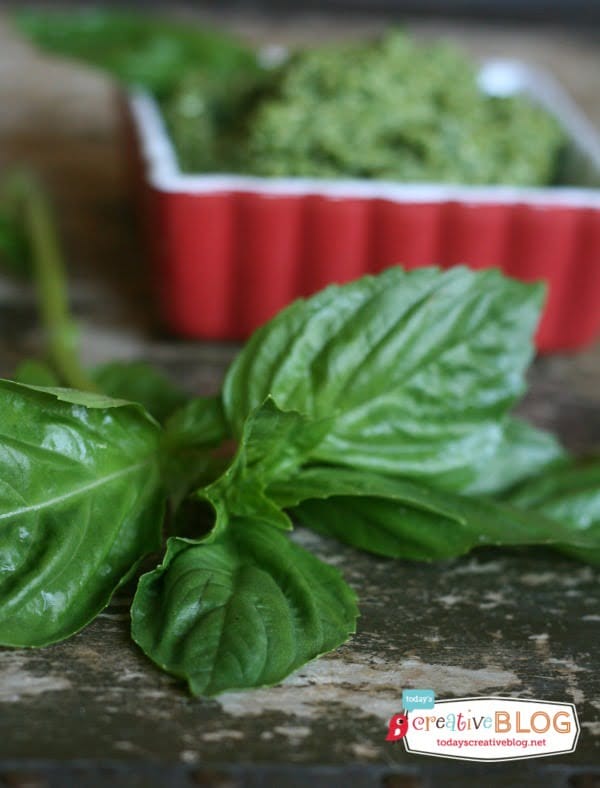 The house was smelling GOOOOOD!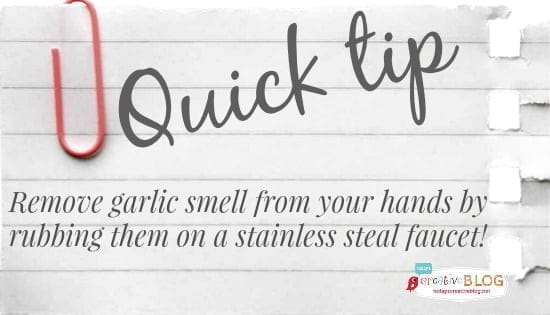 I had pesto! A LOT of Pesto. So I placed a call out to my neighbors on Facebook to come on over and grab a jar of this Easy Pesto Recipe to take home! I mean if I'm going to have garlic breath, the whole neighborhood may as well too!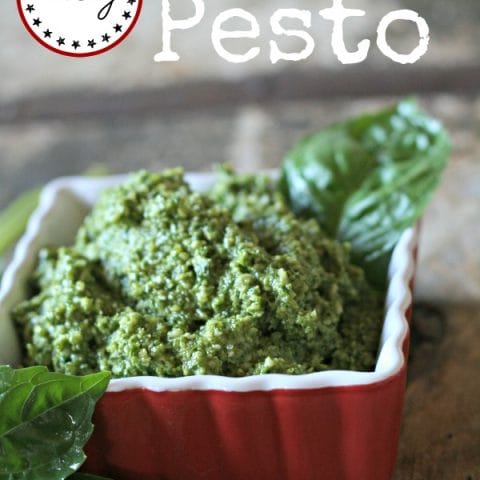 Easy Pesto Recipe
Fresh pesto will last up to a week in the fridge and 6 mo in the freezer! Yes, just freeze the left overs in an ice cube tray.
Ingredients
4 Cups (or more) fresh basil leaves
1/2 Cup fresh parsley- stems removed
3 cloves garlic - peeled
1 cup pine nuts or 1 1/2 cup walnuts
1 1/2 shredded Parmesan cheese
1 Tablespoon fresh squeezed lemon juice
3/4 cup extra-virgin olive oil
sea salt and ground pepper to taste.
Instructions
Place basil, parsley and garlic into your food processor, pulse a few times until finely chopped.
Add the nuts and pulse some more until finely chopped.
Add cheese
While it's blending, add lemon juice, the slowly add olive oil while it's still running.
After you're finished combining it all, turn off the machine and add salt and pepper.
Enjoy.
Notes
Scrap the sides between adding new items.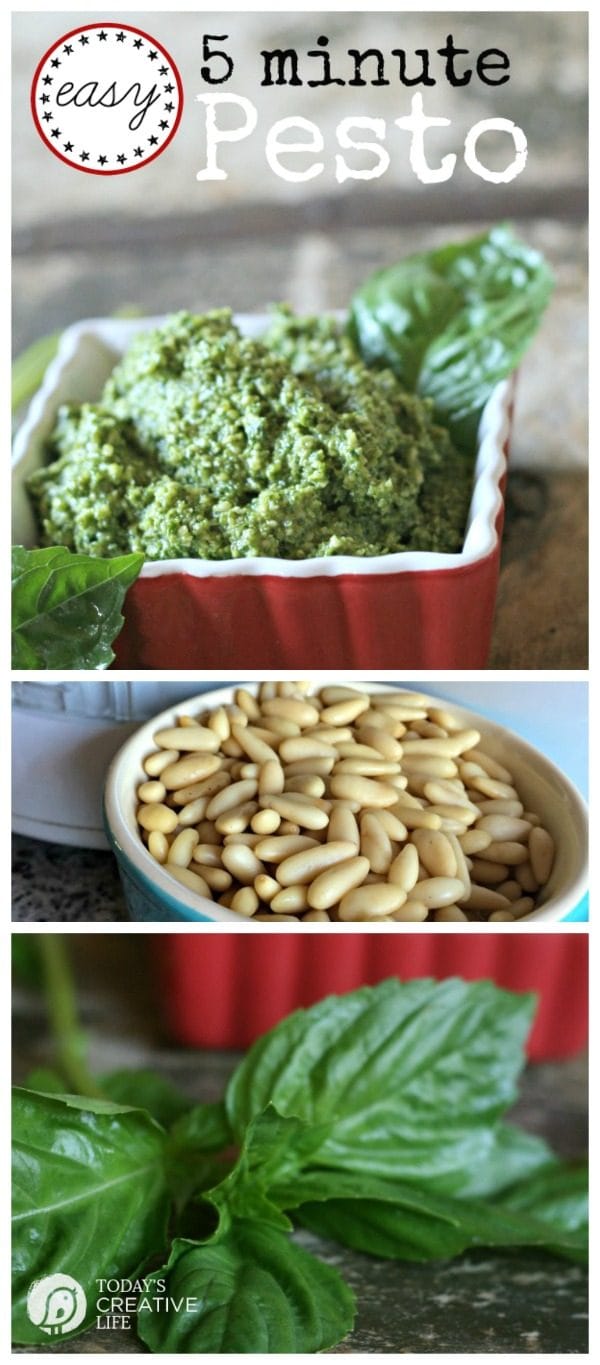 ---
More Easy Recipes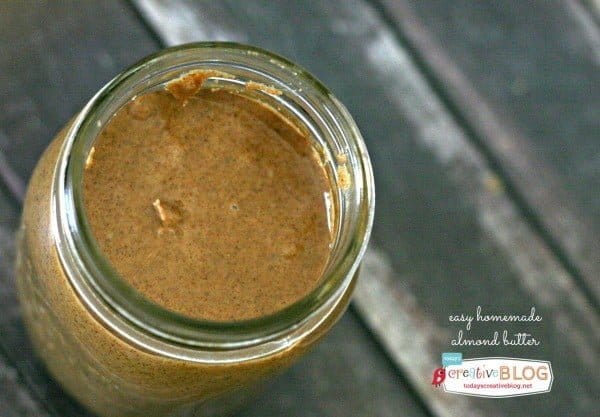 How to Make Almond Butter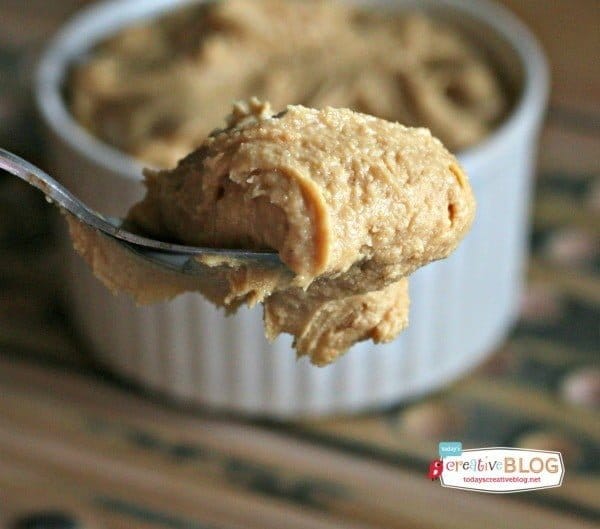 How to Make Cashew Butter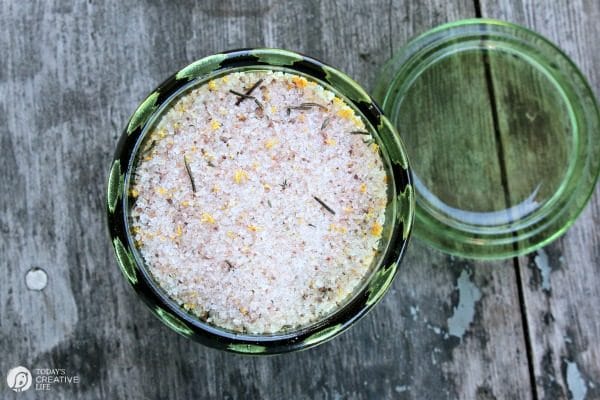 Citrus Seasoned Salt Recipe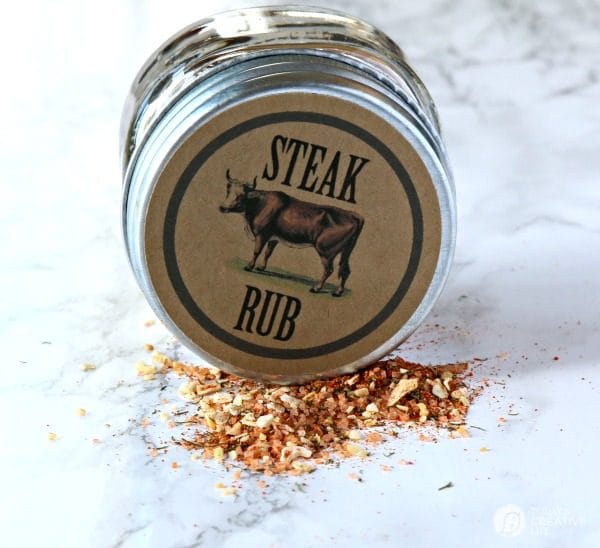 Homemade Steak Seasoning Dry Rub