Grill season is upon us and homemade Steak Seasoning is SO easy to make!
This homemade recipe has become our all time favorite! You'll never buy a steak rub again and I promise you, you're going to LOVE this Steak Seasoning Dry Rub as much as we do! Use it on all your grilling recipes!
Truth be told, I use it in my homemade burgers too.
Steak Seasoning Dry Rub

I love summer, and after the year I've had, I'm all about keeping things simple, easy and creative for a relaxing summer.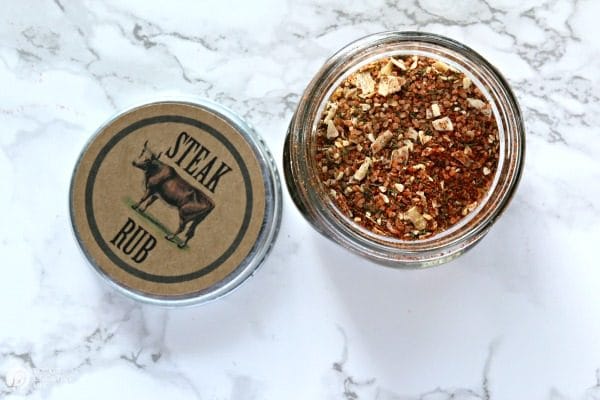 Summer means a lot of grilling at our house, so I make sure to whip up a few batches of this steak seasoning and my Caribbean Rub. I like to mix flavors that I know my family will enjoy and by making my own rubs, I know exactly what's in them. I don't have to worry about added MSG or other fillers. See my BBQ Tips and Tricks here.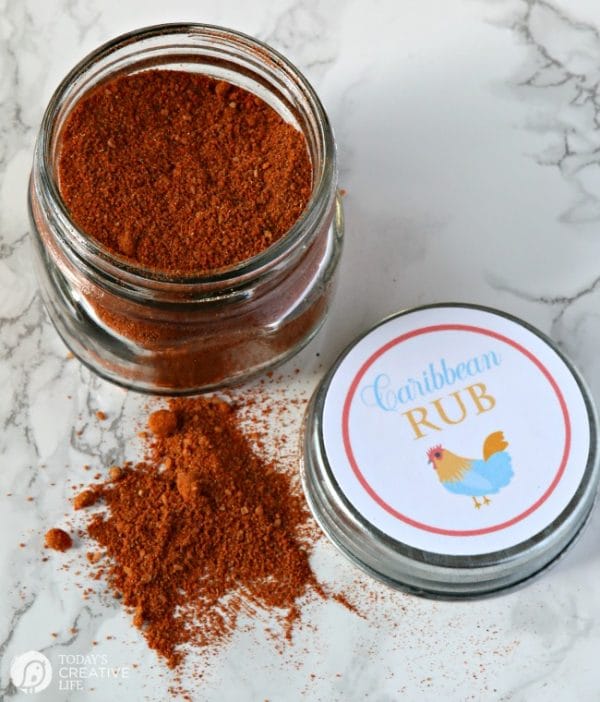 Just because it says Steak Rub, it doesn't mean you can't also use it on other cuts of meat. I add it to my homemade hamburger mixture before making patties and boy is it tasty! (See how I make the perfect patties here)
The Caribbean Rub (pictured above) has a little kick to it and is so good on chicken and shrimp. My husband has also used it on steak and says it's delicious! Both the Steak Seasoning Rub and the Caribbean Rub come with it's own free printable label, which makes it a great diy gift idea for Father's day or the holidays.
>>> Get your free printable steak rub and Caribbean rub labels here <<<
How to Make Best Ever Steak Seasoning Rub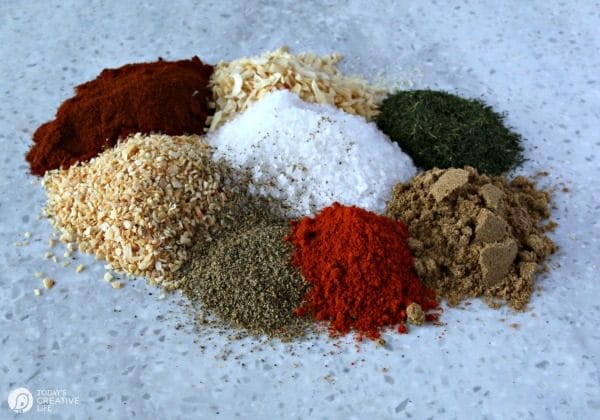 Making your own rubs or seasoning mixtures isn't difficult at all! In fact, you'll feel like your back in science class.
You'll want to gather:
a small bowl – I measure my spices over a bowl to catch any that may spill over.
measuring spoons
one small zip lock baggy
air tight container
Gather all your spices and set them out on the counter. This recipe uses all dried spices.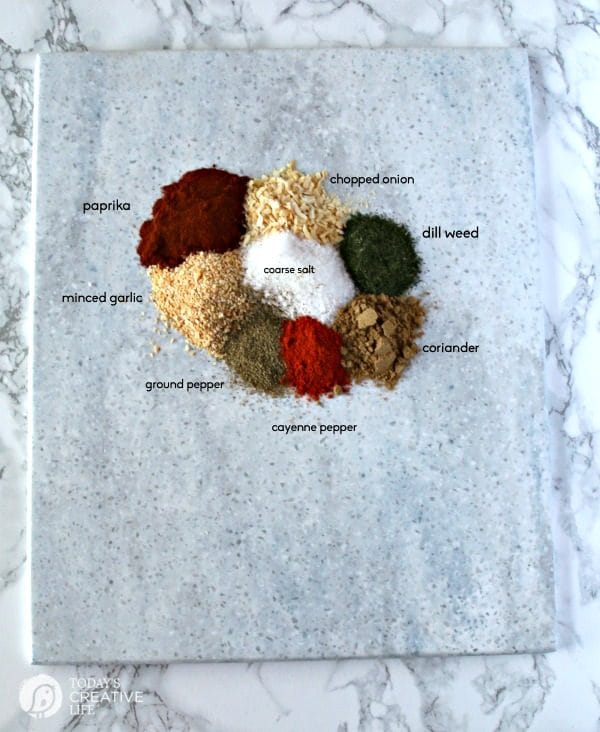 You'll need:
Paprika – 2 tablespoons
Minced or chopped onion – 2 tablespoons
Minced Garlic – 2 tablespoons
Course salt – 2 tablespoons
Fresh ground black pepper – 1½ tablespoons
Dill Weed – 1½ tablespoons
Ground coriander – 1 tablespoon
Cayenne Pepper – 1½ teaspoons
Measure each spice out and place into the zip lock baggy. Seal the bag and gently mix to blend the spices. Pour into an airtight container to store in your cupboard.
When you know you're going to be grilling, brush your cut of meat with oil before adding the rub to the top a few hours before. But heck…. if it was a last minute decision to grill up a steak, it will still be good! Truth be told, I'm always adding at the last minute and it's always delicious.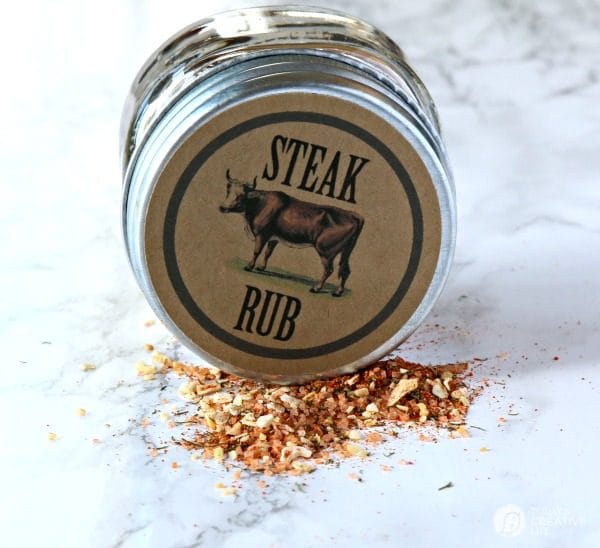 Print your free Steak Rub Labels and either stick to the lid with a dab of glue or use it as a tag and tie it around the jar.
I wasn't sure which one I would like better, so I printed a few on the brown kraft paper and a few on white cardstock. I'm still not sure which one I like better. They're both cute!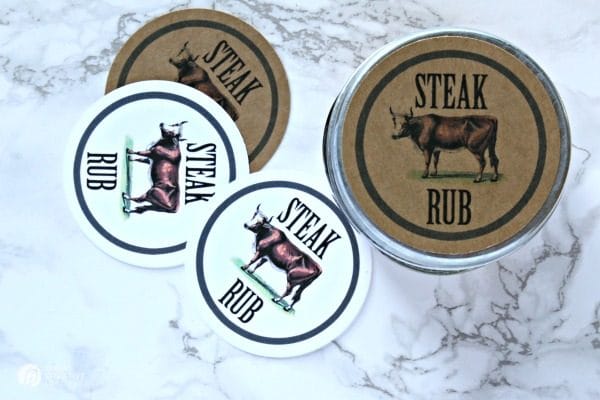 The adorable cow image was found at The Graphics Fairy.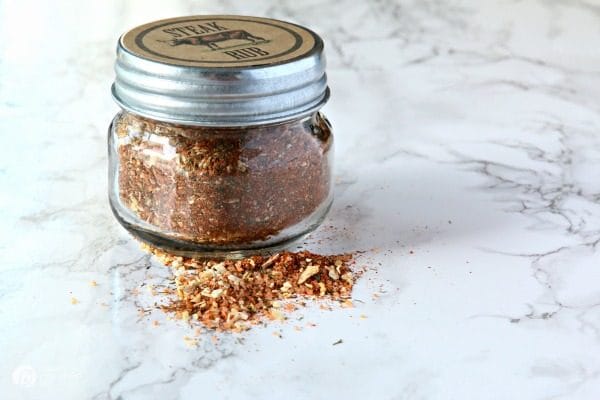 There ya go! Time to mix up a batch for yourself. Enjoy!
---
More Creative Ideas