The Cricut Maker is the only cutting machine that comes with the Adaptive Tool System™ for professional-level cutting performance and expandability. Four new Cricut Maker Tools that can only be used with this system have been launched to help creators master new crafts with ease.
The Cricut Maker just keeps getting better and better! I've owned my Maker since it came out 2 years ago and have made so many DIY crafts. They promised a commitment to continuously bring us new tools and accessories that can be only used with this cutting machine to make cutting over 300 materials and many techniques a piece of cake!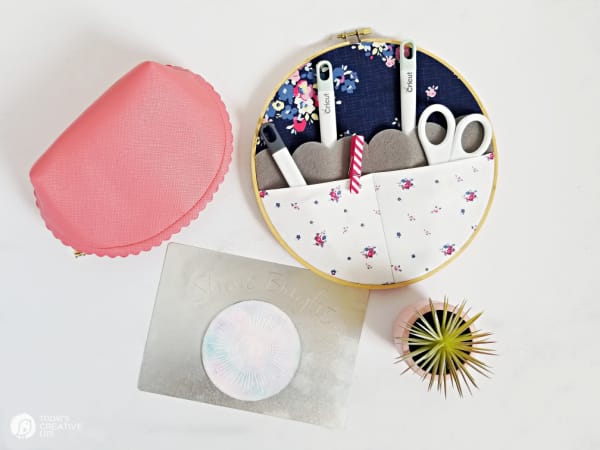 If you don't own one yet… put it on your birthday or Christmas list! Use my affiliate link! Purchase your own here.
Cricut Maker Tools
This past week, I was sent the latest new tools that are exclusive to the Maker. I already have the Rotary Blade which is great for fabric, the Knife Blade that I've used to make Leather Cord Keepers and the scoring wheel where I used it to make three different projects. The DIY Gift Boxes, the Takeout Boxes, and Paper Luminaries for my patio.
I used the Engraving Tip to write inspirational words on a piece of aluminum and the Fine Debossing Tip to emboss a fun design on paper. Keep reading for a full tutorial.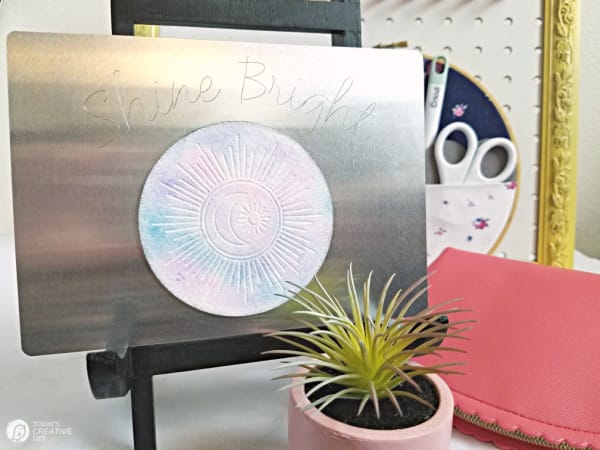 Having so many different tools to swap out quickly between cutting, scoring, engraving, debossing, all on one machine allows me so many options when creating! Depending on my project and one of the 300+ materials you can cut, my inspiration is endless!
New Tools for the Maker
Each of the tools are part of the Maker's QuickSwap Toolset, so creators everywhere can quickly and easily move between tools as they complete their projects.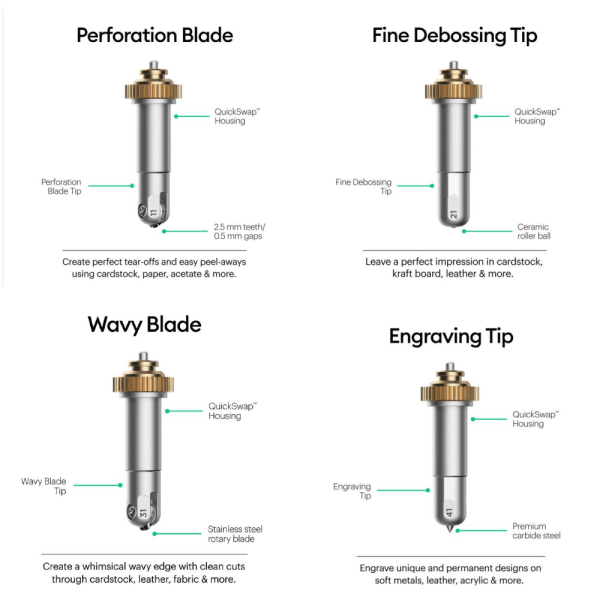 To get professional-looking results, just snap any of these tips onto the QuickSwap Housing and tell your Cricut Maker to "Go!"
Perforation Blade
This blade is great anywhere you want to create finely perforated lines for any design for perfect tearing. No folding beforehand, this tool does it all for you to give you clean evenly spaced perforation lines (or shapes with curves) for any project. Perfect for tear-out booklet pages, raffle tickets, homemade journals
Wavy Blade
This blade is perfect for iron-on, vinyl, paper, cardstock, fabric and more. Because of its stainless steel blade, it's create to add character to your projects with a whimsical wavy edge. Gift tags, envelopes, vinyl decals. More shapes me more options!
Fine Debossing Tip
Anytime you want to leave design impression on paper, leather, kraft board etc… this is the tool! This tool was used to create the round sunburst design used in my project.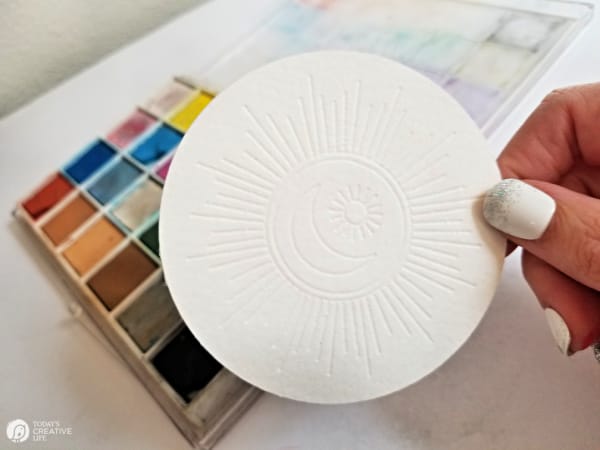 Think of the beautifully detailed cards you could make by adding a subtle monogram. Create dimensional cards, gift boxes, tags and more. I can't wait to try it on the foil cardstock.
Engraving Tip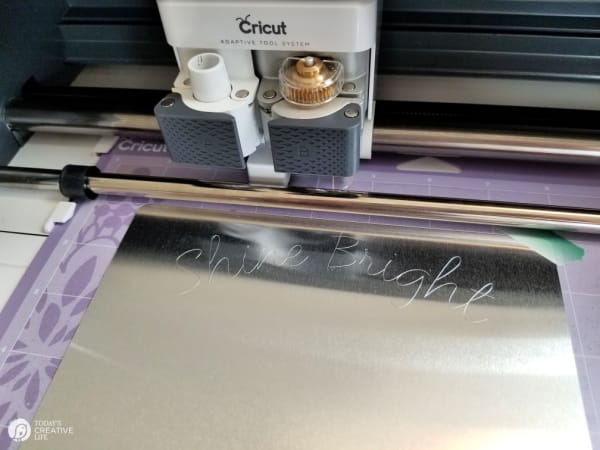 I used the engraving tip to create this inspirational message on a decorative plaque.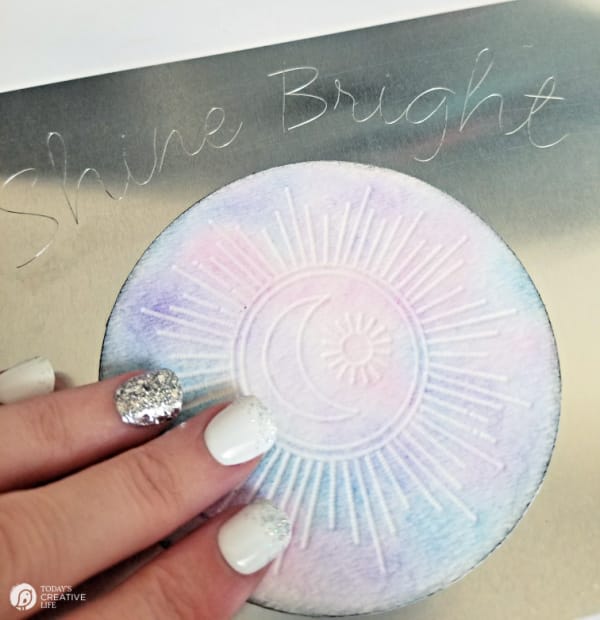 You can write personalized text or create monograms, or draw decorative designs. Use Cricut Metal Sheets or anodized aluminum to reveal the silver beneath.   See Cricut Products Here.
This cute plaque can be used to hang on a door, give as a gift, or for decoration on a table or desk.
Find all the Cricut Maker Tools Here.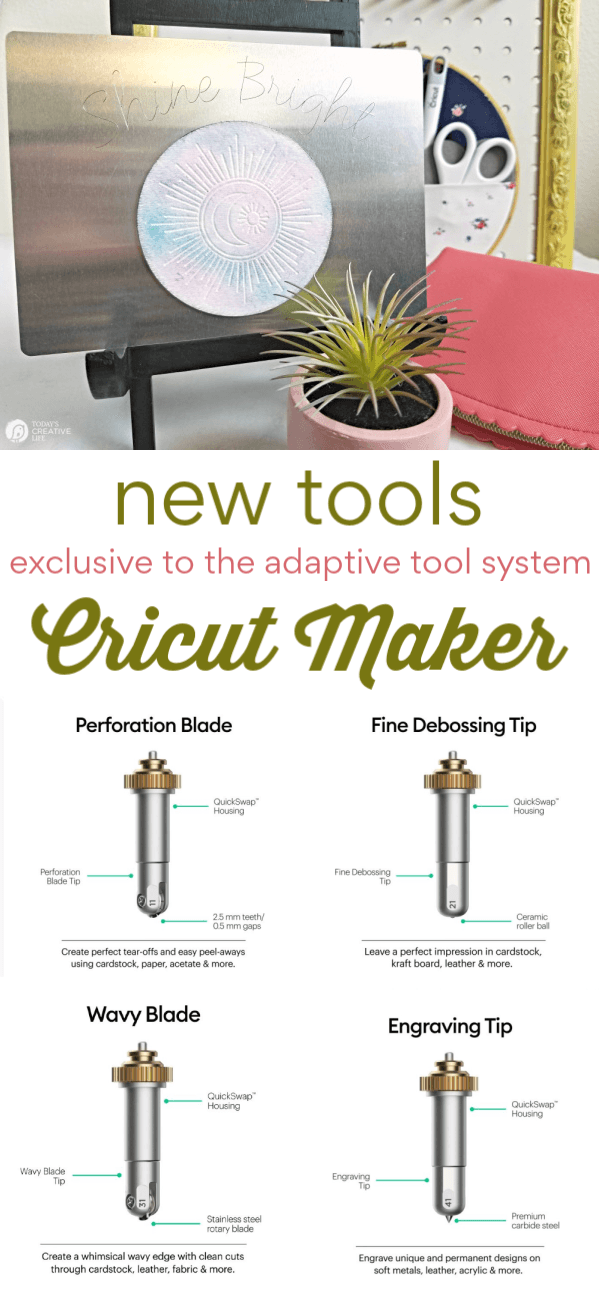 ---
Cricut Project Ideas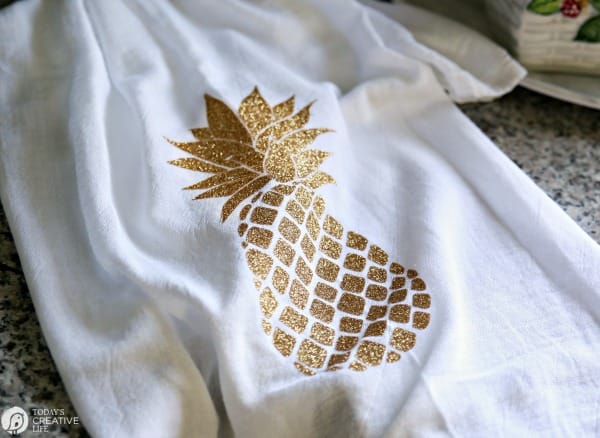 Iron-On Glittered Pineapple Dish Towel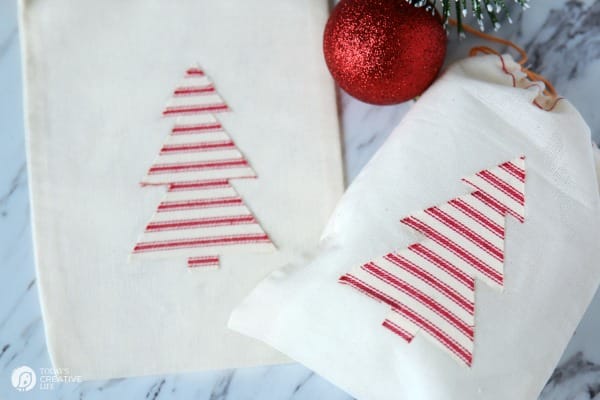 Fabric Iron-on Holiday Gift Bags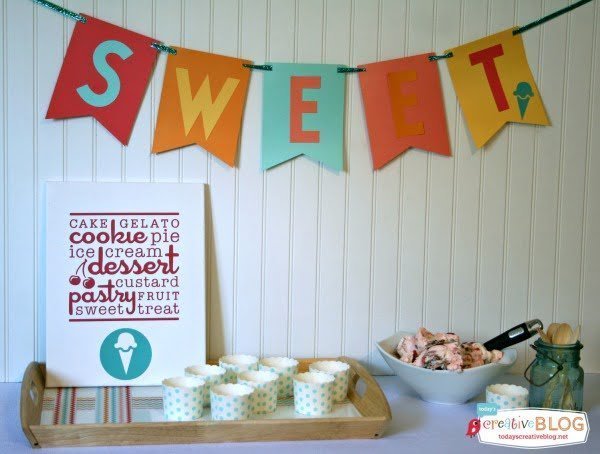 DIY Party Banner
This is a sponsored conversation written by me on behalf of Cricut. The opinions and text are all mine.
c3d3bd255a24f2acbd06ea5604d45efa772d2623f015355661