Decorating for a men's apartment or home isn't one of my strong suits, but I do my best. I think we nailed it with this Bachelor Pad Decorating on a Budget, with stylish options for home decor for men.
For $480, we were able to buy male approved home decor and furniture for the living room, and dining room. It's amazing what you can do with small budget decorating, along with Better Homes & Gardens from Walmart. Keep reading for the full price list with links.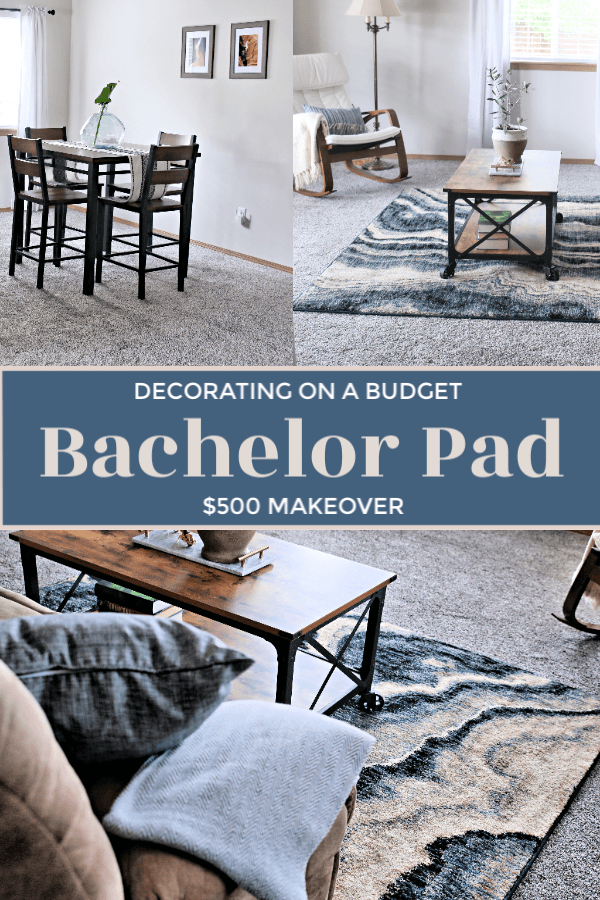 Bachelor Pad Decorating on a Budget
As one of the BHG Influencers, our challenge this month was to help someone transform their space. After a bit of thinking, I remembered that my nephew had just purchased his first home and had very few furnishings.
Decorating a Dorm Room for Boys and my son's first college apartment are my only experiences with decorating for men, but I was excited to take on this challenge! I was ready to transform this space by adding a few pieces and working with what he already had.
Here is before.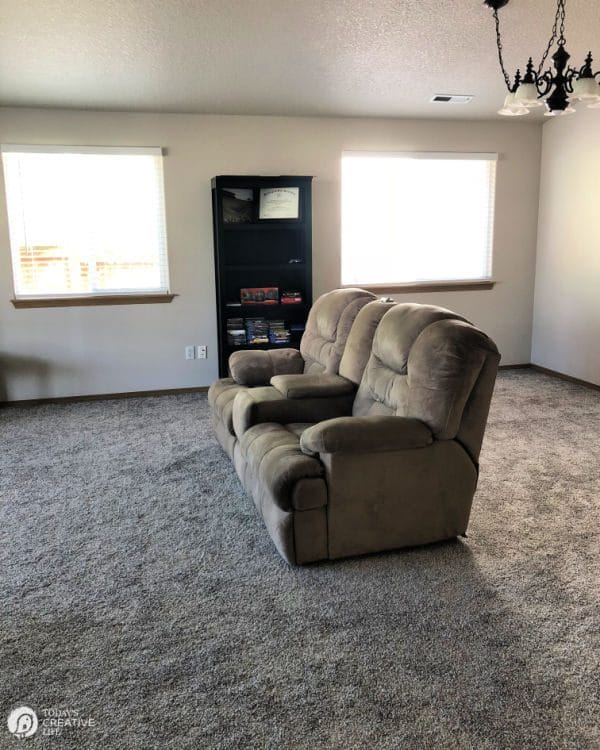 As you enter the home, the living room is in full view. My goal was to bring warmth, style, and connection to the home.
Lucky for me, my nephew had a blank slate and was open to all my decorating suggestions, which allowed me to compile a shopping list within an hour for his approval.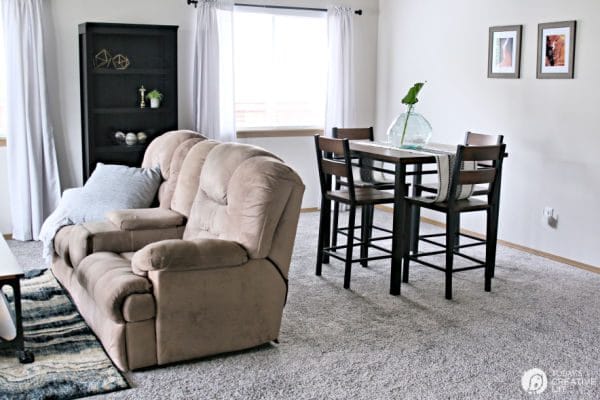 Bachelor Pad Dining Room Ideas
This small pub style table made with wood and metal was a perfect style. My makeover budget was $500 so I needed to make every dollar work for the value. I found this table and chairs for $192.00! The area for the table wasn't very big, which made this square table just the right height and size. It's sturdy with a rich color to blend with the other items I chose and the existing bookshelf.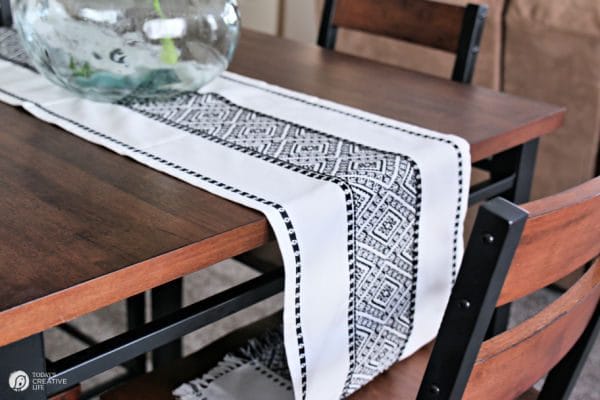 The table runner was a little long, but that didn't stop us from using it anyway. I love the light fabric and tribal design against the wood table.
Budget-Friendly Living Room Ideas for Men
As you can see with the before, I had a wide open space to work some decorating magic. The colors were neutral and the windows added character.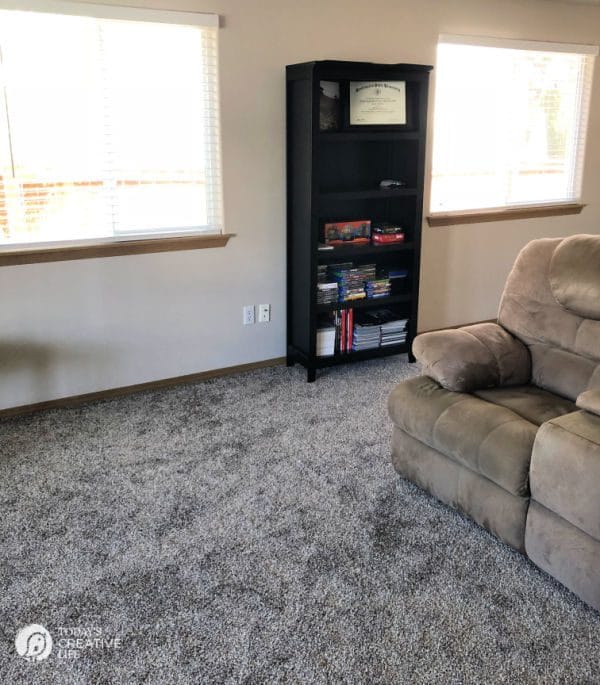 My goal was to make this space more inviting. I needed to fill in room, soften it up without making it girly. Even though he already had blinds, the drapes added so much.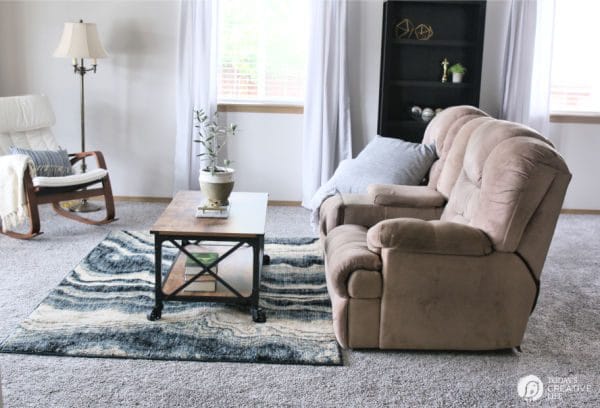 Even though it's not bright, the area rug brought in a splash of color and texture. This is the same rug I used for my son's first apartment. It comes in several sizes and is so reasonably priced. I am in love with the marbling design, again… perfect for a young man's first home.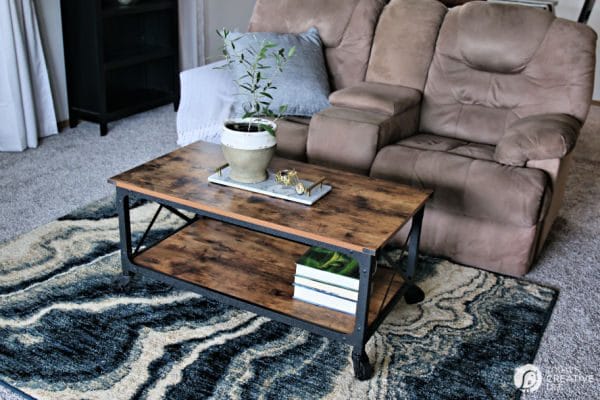 I am still surprised by how quickly and easily this room came together. I did all the shopping online and had it shipped free to my home within a few days.
This industrial style coffee table is also so perfect for this space! It's functional and full of character.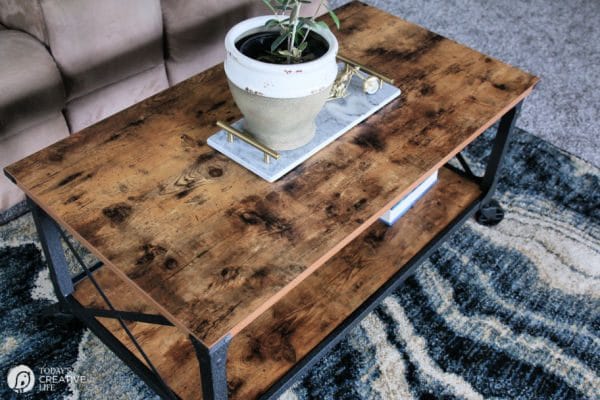 The masculine exposed bolts and the wheels, along with its rustic wood and metal style is a great addition to any bachelor pad.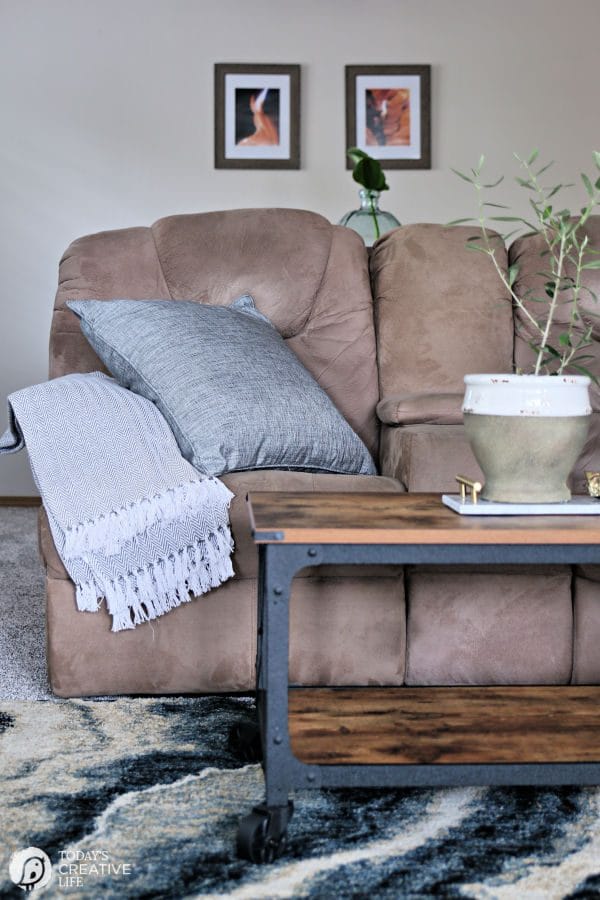 Pillows and throws are a great way to make a room feel homey. I've bought this blue pillow below 3 different times because it's so versatile. The large one above has a beautiful linen look and it comes in several colors.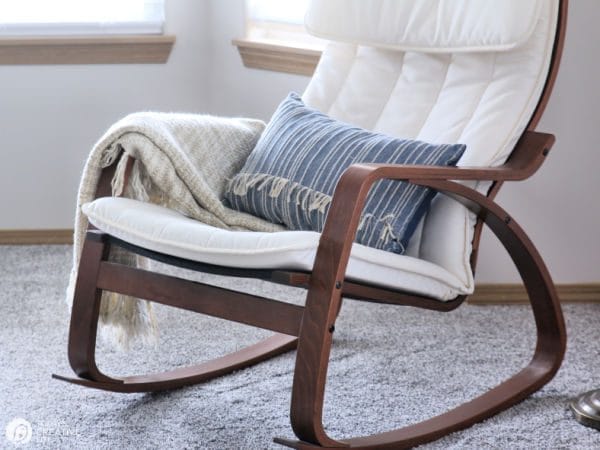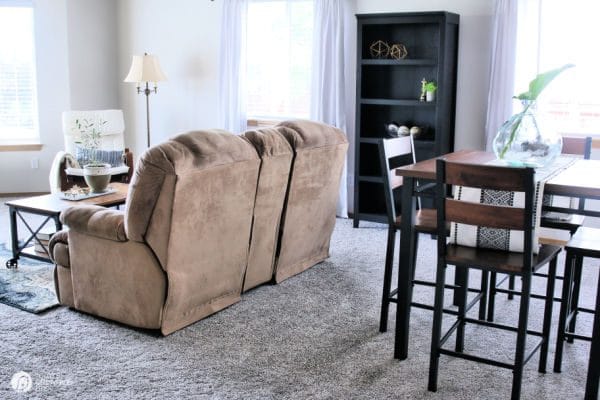 I am so pleased with how it all turned out and so is Patrick! I was thrilled to be able to do this for him. He loves it and it was exactly what he needed to really connect to his home!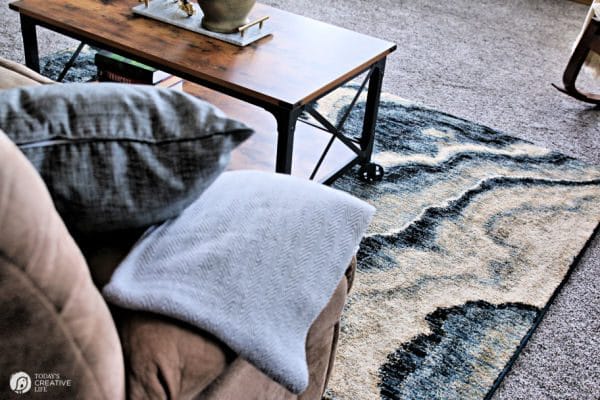 Wall Decor for Bachelors
One last final touch, I grabbed the two framed pictures I had used in my basement teen hangout makeover for the dining area walls. They are exactly the right touch. The colors, the shapes, the wood frame… all of it!
I had two photos enlarged into an 8×10 size and simply framed them. These were photos my son had taken, so it made it very inexpensive wall art. DIY Wall decor is easier than you think when you look through your photos and for free printables. Why spend money if you don't have to?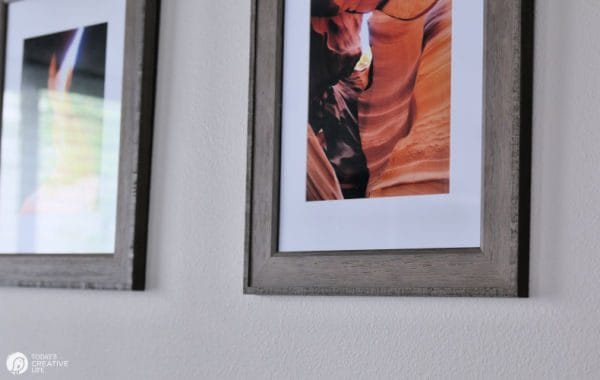 Bachelor Pad Decorating Ideas on a Budget Shopping List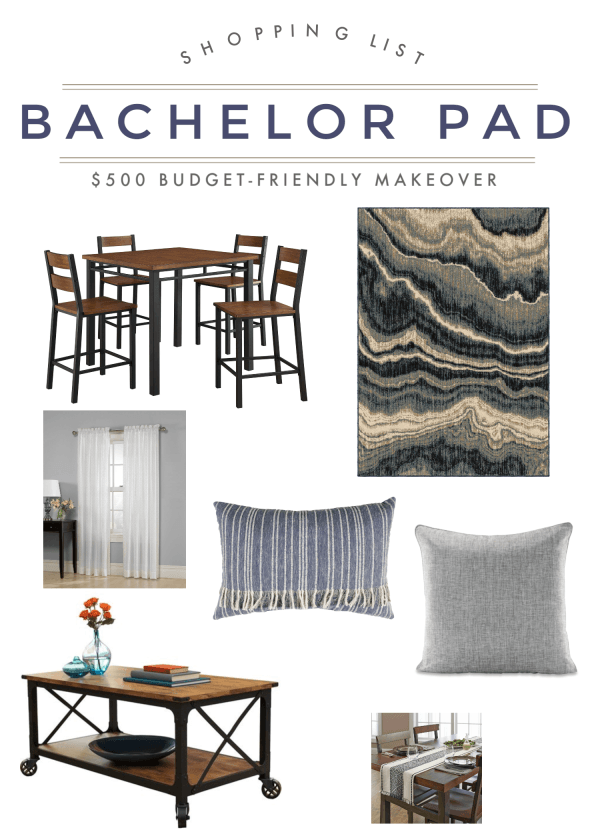 Can you believe how many nice quality items I was able to purchase for under $500? So many ideas and choices for any style and home.
What do you need for your home?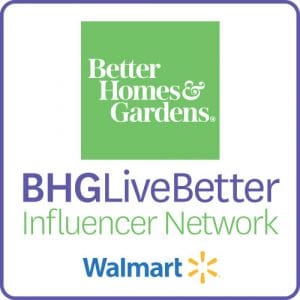 ---
Room Makeover Ideas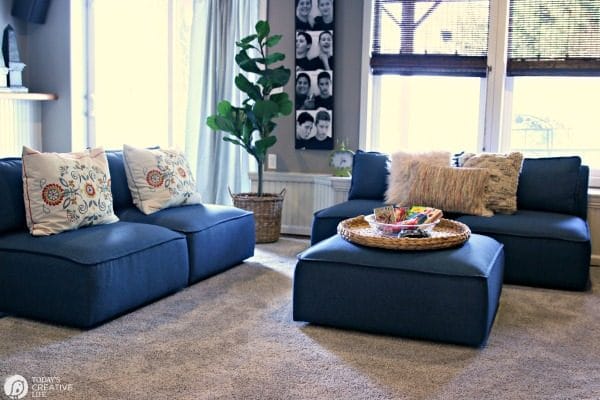 Teen Hangout Room Makeover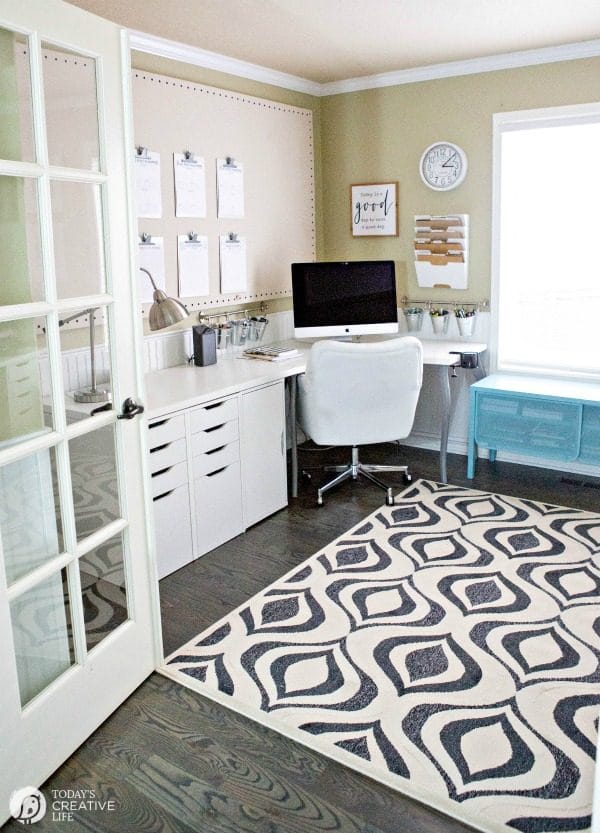 Budget-Friendly Office Makeover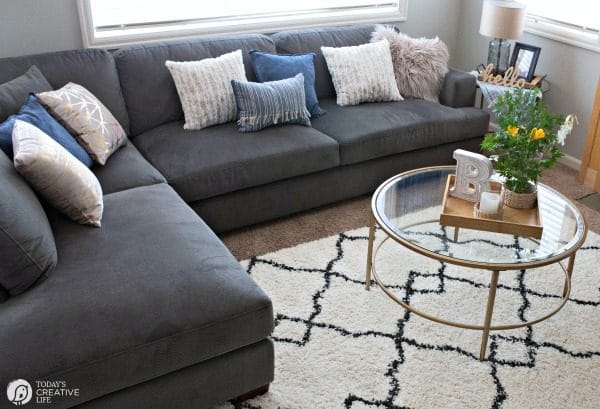 Inexpensive Family Room Makeover Ideas