You may recognize this flour-free Oatmeal Gluten-Free Cookie Recipe from on the back of Trader Joe's Oatmeal package. This no-fail peanut butter chocolate chip cookie turns out every time! It's one of my all-time favorite cookies and is so easy to make!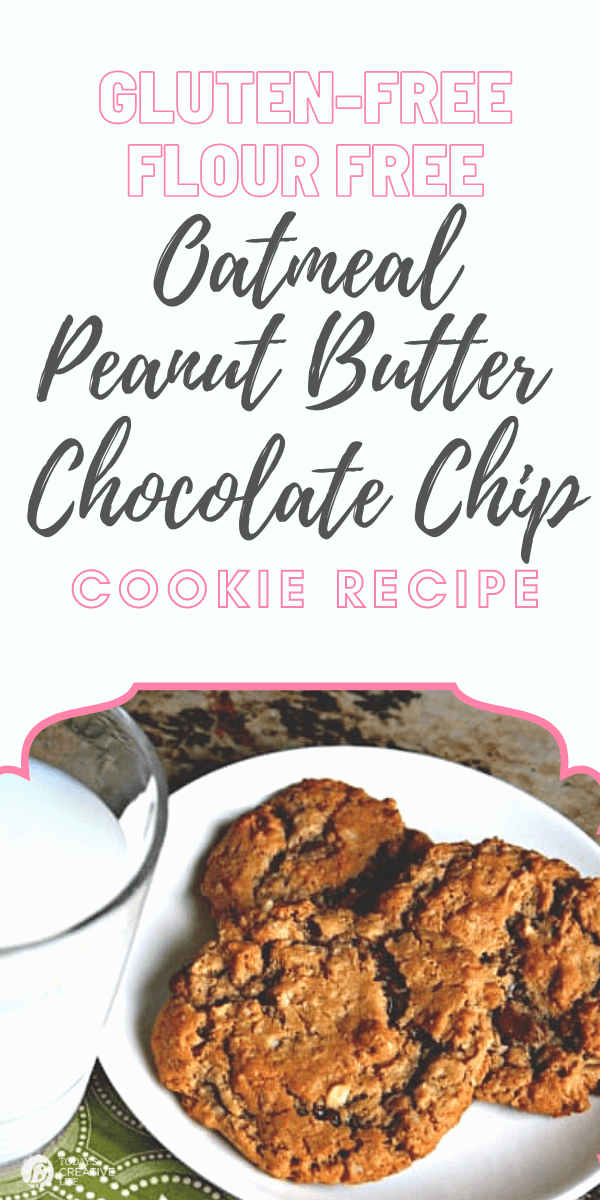 Flour Free Oatmeal Peanut Butter Chocolate Chip Gluten-Free Cookie Recipe
I love that these cookies are flour-free and so easy to make. Although they still have sugar, they feel a bit more healthy and guilt-free.
They are chewy with enough crispiness around the edges. Dare I say they are the perfect cookie? Perfect for dunking in your coffee.
Trader Joe's oatmeal has been one of my favorite brands for years. It's high quality and doesn't cook up mushy like so many others. My other favorite is Snoqualmie Falls. You'll never go back to any other brand after trying these two.
I always check the back of the packaging for recipes and not always are they a keeper, but these are!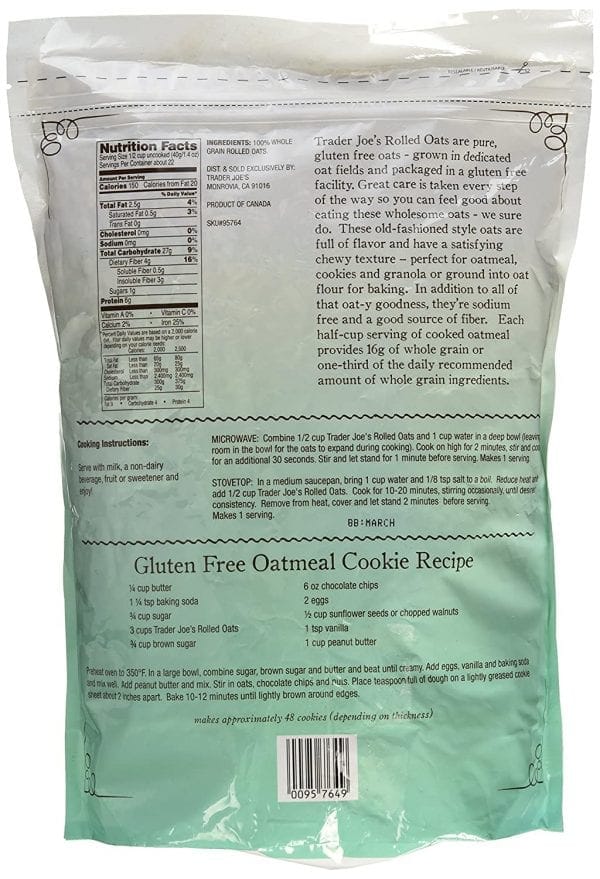 How to Make Gluten-Free Oatmeal Cookies
Ingredients Needed:
Rolled Oats – not instant
Brown Sugar
White Granulated Sugar
Butter
Nut Butter – I used peanut butter
Eggs
Vanilla
Baking soda
Nuts
Chocolate Chips – Other flavored chips like butterscotch or white chocolate are equally delicious.
Other Cookie Making Items Needed"
Cookie Sheet
Cooling Rack
Mixing Bowl
Measuring Spoons and Cups
Wooden Spoon
Mixer – optional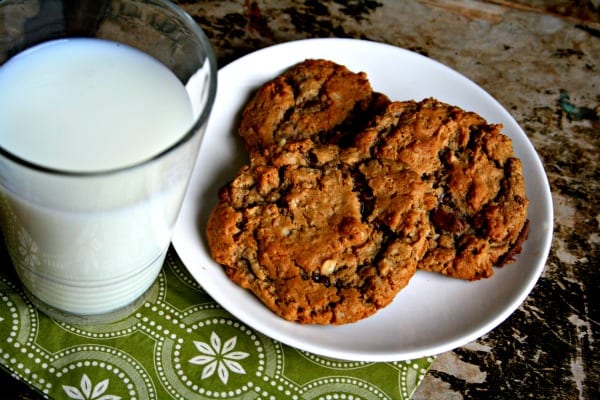 Gluten Free Oatmeal Peanut Butter Chocolate Chip Cookie Recipe

Yield: 24

Prep Time: 15 minutes

Cook Time: 10 minutes

Total Time: 25 minutes

This flour-free, gluten-free oatmeal cookie with peanut butter and chocolate chips will soon be your favorite.

Ingredients

1/4 cup butter
1 1/4 tsp baking soda
3/4 cups sugar
3 cups Trader Joes Rolled Oats (Just a hunch, but I bet other rolled oats would work)
3/4 cup brown sugar
1 c. chocolate chips
2 eggs
1/2 cup sunflower or chopped walnuts (optional)
1 tsp vanilla
1 cup peanut butter (or any nut butter)

Instructions

Preheat oven to 350 degrees.
In a large bowl, combine sugar, brown sugar and butter and beat until creamy.
Add eggs, vanilla and baking soda and mix well.
Add peanut butter and mix.
Stir in oats, chocolate chips and nuts.
Place teaspoon full of dough on a lightly greased cookie sheet about 2 inches apart.
Bake 10-12 minutes until lightly brown around the edges.

Notes

Substitute peanut butter for any nut butter.
Omit nuts if desired

Nutrition Information

Yield 24 Serving Size 1
Amount Per Serving Calories 222Total Fat 12gSaturated Fat 4gTrans Fat 0gUnsaturated Fat 7gCholesterol 21mgSodium 141mgCarbohydrates 26gFiber 2gSugar 17gProtein 5g

We do our best to calculate, however, nutrition information may not be accurate.
Substitutes for Gluten-Free Oatmeal Peanut Butter Chocolate Chip Cookies
Peanut Butter Substitution
Any nut butter will do great. Try almond butter, sunflower butter, cashew butter.
Chocolate Chips Substitution
Use butterscotch chips, white chocolate or peanut butter chips.
Sweetened carob chips.
Chopped up chocolate bar
Use cocoa nibs for a healthier version. "Cacao is unprocessed chocolate — it contains no sugar, very little fat, and lots of antioxidants. Cacao nibs can completely replace chocolate chips in any recipe!"
Sugar Substitution
This chart is a great guide for how to substitute sugar with Maple syrup, Agave, Honey and more.
Cookie Recipes
Tried and true cookie recipes
Great for spring and Easter!
Traditional Pumpkin Cookies from an old family recipe book.
There's a secret ingredient hiding in this recipe.
Cake Mix Cookies are always delicious!
A favorite combination of chocolate and peanut butter
Photo Credit: www.theidearoom.net
This copycat cookie recipe is what you're looking for.