Crock Pot soup recipes like this Slow Cooker Enchilada Soup are always a hit in our home! This homemade soup recipe is made with enchilada sauce, beans, cheddar cheese soup and more.
Using a slow cooker always makes dinner easy! I have SO many soup recipes all right here on Today's Creative Life. Some for the crockpot and some for the stovetop. They're all good! If you don't own a slow cooker, you really must get one. You will never regret owning one…. or two. They even have new WiFi Crockpots that be controlled from work!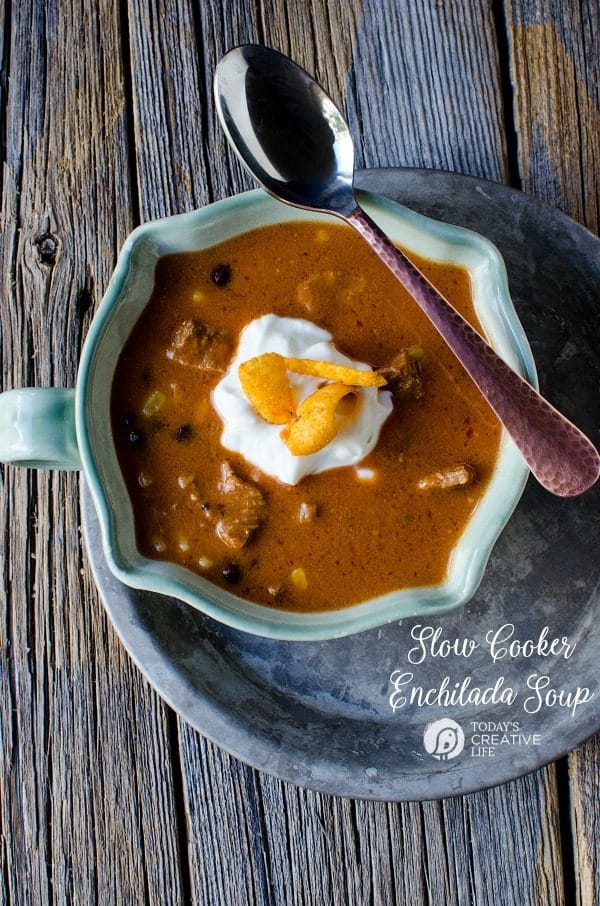 Slow Cooker Enchilada Soup Recipe
Soups are always a great way to use up any veggies or meat and after you make a few, you'll probably be able to just wing it with whatever you have on hand.
If I didn't plan ahead of time for using the slow cooker, I can sometimes have a soup ready within 30 minutes. If I've got chicken broth, diced tomatoes, dried tortellini, beans, and some spices, I can work wonders!
During the school year, our evenings are pretty choppy. Our son has soccer practice a couple of times a week, he's now working 3 evenings a week and then you add my schedule and my husband's and we're coming and going at all times. It's nice to have a meal that is easy to scoop up anytime after 4 pm. This Slow Cooker Enchilada Soup will be a welcomed meal for sure!
How to Make Slow Cooker Enchilada Soup
You're going to need:
Beef- it doesn't have to be an expensive cut. You can even try ground beef if that's all you've got on hand.
Canned, fresh or frozen corn
Cheddar Cheese Soup
Black Beans
Enchilada sauce
Beef broth
Seasoning – listed in the printable recipe below.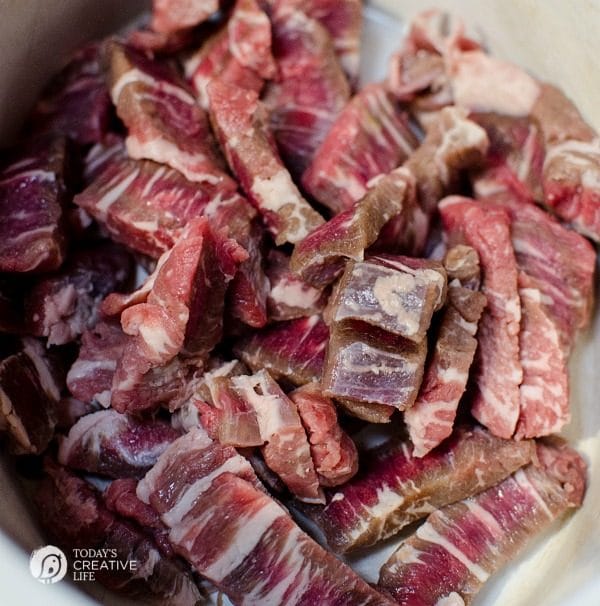 The nice thing about using your slow cooker is that you can use the cheaper cuts of meat. I also use a lot of ground turkey or beef. My husband prefers the steak cubes, but I'm good with either.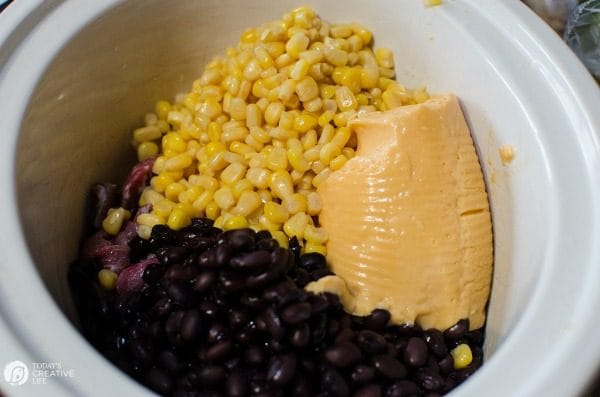 I don't always add the corn, but I have been lately. I don't know what it is, but I don't like to mix my corn into other foods. But I'm starting to grow up. And never underestimate the use of canned soup for a quick base. The cheddar cheese soup or cream of chicken soup will be your best friend.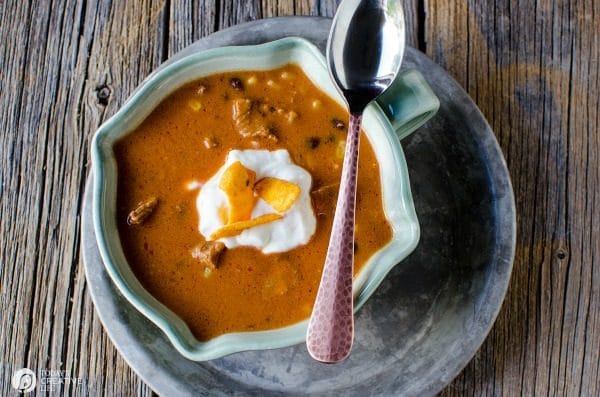 Serve with crusty bread, corn muffins… maybe even add a salad and you have yourself a no-stress meal!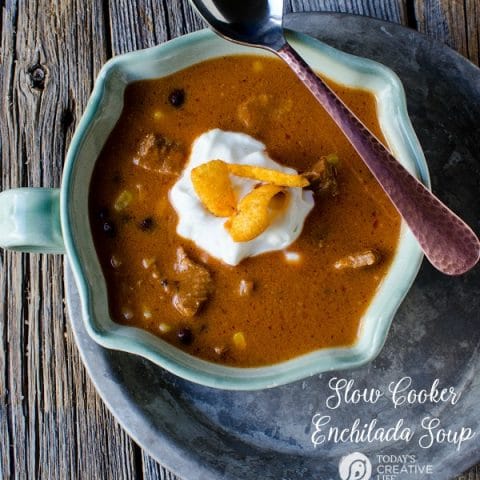 Crockpot Enchilada Soup
Yield: 12
Prep Time: 10 minutes
Cook Time: 6 hours
Total Time: 6 hours 10 minutes
This slow cooker soup is a family favorite and easy to make. Beef, corn, broth, cheddar cheese soup and more.
Ingredients
1 lb Beef (choose an inexpensive cut. The slow cooker will make it very tender)
1 can Enchilada Sauce, 28oz
2 C Beef Broth
1 can Black beans
1 can Cheddar cheese soup
1 can Corn
2 tsp Oregano, dried

1 C Mexican cheese, shredded
1 – 2 tsp Dried chili flakes ** Optional
Instructions
In the slow cooker bowl, combine the beef, sauce, beans, corn, oregano and chili flakes. In a separate bowl, combine the cheese soup and the beef broth and whisk until smooth. (photos show it just added with corn and beans. It works this way but mixing ahead of time works better to incorporate it. Add to the beef mixture.
Cook on low for 6 – 7 hours.
10 minutes before serving, sprinkle in the cheese and stir well. Let the cheese melt in the soup and then it's ready to serve.
Garnish with a dollop of sour cream and some corn chips.
Notes
I've used ground turkey or ground beef before too. It's all good!
Recommended Products
As an Amazon Associate and member of other affiliate programs, I earn from qualifying purchases.
Nutrition Information
Yield 12
Serving Size 1
Amount Per Serving
Calories 273
Total Fat 14g
Saturated Fat 7g
Trans Fat 0g
Unsaturated Fat 6g
Cholesterol 52mg
Sodium 1195mg
Carbohydrates 18g
Fiber 4g
Sugar 6g
Protein 18g
Nutrition information isn't always accurate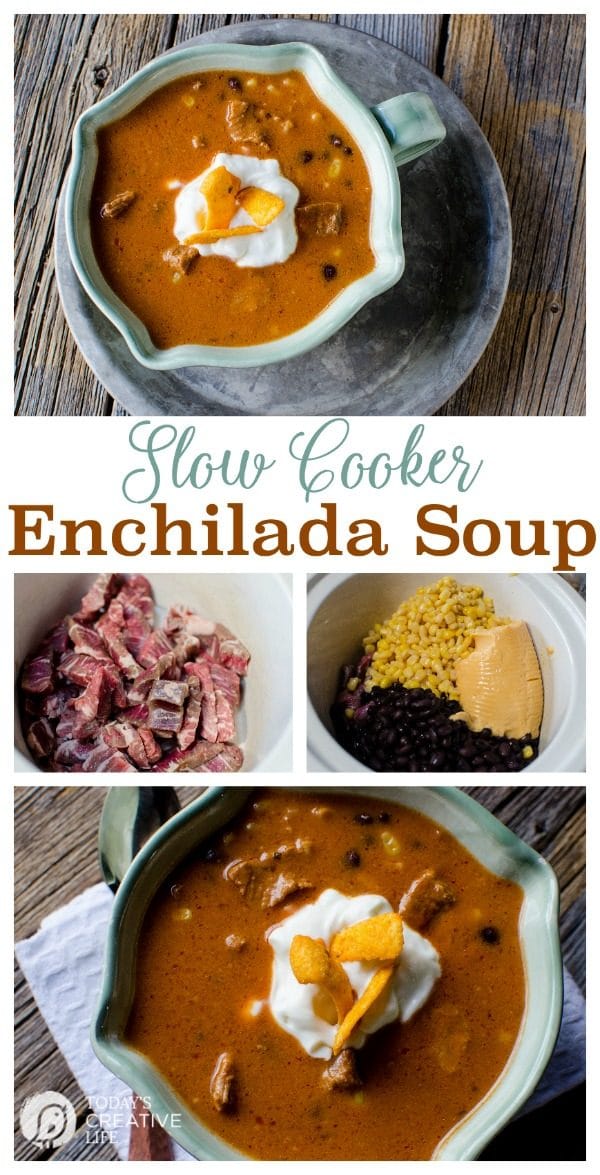 Easy Soup Recipes
Soup recipes the whole family will love.
Yes, please pin and share this recipe! But please do not copy and paste the full recipe into Pinterest or Facebook.
Creamy and flavorful homemade Cream of Mushroom soup is easy to make. Serve with crusty bread and a salad for a full meal.
Unique flavors blend together deliciously for this homemade soup.
This soup is the easiest soup you'll ever make.
Move over Olive Garden, this slow cooker Pasta Fagioli soup is much better!
Creamy and hearty soup for fall and winter.
German Potato Soup made with canned German Potato Salad. Hearty and delicious.
Healthy ingredients for a delicious slow cooker soup.
Full of vegetables and nutritious ingredients.