Chocolate Peanut Butter Chip Bundt Cake was a sign from the heavens after cleaning and organizing my pantry (it was a MESS!).
I had a couple of boxes of cake mix and one was a chocolate cake mix, so it was pretty much begging me to make this cake!
I love recipes that use cake mix as a base. If you're a cake purist and only make cakes from scratch, then this isn't for you.
Chocolate Peanut Butter Chip Bundt Cake

I love using a cake mix as a base….. it's like a safety net. I've made Cake Mix Chocolate Chip cookies and also Red Velvet Cherry Chip Cookies, both using a cake mix to get me started. So when I found the chocolate cake mix, I knew I had to doctor it up and make this Chocolate Peanut Butter Chip Bundt Cake! By doctoring it up, it makes me feel like I'm really baking from scratch.
It's all smoke and mirrors people…. well, I wouldn't go as far as buying store bought cookies and warming them up, but a girls gotta do, what a girls gotta do.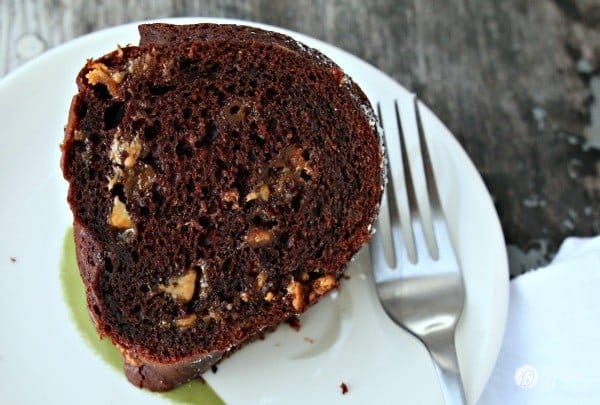 Originally, I had planned on creating a peanut butter glaze, because bundt cakes are perfect for a glaze, but this Chocolate Peanut Butter Chip Bundt Cake turned out SO moist, I ended up just sprinkling a bit of powdered sugar on top and diving right in.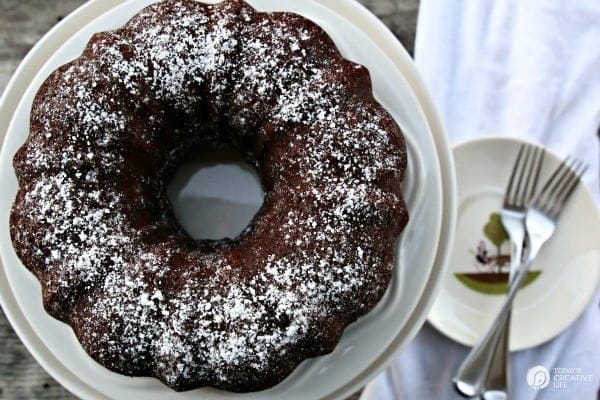 But if you wanted a glaze, here's a peanut butter glaze that would be perfect.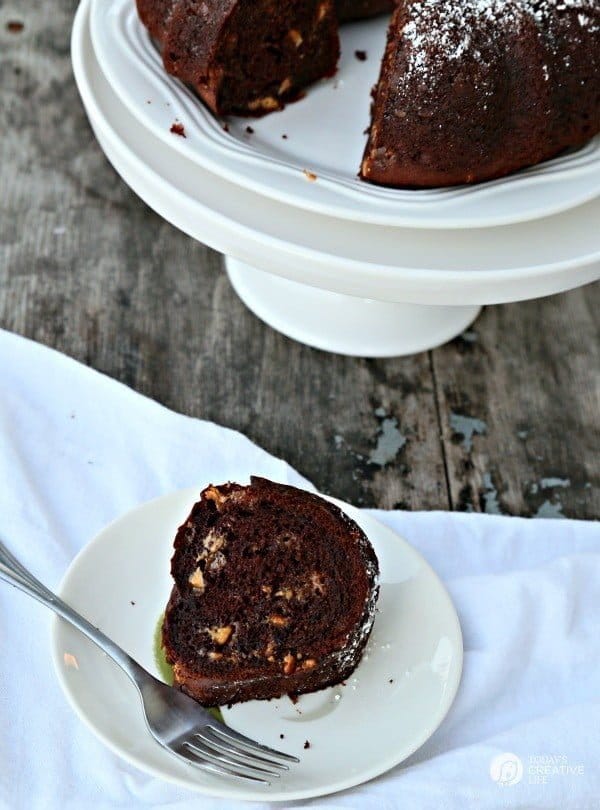 You could also use any flavor of baking chips you'd like. It would be great with chocolate chips, white chocolate chips or even butterscotch chips.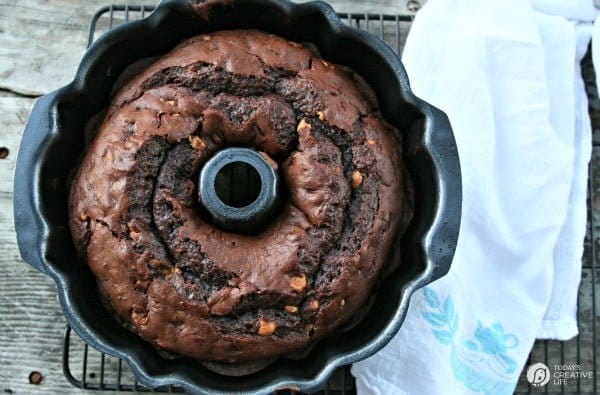 Bundt cakes are great for a weekend dinner or even as a birthday cake! There's just something special about a bundt cake.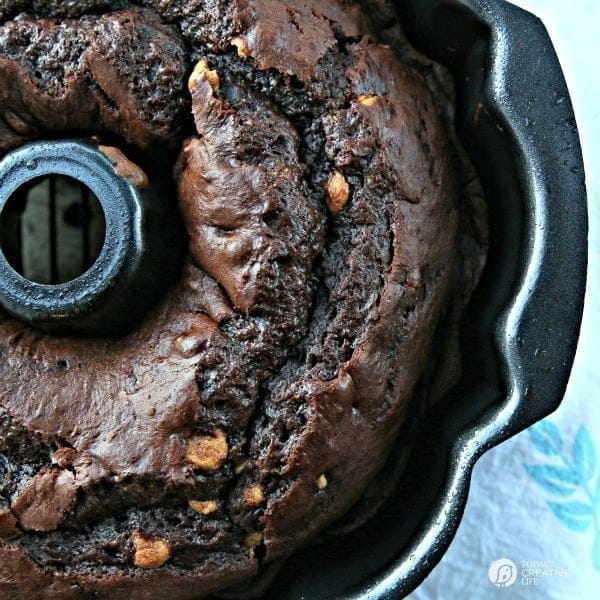 So, who would like a piece?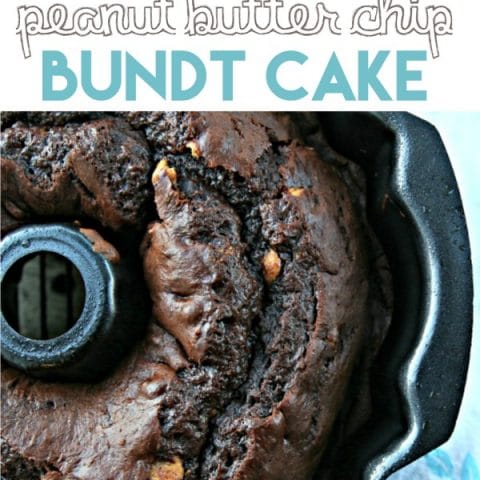 Chocolate Peanut Butter Chip Bundt Cake
Yield: 12
Prep Time: 15 minutes
Cook Time: 1 hour
Total Time: 1 hour 15 minutes
The best cake mix hack you'll ever make!
Ingredients
1 regular package of chocolate cake mix. (devils food also works)
1 (3.9oz) box of instant chocolate pudding (I've also used vanilla before)
2 cups peanut butter chips
1 cup sour cream (8oz)
4 large eggs
1/2 cup water
1/2 cup vegetable oil
powdered sugar
Instructions
Using a large bowl, mix together all ingredients except the powdered sugar, until well blended.
Pour the batter into a well greased bundt pan and bake at 350 degrees for 60 minutes.
Check the cake as you get closer to the 60 minute mark. If it's starting to pull away from the sides, then it's probably done. If the cake is browning faster than you'd like, place a aluminum foil tent over the top to stop it from burning.
Once you pull it out of the oven, place the pan on a cooling rack for about 20 minutes.
When you're ready, place a plate over the top and flip over to remove the cake from the pan for continued cooling.
Sift with powdered sugar or top with a glaze.
Enjoy!
Notes
Feel free to use different flavored chips or pudding.
Nutrition Information
Yield 12
Serving Size 1
Amount Per Serving
Calories 510
Total Fat 26g
Saturated Fat 8g
Trans Fat 1g
Unsaturated Fat 16g
Cholesterol 74mg
Sodium 464mg
Carbohydrates 61g
Fiber 2g
Sugar 38g
Protein 10g
---
For more sweet treats