Dessert is easy with this 3 Ingredient No Churn Lemon Ice Cream!
While going through my late mother's things, I found a recipe from an old magazine for this Tangy Lemon Ice Cream! I was stunned that it only had 3 ingredients and there was no pulling out the ice cream maker. So I renamed it 3 Ingredient No Churn Lemon Ice Cream so you'd know exactly how easy it was! I love lemon desserts and lemon cookies! Or citrus! Like this Creamy Limon Freeze Recipe!
3 Ingredient No Churn Lemon Ice Cream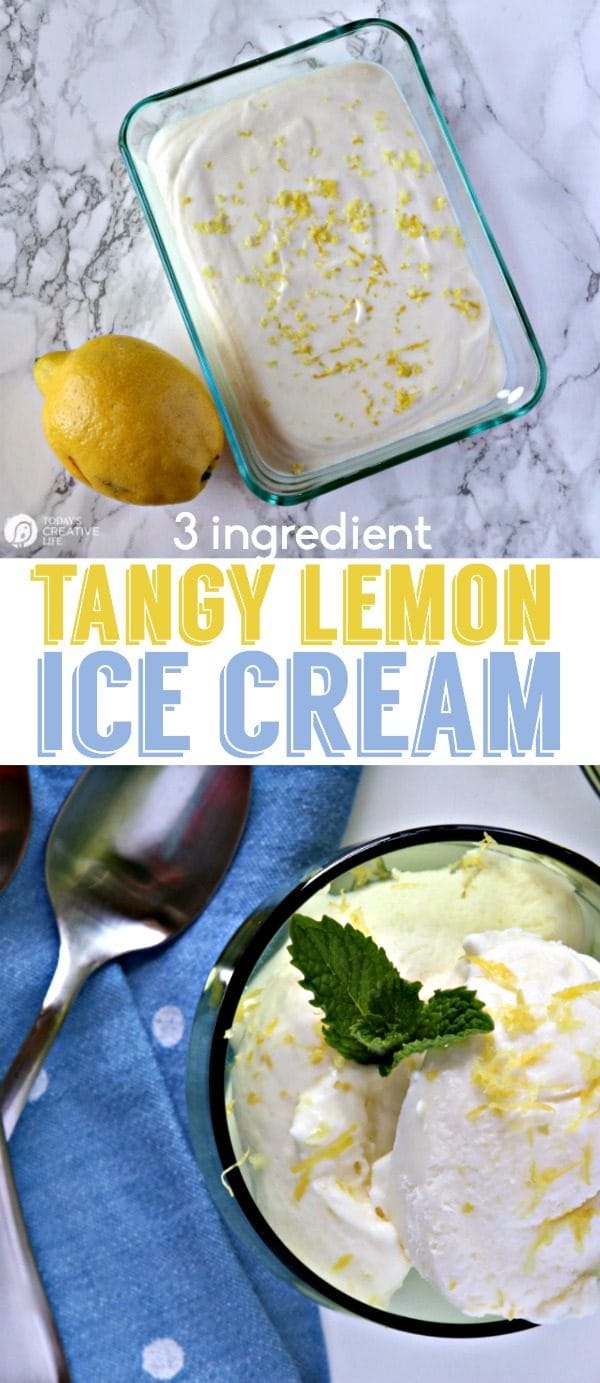 I've been looking for an excuse to buy a zester and I seem to always forget while I'm out. So while my husband was out doing the grocery shopping, I sent him a photo of a zesting tool and he brought one home!
It's the simple things.
And speaking of simple, this recipe couldn't be easier! From simple ingredients to simple instructions. My kind of recipes.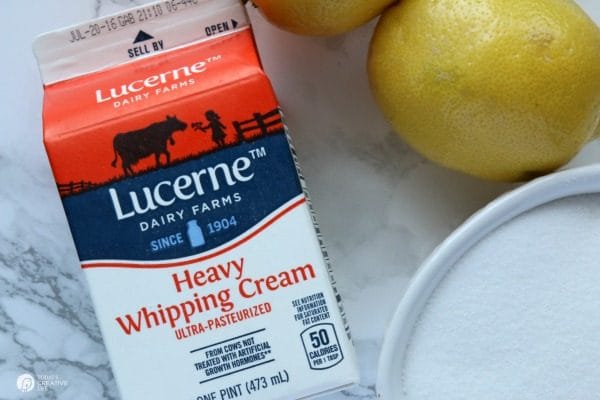 I've been wanting to try No Churn Ice Creams! Although I have never made them before, I do have two recipes on TCL shared by guest bloggers. No Churn Mint Chocolate Chip Ice Cream and No Churn Peppermint Ice Cream. It's now my turn to try it!
Ingredients Needed:
Heavy Whipping Cream
Lemons
Sugar
This is when you get to use your zester! I zested a full lemon, juiced my lemons and added my heavy cream and sugar to my mixing bowl before turning my mixer on high to form soft peaks. My glass containers with the snap tight lids worked great for freezing.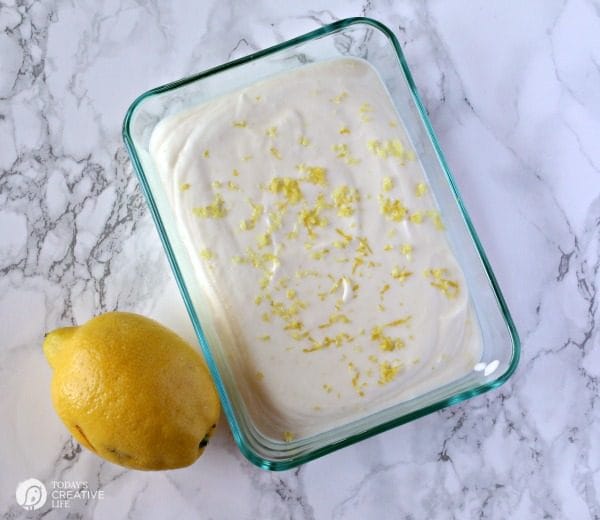 In a few hours my 3 ingredient no churn lemon ice cream was ready!!!
I scooped it into my aunts adorable little dessert cups and had myself a little dessert!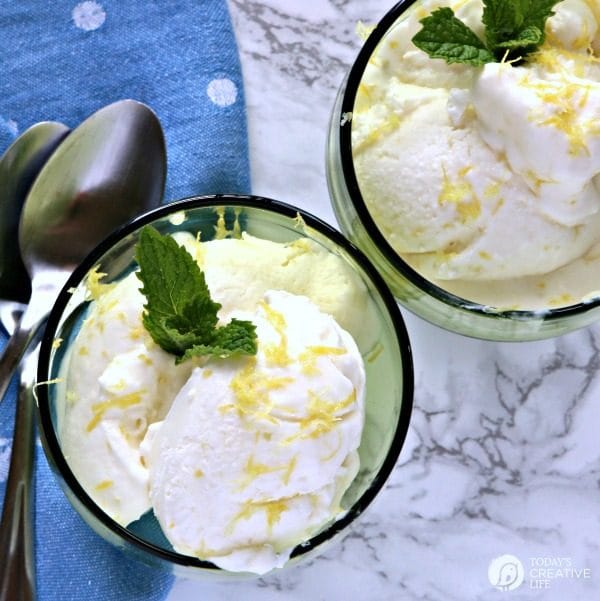 I mean, look at those dessert cups….. they were made for this ice cream!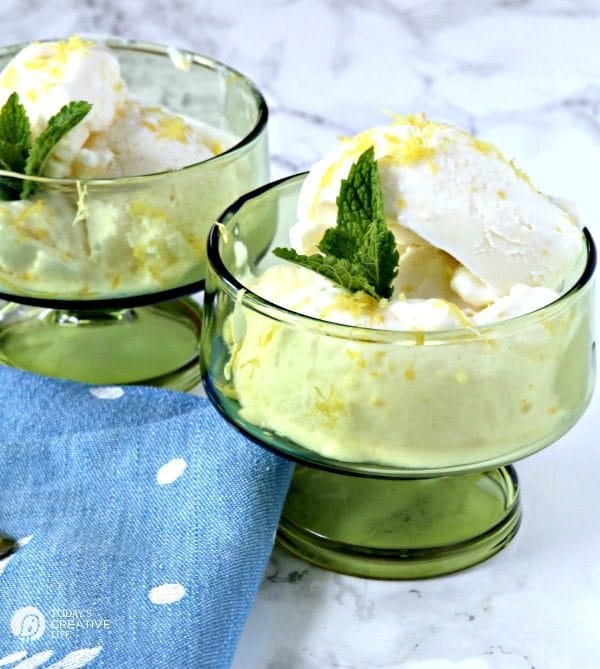 I love them!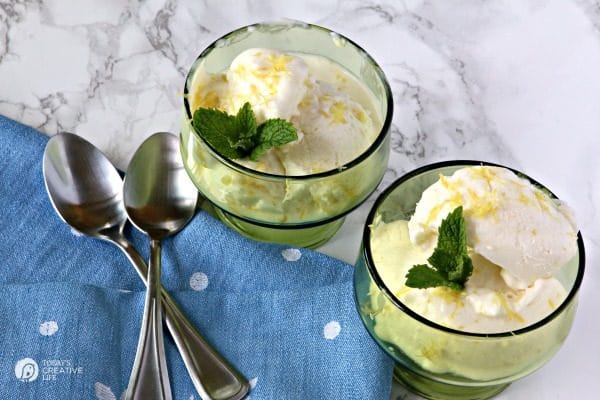 Just ignore the sloppy job I did scooping. It didn't last long, so it never mattered!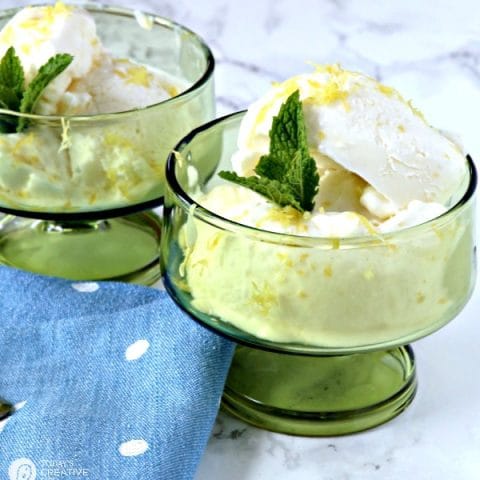 3 Ingredient No Churn Lemon Ice Cream
Yield: 4
Prep Time: 15 minutes
Additional Time: 2 hours
Total Time: 2 hours 15 minutes
Easy to make homemade no-churn ice cream!
Ingredients
2 Lemons
1 Cup Heavy Whipping Cream
1/2 Cup Sugar
Instructions
Grate at least 1 tablespoon lemon peel (or more!) - a citrus zesting tool or a fine grater works well for this.
Squeeze your lemons until you get 1/4 cup of juice. I use this hand citrus squeezer.
Place your lemon juice and grated peel in a mixing bowl with the heavy whipping cream and sugar.
Using an electric mixer, beat on high until soft peaks form when the beaters are lifted.
Pour into an airtight container and freeze for 2 to 3 hours, until it's hard.
Feel free to garnish with more lemon zest.
Notes
Try more no-churn ice cream flavors on TodaysCreativeLife.com
Recommended Products
Links for products are affiliate links.
Nutrition Information
Yield 4
Serving Size 1
Amount Per Serving
Calories 311
Total Fat 22g
Saturated Fat 14g
Trans Fat 1g
Unsaturated Fat 6g
Cholesterol 67mg
Sodium 17mg
Carbohydrates 31g
Fiber 1g
Sugar 28g
Protein 2g
Nutrition information isn't always accurate.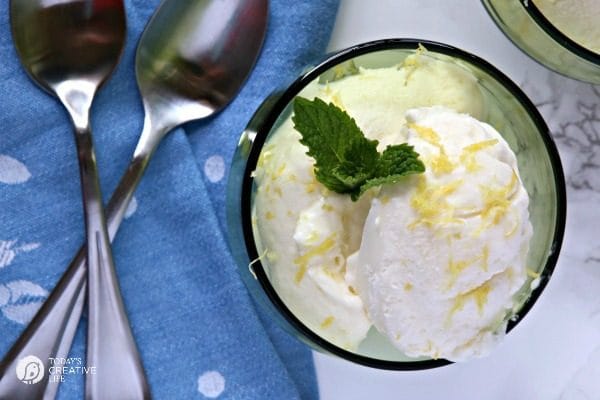 I'm now ready to try more no-churn ice creams or maybe even a shaved ice of some sort! I love fruity desserts in the summer! So refreshing!
Summer Dessert Ideas
Refreshing recipes for summer dessert ideas.
Slab pies are a great alternative!
Photo Credit: simpleasthatblog.com
Photo Credit: thecraftingchicks.com
The perfect cupcake for summer months!
Photo Credit: tidymom.net
Simple summer pie recipe!
Cool & refreshing dessert great for spring and summer! Creamsicle in a pie!
This recipe can be served as a rich dessert or as a dip for graham crackers or apples.
Blackberry Cobbler is easy to make with a cake like topping. Try it with mixed berries.
---