Easy to make recipe for jalapeno cornbread topped with cheese and baked in a skillet is perfectly pared with salad, chili or soup. Creamed corn and sour cream make the most delicious and moist Corn jalapeno bread you'll ever taste. Hit the Jump To Recipe button above to see the recipe quickly.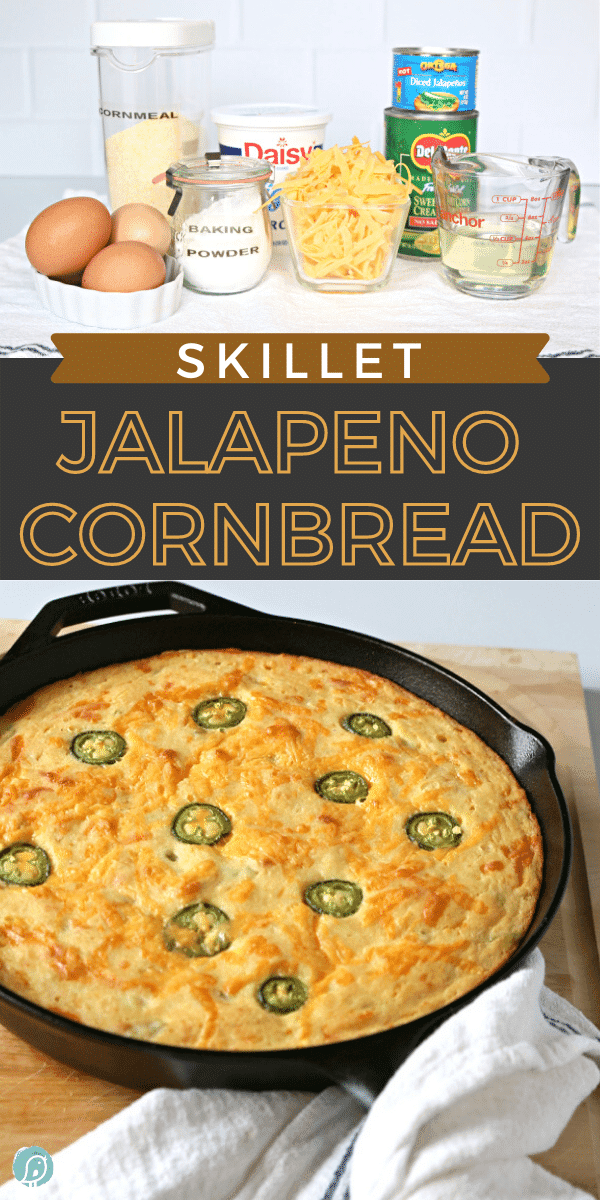 Recipe for Jalapeno Corn Bread
Any reason to make cornbread in my cast iron skillet is all I need. Baking in a cast-iron skillet makes any recipe suddenly rustic, and we all know that rustic food is always better.
I found this recipe in an old community recipe book called Cooking on the Peninsula for Washington and Oregon. These are my favorite recipe books. I adapted the recipe and used my skillet and added more jalapenos. I also added sugar. The first time making Jalapeno Corn Bread, it just didn't have the flavor I knew it could.
How to Make Corn Jalapeno Bread
Gather your ingredients:
Chopped onion
Eggs
Sour cream
Diced jalapenos
Flour
Salt
Sugar
Grated cheddar cheese
Creamed corn
Vegetable oil
Cornmeal
Baking Powder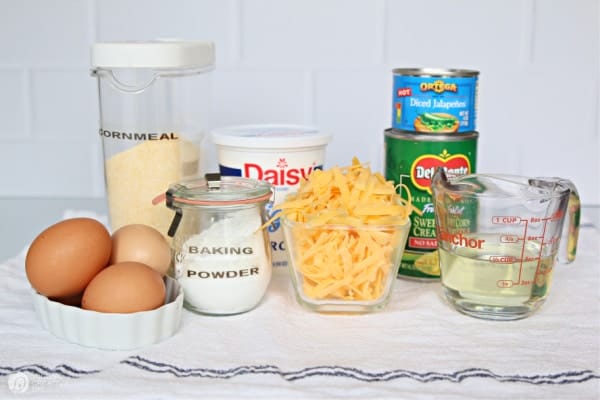 Beat eggs in a mixing bowl, then add in corn, sour cream and oil.
Fold in the onion, cheese and jalapenos.
Add in your dry ingredients and mix well.
Pour into your prepared cast iron skillet or a 9 x 13-inch baking pan. Add sliced jalapenos and a bit of shredded cheese on top. Bake at 350° degree oven for 55 minutes.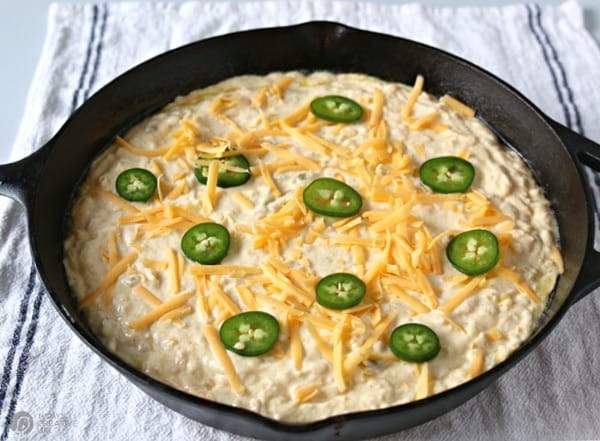 Time may vary depending on the size of your cast iron. When it's golden brown, and the cheese has melted, it's done.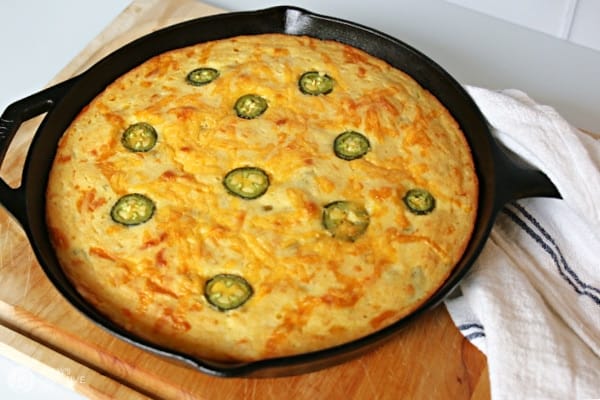 Jalapeno Cornbread with Cheese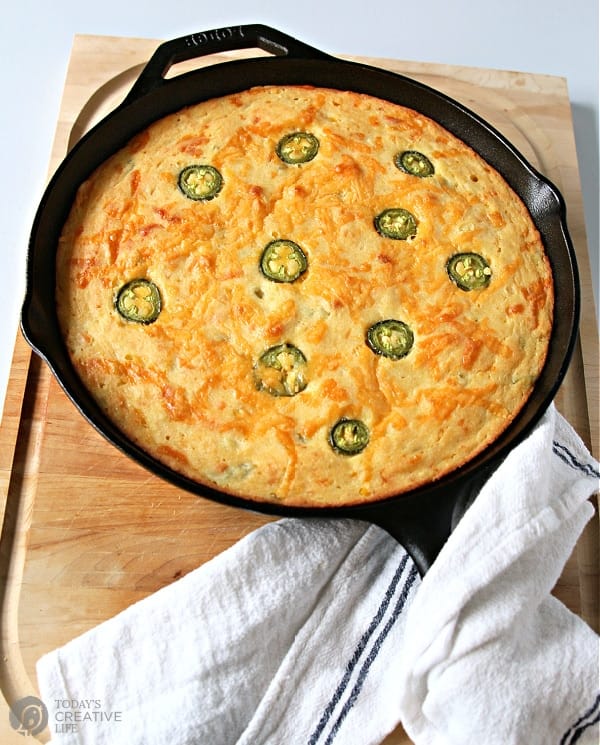 This recipe for Jalapeno Cornbread with Cheese is great to serve with salad, chili, soup, or slather in butter for a delicious snack.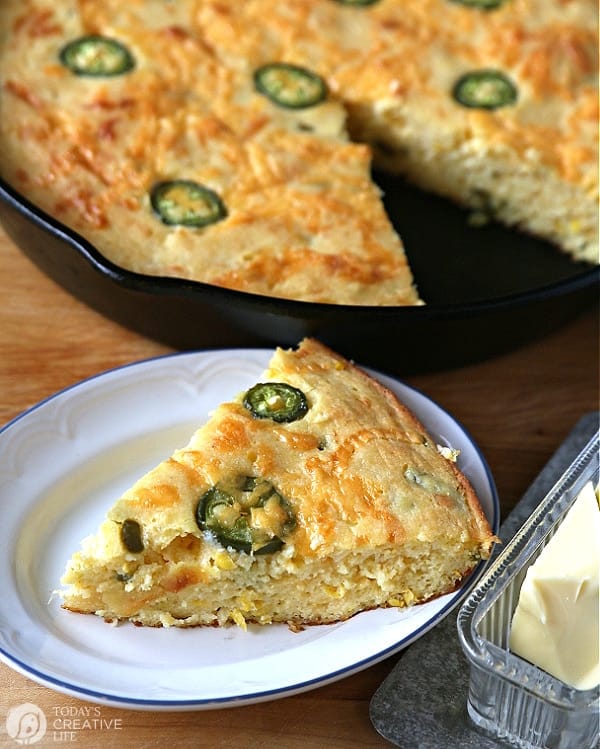 The sour cream and the creamed corn, make this corn jalapeno bread so moist, that it practically melts in your mouth. You can almost taste it from this photo below.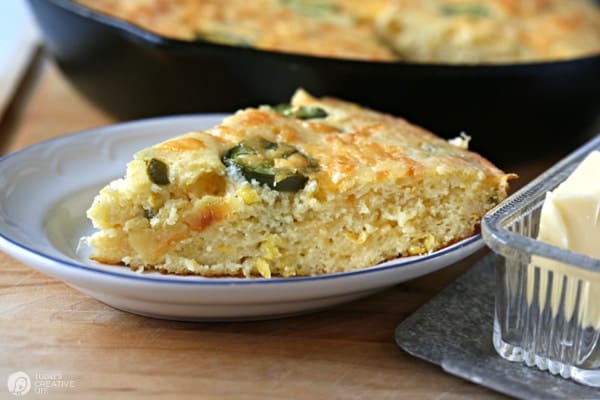 Is this Recipe for Jalapeno Cornbread Spicy?
If you're worried about this recipe being too spicy for children, don't worry, it's pretty mild. You can leave out the jalapenos if you choose to, it will delicious. If you want more kick, then add fresh chopped jalapenos instead of canned.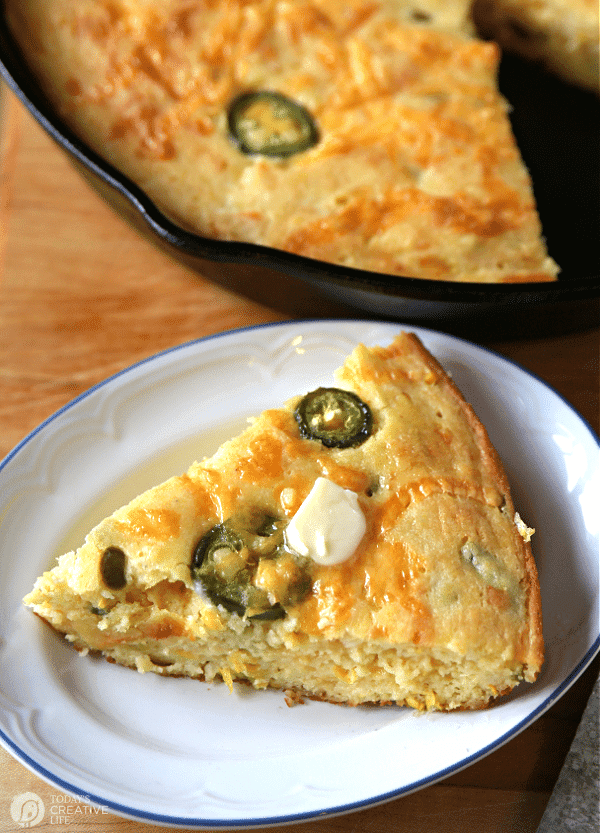 Do I have to use a Cast Iron Skillet?
You most definitely do not have to use a skillet to bake this Jalapeno Cornbread recipe. The original recipe called for a 9 x 13-inch baking dish.
Can I use this recipe to make Jalapeno Cornbread Muffins?
Yes, you can most definitely make muffins! I have a recipe already on TCL for Jalapeno Cornbread Muffins, but you can also make them from this recipe if wanted. I'd use baking muffin liners so they are easier to remove from the muffin tin. Fill halfway, add a sliced jalapeno to each one, and bake. I'd follow the baking time as the Jalapeno Cornbread muffins. I also have this recipe for my savory sundried tomato muffins for another savory choice and I've enjoyed these 20-minute corn muffins too.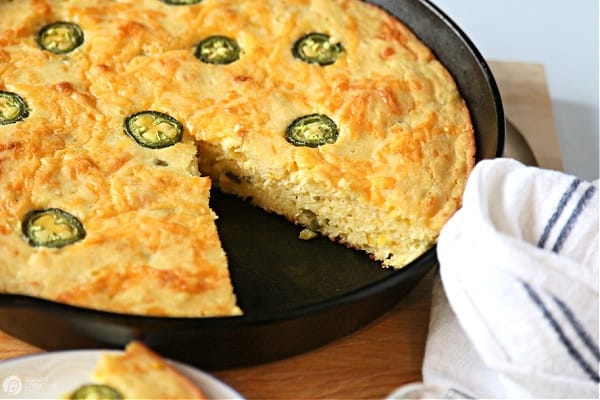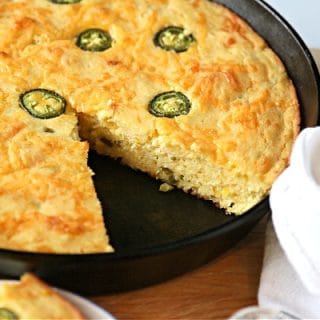 Corn Jalapeno Bread
Yield: 9
Prep Time: 10 minutes
Cook Time: 55 minutes
Total Time: 1 hour 5 minutes
The ultimate recipe for Jalapeno Cornbread made with sour cream, creamed corn, cornmeal, and more. Bake in a cast-iron skillet for a rustic touch. Serve with soup, chili, salad, or as a snack.
Ingredients
1 small chopped onion
4 eggs
1 carton sour cream (16 oz.)
1 can diced jalapenos (4 oz.) or a half cup of fresh chopped jalapenos.
1 cup all purpose flour
1 tsp. salt
1/2 cup granulated sugar
1 1/2 cup shredded cheddar cheese
1 can creamed corn (14 oz)
1/2 cup vegetable oil
1 cup yellow cornmeal
1 Tbs baking powder
One small jalapeno - sliced for top
Instructions
Chop onion and grate cheese and set aside. (keep a small amount of grated cheese for topping)
Beat eggs in a large mixing bowl.
Stir in corn, sour cream and oil.
Fold in onion, cheese and diced jalapenos.
Add cornmeal, flour, baking powder, salt and sugar. Mix well.
Pour batter into a greased cast-iron skillet (mine is about 15 inches) or a greased9 x 13- inch baking pan.
Top with shredded cheese and sliced jalapenos.
Bake at 350 degrees for 55 - 60 Min.
When it's golden brown and the cheese is melted, it's done! You can insert a toothpick to check for doneness. If the toothpick comes out dry, finished!
Notes
You can use fresh jalapenos instead of canned.
Canned green chilis also work.
Recommended Products
As an Amazon Associate and member of other affiliate programs, I earn from qualifying purchases.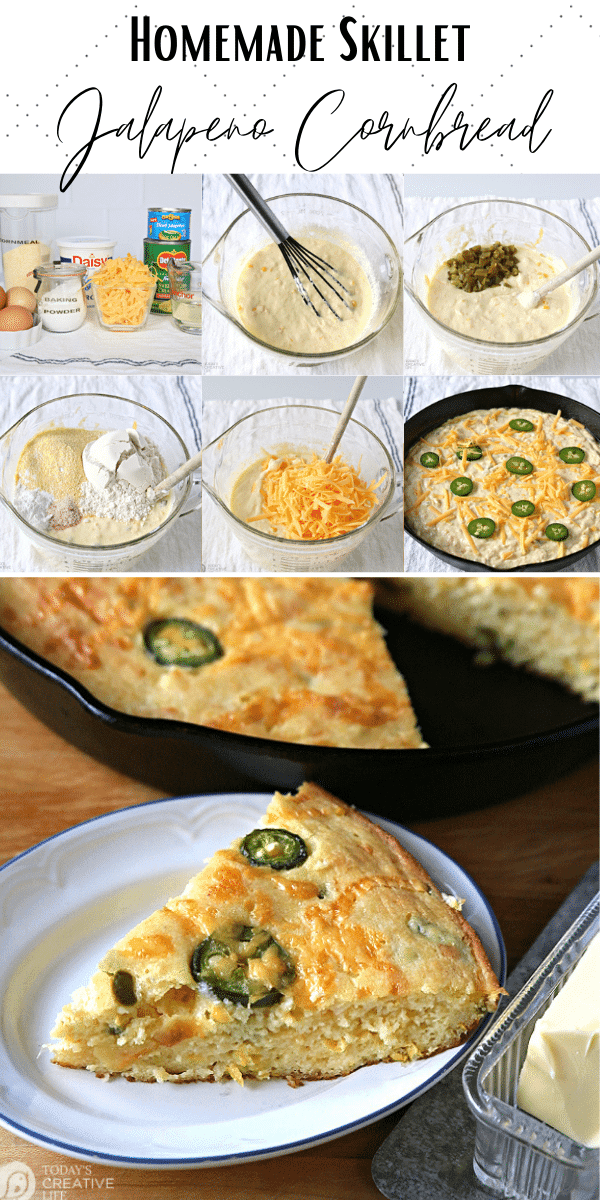 Savory Bread Recipes
Enjoy many recipe ideas for savory bread and muffins that are great with soups, salads, or as a snack.
Easy to make savory sundried muffins that are great served instead of garlic bread.
Use refrigerated store-bought biscuit dough for a quick and easy roll recipe for pasta and more.
Puff Pastry is magic! Make this savory tart for an appetizer or serve it with salad.
There is nothing easier than making Beer Bread. Add different flavor combinations to fit your mood. Delicious and Easy!
Easy to make using puff pastry, garlic, butter and parmesan! Great with salads and soup or take as an appetizer.
Puff Pastry for the win again! This fresh tomato pesto tart is a seasonal favorite.
Easy to make from scratch cornbread muffins with cheese!
Easy to make crunchy bread sticks with puff pastry!
Cheesy bread is great for soups, salads or party food!
French Bread with Sun-Dried Tomatoes and garlic for easy snacking.