These Jalapeno Cornbread Muffins baked with cheese and jalapenos are the perfect complement to the Slow Cooker Enchilada Soup, Chili, or a salad. Fast and easy to make
Jalapeno Cornbread Muffins with Cheddar Cheese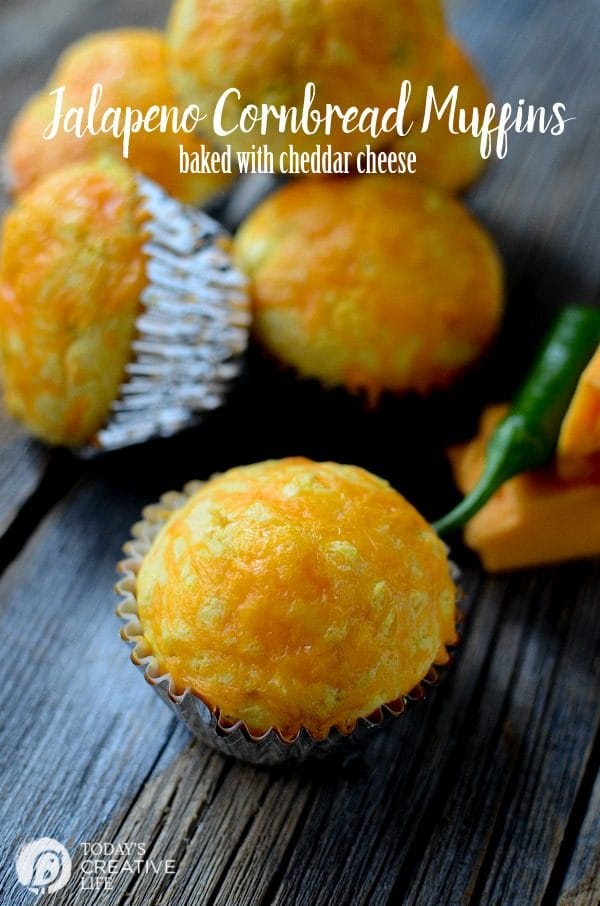 What is it about having a bowl of soup or chili and wanting a warm roll or piece of cornbread to go along? It completes the meal if you ask me! So these Jalapeno Cornbread Muffins are a must! They are so good when served with homemade chili, or any soup really. If you're not into the jalapenos, you might want to try my Easy Corn Spoon bread.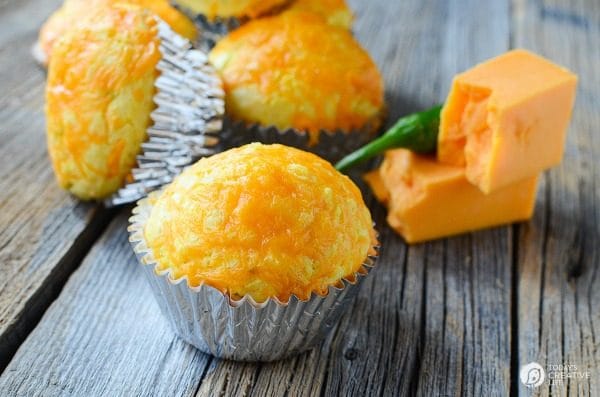 I always get nervous while working with jalapeno peppers. I always wear gloves and when I don't have any gloves, I use plastic bags (here's the proof).
I blame this on a college dare from some guy for my roommate. He told her he'd pay her $10 or $20 if she ate a can of hot chilis. She ate them. Her nose was running, her eyes were watering…. but she did it. Then the guy wouldn't pay her. We never talked to him again. To add insult to the situation, she rubbed her eye inadvertently and had to remove her contacts. It was horrible…. although I do remember us laughing. And the next morning when she went to put in her contacts… yep you guessed it. So…. that story is burned into my brain and I'm forever changed while working with any kind of hot pepper. The moral of the story… don't rub your eyes while working with jalapenos and don't take on dares.
This recipe is very simple to throw together and doesn't take much planning or prep. My kind of recipe! If you like jalapeno recipes, you'll also enjoy these spicy chicken pinwheels.
How to Make Jalapeno Cornbread Muffins from Scratch
Gather all your ingredients:
cornmeal
all-purpose flour
sugar
salt
baking powder
egg
milk
butter
cheddar
jalapeno
Combine your dry ingredients today, Mix together all wet ingredients, fold in the cheddar and jalapeno and spoon into a muffin tin. See printable recipe below.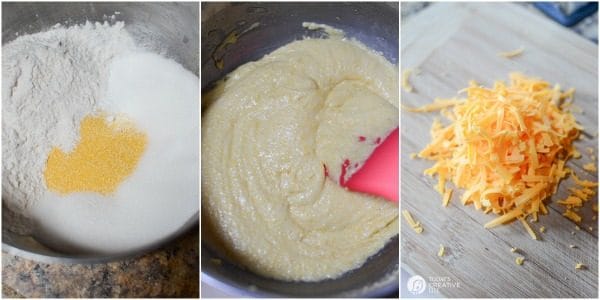 And just for the record, I always use my magic bullet to mince jalapeno peppers. A girl can't be too safe. (affiliate link)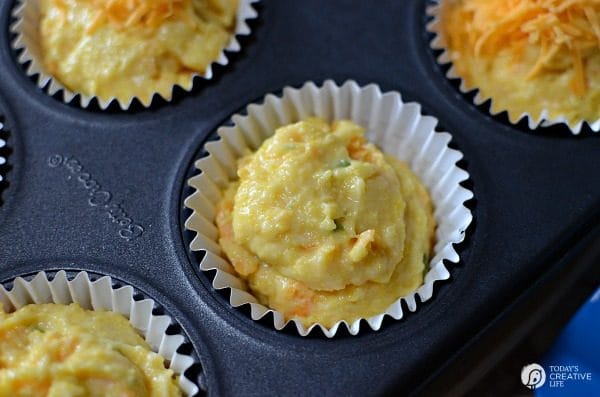 Recipe for Corn Bread Muffins with Cheddar Cheese
There is no box mix for your batter base. Not that there's anything wrong with a cornbread box mix. I use them often, just like my cake mix hacks too. But this cornbread muffin recipe is all made from scratch. Simple ingredients for a moist savory muffin.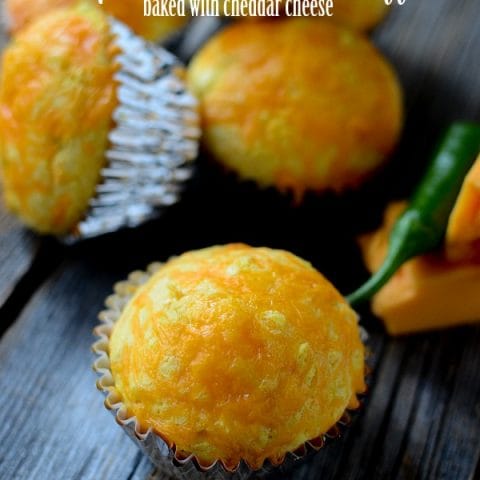 Jalapeno Cornbread Muffins
Yield: 12
Prep Time: 10 minutes
Cook Time: 15 minutes
Total Time: 25 minutes
Easy to make from scratch cornbread muffins with cheese!
Ingredients

6 tbsp cornmeal
¾ C all-purpose flour
¼ C sugar
½ Tsp salt
½ tbsp. baking powder
1 egg, large
3/4 C milk
¼ C butter, melted
1 C cheddar, shredded

½ C cheddar, grated
½ jalapeno, minced, seeds included or removed, your preference

.
Instructions
Preheat oven to 350.
Combine all dry ingredients in one bowl. Give them a good mix until combined.
In another bowl, combine all the wet ingredients – egg, butter, milk.
Add the wet ingredients into the dry ingredients and mix until just combined. Let sit for 5 minutes while you shred and prepare the cheese and jalapeno.
Fold in the jalapeno and shredded cheddar.
Spoon into lined muffin cups (or greased very well).
Sprinkle the grated cheddar over the tops of the muffins.
Bake for approximately 15 – 18 minutes or until the cheese is melted and a toothpick comes out clean.
Notes
If you'd like to make cornbread instead, pour batter into a 9x9 inch pan and bake for about 25 min.
Recommended Products
As an Amazon Associate and member of other affiliate programs, I earn from qualifying purchases.
Nutrition Information
Yield 12
Serving Size 1
Amount Per Serving
Calories 164
Total Fat 9g
Saturated Fat 5g
Trans Fat 0g
Unsaturated Fat 3g
Cholesterol 41mg
Sodium 296mg
Carbohydrates 15g
Fiber 1g
Sugar 4g
Protein 5g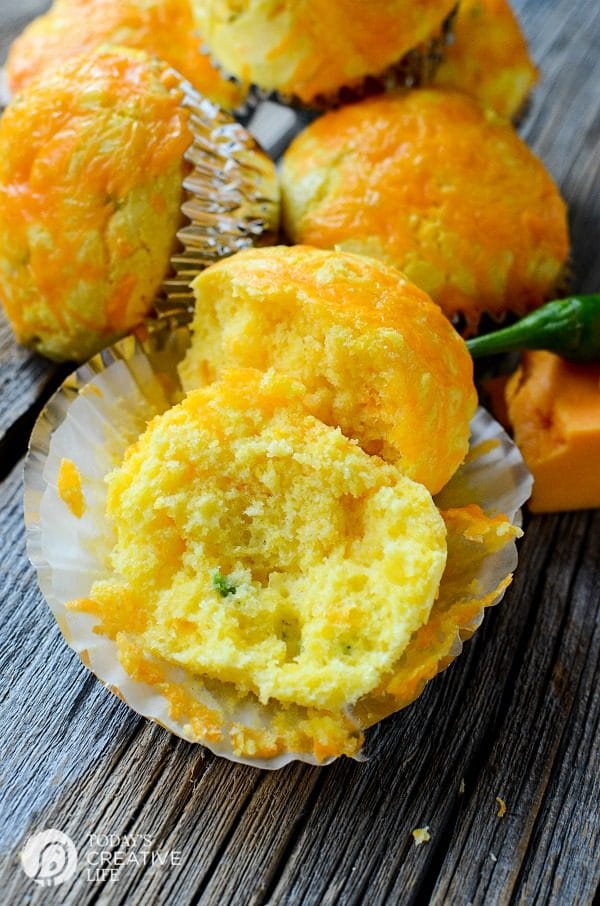 Eat them warm with a bit of butter and you'll think you've gone to heaven!
Can I make Sheet Cornbread Instead of Muffins?
If you'd rather make a pan of cornbread instead of muffins, you can do that with this recipe too. I like mine in a 9×9 inch greased pan and I bake it for about 25 minutes at the same temp. If you're looking for a gluten-free, try this moist gluten-free cornbread recipe.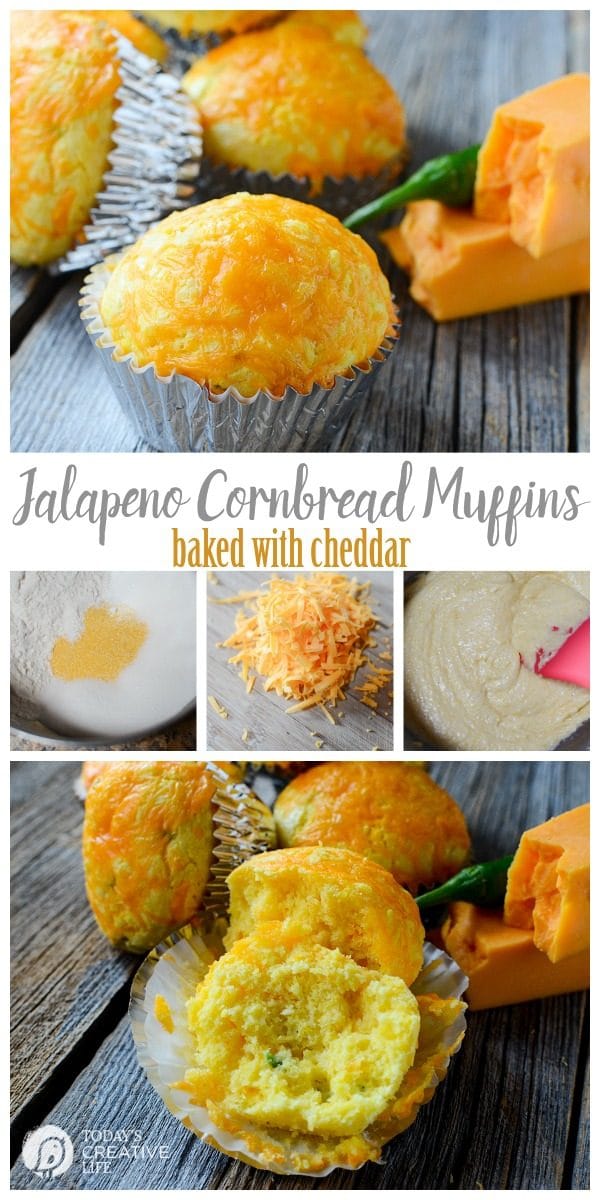 Muffin Recipes
Easy to Make Muffin Recipes. Savory or Sweet, you'll find both!
The taste of fall all in one muffin.
So delicious, you'll want them daily.
Healthy muffins for breakfast or snacks.
Easy to make savory muffins for soup, salad or snacking.
Spread with a fruit and honey spread!
Savory breakfast muffins are great for on the go!
Using powdered peanut butter for a rich taste.
Use leftover cranberry sauce for these delicious muffins!
Follow me