These Sweet Raspberry Muffins were calling my name!
You see, we've been snowed in for days! I've only been out of the house once in about 10 days. Oddly, I don't mind too much, probably because I work from home most the time.
Sweet Raspberry Muffins Recipe
These sweet raspberry muffins make up only 6 muffins, although you could stretch into 12 if you wanted to. I like making just 6 soI won't have them around to tempt me forever. With my husband and my son in the house, they were pretty much gone 10 minutes after pulling them from the oven and glazing them. I also thought about making up a batch of Puff Pastry Cinnamon Twists too!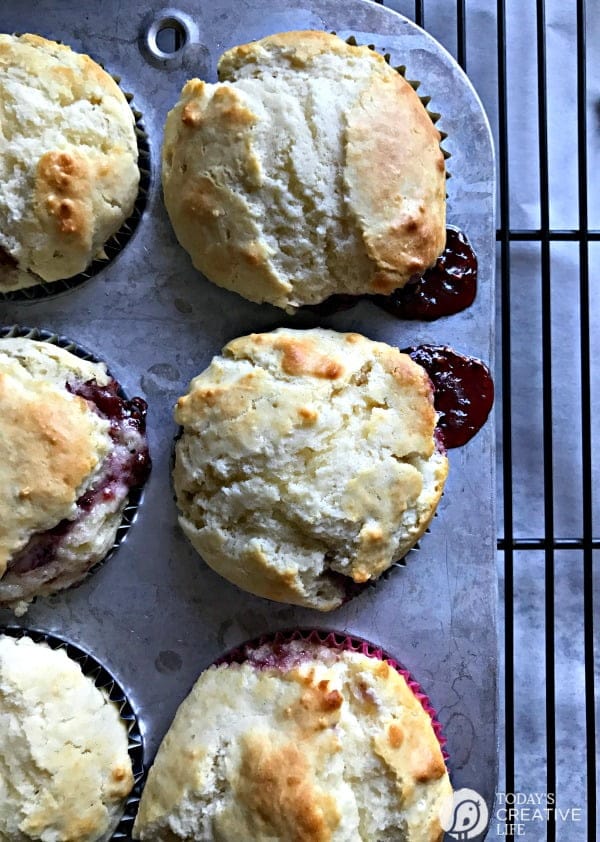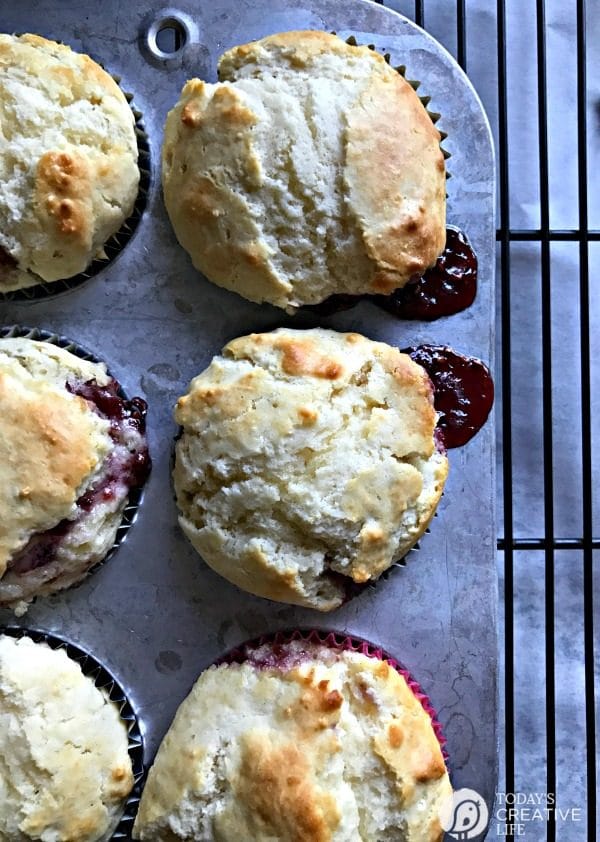 I hadn't baked using a baking mix in a long time, but when I was forced to pull my Bisquick box out of the pantry to whip up breakfast for six 17 yr old boys, I was reminded of these yummy sweet raspberry muffins.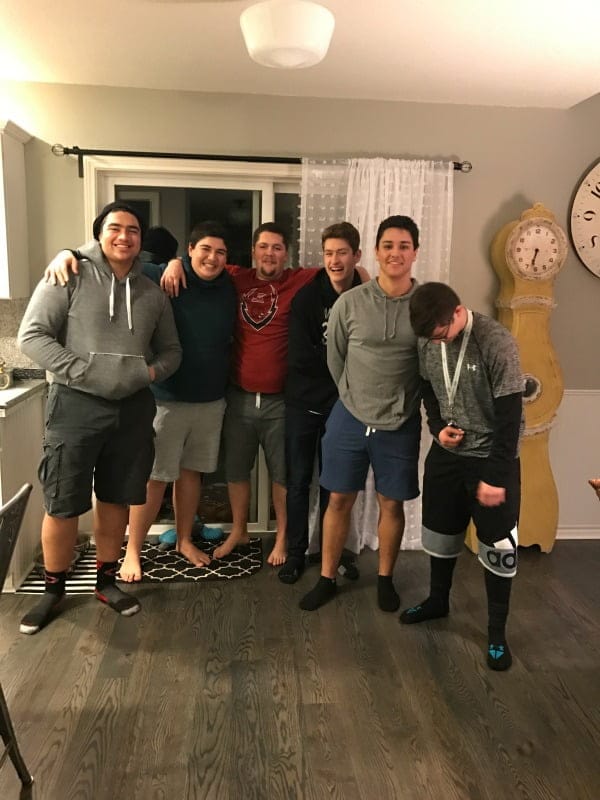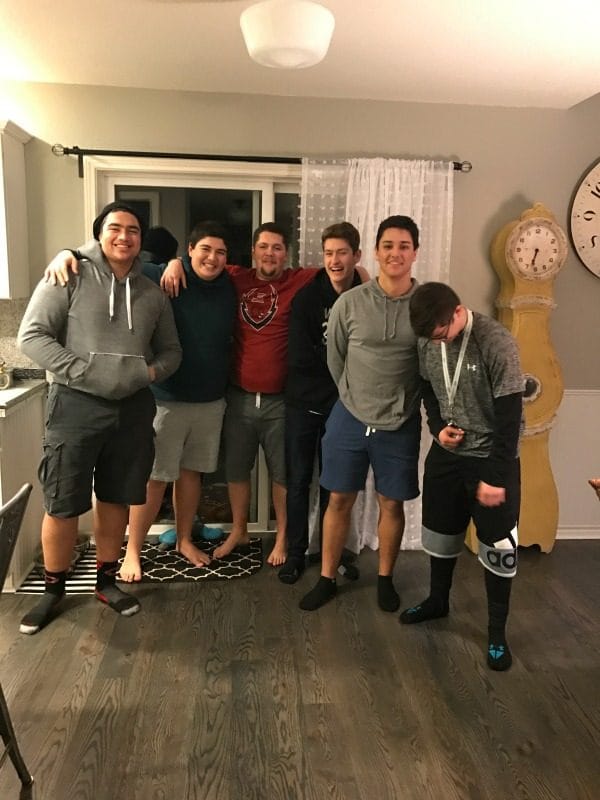 Yes, I had 6 boys roaming around my home. Because there's a lot of snow and because we have more hills around our house, they all ended up here.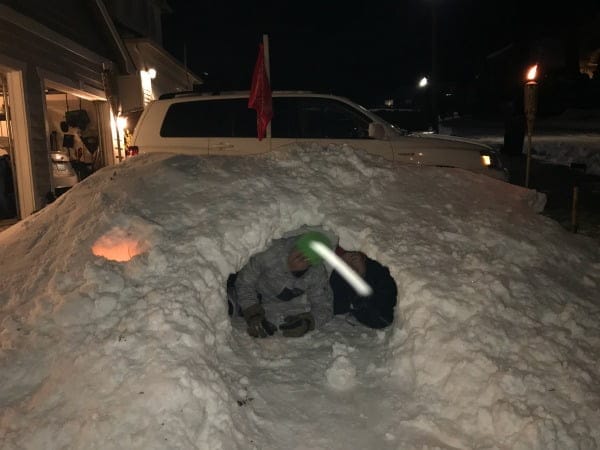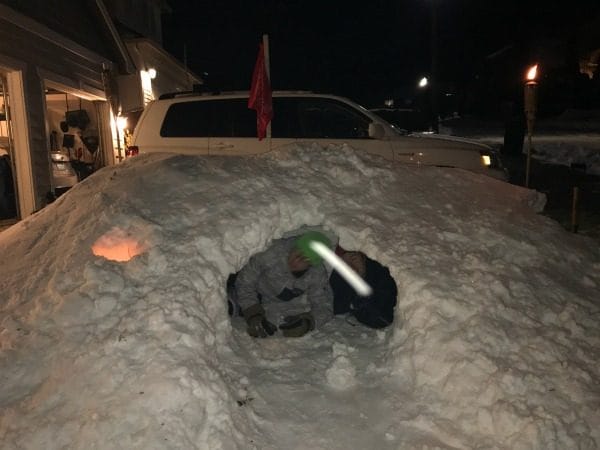 Then my son tells them they can all spend the night (we have a daylight basement, thankfully). Since I hadn't been to the grocery store for a few days because of the storm, I panicked. What to feed these growing boys? I found enough freezer stash for dinner and in the morning I thought I'd whip up my cake flour pancakes for breakfast…. then I saw the Bisquick and it was faster! If I would have had a couple of refrigerated tubes of biscuits, I would have made my quick apple dumplings. 
And at that moment is when I remembered these delicious sweet raspberry muffins! That's when they were put on my list to make and today was the day!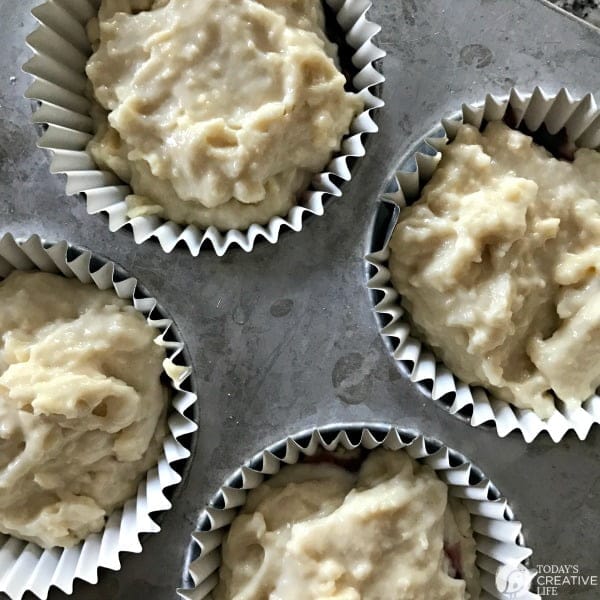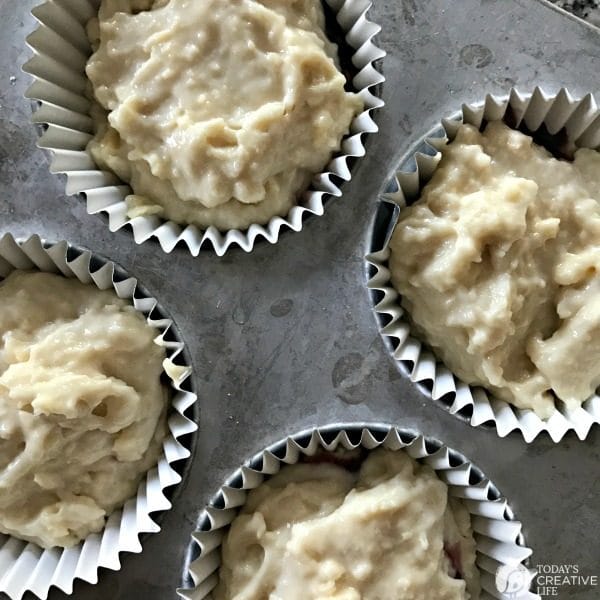 As I mentioned, this recipe only makes 6 muffins, so it's perfect for a small sweet tooth.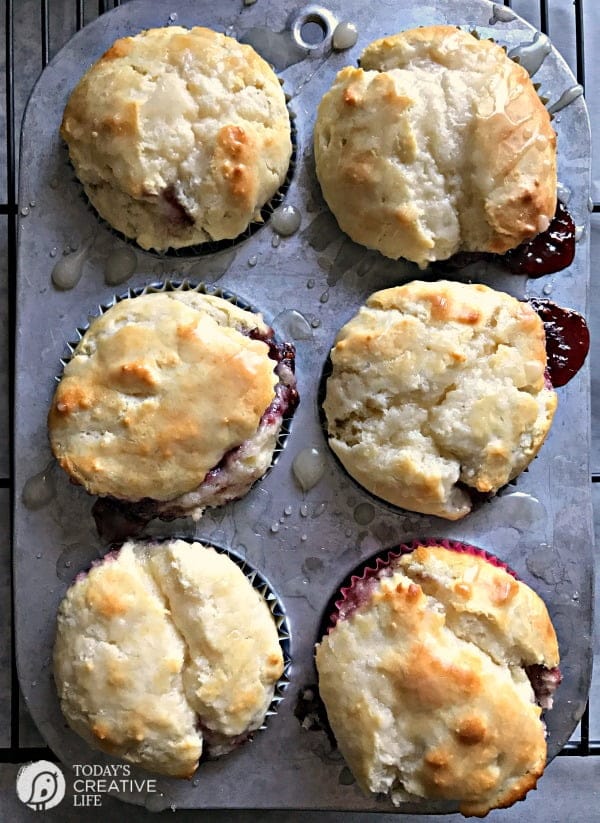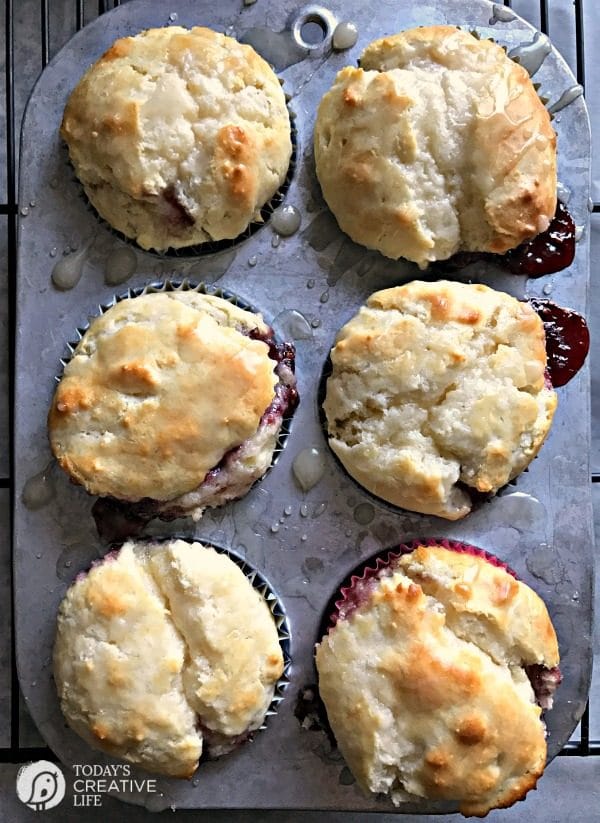 After you pull them from the oven, let them cool a little before glazing them. In fact, I should have taken them out of the pan after they had cooled and before I glazed them. The reason being, is the glaze makes the cupcake liners stick to the bottom of the muffin tin.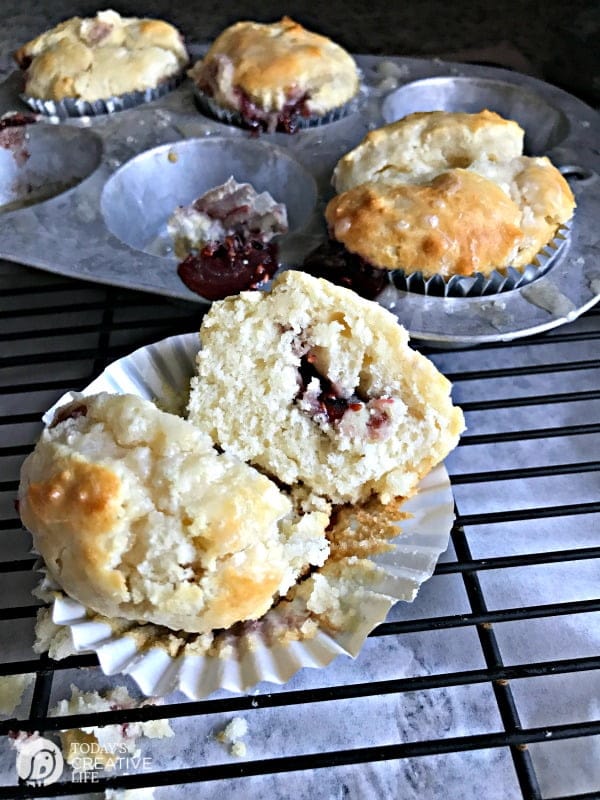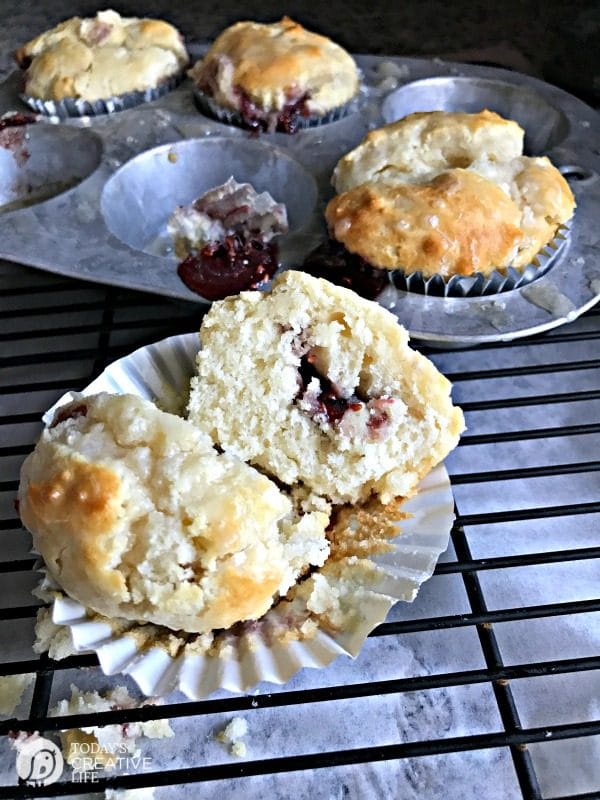 When you break them open, there's that small hint of raspberry sweetness. Yum! No butter needed. They are moist and full of flavor!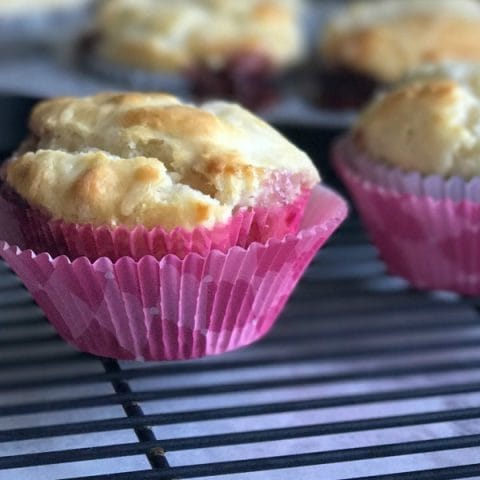 Sweet Raspberry Muffins
Yield: 6
Prep Time: 5 minutes
Cook Time: 11 minutes
Total Time: 16 minutes
Ingredients
2 tablespoons sugar
1/4 cold butter
2/3 cup milk
1/4 cup raspberry jam
GLAZE
1/2 cup powdered sugar
2 teaspoons warm water
1/4 teaspoons vanilla extract
Instructions
In a bowl, combine biscuit mix and sugar.
Cut in butter with a pastry cutter or two forks, until it resembles coarse crumbs.
Stir in milk until moistened. The batter will be thick.
You're going to be layering the batter with the raspberry jam.
Place cupcake liners in your muffin tin before placing any batter into the pan.
Spoon a small amount of batter into each prepared muffin tin.
Spoon a small amount of jam on top of the batter.
Spoon another small amount of batter on top of the jam.
Bake at 425 degrees for about 11-13 minutes or until golden brown.
Cool in the pan for about 5 minutes.
Meanwhile, in a small bowl, combine glaze ingredients until smooth.
Remove muffins to a wire rack and drizzle the glaze over each muffin.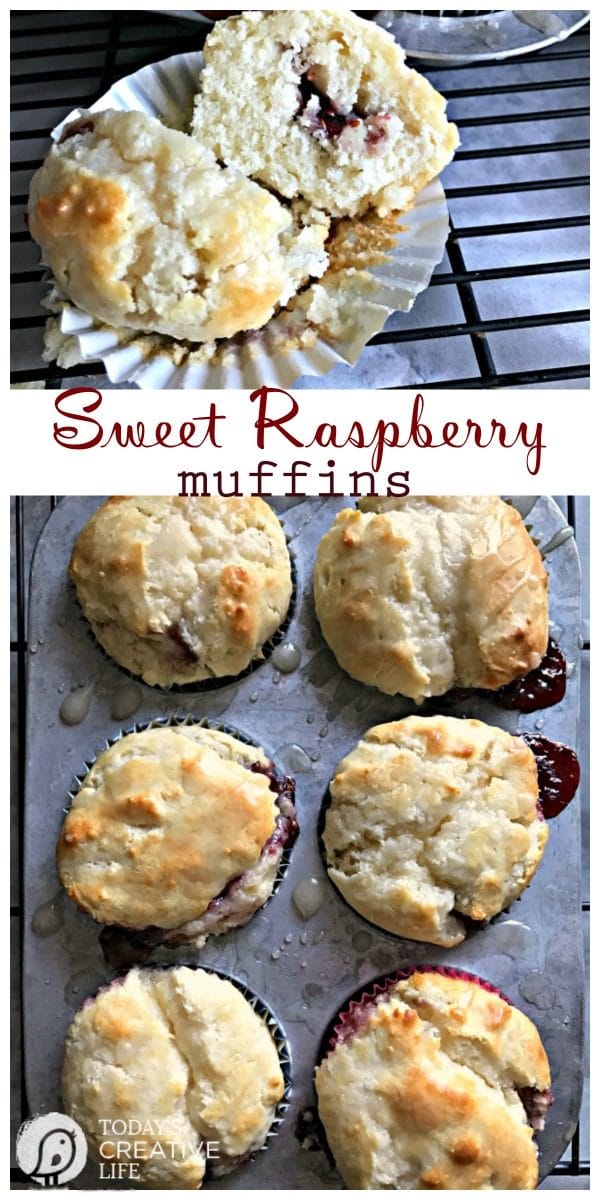 ---
More Quick Breads and Muffins